12 Best Colors That Go With Turquoise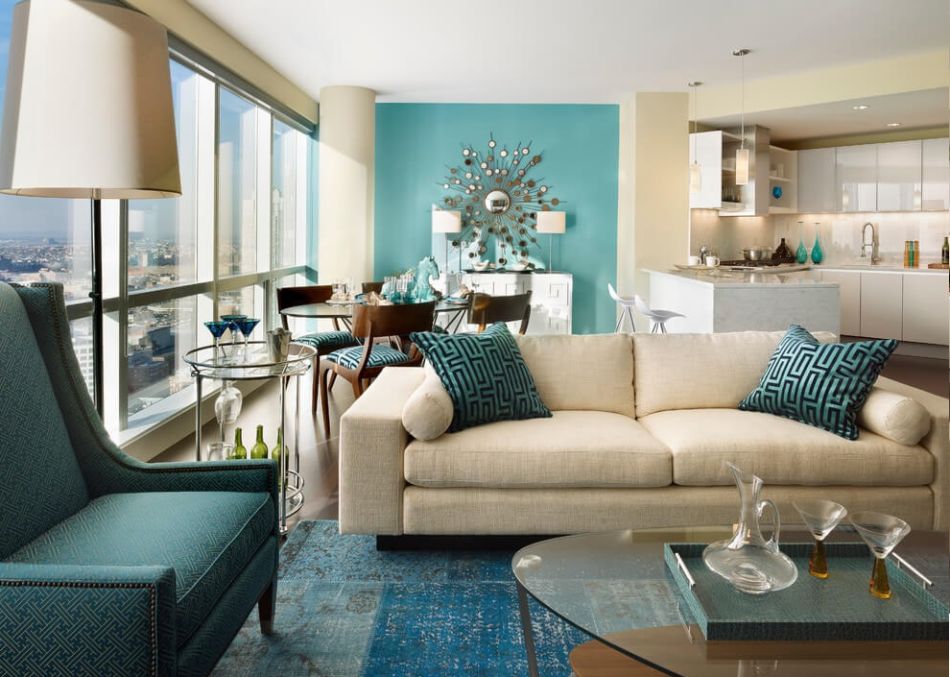 When decorating your home, choosing the right color can bring a relaxed and pleasant atmosphere to your home environment. Research has proven that each color brings a different dynamic and feel to the living space. Turquoise, which is increasingly popular among homeowners, is known to calm and evoke positive feelings, while, for example, yellow has a completely different effect.
Turquoise color is an excellent choice since it goes well in combination with many other colors. This color can easily act as a base color for pairing with other colors, but also it can, as a secondary color, break the monotony of a dark room or a home where neutral colors predominate.
Best Colors That Go With Turquoise?  The colors that match the most and that can be paired with the turquoise color are green, lilac, yellow, gray, pink, cream and white. Also, the turquoise color gives the space a great effect in combination with colors that further highlight it, such as black, dark blue, orange, gold, and brown. 
In addition to the fact that the turquoise color gives the room a fancy and modern look, it is also known to promote a sense of comfort and calmness, which reduces the feeling of loneliness. In the rest of this article, you can find examples that will surely help you see all the advantages of turquoise color when it comes to the interior decoration of your home.
12 Best Colors That Go With Turquoise
Here are the 12 best colors that can combine with turquoise in your home.
1. White And Turquoise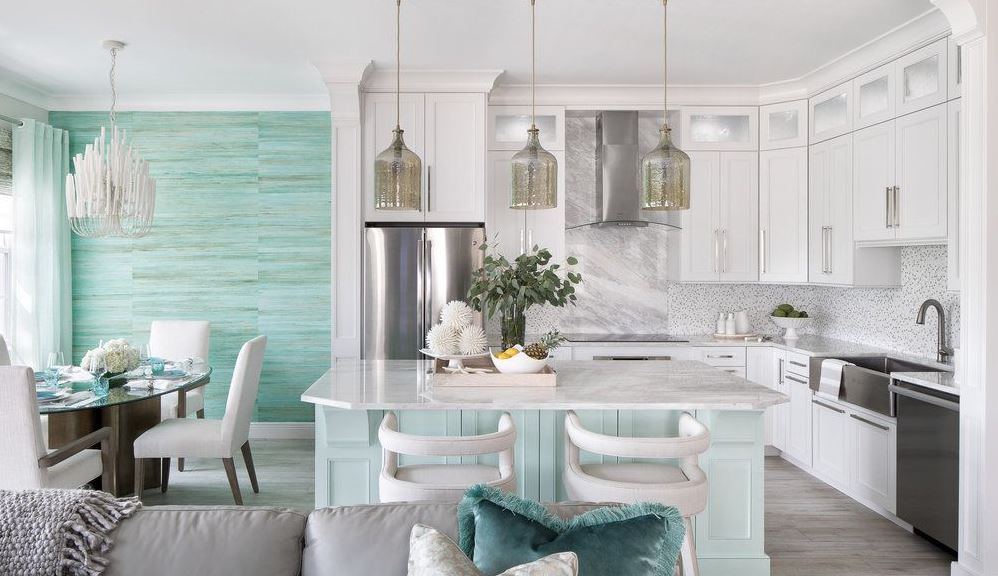 When decorating a room, you want to achieve a calm atmosphere. Turquoise, in combination with white, always gives a special and unique look when it comes to interior decoration. White color as a secondary color in a room that has turquoise walls will perfectly round off the final image.
However, it should be kept in mind that the best effect of white color compared to turquoise is achieved when you use it in moderation. A good example is white lamp shades or curtains in a room with completely turquoise walls. As well as the white decorations on the edges of the turquoise walls. In any case, you can't go wrong if you decide to use this combination of turquoise and white.
2. Pink And Turquoise
Although few people would decide to pair turquoise with pink, this example is living proof that it is a combination that gives a perfect result! This room filled with turquoise and baby pink is playful and full of life. But admit it, at the same time, it provides a very pleasant, calming feeling. 
What you have to pay attention to if turquoise and pink are your favorite colors is that their pairing during interior decoration gives a positive effect when using softer tones. However, this does not mean that some detail in your turquoise-pink room cannot be in a darker tone.
3. Deep Dark Blue And Turquoise
The gold and deep blue tones, in combination with the turquoise wall, give a special and sophisticated style. Apart from the fact that the chosen colors together result in great first impressions, when you look at the room in more detail, you will notice that they also perfectly compliment the materials from which the furniture is made.
Clearly, the furniture that dominates a room determines the basic style of the decoration, but the turquoise color on the walls and textile decorations should also be given credit for the final stunning look.
4. Royal Blue And Turquoise
Undoubtedly, the perfect choice when talking about home decoration is the combination of turquoise with royal blue! These two colors, in all their tones, simply look great together and complement each other. However, if the room is dominated by darker tones of turquoise and royal blue, and if the furniture is in darker tones, we recommend brightening the look with white details. Otherwise, you may end up in a situation where the room is too dark for you to enjoy.
How to do it? A good example is choosing a white mirror or wall art frame. Also, a room in dark tones of turquoise and royal blue can be lifted by decorative fabrics in soft and neutral tones like the pillows in this photo.
5. Color Medley And Turquoise
Turquoise, as a basic color, can be a good base for a playful space in which the details represent a combination of several different colors. How such a decorator's move can achieve a great result is visible in this photo of a room that has turquoise and white as the main colors, determined by the color of the walls and furniture. The fact that they are completed with small details and decorations of purple, green, pink, and yellow gives it a special feeling. 
We have already mentioned that pink is a good pair with turquoise, and we will further explain how the yellow color works in the turquoise surrounding. But from this example, it is quite clear that a mixture of several different, well-combined colors can do wonders for the unique look of a room. Note that none of the colors should be more dominant than the other, and they should be reserved for details.
6. Neutrals And Turquoise
The basic color that determines the atmosphere in the room does not always have to be the color of the walls. The room can be dominated by a turquoise sofa that stands out against the walls painted in a boring gray color. 
This is an excellent example of how a neutral color can simultaneously complement and highlight another color even though it is on the walls, which in practice are what determine the atmosphere in the room. By looking a room, we can conclude that turquoise can be the dominant color in your room with the help of effective, larger pieces of furniture in that color if the immediate environment is neutral.
7. Gold And Turquoise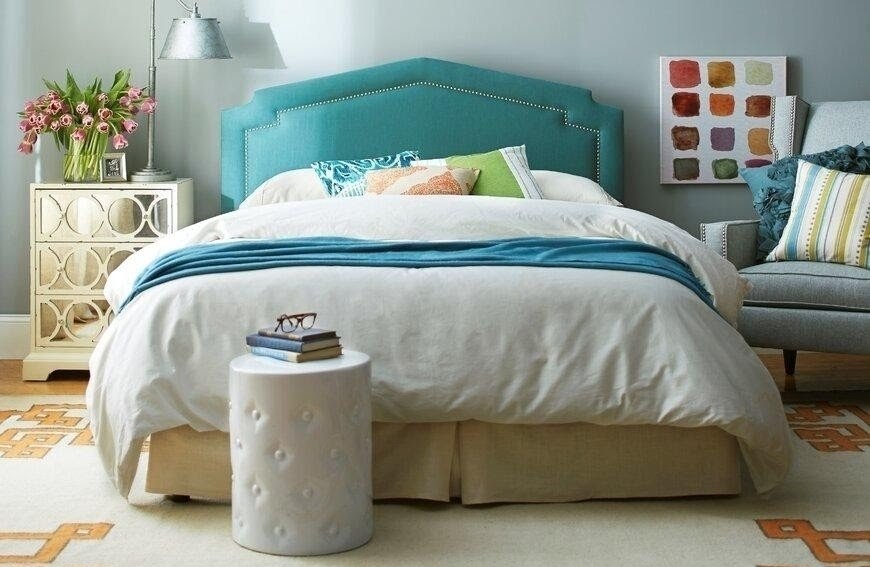 If you want to achieve a bold and classy look by decorating the room, you can use the irresistible combination of turquoise and gold. These two colors convey a feeling of high elegance and leave a well-balanced impression of freshness and calmness.
Since turquoise and gold are both strong colors, it is a good idea to complete the room they define with a few details in a third color. Like a pink blanket or, as is the case in this photo, purple flowers.
8. Wood And Turquoise
The combination of turquoise color with wood tones in the room creates a calm and natural environment. The reason for this is the fact that turquoise is a natural color at its core. For centuries, people have looked to the turquoise blue of the ocean in search of tranquility. The decorator of this room, with a combination of turquoise and wooden tones, achieved exactly that.
The pleasant feeling in the room, with the combination of turquoise and wooden colors, was achieved by carefully selecting light sources and unusual furniture design. First of all – the chair. These are details without which this room would not have so much style.
9. Copper And Turquoise
We can easily see the wow effect when we look at the room with turquoise furniture paired with copper in several tones. Who wouldn't be amazed by this unique copper and turquoise chair?!
In this case, it is important to point out that two normally dominant colors, turquoise and copper, can be too strong if one of the neutral colors is not paired with them. In the photo, you can see that the bright background has a lot of credit for successfully mixing turquoise and copper. It is also a good idea to paint one of the walls in the room white.
10. Mustard Yellow And Turquoise
In this case, as a striking piece of furniture in combination with mustard yellow that automatically draws attention and gives the room a modern look. Admit, this impressive dining room set is what you first noticed in the photo!
The eye-catching combination of turquoise and mustard yellow colors is a good choice for those who are not inclined to bright colors on the walls and want to break the monotony in the room with details such as these flower vases. Without a doubt, they would effectively enhance the look of any dining room.
11. Yellow And Turquoise
Determine the ratio of light yellow to turquoise depending on the mood you want to achieve in the room. If you aim for a brighter and more lively atmosphere, increase the tones of light yellow. If you want to achieve a soothing and relaxing environment, let the turquoise color be your base. In any case, you have a lot of space to fulfill your visions and desires.
12. Red And Turquoise
Few people choose a room defined by a combination of turquoise and red, but that does not mean that it is a bad option. However, you should note that when we want to combine turquoise and red in the interior design, it should be done very carefully for a good result. The ideal combination complements the prevailing turquoise with some effective red detail.
If you decide to go down this road, we recommend that the furniture in the room be in dull, neutral tones to avoid a tasteless explosion of colors and patterns.
For those who want to learn more, be sure to read: 10 Cute Nursery Ceiling Fans – Baby Room Ceiling Fans.
Final Thoughts
As you can see in this article, turquoise is an extremely grateful color when it comes to interior design since it goes well with many other colors. And not only with those we just had mentioned.
Whatever design you decide on, the color turquoise will serve you well. Choose the colors you will combine, turquoise depending on the feeling you want the room to prevail or the impression you want it to leave. But in any case, you can't go wrong with turquoise tones in any room in your home.
If you like turquoise and are exploring the possibilities of decorating your home in this color, we believe that we have given you plenty of good examples.