5 Quietest Robot Vacuum Cleaners (Reviews)
Robot vacuum cleaners can be a great tool to keep your house clean. They are independent, do not take up much space, and, most importantly, are easy to use. However, if the robot cleaner is loud, it can interfere with your daily work, which is not desirable.
That's why robot vacuum cleaners with quiet operation modes are very popular today. In this text, we bring you an overview of the quietest robot vacuum cleaners on the market, and we will explain what things you should pay attention to when buying them. So, let's start!
Why To Buy Robot Vacuum Cleaners?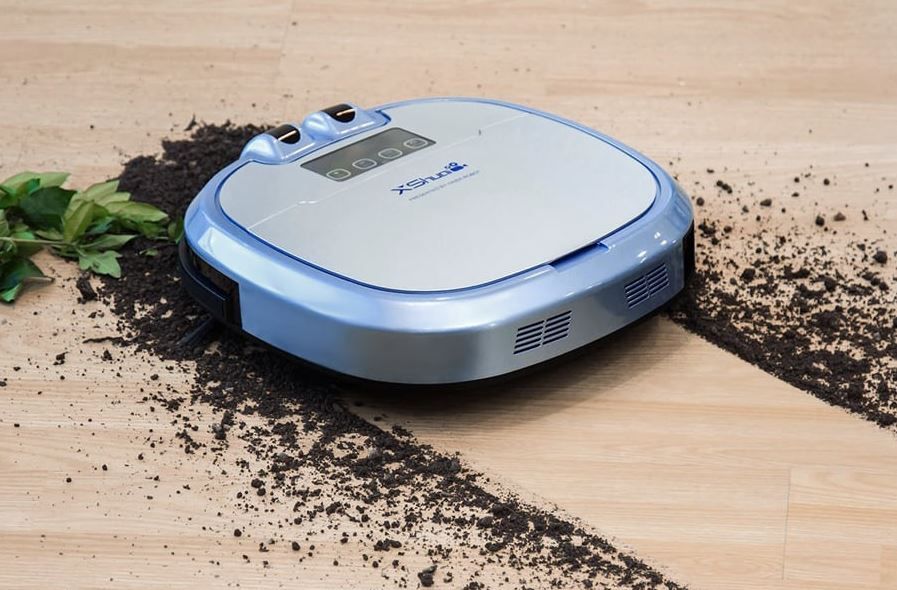 Compared to ordinary vacuum cleaners, robot vacuum cleaners represent a real revolution in cleaning the home. They keep your home clean all the time. In addition, these models are much quieter than conventional vacuum cleaners because their motor is adapted to a slower mode of operation. They clean surfaces at an easier pace and intensity; while doing that, they do not make much noise.
However, this does not mean that robot vacuum cleaners are silent. There are a lot of different models on the market, and the noise they produce during operation depends on the motor's quality, the housing's design, and the way the device is maintained.
As with all other household appliances, there are weaker models of robot vacuum cleaners that are cheaper but require much more effort during maintenance. That is why they are very loud. Of course, better-quality models are usually quieter.
If you want to know how much power these devices use, be sure to read this article: How Much Power (Watts) Does A Robot Vacuum Use?
Since robot vacuum cleaners, especially those with a silent mode, are very popular right now, we researched the best models on the market that you can buy now. Although our starting point was, due to my personal preferences, to look for a silent vacuum cleaner, I also looked at their features.
It was not an easy task to choose the ideal model for my home, but I succeeded. Note that when I narrowed down the selection to the top five models, my choice could have been any of them, and I certainly wouldn't have been wrong.
5 Quietest Robot Vacuum Cleaners
Below is an overview of the best five models of robot vacuum cleaners that do not make a lot of noise. These devices are quiet, and each stands out from the others due to some feature that makes it the right choice for a certain type of household. Find out which is the right choice for you in the next lines.
| Quietest Robot Vacuum Cleaners | Features | Price |
| --- | --- | --- |
| 1. iRobot Roomba 960 | Excellent | 3/5 |
| 2. Ecovacs Deebot N79S | Very good | 2/5 |
| 3. eufy Boost IQ RoboVac 11S | Good | 3/5 |
| 4. Pure Clean Robot Vacuum | Very good | 3/5 |
| 5. Neato D6 Laser Robot Vacuum | Excellent | 5/5 |
1. iRobot Roomba 960
The fact that it is an iRobot product instills confidence because this brand is synonymous with quality when it comes to robot vacuum cleaners. However, once you activate it, you will be delighted by its silent mode. iRobot Roomba 960 cleaning power is particularly impressive compared to the already mentioned extremely quiet way of working. This robot will effortlessly clean a carpet full of cat hair so well that you will be speechless.
In addition to being quiet, the Roomba 960 has a built-in navigation system with the help of which it maps the area in your home that needs to be cleaned.
This means that it will not collide with furniture and walls during operation. Suppose the ability to activate a robot vacuum cleaner is important to you remotely. In that case, I must mention that this model can be activated with the help of Wi-Fi, and Alexa can also start it for you.
2. Ecovacs Deebot N79S
If you have a very large apartment that is difficult to clean, then the Ecovacs Deebot N79S model may be the right choice. With this robot vacuum cleaner, you can easily and fast clean any home in no time. The good thing is that it is extremely quiet.
You will also be able to set it to clean a specific part of the house, such as the living room where guys made a mess last night, with increased intensity, using the unique maximum power suction function. I was blown away by how thoroughly this little robot can clean a carpet covered in snack crumbs!
3. eufy Boost IQ RoboVac 11S
This robot vacuum cleaner model is ideal for a home or small office with a standard furniture arrangement. Eufy effectively cleans smooth surfaces and carpets of medium thickness. In addition, it has an unexpectedly quiet mode of operation compared to the favorable price at which it is available in stores. Therefore, it is not surprising that in 2018 it was the best buy product in the category of robotic vacuum cleaners.
4. Pure Clean Robot Vacuum
The biggest advantage of the Pure Clean model is that it does not use a front brush. Instead, it has a vacuum opening of exceptional power that successfully compensates for the brush. This is important for those who are tired of cleaning their old robotic vacuum cleaner from pet hair.
This model also has several additional, convenient advantages. It contains a HEPA filter that makes life easier for allergy sufferers and has a built-in barrier recognition system, so it won't run down the stairs. In addition, it has a comfortable, slim design, which is why it fits perfectly into any space.
5. Neato D6 Laser Robot Vacuum
The Neato D6 model comes with many additional functions. It has incredible suction power, and when it comes across a place that needs extra cleaning, the focus with which it does it is incredible. However, its price is also at the upper end of the scale.
With all that, I have to admit the Neato D6 is also very cool. It has a built-in mapping system that uses a laser. But, apart from the fact that it makes you feel like you're in a sci-fi movie, it should be emphasized that with the help of laser space mapping, you can limit the robot's movement in a certain space.
For example, in the children's room while your baby is sleeping. Although, I doubt this vacuum cleaner could wake anyone up. It's almost hard to believe how quiet the mode is compared to the level of efficiency it achieves.
If you want to learn more about these robot vacuum cleaners, be sure to watch this YouTube review:
Things To Consider When Choosing A Quiet Robot Vacuum Cleaner
Noise Level. If you're looking for a robot vacuum cleaner and you're most interested in finding the quietest model you can afford, don't worry, you're not the only one. Considering that the first models of robot vacuum cleaners were quite loud, there are many people who, when buying a new vacuum cleaner, specifically look for quiet models. That is why manufacturers highlight the noise level in decibels in the product characteristics. Most models of robot vacuum cleaners produce noise between 40 and 65 decibels. Anything more than that means noise that is hard to tolerate.
Cleaning Speed. If it is important for you that the vacuum cleaner does its work as quickly as possible. Therefore, when buying, be sure to pay attention to its working speed. The average speed of most vacuum robots is 0.30m/s, but there are also extra fast models on the market that can reach a speed of 0.35m/s.
Cleaning Power. Regardless of everything else, the most important feature of a robotic vacuum cleaner is that it cleans well. There is not much use in having a quiet vacuum cleaner that looks nice and can be activated remotely but does not do its job well. If you have to do extra cleaning after the vacuum cleaner returns to the base, then owning a robot vacuum loses the point, right? When buying, you should always check the strength and power of the robot's suction. It's the bare base.
Wi-Fi & Alexa compatibility. Considering that robotic vacuum cleaners represent a technological innovation, it is logical to expect that they can be operated remotely. And while the first models of robot vacuum cleaners had remote controls as a deluxe option, today, the important convenience of new models is that they can be controlled with the help of WiFi and Alexa. However, if you come across a high-quality and affordable model that does not have a WiFi feature, be sure that it at least has a classic remote controller.
Price. As with any other household appliance, the price, in most cases, determines the level of quality. I cannot deny that in the case of robotic vacuum cleaners, a higher price means a better device that will be more efficient and have more useful functions. Some manufacturers still think that the noise that this type of device creates is not what will push you to decide which model to choose. So, be careful. Even if you have a big budget to buy a robot vacuum cleaner, it doesn't mean you can blindly grab the most expensive model off the shelf and expect it to work silently.
For those who want to learn more, read: 10 Quietest Coffee Makers On the Market.
Our Choice Is iRobot Roomba 960
Taking into account all the characteristics, such as price, features, and battery, it was difficult to choose the best robot vacuum cleaner model. My choice ended up being the iRobot Roomba. I didn't make a mistake. This vacuum cleaner does an excellent job. It cleans the carpet in the living room and the tiles in the bathroom equally well while producing minimal noise. In my case, the price was the decisive factor that made me choose iRobot.
Final Thoughts
Which robot vacuum cleaner to choose depends solely on your personal preferences. If you're like me and want a quiet robot vacuum cleaner, feel free to consider any of the above five models; you won't go wrong. Each of these mentioned models is good, the only thing you need to take into account is their features.
If you need a robot vacuum cleaner for an office or a small apartment, a good recommendation is Pure Clean, which has a very favorable price and a built-in HEPA filter. However, if you are looking for a vacuum cleaner that will keep the whole house clean, buy Ecovacs, Eufy, or iRobot. I hope that this article has helped you.