Do Shower Doors Add Value To Your Home?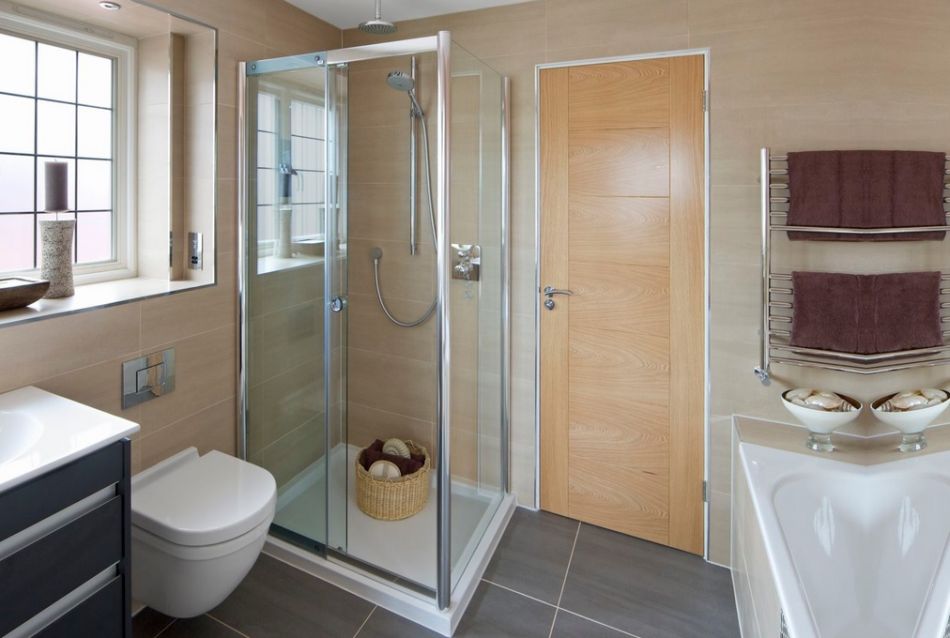 Adding shower doors in your bathroom will not only increase the value of your home but also give you a lot of benefits. If your shower curtain is not enough to protect you against flooding in the bathroom when showering, or if you don't have one, it is a good idea to consider installing shower doors. In this article, we'll talk about why adding shower doors to your bathroom is a good investment. So, let's start!
Do Shower Doors Add Value To Your Home? Adding shower doors to your bathroom will increase the value of your home as this is considered an upgrade compared to standard bathroom equipment. By installing shower doors, you'll also get better practicality and simplicity, and the value of a home in this segment can increase up to 70 percent.
Having a well-decorated bathroom certainly increases the value of the home, and this includes a good and quality shower doors. Therefore, having a good shower door will add value to your bathroom and make it more aesthetic. In the following, we will discuss this topic in more detail, explain how much this investment can cost , and give you some recommendations.
Advantages Of Adding A Custom Shower Door
Adding a custom shower door in the bathroom will certainly delight any person who uses it, as it gives the bathroom a more modern look and offers better privacy for the user. Also, it is known that custom shower doors offer better quality than universal ones in the long run because they are made exactly to the measurements of the shower base, so it is less likely that cracks will appear on the joints over time.
In addition, custom shower doors give the bathroom a fancy and elegant look. The big advantage of this type of shower door is the simple installation which can be completed in just a few hours.
If you have problems with your shower doors, be sure to read: Shower Door Repairs: Most Common Fixes.
How Much Value Does A Shower Door Add?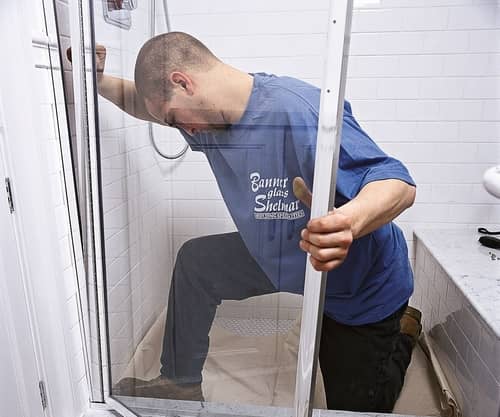 The range in which you can increase the value of your home by installing a shower door in the bathroom depends mostly on the design of the doors, their functionality, and the way the shower door affects the overall appearance of the room.
Steam Shower Enclosures
If you have a slightly larger budget, you can give your shower a special look by installing a steam shower enclosure that offers the user a completely new experience of relaxing showering with the possibility of massage, listening to music, and enjoying special lighting. 
In this case, you can choose between custom or pre-built options and between rain or clear glass, depending on what effect you want to achieve in the room and how important privacy is to you during the shower.
Related Article: Standard Bathroom Door Sizes: Complete Guide
Framed Enclosures
Framed shower doors give the homeowner good value for money. It is a budget-friendly option that provides great protection against water damage in the bathroom. An additional advantage is that you can have this shower door in any color you like with the help of colored aluminum coating.
Semi-Frameless
It is a mixture of frameless and frame-in styles. This type of shower door usually has one or two glass borders. In this way, the shower door simultaneously gives the room the effect of spaciousness and good water damage protection at a favorable price.
Frameless Enclosures
If you want bathroom to look modern and spacious, frameless door construction is a good choice. Considering that it is a continuous glass surface, it is very easy to clean. Along with regular maintenance, it helps the design of the tiles on the walls surrounding the shower and the interior decoration of the entire bathroom to shine.
Hinged vs Sliding Doors
If you doubt whether to choose a hinged shower door or opt for a sliding one, you should know that sliding shower doors provide much better protection against water damage. As well as being more functional when it comes to arranging other fixtures in the bathroom. Sliding doors on the market are available in many different designs, so you should have no difficulty finding a model that will suit your personal preferences.
Accessibility
As much as your budget allows, you should ensure that you can easily access your shower. This can significantly help you raise the value of your home and many life situations.
When you remodel the bathroom or construct a completely new one, it's always smart to think ahead. If you plan to live in your house for the rest of your life, you should think about the years when it will be much easier for you to walk into a shower that is at floor level simply. Also, at any time in your life, you or your family members may use a wheelchair to get around.
Related Article: Can You Replace Just A Shower Floor? Expert Explained
Things To Consider Before Installing Shower Doors
Once you've decided what kind of shower door you want, it's time to get ready to install it in your bathroom. In doing so, you must consider configuration, dimensions, and showerhead design. 
Configuration – You need to know exactly what weight the walls in the bathroom can bear so that they are not overloaded with shower doors. When calculating the permissible load, keep in mind the weight of other bathroom fixtures. 
Dimensions – Whether you are buying a standard shower door or a custom-made one, you need to know the exact dimensions of the space in which you are installing them. If you are not skilled in measuring, call an expert. 
Shower head design – To avoid water damage when using the shower, match the shower head design with the height of the shower door and the ventilation system in the bathroom.
Benefits Of Remodeling Your Bathroom
Upgrading any room in the home causes great satisfaction for the homeowner, and in many cases, it leads to the situation that those who remodeled the home to sell it at a better price give up the sale because of the new features they installed!
According to data from the National Association of Realtors Research Department (NARI), 65% of homeowners appreciate their property much more after a home renovation, and even 75% spend much more time in their homes. Also, when comparing the level of satisfaction with their own home among those who have not upgraded it for a long time and those who have recently done so, as many as 62% of respondents who have upgraded are much more satisfied with life in their home.
What pleases owners of remodeled homes the most is greater functionality (36%), the certainty that the achieved effect will last a long time (17%), and the new look of the home (17%). NARI also researched the level of happiness that homeowners feel after renovations in their homes and came to the conclusion that on a scale of 1 to 10, the owner of a newly upgraded home is happy at 9.6.
How Much Does It Cost to Install a Shower Door?
The cost of installing shower doors depends on the door model you have decided to install, its dimensions, and whether it is a pre-build or custom-made option. The installation price range is from $1,000 to $5,000.
The price of installing a standard frameless single-swing door of 34 inches is $1,400 on average, while the average price of a framed bypass door installation is about $600. The most expensive is the installation of a custom-made frameless door. The installation of a model with two and a half cubical sides with an antibacterial coating is charged on average up to $5,000!
NOTE Do not skimp on the installation of shower doors. Rather try to find an expert who will do the job for you at a fair price. Quality shower doors with a modern look will mean little to you if water leaks from thought them all over your bathroom.
1. Installing Shower To An Existing Half Bath
If you have a bathroom in your home without a shower, that is, only half baths, the value of your home can certainly be increased by installing a shower in the full bath or ¾ bath option. 
You should know that most people like the full bath option, and if you have it in one or more bathrooms in the house, you can expect to find a buyer for the property more easily. Research shows that moving from a half bath to a full bath, on average, increases the market price of a home by as much as 11%!
2. Upgrading A Shower In An Existing Full Bathroom
We have already mentioned how transforming the bathroom from a ½ bath to a full bath can significantly increase the property's value. It should also be added that increasing the old house value that does not have the option of adding a shower in the bathroom is a worthwhile investment.
In any case, when you are thinking about installing a shower in the bathroom or constructing a new bathroom with a shower, it is recommended to consider your long-term needs and plans. Are you making the bathroom for your family, or do you already know in advance that the house you live in will not be your home forever?
If you are planning to have children, it is good to leave a tub in at least one bathroom, and if you are in your late fifties, it is not a bad idea to consider a master bedroom on the ground floor of the house with an attached bathroom and shower that is easily accessible.
It is always good that if you are renovating the shower in the bathroom, you should do it in such a way as to increase the accessibility of the room, and you can do this with a floor-level shower which is ideal for use by the elderly and people with disabilities. 
For those who want to learn more, be sure to read What Are The Standard Sizes For Shower Pans/Bases?
FAQ: People Also Ask
How much value does a shower add?
If every bedroom in your house has its own bathroom, after you add a shower to the half bath, you can count on the value of your house to increase by about 5.7 percent.
Does having a walk-in shower add value?
Adding a walk-in shower will significantly increase the value of your property. But if you have the possibility, leave the half-bad system in at least one bathroom since it is a must-have for families with small children.
Are shower doors necessary?
Having a door on the shower in the bathroom is not necessary. A shower can function perfectly normally in a bathroom of any size without a door. It is only necessary that the installation of the shower is done by an expert with experience in such work in order to avoid potential water damage.
Final Thoughts
Be sure that installing a shower door on an existing shower or building a new shower with a shower door can significantly raise the value of your home. To what extent depends on the model of shower door you choose. You will certainly achieve the best effect with glass shower doors of simple design that will make your bathroom visually more spacious and easy to maintain