Do Towel Rails Heat the Bathroom?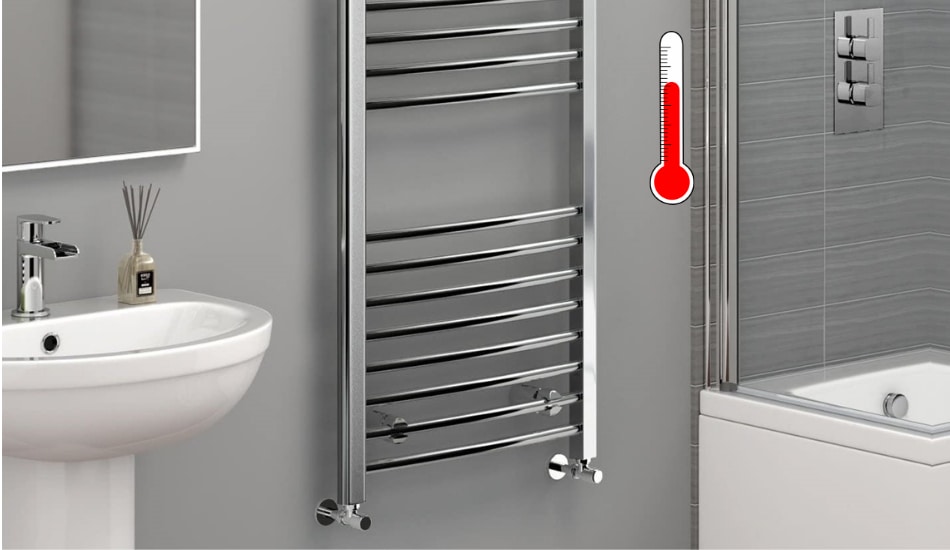 Towel rails no longer fall under the luxury item and can be found in many bathrooms across the world. They come in all shapes and sizes, they're affordable, stylish, and don't take a lot of space. But are they good to keep your bathroom heated and are they effective as radiators? We consulted with a couple of experts who deal with home heating and we ask them if they can replace classic radiators. Here's What They Said!
Do Towel Rails Heat the Bathroom?
So Do Towel Rails Heat the Bathroom? Most heated towel rails can generate enough heat to warm the bathroom and at the same time keep your towel warm and ready when you are finished with a bath or shower. A larger bathroom will require additional sources of heating because heated towel rails will not be enough to warm the room. 
However, if you were to purchase a full-sized towel rail, you would not need a regular radiator in the room. The main benefit of towel rails is their height.  Compared to standard radiators, they take up a lot less space horizontally because they can go from floor to ceiling. This will make a massive difference if you have a tiny bathroom with restricted wall space.
You can check on Amazon, Towel Rail Heaters.
Calculation of how much time it takes to heat up the bathroom with heated towel rails:
| Towel Rails Dimensions: | Bathroom Size: | Time to Heat: |
| --- | --- | --- |
| 500 x 700 mm [H x W] | 35 square feet (3.2 square meter) | 5 minutes |
| 600 x 750 mm [H x W] | 40 square feet (3.7 square meter) | 7 minutes |
| 800 x 700 mm [H x W] | 45 square feet (4.1 square meter) | 9 minutes |
| 1000 x 800 mm [H x W] | 50 square feet (4.6 square meter) | 12 minutes |
Shows How Much Time It Takes To Heat The Bathroom
When you're considering what size towel rail you will need to heat the room, you may want to consider a few things:
how large the bathroom is, 
what the insolation is like, 
how big the windows are and are they double/single glazed,
how many people will be putting their towels on the radiator.
You may also need to put on paper the heat loss for your bathroom. By that, you will know how much heat is required to heat one room in simple terms. The heat output for a rail tells you how much heat it will release and, therefore, how efficiently it can heat your room. But why does this matter? 
If you wrongly calculate your towel rail size, it will not properly heat your bathroom and you will not get the desired temperature you wanted. Keep in mind that if the heated radiator is always laden in towels, it might not heat the room efficiently. 
Place your towels on the fence until they're dry. Towels should be removed from the rails to another suitable place so that they can continue to heat the bathroom unhindered. This will also stop damp towels from going moldy when they're left in a heap on the floor. 
How Long Does an Electric Towel Rail Take to Heat Up?
On average for an electric towel rail to heat up fully it takes 5 minutes. While centrally heated rails in most cases take around 20 mins or more to heat thoroughly, an electrically heated towel rail reaches its desired warmth in less than 6 minutes. This is a big advantage that electric towel rails have, unlike classic radiators.
Are Towel Rails as Warm as Radiators?
A towel rail usually gives out less heat than a regular radiator. The reason for this is that they are generally smaller in size and thus radiate less heat. However, if it has been sized correctly, it should still be able to make your bathroom a warm and cozy place. A towel radiator might take less time to heat up than a regular one. When you turn on your central heating, it can take around 10 minutes for your radiators to reach their maximum temperature. 
Types of Towel Rails For Bathroom Heating
The most popular with buyers are wall heaters designed to dry towels. And there is a reason for that. The price of a heated towel rail is the lowest compared to alternative heating appliances. They are functional and compact. The heated towel rail scheme is as simple as possible to install and operate.
Currently, there are three types of bathroom towel warmers:
Water;
Electric;
Combined.
How Do Heated Towel Rails Work?
A standard heated towel rails work by using the hot water that is heated up and is circulated through them. Heated water is coming from the central heating system. Therefore, the towel rails are used to heat up the bathroom and to dry the towels. They are usually installed and placed in the wall.
Heated towel rails will work with your central heating system and is powered by your boiler. There may be a way to isolate the rest of the system so that the fence can still operate in warmer times without the other radiators turned on, but you may need to hire a suitably qualified expert to do this for you. 
Are Heated Towel Rails Worth The Investment?
Heated towel rails are worth the initial investment because you will not need to wash your towels very often and it will make your towels being constantly dry. They can save you on energy costs and water. It takes just one chilly morning to get the full picture and realize that you need a towel warmer in your life.
Wall towel radiators can increase storage space and provide heated rails. A smart homeowner sees the benefits of added storage and heat in the bathroom, going for the double whammy. You can buy timers to combine with your heat rack to reduce run time and costs. Measuring the power consumption with gas supplied warmers use BTU's or British Thermal Units to measure usage.
You can choose one of these heat rails systems;
Electric Towel Rails
Watter Towel Rails
Once you have chosen the type of power source for your towel warmer, it's easy to work out the rough estimate of consumption.  More oversized bathrooms or bathrooms with more windows can reduce the heating quality of the towel heater warmer. Considering the bathroom size and the extra factors, you can judge how many BTU's you will use.
If you have two bathrooms or ensuites and use towel radiators, remember to double the estimated usage. A simple tip, but I find many people with various heat rails don't multiply the power estimates.

Pro Tip
Do Electric Heated Towel Rails Use a Lot of Electricity?
An electrically heated towel rail uses the electricity accordingly on how long it's on and on its size. For an electric heated towel rail that has 9,000 Watts, it will cost you around 10 pence per hour. You can find the information in the installment instructions. Towel rails are usually rather weedy and will not keep a room warm.  Energy from electricity currently costs about four times as much as energy from water.
Where Should You Install a Towel Rails to Heat the Bathroom?
Where you place your new heated towel radiator will depend significantly on a few distinct factors, including, but not limited to:
The configuration of your bathroom
The dimensions of the bathroom
Your existing pipework
Doors, pipes, and existing bathroom fixtures (bath, sink, toilet, etc.)
Whether it is plumbed or electric or twin fuel
The size of the radiator that you buy
It's necessary to take some time to consider exactly where you want to place your new towel rail for convenience, ease of use, and how it looks concerning the rest of your bathroom. If you are fully redecorating the room or possibly refitting your entire bathroom space, it will be much simpler to paint or tile behind your new towel rail BEFORE you fit it.
If you already have a plumbed radiator or towel radiator in your bathroom – and you're not considering moving its position – be sure to get the correct dimensions and gap between the pipe inlets. That way, you can apply those same measures when you buy your new appliance.
Given you take accurate dimensions, it should allow you to do a straight old-to-new swap without much trouble, and this will help to save you a bit of money, too, as your plumber presumably won't have to move pipework around.
A towel rail with a slim-line profile may demand a few changes to existing pipework and plumbing – particularly if the pipework comes from the floor rather than running along the wall. And any further changes to underfloor plumbing will demand floorboards to be lifted, so keep that in mind if you have already put new flooring, as costs could soon increase, and headaches could be on the menu.
It is also worth mentioning that if you are swapping out an old 'plumbed' radiator or towel warmer for a new 'electric' towel radiator, you won't profit from the same cost savings you would substituting an electric heater. 
So be sure to take tips from your electrician or plumber as to where the most proper place to install your new radiator is likely to be and whether it's worth it.
How Much Heated Towel Rails Cost?
If you want to install a heated towel rail in your bathroom it will cost you around $150 for the lower end of the scale. The price depends on a few factors such as labor costs, model, and size. This is definitely an investment worth investing in. Also, depending on your budget, you can always get more expensive models. You can purchase timers for towel rails that come on automatically at specific times of the day.
My Experience With a Towel Rails In a Bathroom
I have Towel Rails in my bathroom, and I used them almost every day. Now I'm going to tell you a couple of tips you need to know about them.
You need to calculate the sizes of the bathroom carefully, and then use one of the online calculators to calculate what heat output (BTU's, etc.) you need, and then combine a bit for the towels blocking/absorbing heat to pick a "radiator" of the right size to give out sufficient heat.
First tip – there are discrepancies in heat output between radiators of the same size depending on companies and whether they are white, chrome-plated, or polished stainless steel. 
Suppose you need a chrome one but are a bit short on space in your bathroom for one powerful enough. In that case, it's worth viewing at stainless steel as they give out more heat for the same dimension – they are more costly, but it's a one-off investment, so better to do it as you should than bodge it and regret it.
The second tip – I have a tower rail that uses water as a central heating system, but it also has a secondary electric component in it.
We use this in warmer times wired via an immersion radiator programmer so that when the CH is turned off, and we need the towels to dry, it heats for quick during each morning after shower time.  We used to have somewhat damp towels before adding this unless we took them out of the bathroom and put them up to dry off.
For those who want to learn more, I have one interesting article also about the bathroom, How to Install Motion Sensor Light in a Bathroom.
Final Thoughts
Towel Radiators are much more than a simple radiator, they are essential to ensure your comfort in the bathroom. Previously, towel radiators were used only in luxury apartments, but today they are cheap and almost everyone can afford them. They can heat the bathroom very quickly and maintain a comfortable temperature. I hope we have resolved another issue for you and helped you with the answer can towel radiators heat the bathroom.