Do You Need Radiators in The Kitchen?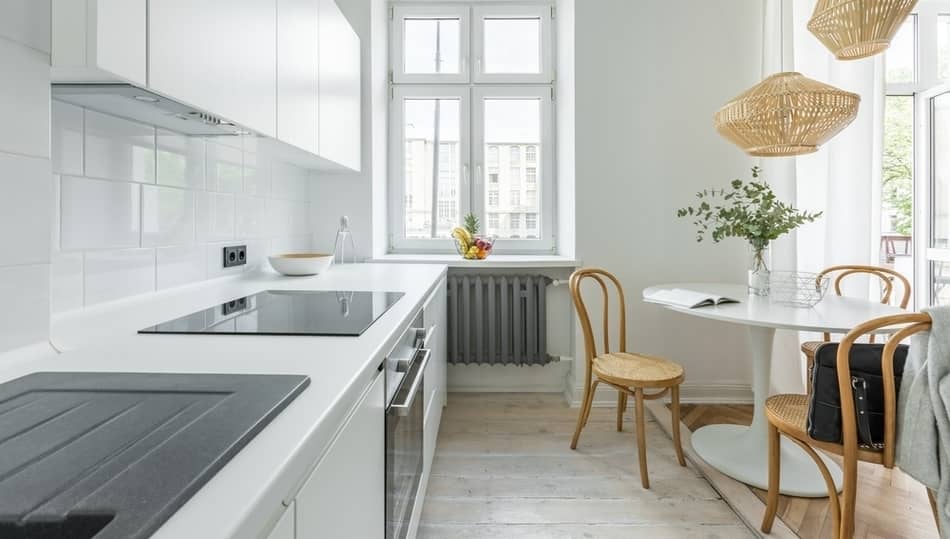 The kitchen is definitely the most important room in the house. They're a room where many of us sit to eat, prepare food, shares interesting stories at the table, and host family and friends. Also, kitchens are regularly the only place in the entire house that produces extra heat by cooking, so it's normal to wonder do you actually need radiators in the kitchen? We talked to a couple of experts to see what they have to say about this.
Do You Need Radiators in the Kitchen?
So Do You Need Radiators in the Kitchen? The kitchen is the only place in the entire house that usually do not need heating. Kitchens produce enough heat from the hob or oven during cooking. However, during the winter when temperatures get lower it is desirable to have an extra source of heating and that's why a kitchen radiator is preferred.
Hence, radiator covers are also a useful thing and can serve a multitude of purposes and help you make your kitchen more efficient. They can also help to protect your children from too hot radiators.
Are Kitchen Radiators False Economy?
After all, by relying on your stove and appliances to heat the kitchen when you're in there, and leaving the place unheated when you're not, wouldn't it be more ecologically sound and save you money?
Well, while this does seem to be a valid and economical approach, as with many things in life, you may well discover that it's not nearly that straightforward, and cutting corners on warming your kitchen could well end up losing time and money.
During the cold days, if the kitchen is lying chill for hours on end and then is used for cooking hot, humid comfort food, extra cups of coffee, or something, this can easily create moisture in the kitchen – even if you use an extractor fan.
Therefore, the most reliable way to avoid this problem and trouble is to place a radiator in the kitchen. The radiator also helps you to dry kitchen towels quickly which is a big advantage.
Which Radiators Are Best Suited For Small Kitchens?
Radiators that are best suited for small kitchens are vertical radiators. They can deliver a good amount of heat and they can fit perfectly in the kitchen. Today there is a very large selection of radiators that can be found just for small kitchens so customers have no problem finding them.
You also need to have a Smart Thermostat for these radiators.
Use Radiator Covers For Better Impact
Radiator covers are a great solution to hide your radiators and give a better design in your kitchen. Many homeowners don't like the look of heaters and want to cover them up, which is understandable. Covers range from utility metal cases, powder-coated with trefoil grids, to fancy wood cases that double as bookshelves. We can say that these covers act more like furniture.
This is because the wooden tops provide enough heat insulation. Wooden radiator covers are expensive but pretty. They can also help you keep your radiator cleaner. With these covers, you can regulate the flow of heat in your kitchen also.
What Kitchen Radiator Should You Choose?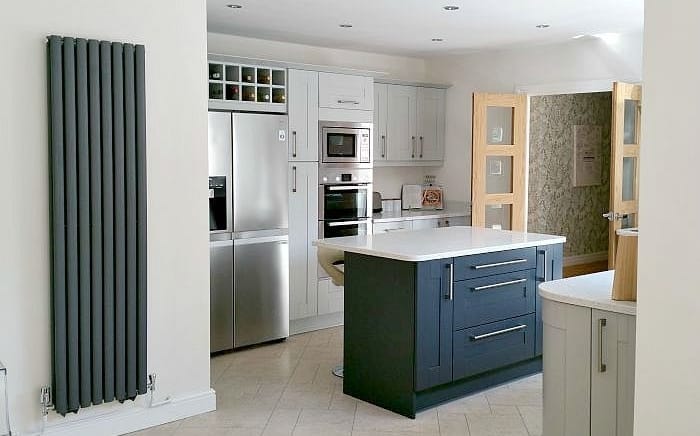 Kitchen Radiators are an excellent tool to heat a room of any size. Designs are continually evolving, so you do not need to be worried about getting stuck with a large or ugly radiator that will wreck the décor of your kitchen.
Amidst ever-evolving technology and extensive design developments, there is a fresh looking, better quality type of radiators accessible than ever before. Therefore, there are many different ways of using a radiator as your kitchen's primary warmth source.
Radiators are provided in all varieties of sizes, frames, materials, and colors. Therefore it is much easier today to install the radiator than it was been before into the tight, awkward spaces in your kitchen – where space is often a problem.
There is a wide assortment of radiators that you can select and choose from depending on your requirements. You can go for a more dense design when you have a kitchen on the more modest side so that you don't have to settle any extra space for it.
Of course, vertical radiators serve well as a standout piece in large kitchens, but can likewise suit more thick, galley-style kitchens. In fact, for smaller kitchen spaces, you can base the room's aesthetics on your radiator's exterior in some cases. 
A slimline vertical radiator is the best choice for small kitchens where there is insufficient wall spaces. For such a design, this type of radiator will also ensure your deck space is maximized, which can be essential for galley-style kitchens.

They are compact while fulfilling the right volume of heat for the room. They have a smooth look and can mingle seamlessly with your décor.
However, if you have the space ready, you can even look at horizontal radiators for your kitchen.
Modern radiator fixtures offer standout aesthetics instead of more traditional cast iron radiators, so why not use them as a top kitchen feature?
Revive designer radiator range covers different choices that will add a modern class touch to a kitchen space. Each design can improve the area's image and give sufficient heat output to warm the room to a pleasant temperature.
The likes of the Revive anthracite upright double-panel radiator are ideal for kitchen and dining areas, for example, giving a lovely finish that is sure to fit well with any kind of circling decor and fixtures. The double-panel configuration also guarantees the place can be quickly transformed into a friendly and welcoming area.
Where Should You Position a Kitchen Radiator?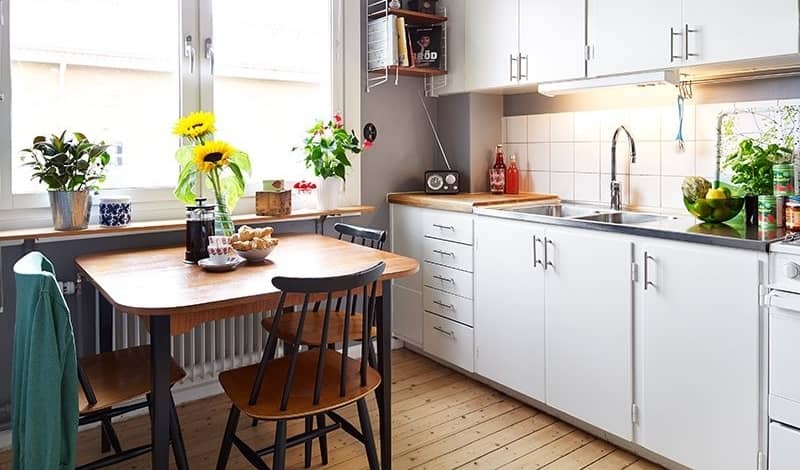 The traditional place to position your kitchen radiator is under the window or in the coldest part of the kitchen. Except for selecting which style, color, and shape of the radiator to opt for, placing it within the kitchen are crucial. It is necessary to do it the right way to provide a rich, balanced spread of heat. A typical installation spot for radiators tends to be under windows, whereby convection flows are formed, enabling heat to radiate from the radiator and flow throughout the kitchen.
If you do have a window in your kitchen, it is presumably positioned right over your worktop. So it may be challenging to install a radiator in this area, chiefly if cupboards or big drawers are located beneath it. 
However, if there is free space below your kitchen window, placing your radiator can provide you with a great chance to produce a beautiful breakfast bar or a comfortable dining area. This and the easy addition of a few seats can improve your space, arranging for a striking but practical household kitchen centerpiece.
Outside of providing a chic and comfortable area for having meals at, your breakfast bar can establish a right spot at which the children can do their homework (and request for your help while you bake!), and provide you with helpfully added storage space, which even the most comprehensive kitchen areas will welcome.
When choosing a brand new kitchen radiator, you want your new appliance to catch the eye while warming the space thoroughly, so placing it in the perfect place is necessary.
Can You Put a Fridge Near the Radiator?
You can put a fridge near the radiator only if it is not possible to find another place in the kitchen, but the minimum distance must be at least 50 cm from the radiator. But these conditions will reduce the life of the fridge.
The kitchen arrangement can be pretty complicated if the room does not have enough space. It is incredibly difficult to determine the radiator's location in the kitchen area because the refrigerator's size is also large and it takes a lot of space in the kitchen. 
Many folks wonder whether it is possible to put a radiator next to a refrigerator without any problems. A situation where it's impossible to install a radiator except near the refrigerator is quite common.
Manufacturers are not strongly recommending this option because it will sooner or later lead to a refrigerator's breakdown. This is because the radiator will heat the back of the fridge, which will evaporate the cold air.
Because of the hot vapor, the fridge will have to spend a lot of electricity to maintain its temperature, which will ultimately lead to the fact that it will fail.  If there is no proper place for a radiator in the kitchen and there is no place except near the refrigerator, it is better to put the fridge in another room. This will help extend the life of the fridge and free up space in the kitchen.
What if There is No Other Way Around?
It also occurs that the apartment is so tiny that it is difficult to put a refrigerator in the hallway or another room. And the only spot is right next to the radiator.  
In these extreme cases, the radiator can be placed near the fridge, but under specific conditions.
The rear wall of the fridge must not rest on the radiator. It is better to place it sideways and then only half. This way, intense heating can be avoided to eliminate the possibility of the refrigerator breaking.
The radiator must be placed at a distance of at least 60 cm from the refrigerator.
There must be a foil barrier between the radiator and the cooling part of the refrigerator. It is essential to reflect thermal energy.
Putting the fridge close to the heating device is extremely dangerous. The fridge and the electric motor will not be able to carry the warmth that will come from the radiator for a long time, and sooner or later, it will fail.  If the fridge fails, the warranty will not be valid, and you will need to call an expert to fix it.
A modification is possible with a pipe that can help preserve the radiator from thermal radiation.  In this situation, the hot water pipe must be protected using specific materials. But this system is not always suitable. In a small kitchen with fittings already arranged, this is extremely hard.
Final Thoughts
Radiators are used in all rooms in the house, including kitchens. Although the kitchen does not need large radiators as other rooms, it is desirable to have them in the kitchen to avoid moisture. When installing the radiator, it is important to pay attention that they are not placed close to the refrigerator. Although most people have small kitchens, and this is their excuse not to put the radiator, today you can find them in various sizes and they can fit into any design and are very economical. Remember, the most important is your comfort in the house!