How Much Does a Toilet Installation Cost?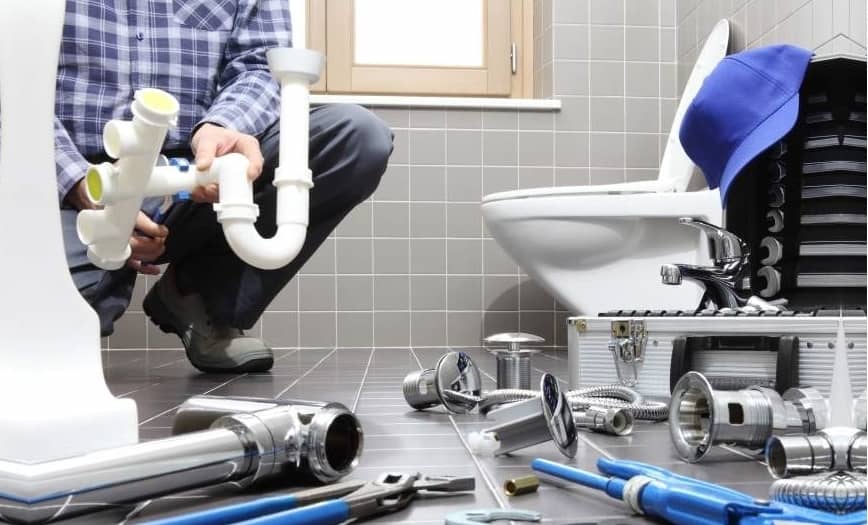 Is it time to install a new toilet in your bathroom? If the answer is yes, then it is important to prepare and calculate the costs it carries with it. Knowing the cost, you will get a clear idea of how much money you need for it. As budgeting is not a task that should be taken lightly, in this article, we'll explain everything that you need to know about this and much more.
How Much Does a Toilet Installation Cost?
So How Much Does a Toilet Installation Cost? Typically, toilet installation costs are between $225 and $534, while the national average is $372. The total cost usually depends on the toilet type and the job difficulty. The installation process takes approximately 2 to 4 hours for a professional plumber at a base rate of around $65 per hour.
But as these are just average prices, and you are interested in more than that, stay with us to see what are the factors that affect the total cost of a toilet.
For those who want to know more about toilets, be sure to read How a Toilet Works & Toilet Plumbing Diagrams.
Toilet Installation Cost
Although the total cost of installing a new toilet varies depending on several parameters, it is estimated to be an investment of approximately $425. This is the amount that combines the cost of buying a toilet bowl, which is $300, and one hour of plumbing work according to the current average price, of $125 per hour. 
The installation of a new toilet is usually not a complicated job if the pipe on which it is installed is in good condition. Installation involves placing a new wax ring along the edge of the drain to which the toilet bowl is then fixed. Also, great care should be taken that the system is properly connected to the water supply. The estimated cost per hour varies from $45- $200, and the installation process can be done within 2 hours.
The plumber will charge between $45- $400 for this work, given the aforementioned average values. But you should know that these costs do not include work related to supply lines and valves work. For plumbers, the installation of toilet bowls is one of the simple jobs in their line of work, and they know very well in advance how much time they will need for such a job.
The following steps must be taken during installation. 
Disconnect the water supply
Remove all water from the old toilet, and then remove it from the connection
Install a new fixed wax ring
Be sure to inspect the flange for any damage or wear
Make a connection for a new toilet bowl and perform installation
It is recommended to hire a licensed plumber because during the installation process there are several things that can go wrong such as:
Sudden water leak
Toilet bowl instability due to damage to the coupling
Water leak due to poor sealing
Inability to replace the flush valve
Waste Pipe Installation – There is a possibility that when installing a new toilet, it will be necessary to replace the drain pipe, or move it to a new location. If this happens, you should expect higher installation costs than originally planned. It is a job that lasts approximately 6 to 8 hours, and its value is estimated at $45- $200 per hour. The price of the new pipe is $150, which means that the total cost can increase from $420 to $1750.
Related Article: Can Water Heater Be Transported Laying Down?
The Location of Toilet Can Impact The Cost
The average cost of installing a new toilet is $425, but this varies depending on where in your home you plan to do the job, as well as the total scope of planned and additional work that will be performed. 
Cost of Installing a Toilet in Basement: in order for the toilet to be installed in the basement of the house it is necessary to have a water supply system and adequate water pipes in that area. If the mentioned systems already exist, the cost of installing a toilet bowl in the basement is estimated at approximately $1695. Cost of installing a toilet bowl in the basement, which includes the previous installation of the water supply system and adequate water pipes, ranges from $1070 to $2400.
Additional Labor Cost: After starting the installation, a number of additional works should be expected, which will be linked to the planned ones. The cost of these works can be up to $800.
If you are planning to install a new toilet on the first floor of the house, you should keep in mind that contractors often charge the additional bill fee of $50 to $200 for the time and work spent on carrying heavy toilets up the stairs. 
Also, the total cost of installing a toilet can be increased by problems such as unexpected leaks, floor damage, poorly done sealing, cracking of the toilet bowl surface, clogged toilet bowl pipes, or poorly placed couplings that make the toilet bowl unstable to use.
Cost to Move Toilet
Moving a toilet from one location to another in the house costs between $2500 to $3500, while the average cost is $3000. The reason why this is so expensive is that this is a demanding job for plumbers who have to change the schedule of plumbing, drainage, and water supply when performing such work.
How To Pick the Right Plumber For Installation
The most important thing for the toilet installation process is choosing a good and quality plumber. If you choose the right plumber, you can expect that you'll pay a reasonable price, but on the other hand the job will be done very well.
A bad choice is to hire an inexperienced plumber which makes his price inappropriate because, in addition to his work proving to be bad, it can also result in damage to your property. If you want the plumber to do a good job, then follow this thing:
Be sure it has a license
Have proven experience in installing and repairing toilets
Must agree to signing a contract with specific conditions
Offers a warranty for the work he does
It is important to know that plumbers in the USA usually charge for their work per hour, but also that this price varies, as we will explain in more detail. These figures indicate the average cost that a plumber charges per hour for their work. Not the value of the works themselves. With that in mind, study the review below.
How Much Do Popular Toilet Brands Cost?
There are manufacturers of toilets whose name is a sign of quality, durability, good technical characteristics and excellent performance. They have a good reputation among homeowners. We will show their price lists and offers. 
Toto: Offers diversity when it comes to design, and is a great choice for those who care about the environment. Their price ranges from $200-$1000. 
American Standard: Offers toilet bowls in a wide range of colors, and with a wide range of water release systems. Their price ranges from $170-$1600. 
Kohler: This manufacturer offers toilet bowls in various packages, and they are colorful in design. Their price ranges from $100- $800. 
Eljer: Offers items of different colors with an advanced water release system. A special feature of the offer are the corner toilet bowls. Their price range is from $100-$300. 
Saniflo: The company primarily offers environmentally friendly toilet bowl systems that can also be purchased in a variety of designs. Their price ranges from $300- $1200.
Enhancements You May Want To Add
Self-cleaning toilet – This types of toilets are easy to clean, but you need to spend more money to get them. The average price is around $500.
Heated toilet – The ideal toilet bowl that can be found in many homes. It is popular because of its $100 price tag, but also because it can be purchased with an automatic lid function and a built-in bidet. 
Smart toilet – They are equipped with new technology such as built-in bidet, MP3 player, automated lid. 
Bidet – You can install it together with the toilet bowl, and it greatly contributes to reducing water consumption. Its price is around $1000.
New Toilet Cost
The prices of new toilets vary widely. So some models are cheap and can be bought for as little as $90, while there are those on the market that reach a price of an astonishing $1500. The toilets with the lowest price have a simple look and basic functions, while those with the highest price can offer many additional functions and come in different designs. Everything on the market is currently available, from a simple 12-inch two-piece toilet to a premium toilet with a built-in bidet and dual flush function.
Cost of Toilet by Type
The different types of toilets that are currently available are also different in price. We bring an overview of the offer according to prices and their popularity when it comes to their purpose – for the house or commercial premises. 
Low-Flow: Its average price is approximately $510, ranging from $380- $620. 
Upflush: Its average price is approximately $950, ranging from $600- $1300. 
Wall-hung / Mounted: Its average price is approximately $675 and ranges from $150- $1200.
Dual Flush: Its average price is approximately $350 and ranges from $200- $500. 
The average price includes all the necessary parts for installation and the cost of plumbing work.
Toilet Bowl Cost
Today, manufacturers also offer a wide range of toilet bowls. According to the usual standards, their offer can be divided into three parts. 
Round Bowls: This type of toilet bowl is ideal for smaller bathrooms and those that are an integral part of bathrooms in bedrooms. They are shorter in the front, but their disadvantage is that they are not so comfortable. Their price ranges from $100 to $300. 
Elongated Bowls: They have an oval shape. Their greatest feature is comfort and considerable space that they leave to the user. They are an ideal choice for larger bathrooms where the effectiveness of their design comes to the fore. Toilets with an extended toilet bowl are a bit more expensive, and their price ranges from $150-$400.
Compact Elongated Bowls: This type is a combination of round and extended toilet bowls, and are not often used. They have all the advantages of extended models, but their fronts are still slightly shorter to make their use effective in smaller bathrooms. The price of toilets with compact elongated bowls ranges from $150- $400.
Hiring a Plumber vs DIY Toilet Installation
If you install a new toilet yourself and do not hire a plumber for the job, you can save money. But if you do that, you must have plumbing knowledge and previous experience in this area. Also, be patient and physically strong. Of course, to do the job without the help of a plumber is cheaper. 
However, you should keep in mind that by hiring a plumber, you are spending money on security, and using the bathroom without worrying about possible damage or potential leaks by hiring a plumber. Note, if you do the work yourself, it is possible to cause damage in the bathroom. For example, on the floor, which will later be much more expensive to repair than pay the professional installation of a toilet.
This is also one of the topics that you might find interesting, so be sure to check How To Properly Set Your Toilet Flange Height?
FAQ: People Also Ask
How much does a plumber charge to replace a toilet? 
This cost depends on the location of the toilet in the house and the complexity of installing a new toilet. Plumbers charge between $350 and $375 for this job, and the price includes repairing the old toilet and emptying all of its components. It should be noted that some plumbers charge their work per hour which can increase the total cost. 
How much do plumbers charge to install a toilet? 
The usual cost for a plumber, in this case, is $45- $200 per hour. The job requires 1-2 hours of his work so the average price ranges from $45- $400. 
Is it possible to remove a toilet temporarily?
Yes. The toilet can be moved temporarily. First, you need to cut off the water supply and drain all the water from the toilet. Then it is necessary to loosen the screws and tilt the coupling to one side. Then lift the toilet and separate it from the pipe. After doing this it is recommended to cover the open drain with a cloth to prevent the leakage of unpleasant gases.
What is the cost to replace a toilet rather than install a new one? 
It is certainly cheaper to replace the toilet than to install a new one and it means savings. The cost of replacing a toilet ranges from $218 to $370. Note, experienced plumbers can charge a bit more money than expected for this job. 
Final Thoughts
We believe that by reading this article you have gained enough information about the costs that await you if you are planning to install a new toilet. In the end, we advise that this is a job for which you should hire a licensed plumber who will offer you a reasonable price to do the job. Make sure you install the highest quality toilet. Otherwise, you can easily find yourself in a situation where the installation ends badly and ultimately your new toilet to be of poor quality.