What Does A Green Porch Light Mean?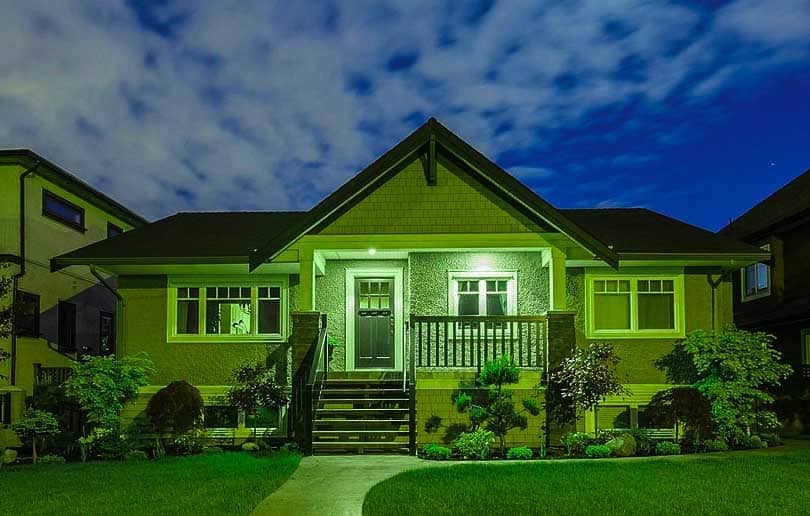 The green porch light is the most common during the time in November and around Christmas in December. It can be strange to see a green light on somebody's porch when it is not related to Christmas, but it can have a deeper meaning to a person. In this article, we'll describe everything related to the green porch light and its meaning. So, let's start!
What Does a Green Porch Light Mean?
So What Does a Green Porch Light Mean? For support and appreciation for U.S. military veterans, the green porch light is used. This is usually during Veterans Day on November 11 to honor them. These lights can also be seen during May in recognition of Memorial Day and in March for St. Patrick's Day.
Green Porch Light Use:
Support For the Military (Veterans Day)
Memorial Day
St. Patrick's Day
Lyme Disease Awareness Month
Interestingly, the green color has many various meanings that people use to respect, celebrate, or support certain events. Putting green light on your porch can say many things about you, which will be more explained in this article. So, let's continue!
For those who want to learn more, make sure to read Meaning Behind Different Porch Light Colors.
Green Porch Light Meaning – Where It All Started
With porch lights, it is easier to spot your home from a distance and help your guests to spot it too, and sometimes they can even help you to get rid of the robbers. Different colors of porch lights can also hold a deeper meaning whit which you can express yourself by putting a certain colored light on your porch. You can also support different causes with various colors. We've talked about that before.
In the United States, during 2013, the campaign "The Greenlight a Vet" started. The color green is used to show the support for the military veterans, so the campaign encouraged people to change their porch light color to green. Those lights were photographed and posted to social media with a #greenlightavet hashtag.
The porch light is changed to green both for Veterans Day in November and for Memorial Day in May. This color means renewal, wellbeing, and hope, as well as the ability to move forward. The campaign in 2013 wanted to point out to people that veterans should be recognized and valued as community members.
There is another meaning to green porch light that is often celebrated in March. The people of Irish heritage, or just people who support it, have green porch light in March to celebrate St. Patrick's Day. Every May, people also raise awareness with green porch lights for Lyme disease during the Lyme Disease Awareness Month.
Where Can I Buy Green Light Bulbs?
There are a lot of options when you decide to buy green light bulbs. If you cannot find a green light in the lights and bulbs section, you can check online on Amazon. There is a Sunlite A19/E26 light bulb in green color that can be found on Amazon.
This light bulb is an excellent fit for both A19 and E26 bulb bases, making it more flexible than other light bulbs. It is really powerful and can help brighten up your porch and raise awareness or give support. You can use it for around 25 000 hours, and it works on 3 watts output. This light bulb is affordable and works as well as the 25 watts bulb.
Related Article: 11 Best Front Door Colors For a Red Brick House
Best Colors For Outdoor Lighting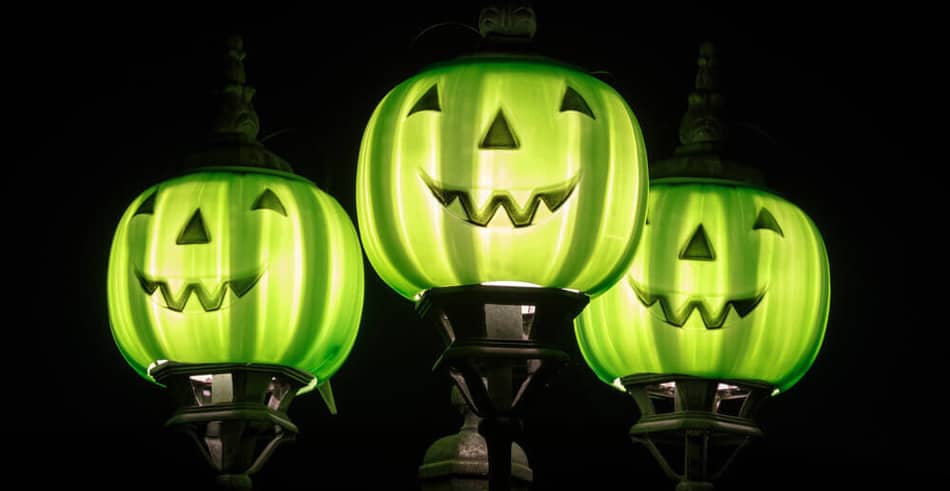 Colors for lighting are measured in Kelvins (K), and they are described how warm colors range at lower temperatures and the cool ones at higher.
The best type of light color for the outdoors is a warm color because it provides that everything is visible, even if it is really dark, and it looks welcoming to other people. For porches or patios, it is recommended to use a light color around 2000-3000 K for the outdoors. It is the same for the lights that are supposed to light fountains or formations of rock, and other landscape elements.
More excellent colors that are around 3000-4000 K, can be used to light the stairs or an outdoor shed. The range of 4600-6500 K is used for security lights outside, so that they can protect your house from unwanted guests.
How Many Lumens Should An Outdoor Light Have?
It is recommended for an outdoor lighting to be from 200 to 500 lumens. Lumen is a measure of brightness of light. Softer light are better for the outdoors and shine very bright in the dark. A single light source should always be a bit brighter than when you have more sources.
Different brightness of porch light is chosen for different purpose, so you can use softer lights, of 100-200 lumens, for walking paths, and the ones from 500 to 1300 lumens for security.
Should You Keep Your Porch Light On or Off During Night?
It is unlikely that you will prevent the robbery if your porch light is always on, and also, it wastes a lot of energy and money. It is not recommended because it can also be annoying to your neighbors.
It is best to turn off your porch light when going to bed to save energy and money, and also prevent light pollution. The good idea is to keep your porch light on when you are expecting a visitor or a package, or simply when somebody will come late. This can help them find your house easily.
3 Best Porch Light Timers
Here we'll talk about porch light timers. Porch light timers are necessary and are good for home safety. We have done detailed research to present you the best ones currently on the market.
1. Vgogfly Sensor Lights Automatic Outdoor Light
This is a light bulb and a timer at the same time. It has a light-sensitive sensor and is considered one of the best dusk to dawn outdoor sensors. It works on 7 watts and weighs 7.2 oz. Its color temperature is 2800 K and has 110 volts, making it great for stairways, patios, gardens, and, of course, porches.
Here You Can Buy Vgogfly Sensor Lights.
Pros:
Sensor feature is accurate
Cost and energy efficient 
Lightweight
Cons:
Small coverage
Life span is short 
2. Kasa Smart KL110 Smart Outdoor Bulb
This bulb does not need a hub for installation, and you can just screw it in almost every bulb fittings. It has a remote control, and you can control brightness via Google or Alexa. You can even switch it on and off. Through WiFi control, you change the color of the light. By just installing a smart app, you can see how much energy it consumes and which color temperature you want it to have.
Here You Can Buy Kasa Smart KL110.
Pros: 
Easy installation 
Remote functions (WiFi, Google, Alexa) 
Smart App
Compatibility with bulb fittings
Cons: 
Will not work on 5G
Metal base gets very hot
3. Kasa Smart Light Switch HS200
This smart light switch is also remotely controlled with the Kasa App. It connects automatically to any TP-Link device and if you have Google Home or Echo Dot, you can control it with voice. The voice prompts can be done using Google Assistant or Alexa. It has a light motion sensor, WiFi signal sensor and its design is simple in coral white color. On the WiFi signal you can see the strength of the signal.
Here You Can Buy Kasa Smart Light Switch HS200.
Pros: 
Remote control
Easily installed
Control App
Voice command
Safe
Cons:
Apple HomeKit not supported
Neutral wire required
Should You Have Porch Lights On While You Are On Vacation?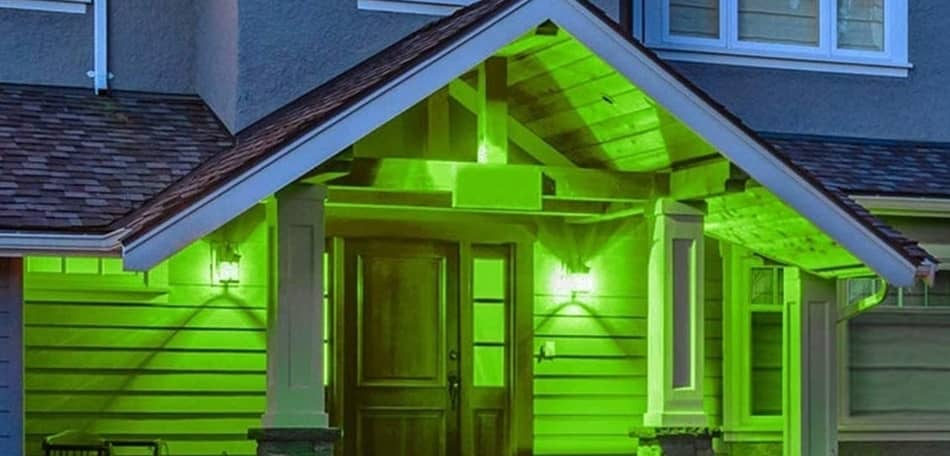 It is not a good idea to keep your porch light always ON, especially when you go away for a vacation. It can seem that no one is home when the lights are never switched off. You can program it to turn on and off in intervals, so that it appears that somebody is home. By using the BN-LINK Compact Timer you can program it in 15-minute intervals. With two outlets and waterproof and durable use, it is perfect for the outdoors.
You can sync your lights, including your porch light, to your smartphone using home automation technology. This way you can turn your light on and off from anywhere. The Kasa Smart KL110 outdoor LED light bulb works with voice control and this feature can also be used with Google Assistant, Amazon Alexa, and Microsoft Cortana.
Using a solar sensor is also a great idea because it can turn your porch light off as soon as it gets bright outside. These features are available on dusk to dawn light bulbs as their name suggests it. They are perfect for people who like to go on vacations and who easily forget that they need to turn the lights on and off.
The best way to protect yourself from the robbers is with the help of your neighbors. The technology is great and it evolves every day but having reliable neighbors can sometimes be better.
Porch Lights Protect Your Home And Express Your Values
We talked about some of the things that are important when choosing the perfect outdoor lights. They can help you navigate around your house and also send a welcoming message to your family, friends or any other guests.
Colored lights on your porch can mean different things. They can help raise awareness or just support some cause like the color green that supports and honors military veterans from the United States. It can also be connected to a celebration like the St. Patrick's Day.
Final Thoughts
It is good to know what some colors mean on porch light. There are various symbols of green and reasons why people want to put it on their porch. Also, it is important to know when is it safe to leave the porch light on and when is it better to just turn it off. I hope that this article has helped you and if you have any other questions feel free to ask.