Everything To Know About Skillion Roofs (Expert Explain)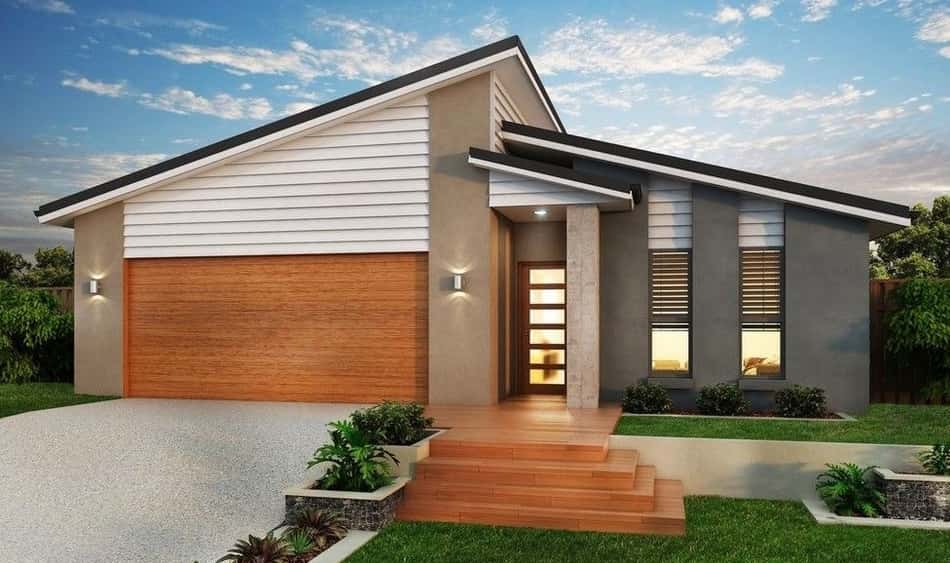 A skillion roof is a high-performing, versatile, and durable architecture option for homes. It is a solution for roof construction that gives the home a dose of sophistication and minimalist style, which makes it very desirable for homeowners who love the modern look of the roof. If you are thinking of installing a skillion roof on your house, we'll outline you with all important information about this roof and its pros and cons, as well as all the cost of installation, and its use. Let's begin!
What Is a Skillion Roof?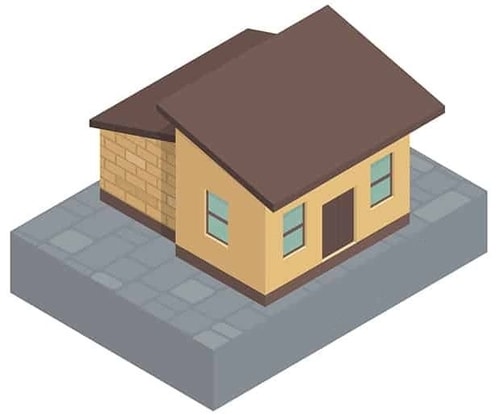 If you are considering installing a skillion roof for the first time, we'll present you with all the important information about this option. This is a minimalist solution since the skillion roof comes in one slope piece, for starters. It is often called: lean-to roof, shed roof, and mono-pitched roof.
The single skillion roof construction does not merge with any roof construction, making it quite different from other roofing solutions such as gable roofs. Since their installation does not require connection with other elements, this type of roof is very popular when it comes to covering upgraded parts of the home or ancillary facilities built next to the home.
If you want to know more, be sure to read Can a House Run on Solar Power Alone?
History of Skillion Roofs
Although it is not possible to determine exactly where and when the skillion roofs originated, the general conclusion is that they are part of the unique Australian architecture that appeared in the area in the middle of the 20th century. 
From the classic flat roofs whose popularity grew in the 50's, the skillion roof differs in the position of installation – which is the slope. Various unique skillion roof designs can be seen in neighborhoods of Australian cities. 
In addition to the skillion roof houses, terraces, canopies, and paneling are also covered with it. Today skillion roofs are common in the Australian plains and are also set up on barndominiums. But because of their high performance, skillion roofs are becoming an increasingly popular solution for homeowners in urban suburbs around the world.
Related Article: 5 Best Infrared Patio Heaters – Expert Advice
Where Skillion Roof Are Used?
Here we'll present you a complete list of where skillion roofs are used:
Steep pitch makes it great when ther eis water drainage
Wide range of personalized options
To build this type of roof you just need few components
Can be built as an extension piece
The roof provides more sun light do to its long steep slope
Expands upper part of roof exterior
Skillion roof can be built fast
Skillion Roof Pros
Better drainage of water: skillion roofs are very effective when it comes to water draining. That makes them a better option than flat roofs when it comes to preventing leaks in the long run. 
Easy to build: Since only a few parts are needed to build this type of roof, they are a great choice compared to roofs of other types. But that doesn't mean that accuracy and precision aren't required when installing skillion roofs.
Modern design: Skillion roof is popular with proponents of modern home design because of its simple appearance. The modern and clean skillion roof design gives an attractive look but it also provides you with more choices when it comes to plan your landscaping ideas. 
Simple and elegant: A flat-surfaced roof with clear edges attracts the attention of passers-by due to its simple but very attractive appearance. 
Affordable price: Skillion roofs are affordable and very easy to build making them a great choice for those who need a new roof and don't have a big budget available. 
Longer lifespan: Skillion roofs last much longer than gable roofs or ordinary flat roofs thanks to the high quality and durability of the materials from which they are made. It is important when building to choose a material that is resistant to water and extreme temperature changes. 
Saves energy: As skillion roof provides a lot of features and a slightly sloping angle, it's an excellent choice for installing solar panels on top of them, and that way, you can save energy.
Related Article: 12 Different Types of Dormers (With Pictures)
Skillion Roof Cons
Lack of attic space: The biggest drawback of the skillion roof is that it leaves no room for the attic because its large slope does not make it possible. If you need an attic as an additional room, a skillion roof is not a good solution for you. 
Low wind resistance: As with gable and hip roofs, skillion roof has low resistance to hurricane and strong wind. This can be avoided by building more slops. That way, you'll make your roof stronger. But for this venture, you need to hire a professional that knows how to do this properly so you'll have a long-lasting roof.
What Is The Cost of Building a Skillion Roof?
Building Skillion roofs are much cheaper than building other roofs with more slopes because they are placed on rafters. Depending on the material from which the skillion roof is made, its price ranges from $6,000 and $12,000.
Keep in mind that skillion roofs will be cheaper if you opt for shingles instead of a metal cover. The price is also affected by the angle of inclination of the roof, and the number of required beams and supporting columns. The lowest cost of building a skillion roof will definitely be if you build it yourself. If this is exactly what you intend to do, we bring you instructions on how to do it below.
How to Build a Skillion Roof
Skillion roofs are roofs that stand on their own without being attached to the roof structure. Also, they consist of one piece, which makes their construction simple. To build a skillion roof, you need wood shingles, metal, or asphalt. Standing seam sheets of metal are often used for the final layer, which provides strong protection of the roof from the effects of weather conditions.
When building skillion roofs, the greatest care should be taken to level and accurately determine the roof's degree of pitch and its leveling. When choosing the material, it is also recommended to pay attention to the usual wind direction and the angle at which hits the roof to prevent storm damage. The skillion roof can be reinforced and provided with the necessary slopes of metal cladding, the use of which is recommended.
The slope of the skillion roof is determined by the rafters, which are its most important part. Their function is to ensure the roof's stability by shifting the weight of the roof to the sidewalls of the house. The supporting beams ensure the stability of the rafters themselves.
Supporting beams are also a very important part of the roof structure. So you need to choose the right thickness. Also, the support beams should be placed in the right place. When it comes to skillion roofs, support beams are usually placed at an angle of 90 degrees horizontally along the rafters. This type of beam ensures the stability of the structure and strengthens them.
The sophistication of skillion roofs is enhanced by portal frames consisting of trusses that support the structure. Depending on the degree of reinforcement of the structure, portal frames can be made of steel or wood. With all that said, watch the video that contains instructions on how to build a skillion roof.
The Main Types Of Skillion Roof
Like any other type of construction, the skillion roof comes with developmental changes over the years. So today, in addition to the distinctive single steep pitch, there are two more skillion roof types.
Butterfly Roof
Oval Roof
Split Skillion Roof
Multiple Skillion Roof
1. Butterfly Roof
A butterfly roof is also known as a V roof. Its main feature is the inverted version of the classic skillion roof. This type of roof has two sloping surfaces that are placed in opposite directions towards the recess of the inner side of the roof. Since the roof is placed in such a way, it has the shape of a butterfly.
Butterfly roofs are a typical example of modern architecture that was widely represented in the USA in the second half of the 20th century. Also, this type of roofing was popular in cities in the UK where it was often used on Victorian and Georgian-style houses with large terraces. In the UK, the Butterfly skillion roof is also known as the London roof.
This type of roof has installed gutters on two sides from where the water flows into the drain or rainwater tank when it comes to rainwater drainage. The shape of the roof may be irregular with an off-center valley or a regular shape with a valley in the center.
The valley can be tilted to one side or flat with a crack through the middle that drains water to two different sides. This type of roof leaves the possibility of higher walls under the roof, which in turn allows the installation of windows. This ensures the flow of sunlight without compromising privacy.
2. Oval Roof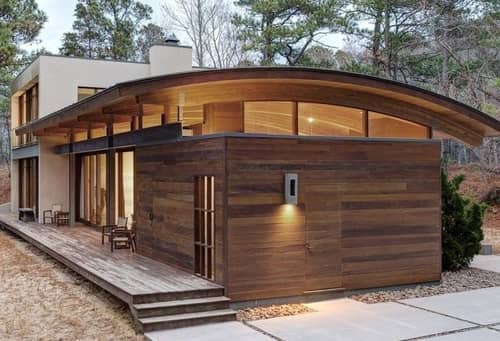 The oval or curved skillion roof is slightly curved instead of having a classic slope which makes it aesthetically much more natural. It is a good option for bigger interiors, for covering a smaller space, and for buildings that are often exposed to strong winds. This model is not often used on houses in classic residential areas as it is expensive.
3. Split Skillion Roof
It is a combined type of roof that consists of a skillion roof, and part of a classic gable roof. Combining these two styles is becoming increasingly popular.
4. Multiple Skillion Sections
To many homeowners, it is interesting and also financially profitable to make roof construction from several skillion roofs that are set at different heights.
What Is Cheaper: To Build a Skillion Roof or a Flat Roof?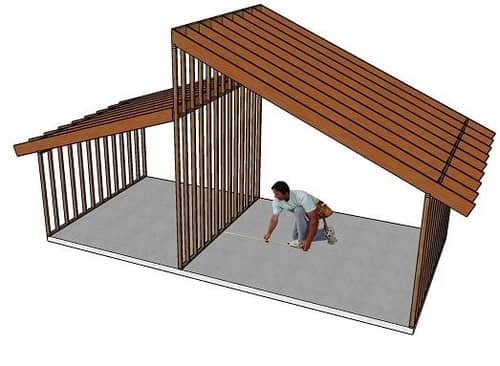 When you are trying to decide which type of roof you want to install on your house you should always think about the relationship between the quality of the selected material and the impact of weather conditions. When comparing skillion roofs with flat roofs, flat roofs have an advantage because they are cheaper. But they have a lot of other drawbacks, like the inability to drain efficiently. In contrast, due to its slope, the skillion roof carefully drains rainwater and does not create a leak problem.
Still can't decide between a skillion and a flat roof? We suggest comparing the cost of materials and regular maintenance of both options. You will come to a conclusion that, ultimately, skillion roofs are far more cost-effective.
What Are The Uses Of Skillion Roof?
Below you can find uses of the skillion roof:
They are heap, very rapid and simple to construct.
A steeper pitch allows water drainage.
They can be personalized by customer's priority.
Fewer components are required when it comes to the skillion roof.
Skillion Roofs can be used as an expansion.
The Skillion roofs are great for installing solar panels and skylights.
Lengthy slope gives more natural light to the interior.
Built in strong component diagram.
Skillion roofs elicit manufacturing and bucolic threads.
They have great wide outer on top.
Compared to the horizontal type of roofs, skillion roofs last longer
Final Thoughts
Skillion roofs are a great, versatile, and durable type of roof that is more and more used in today's homes. We can say people simply recognize its advantage and opt for this option for their homes. In this article, we went through the features of the skillion roof and its pros and cons. I hope we helped you get a better picture, and if you have any additional questions feel free to contact us.