What Kind Of Paint To Use Inside A Fireplace?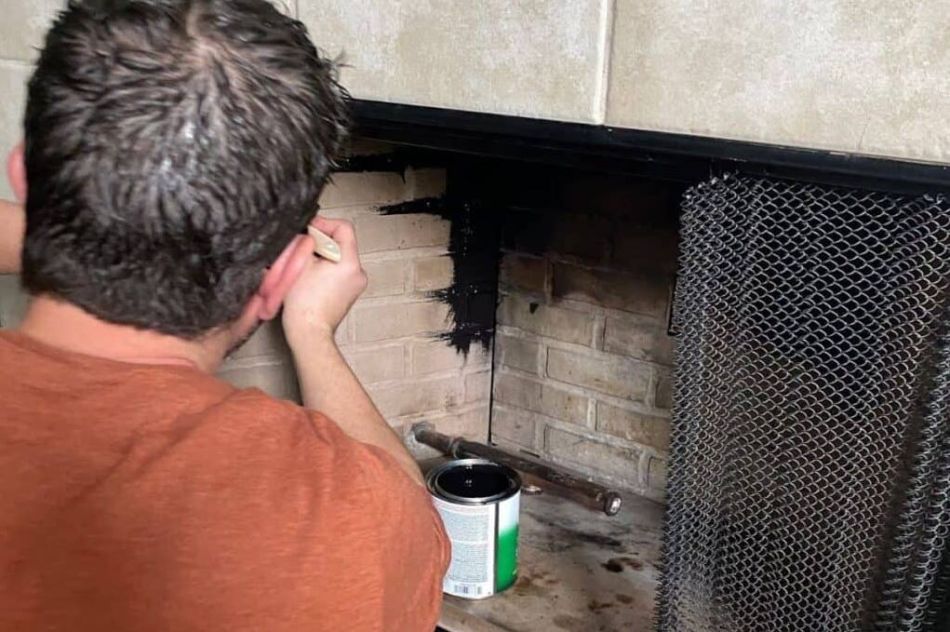 If you have a fireplace that you think needs a makeover or the time has come to restore it after many years, you should know that it does matter what color you use for the final layer inside the firebox. The fireplace's interior must be painted with a special color that can withstand high temperatures. In this article, we'll talk about paints that are a safe choice for the fireplace's interior. So, let's start!
What Kind Of Paint To Use Inside A Fireplace? As the interior of the fireplace is exposed to high temperatures, heat-resistant and non-toxic paint must be used inside the firebox. It means that this paint must withstand temperatures up to 1,200°F (649°C). These types of paints come with a "high temperature" label.
When painting the interior of the fireplace, choosing the right color is very important. If you paint the fireplace's inside with the wrong paint and it peels off under the influence of fire, it can harm your health with toxic fumes, which can spread imperceptibly through your home.
Continue reading and find out what is important in choosing a color for the fireplace's interior and how to paint inside your fireplace.
Do You Need Special Paint For Inside A Fireplace?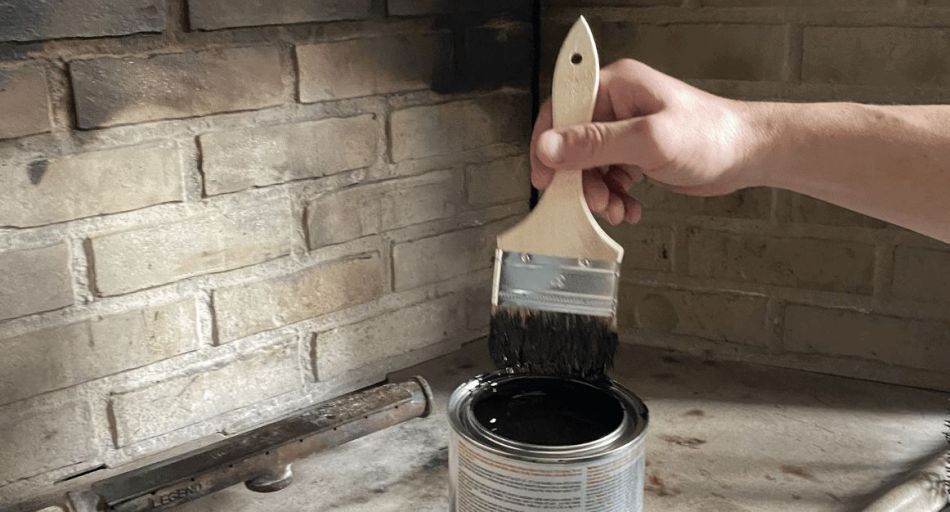 The part inside the fireplace is also known as the firebox. The paint used as the final layer in the interior of the fireplace has several functions. 
In addition to helping the fireplace fit better into the interior design of your home, it also protects the fireplace from potential damage that can be caused by long-term exposure to fire. High-quality paint that is resistant to high temperatures will prevent the formation of stains, cracks, and rust. 
If you want your fireplace to last a long time and look great, it is recommended that, along with regular maintenance, you paint it with a fresh layer of non-toxic paint that is resistant to high temperatures every three to five years, depending on the frequency of use.
Related article: How to Install a Pellet Stove?
Does Heat-resistant Paint Come In Different Colors?
If, in addition to safety, your main reason for painting the interior of the fireplace is the desire to make it fit better into the space, you will surely be delighted by the fact that there is a wide selection of colors on the market today that is resistant to high temperatures.
You should have no difficulty finding whatever color you have in mind that will suit your fireplace. Also, in hardware shops and online, you can choose a color with gloss, matte or flat reflection.
It is recommended that before painting the entire interior of the fireplace, you first try it on a smaller surface to see if it will fit well into the space. I'm sure you'll agree that there's nothing worse than doing the same job twice because of a bad estimate.
How To Paint Inside A Fireplace?
The most important thing when painting the interior of the fireplace is choosing the right color. Black color is one of the most popular for the fireplace's interior.
It best highlights the fire glow and thus increases the feeling of comfort when staying by the fireplace. In the next chapter, we will explain in detail how to paint the interior of a fireplace.
Step 1: Prepare All Necessary Equipment
Before painting your fireplace, ensure you have everything you will need for this venture. You should have within easy reach:
Protective equipment: gloves, mask, and goggles
Primer (for rough surface )
Black high-heat paint
Paint tray and rollers or paintbrush
Sandpaper or steel wool cut out of a minimum of 200 grit
Cardboard mat or sheets of newspaper
Fireplace shovel, broom, vacuum cleaner, and some old rags
Note! Here are highlighted only the basic materials needed to paint the fireplace. You must keep in mind that you may need some additional tools.
Step 2: Protect The Working Area
It is always wise to protect yourself and the space you are working in before any dirty job, such as painting a fireplace. Move furniture and carpets away from the fireplace, put gloves on your hands and protective glasses on your eyes. It is also recommended to protect the mouth and nose with a mask.
Step 3: Clean And Prep the Firebox
In order to paint the interior of the fireplace successfully, you must clean and prepare it thoroughly. The first step is to clean all the remains of ash, even the smallest ones. Pick up a metal brush and trisodium phosphate if you can't do the job well with just a broom and rags.
When all the remains have been removed, wash the fireplace well, wipe it and let it air dry. Note, do not start cleaning the fireplace for at least three hours after you put out the last fire.
Step 4: Mix The Paint
If you plan to apply a primer to the surface, first prepare it with the help of a paint mixer. Remember that the paint you choose must withstand high temperatures that can reach up to 1,200°F.
After the primer dries, you can mix the paint that you have chosen for the final layer. Always match the tone of the primer and main paint color so that your fireplace looks exactly as you imagined.
Step 5: Use A Brush
Considering that the fireplace's interior is not a surface that is exposed to views from a short distance in any situation, you do not have to bother buying expensive brushes with smooth surfaces. An ordinary nylon brush is enough for this job.
Keep in mind that when you paint with a brush, you can expect a lot of paint dripping. Therefore, cover the floor with old newspapers or cardboard that will absorb them.
Have a wet sponge or an old cloth ready so that when paint ends up somewhere, it shouldn't, you can clean it fast. If you don't remove the paint drip immediately, it will be more difficult later.
Step 6: Let The Paint Dry
Although it doesn't seem like it at first glance, a thinner layer of paint will protect the interior of a fireplace better than a thicker one, so don't overdo it. One layer of paint is enough. Why? If you apply the paint in a thick layer, it may crack over time under the influence of high temperature.
Even though it is resistant to direct fire heat, two or more layers of this paint are applied only when you paint the metal parts of the fireplace or when you paint the fireplace for the first time after it has been built.
Note! Don't use the fireplace for at least a few hours before you start working on this project.
Can You Paint Mortar on Brick Fireplace?
You can paint the mortar on the brick fireplace. This is done when you want to add a final, personal touch to your fireplace that will make it stand out. However, most people like to leave this part of the fireplace in a natural color because it looks attractive.
If you still want to paint mortar, be prepared for long and hard work. The mortar has a porous surface and is very narrow, which means that it is not at all easy to paint it. This is the case, especially if you don't have a lot of time on your hands.
Extra Tips For Cleaning And Painting Inside Fireplace
When painting the fireplace, you must pay attention not to painting the backplate and grate. These parts of the fireplace are exposed to direct contact with the fire. Not even heat-resistant paint can withstand such intensity of heat in the long term.
1. Use Standard Paint
Heat-resistant paint is expensive. Therefore, when painting the fireplace, you can paint the parts that are not exposed to fire with standard paint, and that way saves money.
Keep in mind that this paint should still be non-toxic. In order to make the fireplace easier to maintain, it is also good to use a color that can be easily cleaned.
2. Limewash Brick Fireplace
If you are painting the fireplace solely for decorative reasons and you want to achieve a rustic look, there are alternatives to painting that are resistant to high temperatures.
You can simply whitewash or limewash the stone bricks inside the fireplace. This way, you will save a lot of money and time, and the result will wow you.
3. Regular Cleaning Of Ash
Once you paint your fireplace, you'll want it to always look like that. However, since ash accumulates very easily in any fireplace, you will have to maintain it regularly. Detailed cleaning after every third use is recommended.
Is Inspection Required Before Painting The Interior of A Fireplace?
Before you start painting the interior of your fireplace, for your safety, it is recommended to have it inspected by a professional. This is otherwise required by the Chimney Safety Institute of America. Inspection must normally be performed every 12 months. So keep that in mind if you have a fireplace in your home.
Safety Measures When Painting A Fireplace
When painting the fireplace, you need to pay attention to the type of paint you use. Today, most paints on the market are non-toxic. However, you can never be sure that the paint you use will not release some toxic fumes that could harm your health.
Precautions should be taken to prevent this from happening. To protect yourself, open the windows in your room, create ventilation, and use a mask. That way, you will be safe when performing this task.
If you have a fireplace, this topic might interest you as well: How High Should Fireplace Mantel Height Be?
FAQ: People Also Ask
How to paint the inside of a Gas Fireplace?
There is not much difference between painting a gas fireplace and a wood fireplace, except for one big advantage – cleaning before painting is much easier! However, you should know that the surface of the gas fireplace must be treated with a degreaser before painting.
What kind of paint do you use inside a fireplace?
Paint that is safe to use inside of the fireplace must be non-toxic and resistant to temperatures up to 1,200 degrees Fahrenheit. In addition to the "high temperature" label on the package, it is also good that it contains latex and is in the indoor paint category.
Can you paint the inside of a wood-burning fireplace?
The inside of the fireplace where the wood is burning can be painted with a paint that is resistant to the influence of high temperatures, and the best recommendation is to do it with stove paint. It ensures that the surface does not overheat. Stove paint is a very popular choice in this case because it is very easy to use.
Final Thoughts
You can paint the fireplace in any color you want. However, you should know that the paint you choose for your fireplace must be non-toxic and high-temperature-resistant. You can paint the outer part of the fireplace that is not directly exposed to heat with standard paint. Painting the fireplace can be an interesting DIY project, the end result of which will certainly amaze each of your guests.