Standard Picnic Table Dimensions & Drawings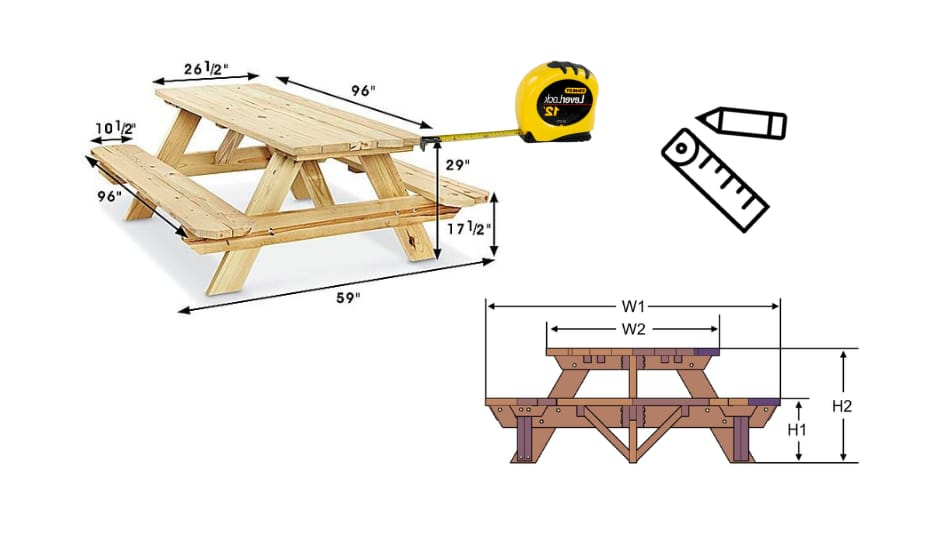 Instead of sitting on the ground when you are out enjoying your picnic, you could use something that is called a picnic table or a picnic bench. They are an outside version of a dining table. Usually, they are rectangular in design, with seats running the length of the table for people to sit on.
They are not just used for picnics, even though they are called picnic tables. You can also find them in a bar or restaurant gardens where they are used for prepared meals to be served outside, as well as in residential backyards as a place to hang out or enjoy family grilling. In this article, we'll cover the basic picnic table dimensions and much more. So, let's start!
What Are Standard Picnic Table Dimensions?
So What Are Standard Picnic Table Dimensions? A typical rectangular picnic table's dimensions are 72" (183 cm) in width, 30.5" (78 cm) in height, 58.75" (149 cm) in-depth, and a bench height of 17" (43 cm). The picnic table that is usually made for six adults is about six feet long and allows each adult person 24 inches of personal space.
Picnic tables come in a variety of styles and designs, while the standard height ranges from 28 to 34 inches, with a 30-inch average. The standard width of a typical picnic table is 28 to 30 inches, while it is normal to have 24 to 30 inches of perimeter length per person.
If you need them, here are the simple measurements:
6-seater picnic tables: The 6-seater picnic tables are 72 inches long, 30 inches in height, and 29 inches wide. The seats that are attached to the table should be 72 inches long, just like the table. The height of the bench varies between 16 and 18 inches. The dimensions of the footprint will be 72″ x 60″ (six feet x five feet).
8-seater picnic tables: Their dimensions are pretty big, which is normal because they are intended for eight people. The eight-seater picnic tables are 96 inches long, 30 inches in height, and 29 inches wide. The seats are 96 inches long and 16 to 18 inches tall, which is the same length as the table.
Standard Picnic Table Dimensions
6-Seater Picnic Table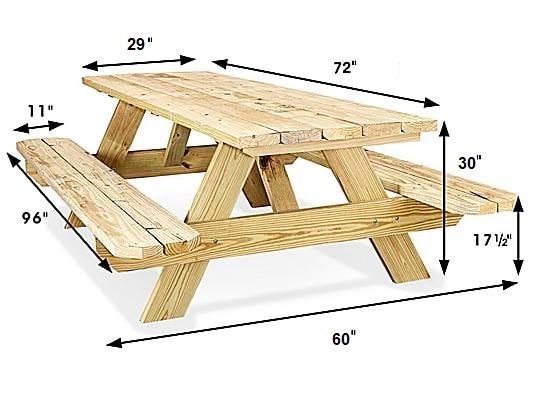 A 6-Seater picnic table is the most common picnic table size, and it's the one that most people see at the beach, in public parks, on a woods walk, or in garden eating areas. The rectangular surface of this picnic table is 72 inches in length and 29 inches in width. The table's seats are the same length as the table (72 inches or six feet). This implies that the 6-seater picnic table can accommodate six people, where we have three people on each side.
This table can also easily accommodate four people, each with three feet of personal space. The normal height above the ground for this table will be 30 inches, while the seats will be set at a height of 16 to 18 inches. Between the bench and the tabletop, each individual has a little more than a foot of room. If you're planning a picnic area, keep in mind that picnic tables, including seats, take up a lot of floor space.
A conventional six-seater picnic table's footprint is 72 inches by 60 inches (6 feet by 5 feet). Because the benches will be attached at an angle, they will not be exactly beneath the tabletop (this measurement is greater than the tabletop width).
This is the most common picnic table size since it can have gatherings of four or six people, which would accommodate the majority of families or groups of friends. If some of your guests are kids, you could even fit in an additional two people on the benches.
Related Article: Guide to Standard Parking Space Dimensions
8-Seater Picnic Table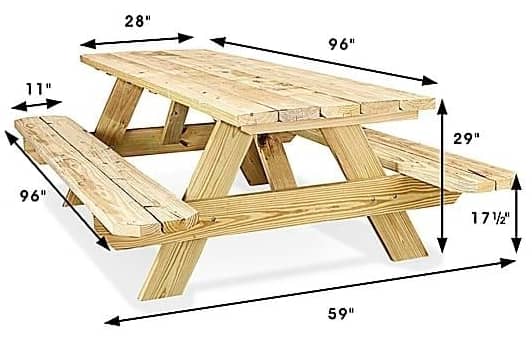 This is a bigger picnic table than the six-seater, and while it is not as popular, it is still considered a typical picnic table size. Eight people may sit at this table, four on each side. It will be the same size as a six-seater table, except for the surface and seats, which will be 8 feet long rather than 6 feet long. Each individual at the table will have two feet of personal space as a result of this arrangement.
Because eight-person groups are less prevalent than six-person groups, this table size is less popular than the six-seater. As a result, it is a waste of space in most cases. This is a wonderful-sized picnic table for socializing if you have a large family or if you host large groups of people in your garden.
Picnic Table Specifications – Things To Consider
Even though picnic tables can be made to any size, you shouldn't buy too small or too big of a table. Buying too big a table can be a waste of money while buying too small a table will just not be pleasant for people using it. There is a standard when it comes to the table size.
Tables are generally 28 to 34 inches tall, with the majority of them standing at 30 inches. Rectangular tables have a width of 28 to 30 inches and a length of 6 to 8 feet. Per person, a reasonable rule of thumb is to allow 24 to 30 inches of perimeter length.
The size of the seats, which are generally benches, are also important in picnic table requirements. You want them to be comfortable and you should have enough space while using them. The seats are roughly 19 inches from the ground, leaving about 11 inches between the bench and the table. Bench widths range from 1 to 1.5 feet, with lengths of 6 or 8 feet to match the table.
Picnic tables have typically a rectangular shape. However, square tables are ideal for smaller groups of two to four individuals. The heights of the table and bench are usually the same, while the width and length are usually 4 or 5 feet.
Any picnic table can be adjusted to meet the demands of families, such as more height for taller people or longer tables for larger family gatherings. If you have small children, make a couple of small seats with extra inches to allow them to participate in the tables festivities more comfortably.
Styles of Picnic Tables
Because picnic tables come in several shapes and sizes, you should be able to choose one that fits your family's size. Here are the most popular picnic table styles:
A-Frame Picnic Table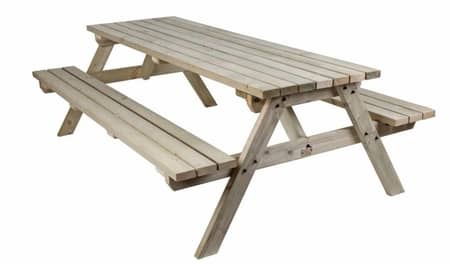 A standard-style picnic table is an A-frame picnic table. The tables are normally made up of five to seven pieces of wood, while the seats are usually made up of two to three lengths of wood. The height of the tabletop should be 30 inches, and the seat top should be 16 to 18 inches high.
Children's Picnic Table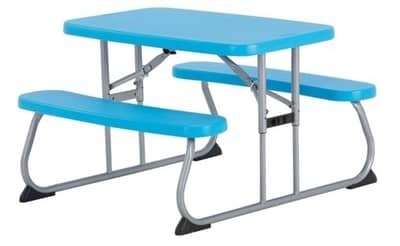 A-frame picnic tables are comparable to children's picnic tables but on a smaller scale. The top is normally made up of four pieces of wood, while the seats are made up of two lengths. While some of these tables are made of wood, the majority are made of plastic. Picnic tables for kids are made of plastic and available in a variety of colors. The dimensions of this table are usually 33 inches long, 38 inches wide, and 22 inches tall.
Rectangular Picnic Table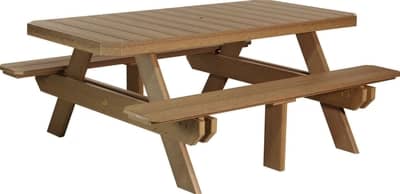 A rectangular-shaped picnic table is one of the best options if you have a larger family. This table gives for more area than a square or circular picnic table. For large families, a rectangular picnic table will provide more surface area and be more comfortable. The overall width of rectangular picnic tables is 72 inches, the depth is 58.75 inches, and the height is 30.5 inches. These tables are usually designed for 4 to 6 people and have a 17-inch bench height.
Round and Octagon Picnic Tables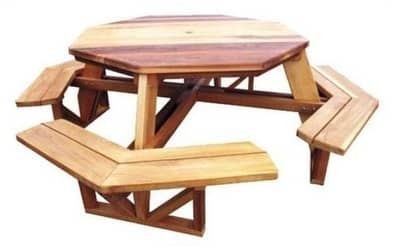 Picnic tables in the shape of a circle or an octagon are modern tables that can easily accommodate eight people. The tabletops are usually made up of 10 to 12 lengths of wood, while the benches are usually made up of three lengths of wood. They are typically 82 by 82 inches in size, with 30 inch-high seats and a 44-inch-tall table.
Oval Picnic Table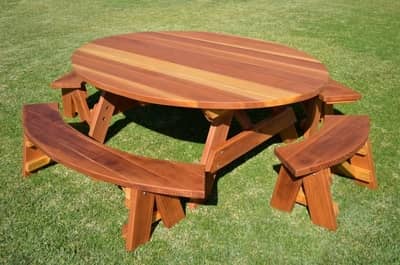 Another popular form of picnic table is the oval picnic table, which can comfortably accommodate ten people. Redwood offers both attached and unattached benches for its oval picnic tables. Unattached benches are free-standing, while attached benches are integrated into the table.
Oval picnic tables also come in a smaller size. They are 71 inches long overall and 46 inches wide at their widest point. The height of the table is 30 7/16 inches. The picnic table legs are built of two-by-six inch lumber and the picnic table boards are 2 inches thick.
The huge oval picnic table is 88 inches long overall and 57 1/2 inches broad at its widest point. The table is 30 7/16 inches tall. The picnic table boards are the same size as the small table and are made of two-by-six inch lumber that is two inches thick.
For those who want to learn more, you can also read How To Kill Mold With Temperature (Heat & Cold Treatment).
Pros & Cons Of Picnic Tables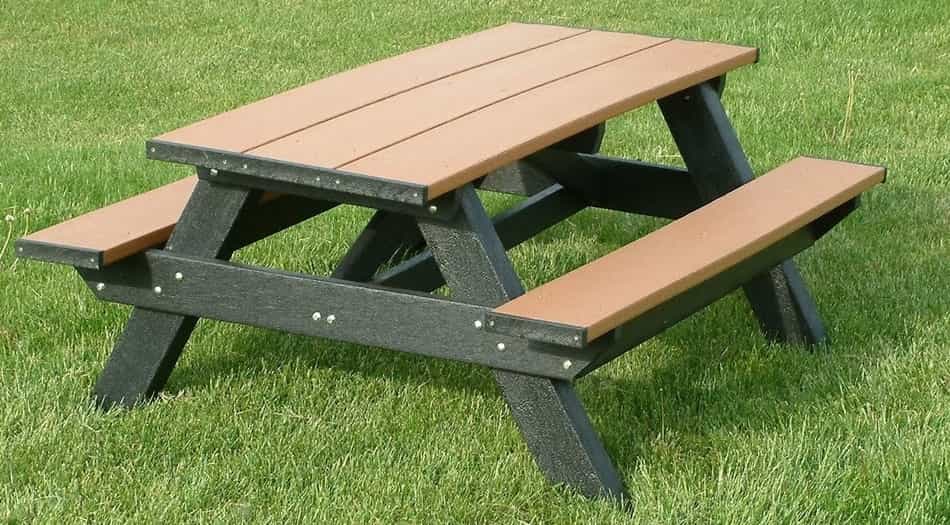 PROS:
Inexpensive: Picnic tables are composed of wood and are less expensive than metal, or glass furniture when compared to other outdoor dining options. As a result, most families looking for outdoor dining equipment will find them more reasonable.
Suitable For Whole Family: Unlike individual chairs, on picnic tables, it can seat a large number of people because the bench can be slid along to create more space.
Sturdy: Picnic tables are strong and durable since they are built of solid wood. This implies they'll last a long time and won't shatter if a toddler jumps on it or if you drop something heavy on it. Because the table is strong, you can expect it to last a long time.
They Are Safe: A picnic table's seats are attached to the table. This means you won't have to worry about someone tipping chairs backward or loose chairs getting in the way on your patio.
Customizable: You can always paint your picnic table with outdoor wood paint or stain if you want to be a little more creative with your family or just by yourself. Its appearance will be drastically improved as a result of this. You could change the color every year or match it to the colors in your garden.
Can Hold Parasol: It is always important to have a safe place to rest in the sun. This is why a parasol umbrella is a great option for shade. Most picnic benches include a cutout circle in the center of the tabletop where a parasol umbrella may be inserted.
CONS:
Uncomfortable: A picnic table bench is made of wood and is flat, therefore it isn't the most comfortable seat. Cushions might be added to the bench to make it more comfortable, but with nothing to tie them down, they are likely to slip off. Standard picnic table benches also lack backrests, making them unsuitable for long periods; instead, they are typically used as a place to sit while eating your lunch. If you prefer a more relaxed atmosphere when dining outside, outdoor seats with back support are a good choice.
Maintenance: Picnic tables are left outside all year since they are constructed of wood and are neither waterproof nor rot resistant. To avoid this, apply a stain or paint to your picnic table once a year to keep it protected. During wet weather, you may buy a cover for your picnic table, but you should still preserve the wood with a brush-on solution.
Heavy: Picnic tables are heavy, making them difficult to relocate if you need to reorganize your backyard.
Final Thoughts
As we could see in this post, picnic tables come in a variety of sizes and dimensions. When choosing the right table, you need to consider your needs and how many members will use the picnic table. We have seen that the two most common models are; 6-seater picnic tables and 8-seater picnic tables. I hope this article has helped you and if you have any additional questions feel free to ask.