11 Best Girls Room Ceiling Fans (Best Models)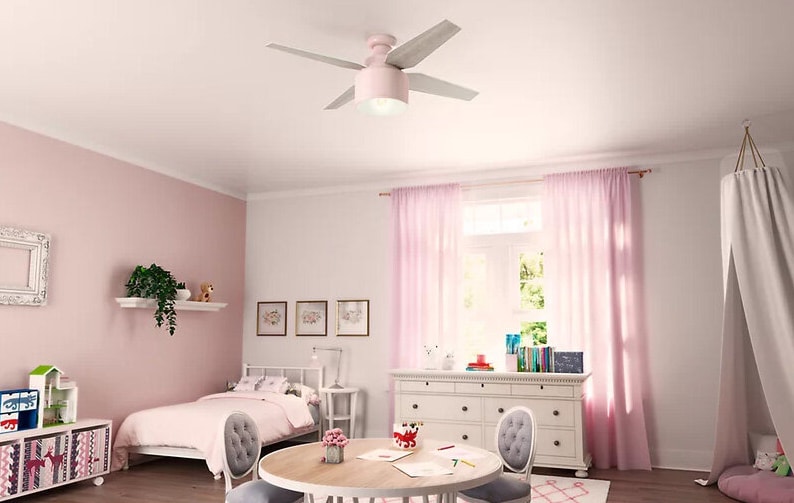 The ceiling fan is the best choice to have an economical cooling and heating system in your children's rooms throughout the year. There are so many options and eye-catching ceiling fans on the market, and for that reason, we rightly ask the question – why choose simple and boring versions of this device? Below we present a survey of girls ceiling fans, which are a great choice for home playrooms, children's dormitories, and all rooms where an interior is needed to look playful.
Best Ceiling Fans For Girls: Our Top Pick
1. Hunter Cranbrook 52" Ceiling Fan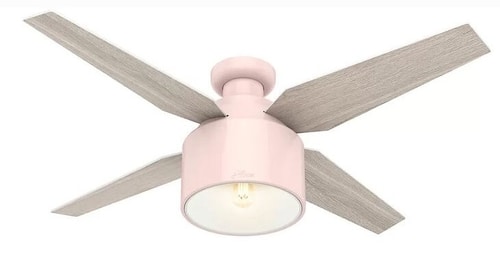 Hunter Cranbrook is a special ceiling fan that can elevate any room with its inspiring vintage and modern design. It is a ceiling fan that has a built-in WhisperWind technology option. It provides quiet motor operation and incredibly comfortable room cooling. Also, this type of ceiling fan has a dimmable LED bulb that provides automatic lighting.
2. Craftmade Bloom 52" Ceiling Fan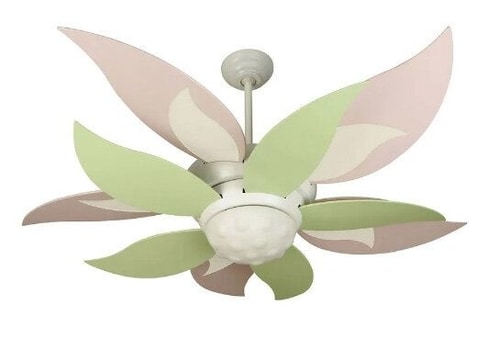 The Craftmade Bloom is an example of a unique and inspiring ceiling fan whose blade design irresistibly resembles flower petals. The fan is made up of ten separate blades, five mains, of larger dimensions, and five additional, of smaller dimensions.
Large and small blades rotate on the opposite sides during the operation of the device, thus ensuring the flow of air in the room from several directions. This fan is one of our favorites when it comes to bedrooms for newborns, but it is also a great version of the girl's ceiling fan that will delight homeowners for a long time to come.
3. Hunter Norden 54" Ceiling Fan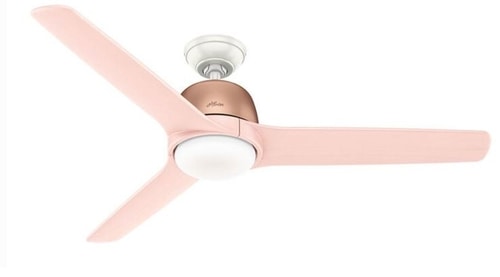 The Hunter Norden ceiling fan provides comfort that only a quiet ceiling fan can offer in the bedroom. The central system of The Hunter Norden fan contains an almost silent DC motor that allows the blades to rotate at six speeds, and LED technology of discrete light at the expense of which energy savings are achieved.
As a girls ceiling fan, it has a great advantage in a large selection of available colors on the market. It can be found in a gentle version of copper or in a combination of white and gray. Each color fan is complemented by appropriate wooden blades that fit perfectly into each room's decor.
4. Monte Carlo Lily 56" Ceiling Fan
If you are looking for a playful and unique ceiling fan of floral design that should brighten up the children's room, Monte Carlo Lily is the right choice for you. Due to its 56-inch diameter, it is ideal for medium and large rooms such as playrooms and children's bedrooms. This ceiling fan model features remote control over a total of 6 included speeds and LED discrete light technology perfect for those looking for a ceiling fan with light.
5. Prominence Home Elsa 48" Ceiling Fan
One of the most affordable girls ceiling fans in this review is Prominence Home Elsa. It is pink in color and contains a chandelier. In addition to having effective pink blades, the device has a built-in light system that allows you to change three pleasant shades of pink which makes it perfect for those looking for a girls ceiling fan with light.
6. Fanimation Kwad Ceiling Fan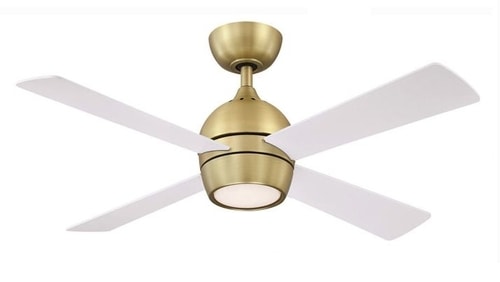 The Fanimation Kwad is available in two sizes, 44 and 52 inches, and is a ceiling fan of the right size for small to medium-sized rooms. It has a modern and appealing look, and what we especially liked about it is the perfect design that represents a great balance of styles. In this context, it fits well into a little girl's room without making the space permanently tailored to children's needs.
7. Casablanca Piston 52" Ceiling Fan
The Casablanca Piston ceiling fan comes with some unique features. This model is also resistant to moisture, it can be installed in playrooms, bedrooms, but also in covered outdoor areas! In addition, the Casablanca Piston is the best example of how a comfortable design and technologically that comes with advanced options such as discrete LED light functions, remote control, and a powerful but quiet motor can be found in just one device.
8. Minka Aire Tear 60" Ceiling Fan
This ceiling fan model is 60 inches in diameter, and that's why it is suitable for bedrooms and playrooms of large proportions where strong air circulation is necessary during heating and cooling. The Minka Aire Tear also offers a great selection when it comes to colors that can elevate every girl's room design. 
If you are looking for a girls ceiling fan who has light options, you will adore its LED system, and if you stick to energy savings, you will be delighted by its DC motor.
9. Quorum Holte 56" Ceiling Fan
The Quorum Holte is a perfect girls ceiling fan due to its beautiful floral design options, quiet mode, and the possibility of achieving energy efficiency in the long run. This ceiling fan can be controlled remotely so that 6 speeds can be changed with the help of a wall control panel. It is also a good choice for those who are looking for a girl's ceiling fan with a built-in light option since it has installed LED light technology.
10. Luceplan Blow LED Ceiling Fan
The Luceplan Blow is much more than just a normal ceiling fan – it is a piece of art! It is one of the few devices of this type whose blades are transparent, which allows you to illuminate the room from a perspective above the blades. 
This ceiling fan has a quiet, high-quality motor that provides powerful airflow and a remote control system with infrared technology. Luceplan Blow models are manufactured in Italy which is why they are in a higher price range. In fact, they are currently the most expensive ceiling fans on the market.
11. Hunter Kennicot 44" Ceiling Fan
The Hunter Kennicott ceiling fan model shatters all myths that a girl's ceiling fan must be pink to fit in and look beautiful. Its astonishing muted green finish is a perfect addition to any girl's room decor. The Kennicott has a diameter of 44 inches, and as such is suitable for smaller to medium-sized rooms. 
The device contains a wall control panel which makes it extremely easy to handle. Those who are looking for a girl's ceiling fan that will look attractive in the long run should definitely consider Kennicott.
Decorate Your Current Ceiling Fan
If you want to avoid buying a new ceiling fan and still beautify your girl's room with this device, you should consider the option of renovating the old ceiling fan. With the change of ceiling fan laces, the installation of light effects, and the coating of the blades with vividly designed covers – this is possible.
Choosing a Girls Ceiling Fan
Pick the Correct Size Ceiling Fan
Since girl's ceiling fans on the market come in different sizes and shapes, it is important to determine exactly what size should you get. Below we provide a useful overview to help you decide which ceiling fan size to choose.
The size is determined by the length of the ceiling fan blades, but also the height of the ceiling which defines whether you need to buy a device with a larger or smaller adapter. This is not the case with rooms with lower ceilings that may need a ceiling fan that contains a larger adapter. 
The function of the larger adapter is to allow the installation of a ceiling fan closer to the ceiling ensuring safety. What you need to know when buying a ceiling fan is that most ceiling fans come with large adapters but you should inquire about this option if the function is of importance.
Does Your Ceiling Fan Need Lighting?
Many ceiling fans come with a light option on so they can also be used as the light option in the room at the same time. This is a feature that is especially appreciated when it comes to smaller bedrooms in which it is not possible to install both. If you need a girls ceiling fan for a smaller room it is definitely recommended to buy a device with a built-in light. 
The fact that most ceiling fans have a built-in light does not mean that these are models that are inappropriate if the customer does not need light. Many of the ceiling fans that contain a light component also allow it to be removed before purchase.
Ceiling Fans and Bunk Beds
When choosing a ceiling fan, you should pay special attention if there are bunk beds in the children's room. Can there be a situation where a child can reach the ceiling fan blade? Is the blade too close to the upper bed? 
These are the questions you need to ask yourself if you want to protect your child. If you are installing a ceiling fan in a room that has bunk beds we offer an overview of alternatives when it comes to ceiling fans which we definitely recommend considering.
Futureproof Your Ceiling Fan
When installing a ceiling fan in a room for a girl, many girls cannot resist the design which is characterized by sequins and pink color with the addition of chandeliers. It is a combination that seems perfect. But it should be borne in mind that ceiling fans are solid structures that are not easy to replace and that children are growing up.
Therefore, you need to think about a design that will suit a smaller girl and also a teenager. Many models of ceiling fans on the market offer a design that is suitable for all ages. So be sure to choose a girls ceiling fan design that will delight your child for at least the next ten years.
Does Ceiling Height Make a Difference?
In order for the ceiling fan to work best, the height should be at least between 2.1-2.4 meters. If your ceiling is between 2.7 to 3 meters high, or higher, you should consider that you will need a suitable extension rod to adjust the ceiling fan to a suitable height. 
Such an extension rod is usually included in a large number of models, but not necessarily. This is something you should check if you have a high ceiling in the room for which you are buying a ceiling fan.
Can You Install a Ceiling Fan By Yourself?
A ceiling fan that is operated with the help of a switch is illegal to install without a professional electrician. If you try to do such a thing, you may suffer an electric shock and lose the right to use the warranty on the device.
Most electricians charge between $100- $200 to install a ceiling fan, with the option of negotiating a lower price if you install multiple devices at once. In any case, it should be kept in mind that in this case, you have to pay a service fee whose price varies. A fan that is started by pulling a string or with the help of remote control can be set up without the help of professionals.
FAQ: People Also Ask
Are 3 or 4 blade ceiling fans better?
Ceiling fans with four blades are a great choice for rooms that are cooled with the help of air conditioning because they spread cool air to all parts of the room much better. At the same time, they are quiet and more pleasing to the eye. 
Should you run ceiling fans all day?
If the ceiling fan is used all day, in combination with the AC system, it can be of great help in keeping the room pleasantly cool. But if you use a ceiling fan in this way, 24/7, even when there is no one in the house, in the long run, it can be unnecessarily harmful to the device.
Does a ceiling fan use a lot of electricity?
Ceiling fans certainly consume less electricity than air conditioners. Consumption of standard models is estimated at 15-90 watts of energy, while tower fans consume slightly more energy, approximately 100 watts.