Where To Hang Wet Towels In A Small Bathroom: 15 Ideas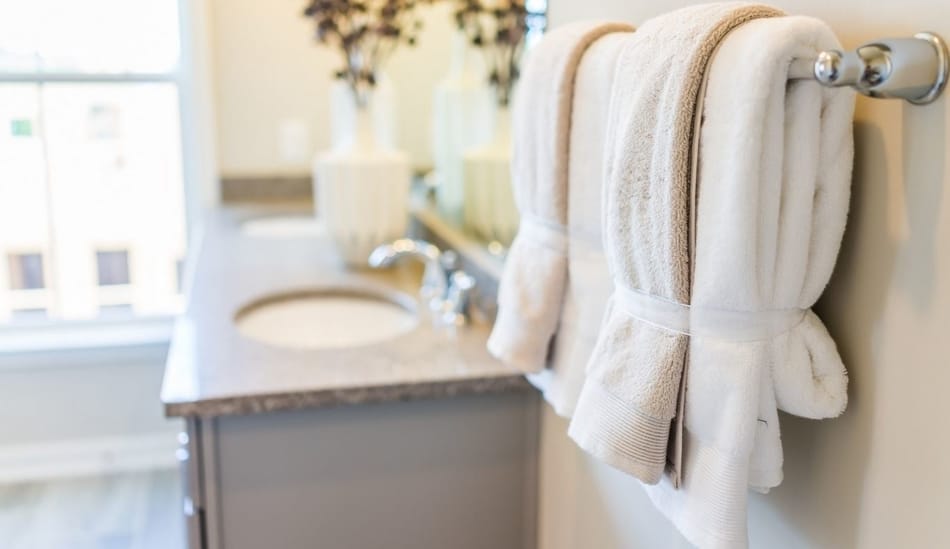 A lot of people these days live in small apartments. This kind of living space means that you can have storage challenges – where to put clothes, shoes, bed sheets, etc. Many people think about these issues when buying or renting small apartments but rarely do they think about the storage capabilities of the bathrooms.
Unfortunately, the most important issue of small bathrooms often goes overlooked and the thought only occurs to you after you have already taken that first shower in the new apartment -where should I hang my wet towel?
Compact bathrooms seem to have everything you need at first glances, like; the shower, sink, and toilet. The necessary cosmetics, soaps, combs, etc., these can easily be put in drawers certainly, but you can't put wet towels in there now, can you?
You cannot simply leave the wet towel on the ground either, you have to hang it somewhere, or it won't dry, but where? Do not fret, we got you covered, and we came up with some ideas that you may want to try out.
Towel Storage Ideas For a Small Bathroom
Here is a list of the top fifteen solutions for the wet towel situation. After going through all of them, you will surely choose at least one method.
For those who want to learn more, you can also read How to Properly Ventilate a Bathroom Without A Window?
1. Towel Rings & Bars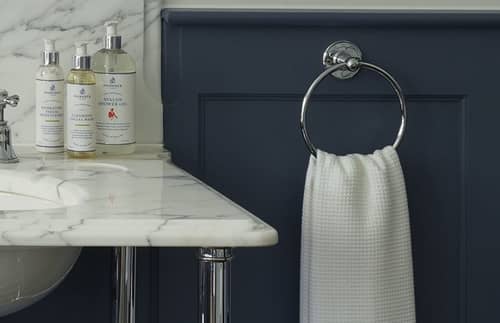 One of the first things to consider is getting a towel ring. Usually, you can find towel bars in big bathrooms, but towel rings are the best way to conserve space in your smaller bathroom. This ring placed near your sink would be a practical solution, but you should also consider the size of your towels whether they will be too big for the towel ring you would like to purchase.
However, if you do not have a place near your sink, you can place the rings vertically on the wall as if you are making ladders. This will also enable you to hang more than one towel. If you get creative with this idea, you can achieve an original bathroom design. This idea can also free some space for your cabinets for other supplies.
2. DIY Basket Shelves
Another good idea is bathroom baskets. For storing dry and wet towels two baskets would be ideal. This also presents the opportunity to again get creative with the basket design and maybe match it with some other bathroom details. However, if you are out of design ideas you can choose a classic varnished brown basket that matches any bathroom. The best place for placing baskets are corners or you can even try hanging them on the wall.
If the baskets are on the wall it means you will not bump into them while opening and walking into the bathroom. If you need to fit a lot of towels in the basket you should roll the fabric rather than fold it. Rolled towels are easily accessible and more compact.
3. Find over-the-shower towel racks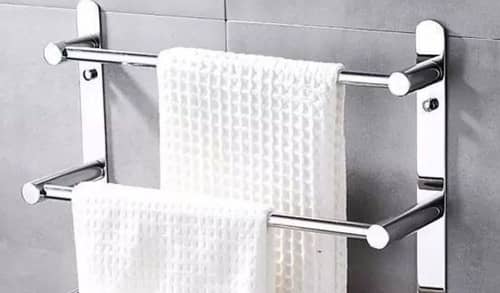 Walls are often used for hanging but you can also consider a towel rack that can be put on the door to make space. Shower doors can also be used for towel racks if they are sturdy enough. Drying towels will be easier this way. Some shower doors come with a towel bar, it looks original and it creates more space in the bathroom.
4. Hang them on a hook
Towel hooks are another alternative for people who do not like folding, however, this means it will take longer to dry wet towels. First, you can place the wet fabric on the shower curtain rod and then move it to the hook after drying. Towel hooks do not take much space at all and they are fairly easy to install in the bathroom. You can either glue them to the surface or use a screwdriver to ensure they won't fall off. It's a good way to save space and make your bathroom look stylish with displayed towels.
5. Install cabinets in free spaces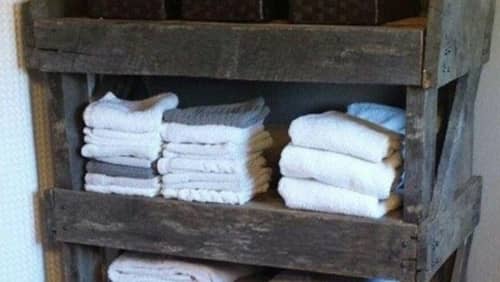 You can also consider getting towel cabinets for storing towels. There are different kinds of cabinets to choose from, like the glass-panel cabinet or an open one so that you can see your supplies and toiletries as well as keeping your towels dry and clean. To conserve space best, get a thin and tall cabinet so you won't bump into them.
6. Utilize the space above your toilet
People usually do not consider the space above their toilets. But, hey it's free space and it can be used for drying towels! You can also put a small cabinet for bathroom supplies and towels and it's a good spot because the cabinet will not get in the way of using the toilet. If you ask me, go for it!
7. Wasted space below the sink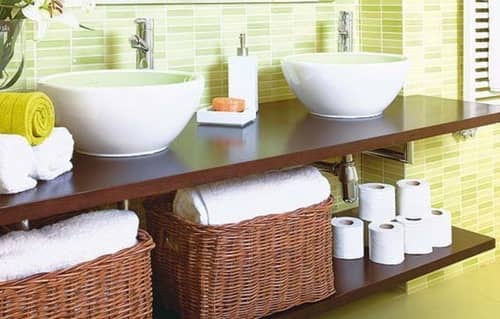 If you are considering the place above your toilet as a potential storage place you can also consider the space below your sink. If it does not have a pedestal it means you have enough room there for other things like an under-sink shelf for towels. These can be made by you and your creativity all you need is some tools, wood and maybe paint. There are many different ways to make them and you can consult the internet and DIY videos if you need advice.
8. Towel stands are still trendy
Towel stands should also be mentioned as a possible solution. They are a great way to use the vertical space in your bathroom for creating a shelf for the wet towels and all you need is a little bit of floor space. They are also easy to find and they are cheap.
9. Wooden stool for any occasion
Now, this advice may sound strange at first but a small stool can actually create a new surface for placing the towels. The good thing is that it is portable and can be placed when necessary without much fuss.
10. Get a towel warmer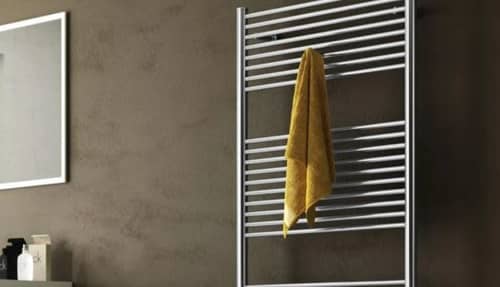 Drying towels on fancy hooks and cabinets are all fine and dandy, however, if you want to feel really luxurious, like you are living in a spa center then our most important advice to you is to get a towel warmer. Having a warm towel ready for when you step out of the shower is the best feeling ever.
These warmers are made out of stainless steel are low maintenance so you don't have to worry about it. The best part is that you can use them as a heater for your bathroom. They can be used for hanging and drying towels and for other soft clothes.
11. Get a Wooden stools
A small stool can create a new surface for placing the towels and the good thing is that it is portable and can be placed when it is necessary without much fuss in any corner of the bathroom.
12. Towel Storage For Towels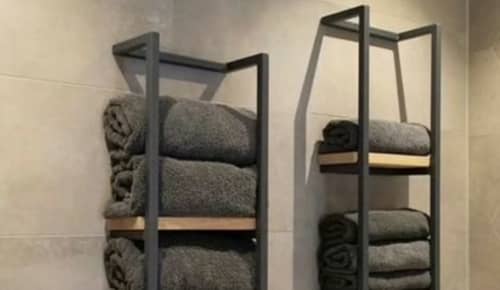 There is also the option of using other furniture originally made for other rooms. Glass display case can be used for storage in your bathroom and can be displayed as décor for the bathroom while protecting things from moist air while showering.
13. Repurposed Coatrack
Also, you can try and maybe use coatracks for hanging the wet fabric. It can be easily accessed from the shower and can be a great storage place. So go ahead and use the coatrack from the hallway to give your bathroom a sophisticated but quirky look and also a suitable storage unit.
14. Pullout Towel Holders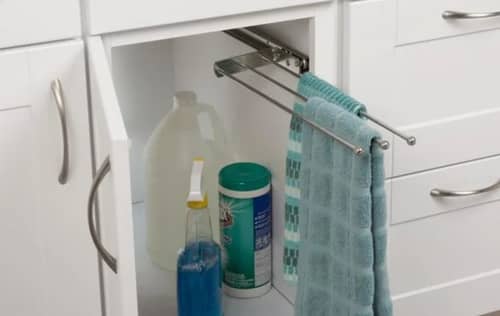 Some people do not want to show their towels so they decide to build a custom pullout bathroom cabinet. Guests will not be able to see the towels. Furthermore, you can also purchase towel bars that can be attached to the cabinet door.
15. Hidden Towel Storage
You can also use vanities, benches, or window seats and place them behind closed doors for placing the towels. If you want to use the space wisely sort the towels by size. Use these new storage places next to the shower for easy access.
Be sure to also take a look at How To Hide A Camera Phone In Your Bathroom?
FAQ: People Also Ask
1. What is considered a small bathroom?
Usually, 35-40 square feet is considered a small space for a bathroom. It may have enough space for a regular size tub or a shower, toilet, and a sink but still have not enough space for those wet towels, right? But no matter the size you can always turn it into a cute, small paradise of your own relaxation to get rid of the tension from a hard day's work.
2. What is the average cost to redo a small bathroom?
Depending on your wishes the price may go up or down. It may vary from $1,500 up to $15,000 or higher, but it is usually around $6,500. If you want to go all out and do a complete remodeling of the bathroom you will probably pay something like $70 per square foot on the low end. This means using your DIY skills for low-end fixtures. On the high end, it can go up to $250 per square foot. This means paying a contractor for high-end fixtures.
3. How long does a small bathroom remodel take?
If we are talking about a complete remodeling of a 35-40 square feet bathroom you can probably be done with it in under a month. This is assuming you are going to do this every day after work. However, if you are refusing to sacrifice your weekends for the sake of remodeling it may take slightly more than a month like four and a half weeks.
Final Thoughts
Nobody thinks about this problem until they have to and then it is usually too late and you have no choice but to turn to the internet for some ideas. We hope that our suggestions were to your liking and that these little tips have helped you on your journey of figuring out where to hang those wet towels. If you have any additional questions feel free to ask.