What Are The Standard Curtain Sizes (Size Chart Included)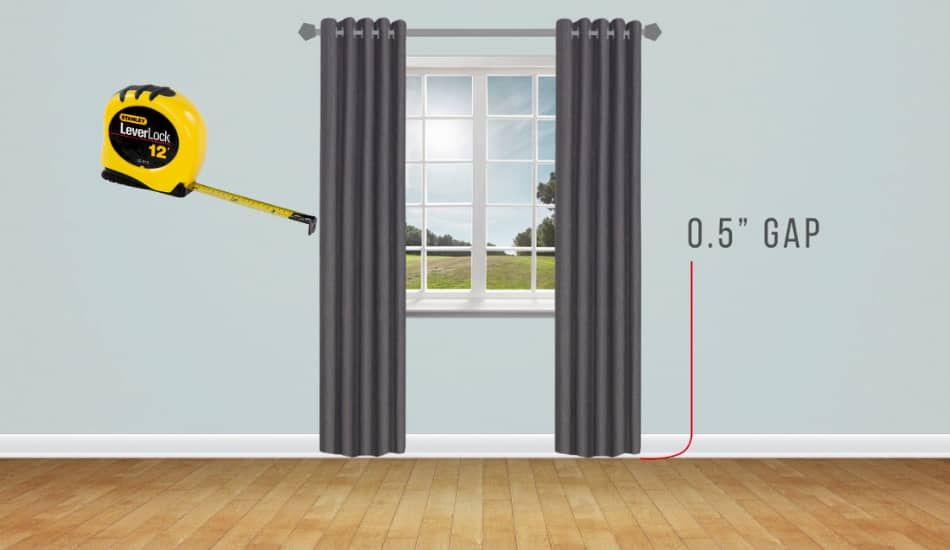 Something important to add to your old or new home is, for sure, curtains. They are something that can change the whole appearance of your room. They are also a really important factor for keeping your privacy. For their installation, you will need to have some holes in the wall just above the window. Curtains can be colorful or nude, short or long, wide or narrow and like that can drastically change the way people perceive your room.
When you are buying curtains for the first time, you should be very well informed about the existing sizes and shapes. Buying the wrong curtain size can be a waste of money and you will have not so good-looking room. In this article, we'll talk about what are the standard curtain sizes and which one would fit you best. So, let's start!
What Are the  Standard Curtain Sizes?
So What Are the  Standard Curtain Sizes? In the US, the standard curtain panels are 48" wide while their length comes in four different sizes; 63 inches, 84 inches, 96 inches, or 108 inches. Curtains that are 84 inches or above are used only where there are very low ceilings so they can create the illusion of height in the room.
What is also important to understand is the curtain size chart and curtain length chart. This will all be explained in detail below.
For those who are interested to learn more, you can read 10 Ways To Blackout A Window.
Standard Curtain Sizes & Charts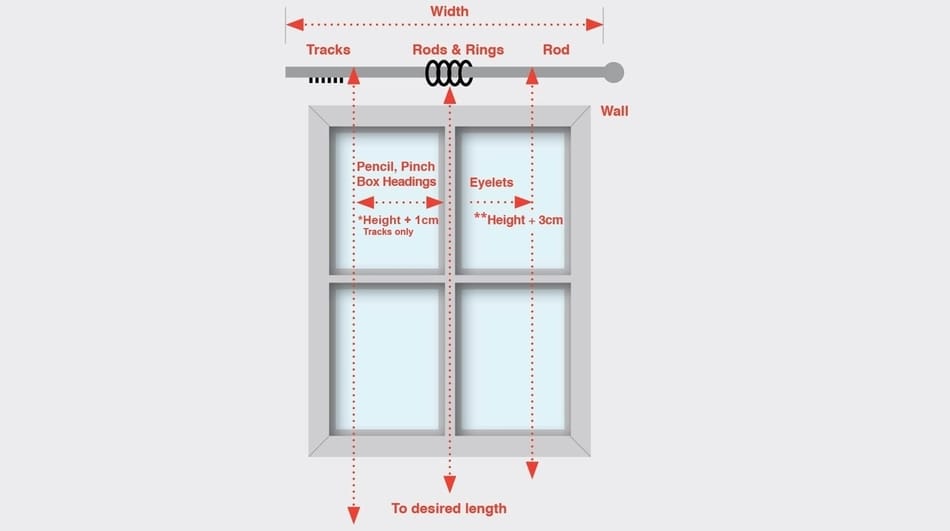 In today's society, you can find everything you are looking for online. Like everything else, there are different curtains that vary in color, shape, or size. Although there may be a big choice, some people are hard to satisfy. They mostly decide to order custom-made curtains. That is a great option if you have a larger budget and extra time that you can spend on waiting for your curtains to be made.
Standard Curtain Width
Most of the time the curtain width is not the problem. Standard curtain panels are usually 48 inches wide. If you maybe have windows that are wider, you can always put more curtains on them. What the real issue is, is the curtain length.
How To Find The Right Curtain Width
| Curtain Pair Pack x Width | Approx. pole or track length for a full gather | Approx. pole or track length for a relaxed gather |
| --- | --- | --- |
| 46 inches (117 cm) | 46 inches (117 cm) | 66 inches (168 cm) |
| 66 inches (168 cm) | 66 inches (168 cm) | 90 inches (228 cm) |
| 90 inches (228 cm) | 90 inches (228 cm) | 112 inches (284 cm) |
| 112 inches (284 cm) | 112 inches (284 cm) | 157 inches (400 cm) |
Standard Curtain Length
The curtain length is, usually, one of the following:
63 inches (160 cm)
84 inches (213 cm)
96 inches (244 cm)
108 inches (274 cm)
120 inches (305 cm)
What is important when choosing an ideal curtain length is NOT to buy curtains that are the same size as your windows. This will not cover your windows enough and you will be left with half uncovered windows. You should consider the height of your ceiling and what effect do you want them to have in your room when deciding on an ideal length.
The minimum curtain size should always be 6 inches. This will provide you with extra length below the window for better privacy from every angle, and with enough room above to fill the space between the window and the rod.
Related Article: What Color Is Anthracite? (How to Use It in Your Home)
Curtain Panel Styles – How Low They Need To Be?
These are the three various styles of how curtains may fall on the floor:
1. Floating Curtains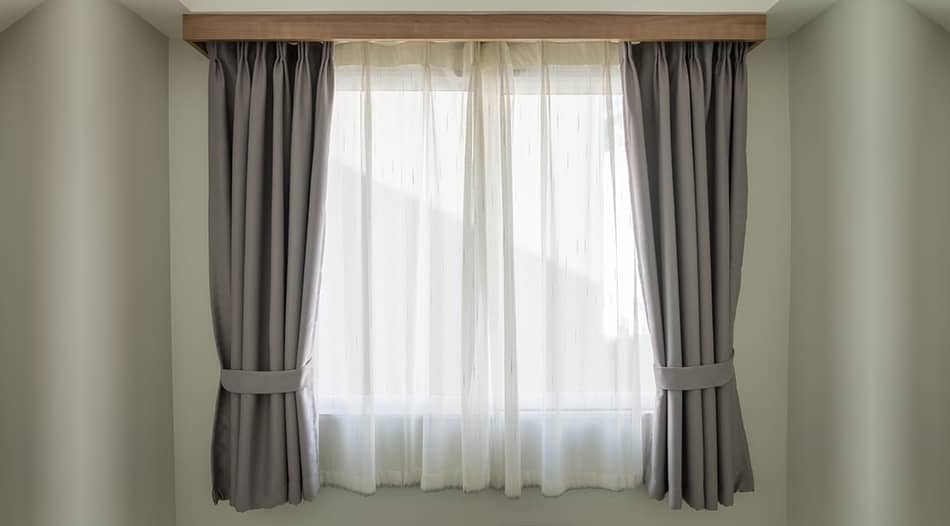 If you want to create an exotic effect in a room with a wide or panoramic view, you should consider buying floating curtains that are light or sheer. For more exotic views, you can even add an extra layer of tied draperies or cascading. Those are the curtains that have some space left between the floor and the end of a curtain.
It is easier to clean below these curtains because they have that extra space; they are not touching the floor. This is also ideal if you have pets in your home, cats in particular, or children because they would not be able to reach them. They are practical and easy to maintain.
You should be careful when buying floating curtains because they can make your ceiling appear low and therefore make your room feel smaller. They should hang 4 inches under the edge of your window or 2 inches above your floor.
2. Floor Kissing Length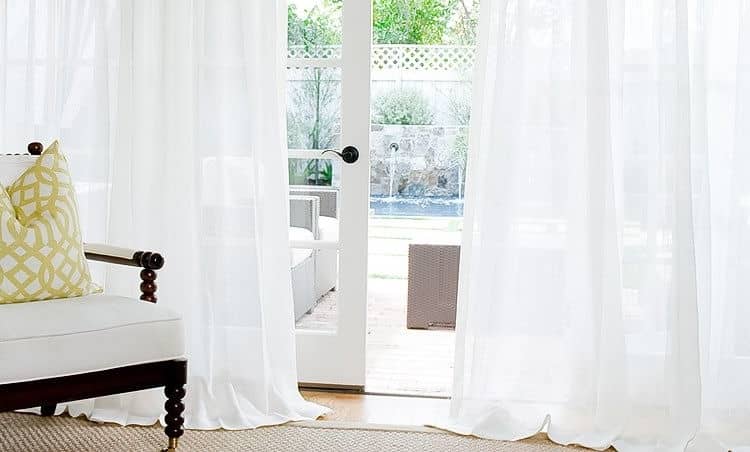 If you have a high ceiling in your room or a room that needs blackout curtains, you may want to buy curtains that are the floor kissing length. Those are the curtains that are longer and "kiss" the floor but are not spilled/pooled on the floor.
When you are buying them, you should consider buying a longer length than you need and then shorten it. It can be difficult to measure them correctly so you should avoid risking the length. It may be a good solution to buy custom-made floor kissing curtains. They look neat and usually better on narrow windows or when hung from thick rods that are in grommet style.
3. Puddling Length
These curtains, which are of puddling length, are made to look like a puddle on your floor. They are longer than the size your window needs and create a formal and traditional effect. They usually look better when the fabric is thicker and made of velvet for a more dramatic appearance. Those curtains can be seen in older wealthier homes, mostly in dining rooms.
However, they are not easy to clean, and their maintenance is not simple. They are also not ideal for homes with children. It is not smart to put them near French doors or on windows in an area with a lot of dust. In addition to that, they are not great for windows that face the garden since they are difficult to open and can easily trap dirt or dust.
4. Special Lengths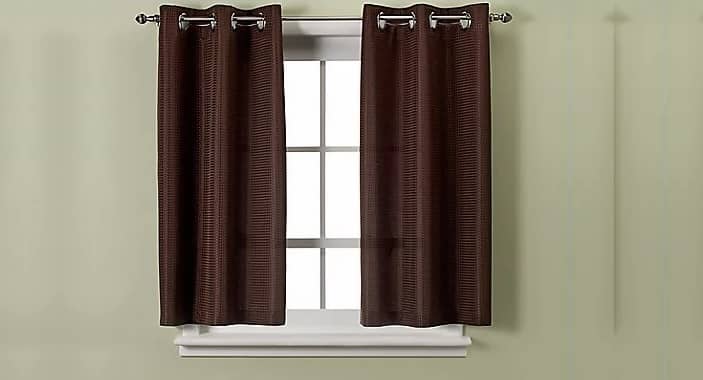 Some windows do not even need curtains that provide full coverage. These are mostly the kitchen windows. Curtains that are located in the kitchen should not have full coverage since they would trap grease and kitchen smells. Windows that also do not need full coverage are bathroom windows or windowsills that are very high.
Special lengths can come in these three types:
Windowsill curtains – When you have some big furniture below the window you will probably use these curtains that end at the windowsill. They are, also, usually put up in kitchens.
Valances – They are mostly 5 inches long and go only over the top window part. In houses that are cottage-styled, they cover bay windows or even doors.
Tier curtains – They are usually from 34 to 36 inches long and mostly go over only two-thirds of a window (or only the bottom half).
Choosing The Right Curtain Size Is Important
It is important to choose the right size of your curtains because they can drastically change your room. Curtains that are placed carefully and are neat can make your room appear big and fresh. Also, they can help you hide some parts of your room that you are not satisfied with. It is always easier to just measure the window and buy the first type that fits it well but do not rush with your decisions.
If it is important for you to add curtains as quickly as possible, you can buy a cheap temporary option before buying the final one. It is hard to explain the feeling of dissatisfaction when you know that something does not feel right in the room. Curtains can very easily change the whole appearance of your room for the better or the worse. Those issues can be caused by the wrong fabric type or inappropriate length.
How To Measure For the Correct Curtain Length?
You should measure from the floor up to the rod where you plan on placing your curtains and make sure to measure it with a trustworthy measuring tape.
Pro tip: If you want your windows to seem wide and high you should consider adding extra inches to measurements. Do not go higher than a few inches.
Your window may appear smaller if your rod is placed too low. The rule of thumb is around 4" up from the top of your window but you are safe to go even higher.
What Is A Standard Size Curtain Rod? 
Although curtain rods come in different sizes, the most common lengths that can be found in local home improvement stores are 28, 48, 84, 66, and 120 inches. To find out what size curtain rods you need, measure it. When it comes to measuring curtain rods, this is not a difficult task. First, measure your window dimensions and then add 6 inches to each side. By using the pencil, mark your walls so you can precisely place your rods.
Tips On How To Choose The Right Curtain Size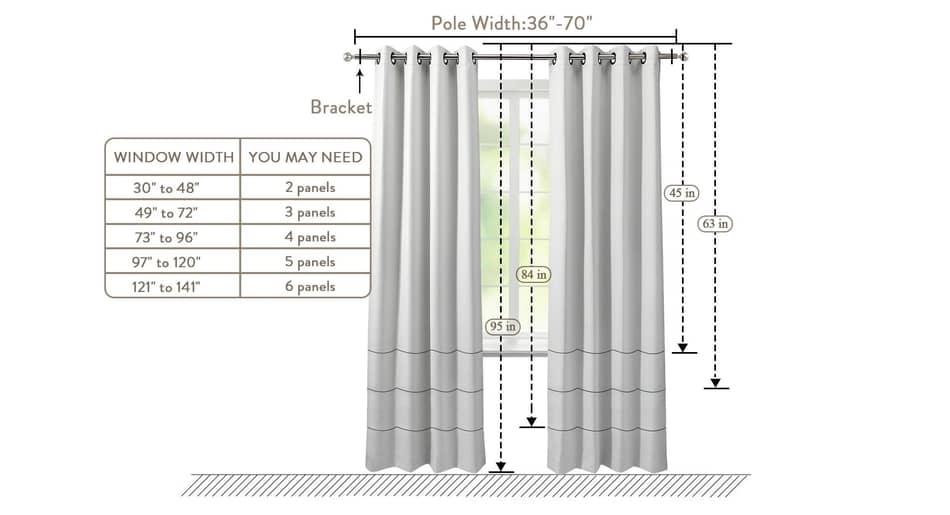 If you are moving to a home that does not have curtain rods, you should prepare carefully for their placement.
Firstly, you need to make sure that your rod is following the rule of the thumb and is placed at least 4 inches above the window (it's top). You need to be sure of the exact spot where you want to put your rod. If you do this correctly you will have complete coverage and your rod will not be seen through the window.
If you like a more soundproofed space, you can place your rod two inches below the ceiling and use some thick fabric or the blackout one. For blackout curtains, it is good to have four support points but for usual curtains, you can use only three.
The ideal width should be from 1.5 to 2 times the window width. You should have enough fabric to be able to flare the curtains up. For easy closing and opening, you should have rods start three inches away from the side ends of the windows, at least.
When choosing the right curtain size, always choose the longer curtains because it is easy to shorten them if they do not fit. If you have some furniture below the window, you will maybe need to move it, especially if you have the floor-kissing or puddling length curtains.
Curtain Dos and Don'ts
Do have a wider curtain rod (wider than your window).
Do have blinds as extras with your curtains for greater coverage.
Do have wide enough curtains for good opening and closing.
Do have your curtains hung a few inches above your windows.
Don't choose too narrow curtains.
Don't have too short curtains (floor-length should gently touch the floor).
Don't put up your curtains too low.
Don't put your curtain rod within the window frame.
Here is also one interesting article for you, Aluminum Foil On Windows: What Is the Purpose Of It?
FAQ: People Also Ask
1. What Are Standard Curtain Sizes?
There are three curtain lengths: 84, 96, and 108 inches long. Avoid curtains that are 84 inches long since they are better for really low ceilings.
2. How Do I Know What Size Curtains To Buy?
To know what size curtains you need, measure the width of the rod from left to right. The width is always written first and then the length follows when talking about the curtain measurements. If the measurements are 54″ x 84″, they are 54 inches wide and 84 inches long.
3. How Wide Should Curtains Be For A 100-inch Window?
If the window width is 100 inches, your curtains should be around 125 inches wide to be able to hang properly. You should measure from the edge inside the frame to the opposite side inside the edge when you have an inside-mount curtain.
Final Thoughts
It is important to know the ideal length that you need for your windows before buying your new curtains. They change drastically change the appearance of your room and make it bigger or smaller, tidier or untidier. You should always measure them carefully and be sure where you need to place the rods for the best results. Always use a trustworthy measuring tape and be patient – it is better to buy a longer size that can be trimmed after. I hope that this article has helped you and if you have any additional questions feel free to ask.