10 Ways To Blackout A Window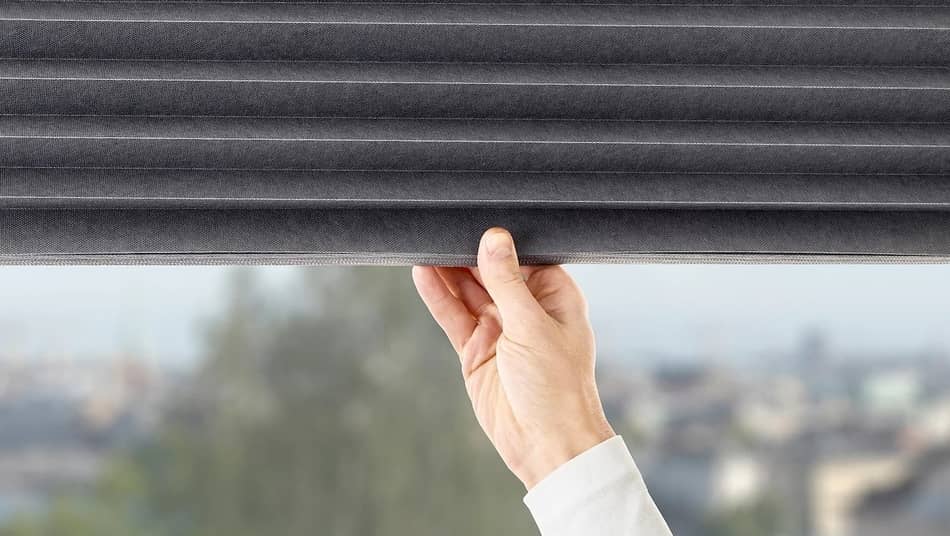 We often want our rooms to have as much natural light as possible. However, there are situations when it is necessary to achieve the opposite effect. For people who work at night and love to sleep longer than usual, it is normal that they do not want any light to enter their room.
Also, if you decide to watch a movie during the day, it is better to have a darkened room to make the viewing atmosphere as good as possible. So the question is, how can you achieve that? There are various solutions that you can do to blackout a window in your home. In this article, we'll go through the 10 best ways how you can do this. So, let's start.
What Are The Usual Methods To Blackout A Window?
Shading windows can be done in various ways. For each of the rooms, it is possible to choose the best option, taking into account the purpose of the room and design features. Each room has different properties and characteristics to which you must pay attention. Therefore, choosing the right method on how you will blackout a window is important. To block the sun's rays the most commonly used method is to use the curtains. But below in this article, you will see also other methods that are very effective.
Popular shading systems include:
Roman curtains;
Classic curtains;
Roller blinds made of fabric;
Various outdoor awnings;
Blinds of all kinds.
Note! The choice of the darkening method depends on the size of the window opening, the purpose of the room, and the interior design of the apartment.
Also, if you are interested, you can take a look at a very close topic related to this article, The Pros and Cons Of Smart Glass (Smart Windows).
10 Different Ways How To Blackout A Window
Now that we've gone through the introduction, it's time to tell you 10 different ways on how you can blackout your windows in no time. Here we go:
| Ways to Blackout a Window | Short description |
| --- | --- |
| 1. Install An Awning | Using an awning is a very convenient and a great way to blackout a window. |
| 2. Use Window Blinds | Windows blinds are the popular and most common way to blackout a window. |
| 3. Blackout Curtains | This is one of the simplest solutions on how you can blackout a window. |
| 4. Get a Mesh Liner | Using a mesh liner is a good option if you also want to let fresh air into the room. |
| 5. Use Aluminum Foil | Aluminum foil is a great choice if you want to blackout a window, but it is not aesthetically pleasing. |
| 6. Get a Window Tint Film | By using window tint film you can easily darken any window without a problem. |
| 7. Roller Shutters | Roller shutters can protect the room from the sun and can also allow you to save heat. |
| 8. Use Curtain Liners | The great thing about curtain liners is that you don't need to use dark-colored surfaces to blackout a window. |
| 9. Use Velcro Curtains | It is a very easy and comfortable alternative that you can use. |
| 10. Using Cardboard | As a last solution, we decided to use cardboard to blackout a window. |
1. Install An Awning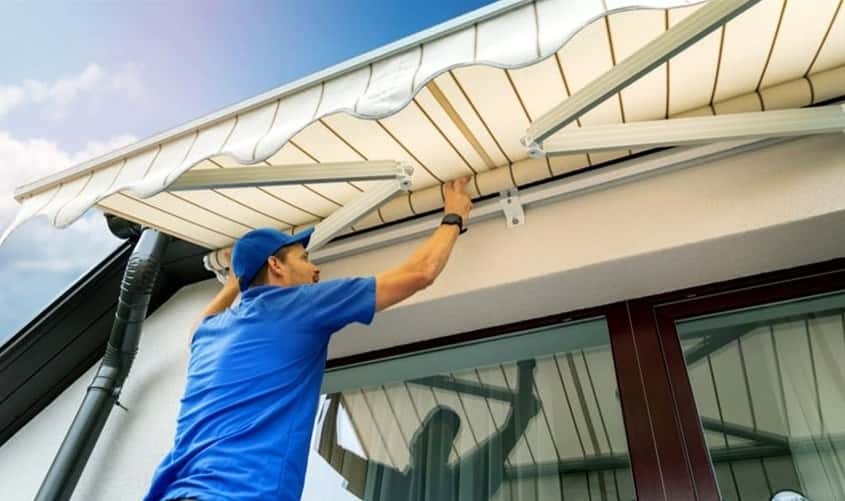 Perhaps, first of all, it is worth considering an option in which the issue of excess sunlight is resolved from the outside, and not from the inside. This is very convenient because in this case, you can save the view from the window, and the interior of the room will not change in any way. Therefore, the Installation of Awnings can be a good solution.
Usually, awnings are made from canvas or other suitable fabric, which is attached to a light frame. This structure is placed directly above the windows, which ensures proper darkening. Whether the awning will be an effective solution, you need to understand each case separately. You can find very cheap and quality awnings here on Amazon.
Setting up an awning depends on the location of the window. Depending on which side of the windows they are facing, the angle of incidence of the sun's rays changes. The awning, as you might guess, protects from the sun when it is already high enough. And if the windows are facing the sunrise, the sun's rays hit at a slight angle, thereby bypassing the awning.
Here are some of the advantages of awnings:
A large selection of colors, textures, designs and shapes;
Resistance to wind and precipitation;
High density;
Long service life;
High tensile strength;
The ability to use with temperature drops;
Execution of awnings according to individual measurements.
2. Use Window Blinds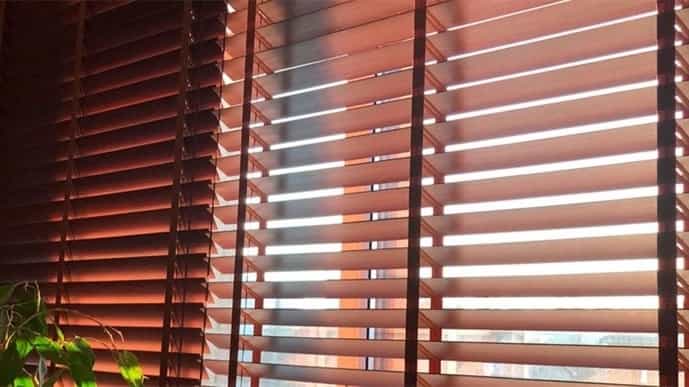 If in your case Awning is not an option, you will have to resort to other solutions. And the first candidate for this role is, of course, Window Blinds. This is a very popular way how you can blackout a window. Window Blinds look good in almost any interior, and they are not too difficult to set. As for the practicality of this solution, it is possible to argue here, since there are both pros and cons.
The undoubted advantages include a simple adjustment of the inclination of the lamellas. With the help of a special mechanism (adjustment mechanisms can be very different), you can turn the lamellas at a certain angle, thereby controlling the distance between them. The greater the distance between the lamellas, the more sunlight they let through and vice versa. This is where the advantages, alas, end and the problems begin.
Firstly, it is at least inconvenient to open and close windows with blinds. Secondly, they are difficult to maintain. Thirdly, if you open a window for ventilation, then the blinds no longer save you from the sunlight, since most often they are, in fact, part of the sash. A big choice of window blinds can also be found here on Amazon.
Main advantages of window blinds:
Compactness;
Wide choose;
Saving space;
Meeting modern aesthetic requirements;
Long service life;
The possibility of selection for almost any interior.
3. Blackout Curtains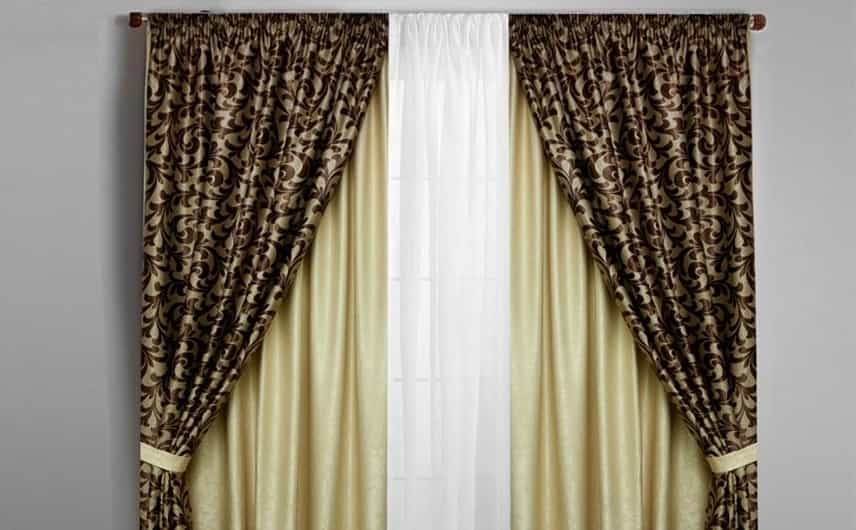 Probably the simplest solution, which lies literally on the surface, is to use thick Fabric Curtains. Moreover, curtains by default are already available in almost every room, with the exception of the kitchen and, perhaps, the balcony.
In order to prevent the penetration of sunlight into the room, you do not have to make any unnecessary gestures. If you are inclined to just such a decision, choose thick curtains, preferably multi-layered. And the point here is not so much in aesthetics as in practical considerations and the laws of physics. A material painted in light colors and shades reflects the sun's rays much better and, therefore, heats up less.
True, traditional curtains, with all their advantages, do not always fit. In a children's room, heavy curtains will rather not be effective against excess sunlight, but rather a dust collector. All this forces us to look for other options, and of course, they exist. Also, you can search for various types of curtains here on Amazon.
4. Get a Mesh Liner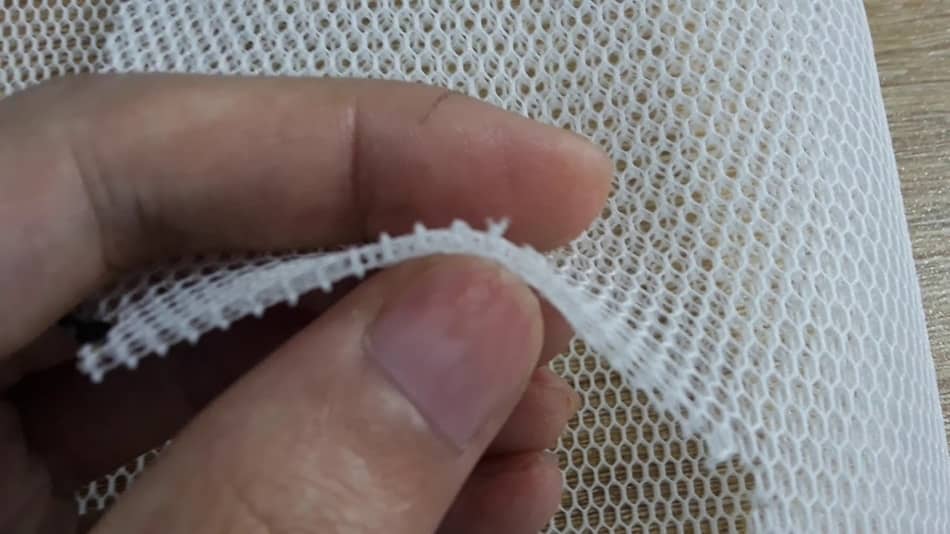 By using a Mesh Liner you will not completely keep your room in the dark, but the good thing is that it offers a good airflow to the room. This is a very cheap solution and can be installed without any problems in a very short time. Mesh fabric is a semi-blackout material and it works well between two blackout window covers. The good thing is that the mesh liner lets in very little light and provides fresh air to your room.
To set it, cut the mesh liner accordingly to the dimensions of your window. Make sure it all fits perfectly to your window. Therefore, for permanent use, use the hooks to attach it and install it as an additional curtain. On the other hand, if you want to use mesh liner just for a short period, secure it with pieces of tape. There is a good offer of mesh liners here on Amazon.
5. Use Aluminum Foil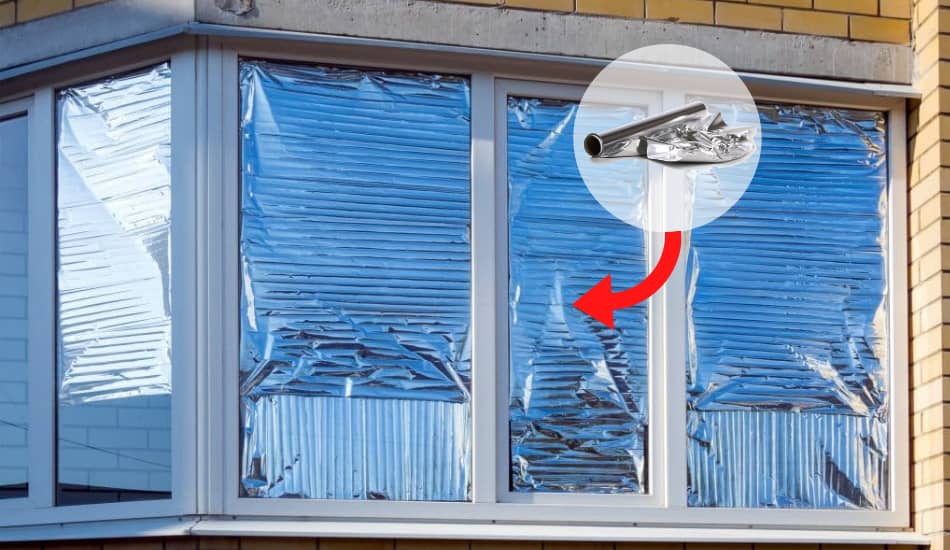 One of the options for how you can blackout your room is to use Aluminum foil. You can simply use painter's tape to stick aluminum foil to the window so you avoid damaging the glass on the window. This is a very cheap method to blackout a window. Mirrored surfaces like aluminum foil perfectly reflect the sun's rays.
The sun's rays cannot penetrate through aluminum, moreover, are reflected from it, which significantly reduces the heating temperature. It turns out an excellent insulator, which retains the sun's rays, ultraviolet, and infrared radiation by 80-90%. This is enough to protect the room from overheating in almost any condition.
In principle, such a "shield" can be made independently at home. To do this, you need aluminum food foil (you need to buy the one that is more expensive since it is denser) and tape. It's simple.
Feel free to read our article, Aluminum Foil On Windows: What Is the Purpose Of It. Here you will learn much more about how to use aluminum foil and much more.
6. Get a Window Tint Film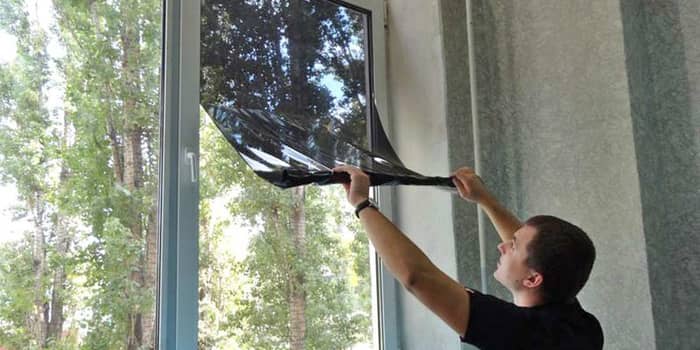 Window Tint Film can serve as a great solution if you want to blackout a window. With window film, you can cover the entire window pane. Tint film can easily darken any window without a problem. They are sold in a large assortment, have a gradation in light transmittance and even different shades. This material is a thin laminated sheet that is glued directly to the glass from the outside or inside.
If the tinting is glued with good quality, it is difficult to notice it on your window, which can be considered a huge advantage. The view from the window is also preserved. They show good results in blocking the sun's rays which makes your room darkened. Check out more models of window tint films here on Amazon.
In fact, this option has a significant drawback. If the curtains or blinds can be drawn or opened at any time, then nothing can be done with tint films. The film can be peeled off. But you can't do this several times a day.
7. Roller Shutters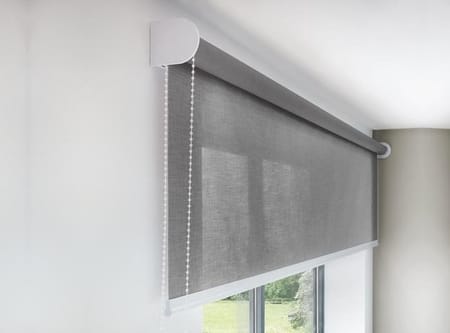 Roller Shutters are reliable structures that protect the room from the sun, noise, and low temperatures. In addition, they are a means of protection from external penetration, prying eyes. When closed, roller shutters also allow you to save heat, dampen noise and prevent the effects of natural elements.
So if you opt for this option to blackout a window, you will certainly not go wrong. Roller shutters can be selected even for large window openings, doors, and balconies. Some models of roller shutters can be found here on Amazon.
8. Use Curtain Liners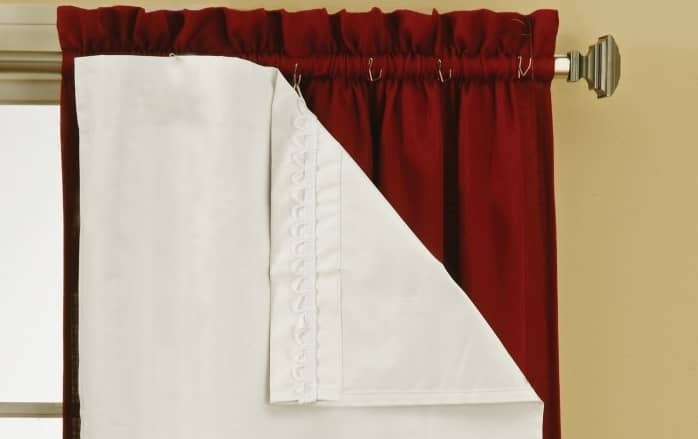 Another great way you can blackout a window is to use a Curtain Liner. There is also a solution to fix the blackout liner to the current curtain that you have, so you can enhance the darkness in the room. The good thing about this method is that liners don't need to use dark-colored surfaces to blackout a window. You just use thick fabrics to block excess outdoor natural lighting.
If you opt for a Thermal liner you will get several benefits. The first one is that it will help you cut down your energy bill. The second is that it cools down the room during the summer and during winter it warms it up. Also, it blocks almost all-natural light to enter the room. Here you can see more types of curtain liners on Amazon.
9. Use a Velcro Curtains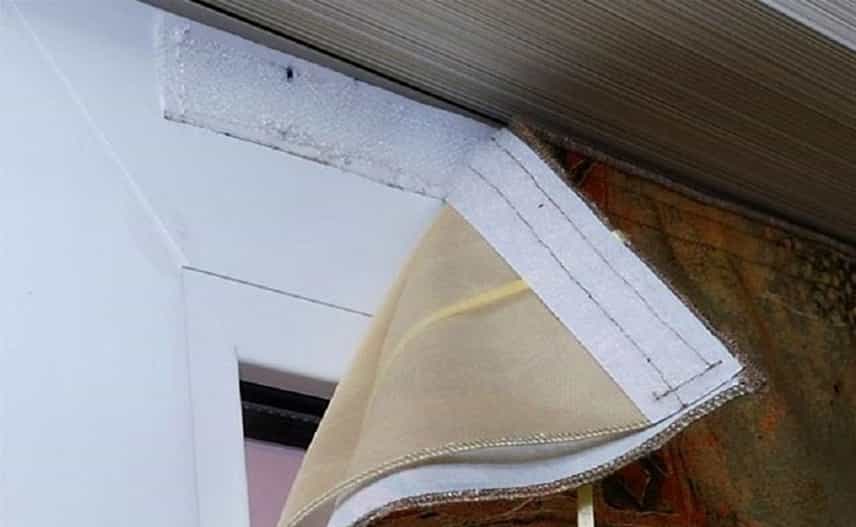 Velcro Curtains are very new and are promoted as a comfortable alternative to traditional curtains. It is especially convenient to use this option in the kitchen. The small curtain is very easy to attach with Velcro over the window and is also easy to remove and throw in the washing machine.
Velcro curtains consist of two parts: soft part (attached above the window directly to the profile of the glass unit) and hard part (which is sewn to the curtain). True, the appearance of such curtains is controversial. Velcro blinds are not suitable for every room and not for every interior. In addition, Velcro curtains are usually attached directly to the glass unit or even to the window sash itself.
In this case, when the sash is opened, the curtain also moves and no longer interferes with the penetration of sunlight into the room. Of course, Velcro can be used to attach more traditional curtains higher above the window. More Velcro curtains you can find on here Amazon.
10. Using Cardboard
Cardboard is a very easy solution with which you can blackout your window in no time. You can find cardboard in almost any store. Measure the dimensions of your window before you get the cardboard and cut and paste it to the window according to these dimensions. Get duct tape with which you will be able to glue firmly. Like other window blackout solutions, this is one of the easiest ones that you can use. You can also order it online via Amazon.
Related Article: Why Are Some IKEA Items Not Available For Delivery?
The Benefits Of Blackout a Window
Each of us knows that natural light that is coming from the sun is good for us, but sometimes you just want to black out your windows. There are quite a few benefits that blacking the windows can do for us. Let's take a look at some of them:
During the summer, the rooms can heat up and reach a very high temperature, which can be unbearable. Especially if your windows are facing the east side where the sun has been setting since morning. Then it is a very desirable option to blackout your windows and makes your home cozy during the hot summer days.
If your windows are facing the street where a lot of people pass by, or your windows are directly facing to your neighbors you have a very good reason why you could blackout your windows. This way you will feel more comfortable and safer because you know that no one is watching you and you can relax in your home.
There are people who work during the night and rest during the day. Therefore, the option of blackout windows for them is more than obvious, because they sleep much longer and they do not want to be disturbed by sunlight. Such people usually blackout their windows and keep them so tinted all year round.
If you like to watch movies or even have a home theater, then blackout the windows is a very desirable solution. Blacking out the windows will give you an awesome cinema experience. Watching movies in the dark gives a much better experience than when you do it while a lot of light is present in the room.
FAQ: People Also Ask
How Can I Darken My Windows Cheaply?
The cheapest and economical way to darken your windows is to use black fabric that is cut to the size of the window. Put up Velcro dots on your window frame, so it can match the black fabric.
How Do You Blackout A Window Without Curtains?
The simplest way you can blackout a window without using curtains is to position furniture like bookshelves and thus block the light from entering the room. Other ways you can use is to use a window film, aluminum foil or roller shades.
Is Aluminum Foil On Windows Illegal?
The use of aluminum foil on windows is legal. Everyone has the right to their own house and windows to install what suits them best without violating public order and peace.
Final Thoughts
Sometimes you want less lighting in your room or you want to be in complete darkness. To achieve this people mostly use window blinds, but there are also other solutions that we talked about in this article. These solutions mostly include aluminum foil, awnings, window tint, and more. Remember that you also need to ask yourself whether you want to black out your windows permanently or only temporarily. I hope you now have a lot more ideas on how to black out your windows and that this article has helped you.