The Pros and Cons Of Smart Glass (Smart Windows)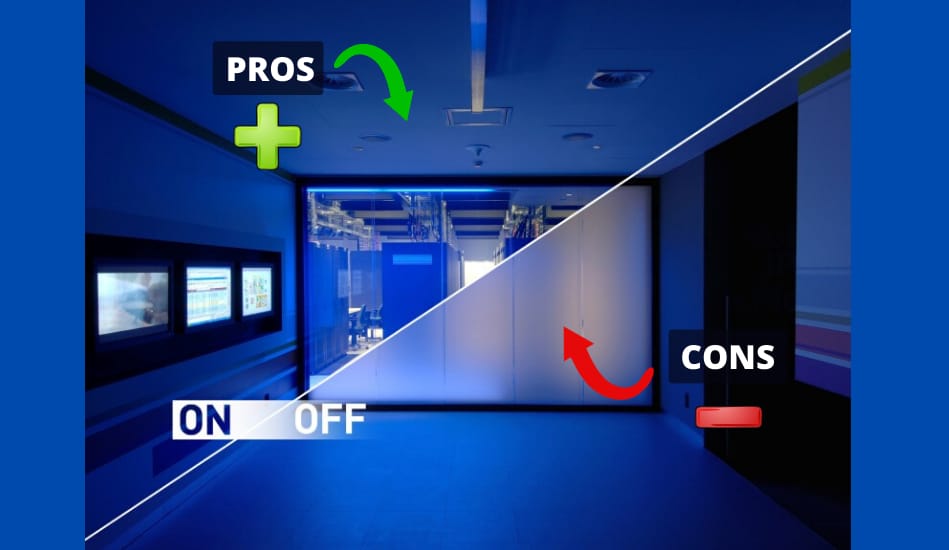 Smart glass or switchable glass is created by special technology that allows you to change the degree of transparency. It consists of two or more sheets of glass enclosing a liquid crystal film traversed by an electric current. Under the impulse of this current, the crystals are aligned and the transparency of the glazing is modified.
Smart glass is appropriate in different situations, but for one purpose – to make the visible part of the room invisible. Meeting rooms, restrooms, managerial offices, shop windows, sliding doors, room dividers, windows, offices and even tables in the restaurant can be decorated with smart glass. So let's see what characteristics these switchable glass have. Here we will present to you a full list of the Pros and Cons of Smart Glass (Smart Windows):
| The PROS | The CONS |
| --- | --- |
| 1. Smart Glass reduces heat loss | 1. High price (around $100/m²) |
| 2. It blocks UV rays | 2. It's necessary use of electricity |
| 3. Ease of use and maintenance | 3. Installation can be difficult |
| 4. Smart Glass Significantly saves energy | 4. Electrical consumption |
| 5. Filtering of sight and light on demand | 5. Smart Glass isn't yet widespread |
| 6. Preservation of privacy | |
| 7. Smart Glass can serve as a projection screen | |
You can even find some models of Smart Glass here on Amazon.
The PROS of Smart Glass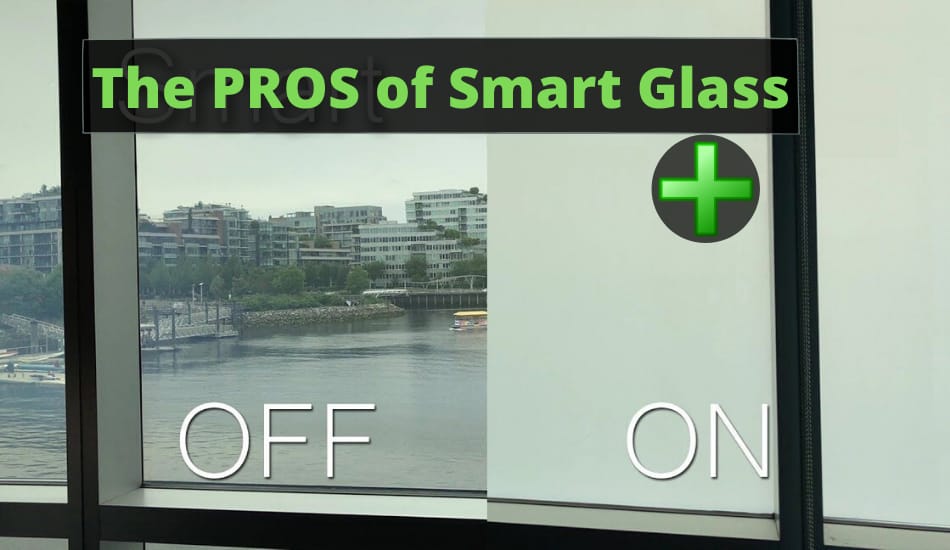 1. Smart Glass Reduces Heat Loss
Windows are most often the ones responsible for heat loss during the cold months while during the summer days they cause problems with heat gain. With the use of Smart Glass you will reduce heat load in summer and heat loss during the winter while maintaining the vision true the window.
2. It blocks UV rays
Smart Glass have a great advantage because it lets as much light as clear float glass. However, float glass let 55% of UV-rays through while the new technology used in Smart Glass blocks over 95% of UV-rays. This gives you the natural sunlight and you don't need air-conditioning systems.
3. Ease of Use and Maintenance
Smart glass or switchable glass once it is installed in the office, room or business space requires almost no maintenance and it is very easy to use. Most of these glass are installed so that you have a switch/button on the wall or a remote control with which you set the On/Off state. Adapted to all dimensions, electrochromic glazing requires no special maintenance, except regular cleaning similar to that of any window.
4. Smart Glass Significantly Saves Energy
With smart glass theres no need for air conditioning in summer, while consuming little electricity since the electrochromic glazing remains tinted even after the power is cut. According to the manufacturers, with switchable glass it would allow energy savings of up to 30%.
5. Filtering of Sight and Light on Demand
By using Smart glass you can very easily and quickly change filter sight and light on demand. Although most business offices and rooms use switches or buttons to filter sight and light, a remote control and a mobile app can also be used to manage it. It is very simple and it takes 1 second to switch from one mode to another.
6. Preservation of Privacy
Like opaque glazing , it preserves your privacy by protecting you from looks from the outside, without obscuring the view, unlike blinds for example. With these smart windows you have the ability to completely get rid of the curtains in the room.
7. Smart Glass Can Serve as a Projection Screen
Smart glass can be used as a projection screen. This expands the possibilities for creating an exclusive, individual design of the room. Perfectly suited for use in conjunction with video projectors designed to watch movies on a separate screen.
The CONS of Smart Glass
1. High Price (around $100/m²)
The biggest drawback of smart glass remains its price, which is very high despite the energy savings it generates. If the range can vary from one manufacturer to another, count around $100 per m² for this glazing marketed by specialized companies. For this reason, electrochromic glass is still not very widespread: it is currently mainly used for professional and public premises (offices and museums).
2. It's Necessary Use of Electricity
Although smart glass saves over 30% of home energy, it also uses electricity from the grid, so this can also be called a disadvantage. If electricity is not available in the house, smart glass cannot be used.
3. Installation Can be Difficult
In order to install smart glass, it is necessary to know what you are doing; both window installation and electrical installations. Therefore, before installing, you will need to hire a master who is qualified for the job.
4. Electrical Consumption
Regardless of the fact that Smart Glass saves a lot of energy and thus reduces costs by up to 30%, they also consume electricity. Electrochromic (smart) glass works on very low electrical voltage (12-36 W) and energy consumption is approximately 3 to 5 watts per square meter.
5. Smart Glass Isn't Yet Widespread
Although this technology greatly reduces energy costs, it is not yet widespread, and you don't have it in every city.  Therefore if you would decide to install switchable glass in your home, you will need to find the nearest shop where you can order it, and that might be a little harder.
How Smart Glass Work?
The glass is connected to a switch via a transformer. By closing the circuit, a weak electric field stimulates the alignment of the liquid crystals. The glazing is then transparent. It is enough to interrupt the electric current so that the crystals lose their alignment and the glass becomes translucent again. In this state, it always remains permeable to light, but prevents objects from being distinguished, much like an opaline glass. This system therefore instantly guarantees the transparency or privacy of the premises. In the opaline phase, the glass can also serve as a projection screen.
For those who want to know more, read How Much Electricity (Power) Does Smart Glass Use.
Types of Smart (Switchable) Glass Technologies:
Transparency changes independently; without human intervention. Depending on the brightness of sunlight and outdoor temperature.
The degree of transparency is regulated by a person; thanks to the presence of an electric source and a remote control for controlling this function.
Smart Glass Examples of Use
Smart glass can be used in both outdoor and indoor installations. For example, a huge screen made of variable-dimming smart glass serves as a display in the Guinness Storehouse (Dublin). The Nissan Micra CC ad campaign in London was carried out using boxes with four smart glass panels that sequentially changed the haze to create a striking advertising installation on the city streets.

The main use of smart glass is the internal partitions and doors, which many companies use to organize confidential meeting rooms . In the normal state, such premises are part of the internal space of the office, but, if necessary, serve as private premises. The same function is performed by smart glass in hospitals for organizing patient examination rooms. Also, smart glass is used in cash zones of banks, in recreation areas and dressing rooms in stores.
Advertising uses smart glass display cases facing the street for presentations and commercials. If necessary, smart glass can become transparent for viewing the interior of the room or exhibited samples (clothes, cars, etc.).
Conclusion
Smart glass are perfect not only for classic installation but also for indoor installation – for the original, effective zoning of offices or living rooms. The switchable glass will significantly reduce the loss of heat in the room and significantly reduce the cost of lighting or air conditioning. In addition, smart glass serves as an excellent alternative to mechanical curtains, shading screens, or blinds. Electrochemical or liquid crystal smart glass in a transparent state will not transmit ultraviolet rays. But smart glass on suspended particles will require special additional coatings to block ultraviolet radiation. I hope this article helped you and that you got a better insight in the smart glass.