16 Most Expensive Ceilings Fans – Luxury Models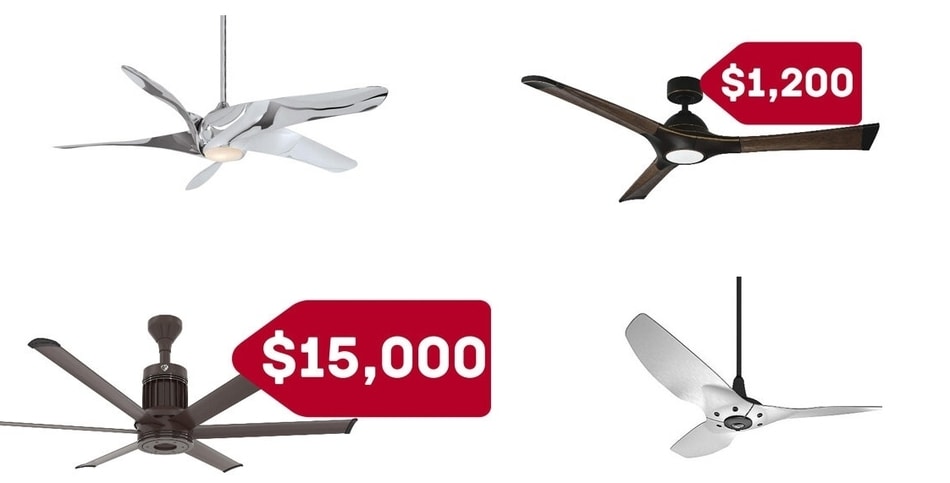 You'd be surprised if you knew to which extent the prices of ceiling fans can go. In this article, we'll show you some of our favorite high-end ceiling fans that are available on the market today. Even though the first thing you notice when you see these ceiling fans is their price, there is a pretty good reason for it.
From their distinctive and luxurious designs and the high-quality materials that are used for their production, these ceiling fans are more than just a price tag. Therefore, keep reading to find out which high-end ceiling fans are our favorites, ranked from cheapest to most expensive. Let's start!
Most Expensive Ceiling Fans
1. Monte Carlo Prairie Ceiling Fan
Price: around $1,049
The Monte Carlo Prairie is a contemporary brushed steel ceiling fan with a windmill design. The Prairie's broad blade spread, strong minimalist style, and familiarity is due to this combination of traditional and modern elements. While not the most extravagant ceiling fan, the Monte Carlo Prairie is a great way to get started with premium high-tech ceiling fans.
2. Modern Forms Woody Ceiling Fan
Price: around $1,167
The Modern Forms Woody is one of the most expensive ceiling fans with lights currently on the market. Woodies' "smart" features, including voice control via Amazon Alexa and Google Assistant, are one of its greatest qualities. The Modern Forms Woody also has a 60-inch blade range and an EnergyStar-approved motor, which means it will save you money on electricity over time. The Modern Forms Woody is at the top of world-class technology when discussing modern ceiling fans!
3. Monte Carlo Maverick Grand
Price: around $1,189
The Monte Carlo's Maverick ceiling fan is available in a variety of sizes, including the smaller Monte Carlo Maverick Max, which is one of our favorite ceiling fans for high ceilings, but the Maverick Grand is frankly unique! This colossal ceiling fan, with a blade range of 99-inches, was created specifically to cool off huge rooms.
It may also be used both indoors and outside, as it is designed to withstand moist environments. With a price tag of over $1,000 USD, the Maverick Grand is definitely one of the world's largest and most costly ceiling fans.
Related Article: 5 Unique Shabby Chic Ceiling Fan Chandeliers
4. Quorum Windmill Ceiling Fan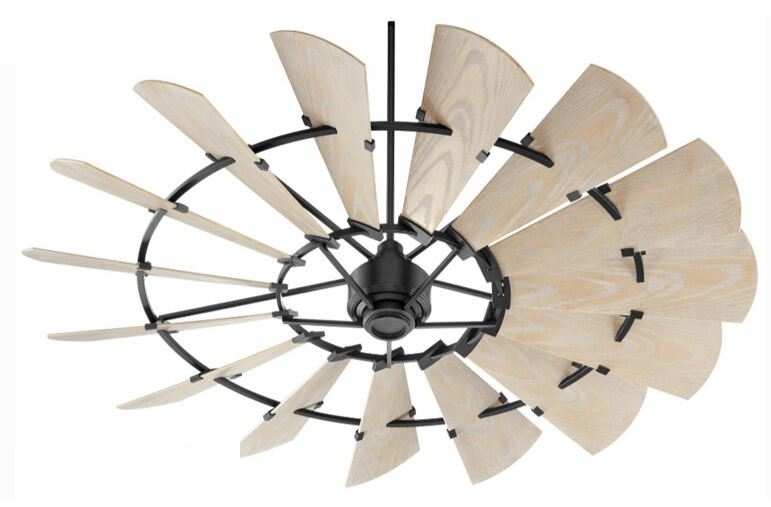 Price: Up to $1,190
With 15 large blades and a vintage style, the Quorum Windmill ceiling fan will surely draw the attention of anybody who lands their eyes on it. This striking ceiling fan allows the pinwheel design to flourish while yet being functional enough to provide a forceful cooling breeze thanks to its tiny and powerful DC motor.
The Quorum Windmill comes in a range of blade diameters, as well as damp-rated outside variants for covered decks and other outdoor areas. The huge 72-inch and 86-inch variants are well over a thousand dollars, despite not being the priciest ceiling fan on this list!
5. Fanimation Stellar Custom Ceiling Fan
Price: Up to $1,275
The Stellar Custom Ceiling Fan by Fanimation is a pretty unique ceiling fan. This ceiling fan is approved for both indoor and outdoor usage, comes in a number of sizes, and can be operated with a smartphone. The "Custom" part in Stellar Custom originates from the fact that you may pick from a range of sizes and materials to match any décor. However, considering all the benefits it is expected for it to be pretty expensive.  When you look at all of the high-tech functions, it's clear to see why the Fanimation Stellar is one of the priciest ceiling fans on the market today.
6. Luceplan Blow Ceiling Fan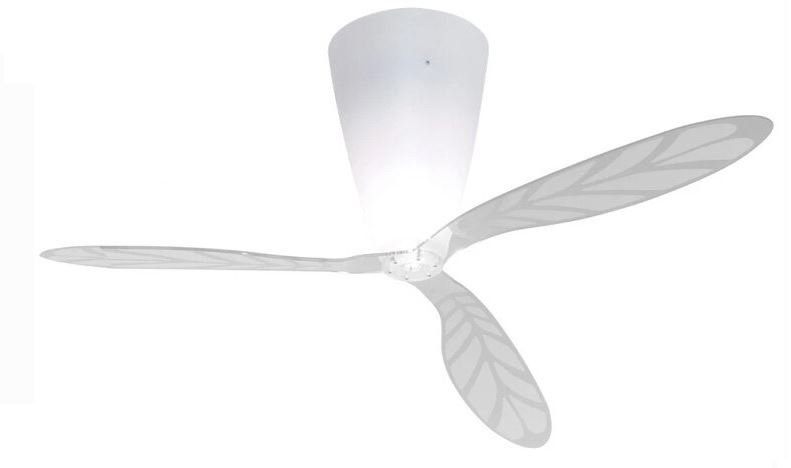 Price: around $1,300
The Luceplan Blow is more than a ceiling fan; it's a functioning work of art. The revolutionary patented design of the Blow ceiling fan, which incorporates the light above the blades, is what makes it so remarkable (and expensive).
Each Luceplan Blow is designed in Italy and offers translucent blades that bring elegance and visual interest to any space. When you add to that a super-quiet motor, infrared remote control, and a stylish opaline methacrylate diffuser motor, you've got yourself a ceiling fan that'll get you plenty of praises!
7. Minka Aire Artemis Liquid Nickel XL5
Price: around $1,379
While a Minka Aire Artemis can normally be found for around a thousand dollars, the XL5 version costs nearly twice as much. This is because the Minka Aire Artemis XL5 is as futuristic and elegant as it is luxurious, with a shiny liquid nickel finish and an engraved opal glass light set.
Furthermore, the XL5 model of the Minka Aire Artemis has all of the characteristics that made the original Artemis one of the top ceiling fans on the market today. A super quiet DC motor, high airflow fan blades, and remote-controlled settings are among these qualities.
8. Quorum Mykonos Ceiling Fan
Price: Up to $1,500
The Quorum Mykonos is a premium ceiling fan that comes in a range from 52 to 92 inches and is guaranteed to catch your attention. The theatrical design is based on the sails of historic European ships and their canvas blades. The biggest 92-inch Mykonos is certainly one of the costliest ceiling fans available right now, while even the smallest variants cost over $1,000 USD.
9. Fanimation Americana Ceiling Fan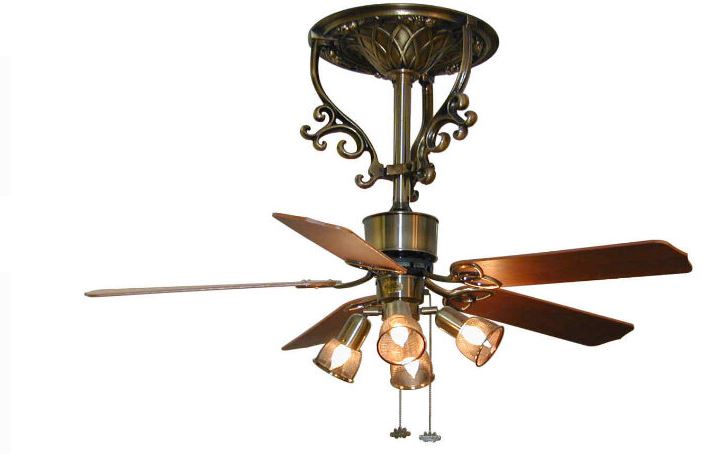 Price: around $1,860
The Fanimation Americana ceiling fan is very lovely in design and is influenced by early 19th-century décor, as seen by the swirly pattern and detailed base. The Fanimation Americana is also totally customizable; you can pick from a number of blade designs, including natural palm leaves and weaved bamboo, in addition to the regular Oak/Walnut blades. The Fanimation Americana is definitely one of the most expensive fans available right now due to the workmanship behind each fan.
10. Big Ass Fans Haiku Wifi Ceiling Fan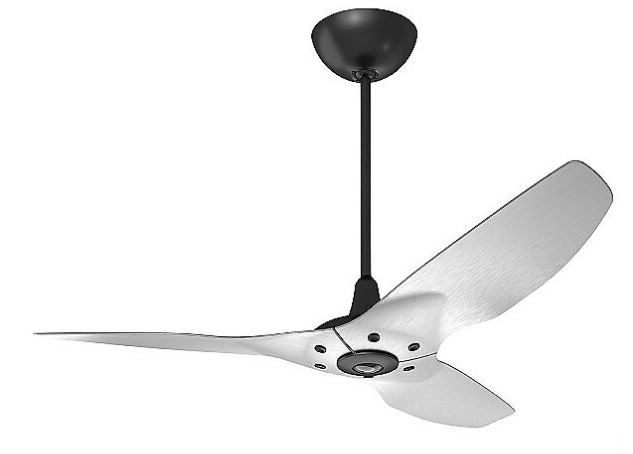 Price: Up to $2,294
Big Ass Fans' Haiku is without a doubt one of our favorite ceiling fans, and it even made our list of the best wifi ceiling fans. However, these ceiling fans are among the most priced ceiling fans for commercial usage on the market today.
The regular Haiku ceiling fan is already rather expensive, but the premium brushed aluminum Haiku will set you back nearly double the price. The aerodynamic brushed aluminum blades on this model of the Haiku are flawlessly balanced for close to the silent performance. These world-class ceiling fans are available in a range of fan sizes (52″-84″) and are ideal for modern houses that demand the finest.
11. Maxim Counter Fandelier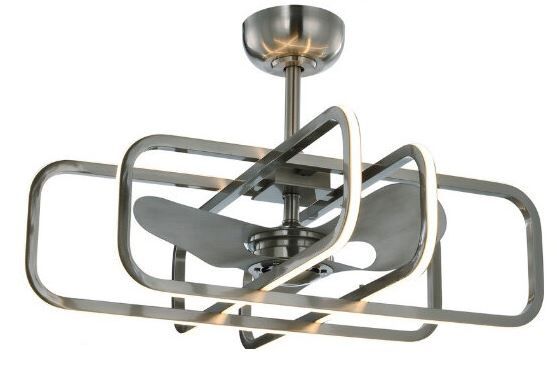 Price: around $2,397
Because of its high airflow, energy efficiency, and use of high-quality materials, the Maxim Counter Fandlier is regarded as one of the finest ceiling fan chandelier hybrids. The distinctive chandelier design, which is generally reserved for high-end designer lightings, is the first thing you'll notice when it comes to these ceiling fans.
Maxim manages to include a fan that is driven by an energy-efficient and ultra-quiet DC motor into its design. The Maxim Counter Fandelier is one of the finest ceiling fans for kitchens, bedrooms, and other compact spaces because of its combination of elegance and functions. Despite the fact that the Maxim is a costly ceiling fan, we feel it is well worth the money.
12. Fanimation Palisade Ceiling Fan
Price: around $2,485
The Palisade Ceiling Fan is no exception to Fanimation's creative design approach. This ceiling fan model is characterized by its distinctive vertical rotation design, that comes with two big fans with ornamental leaf fan blades.
The Fanimation Palisade is available in a variety of fan blade colors, as well as outdoor wet-rated models. However, none of these models are inexpensive; the motor alone costs over $2,000, and the leaf fan blades will be an additional expense. This magnificent exotic ceiling fan is one of the priciest ceiling fans in the world when all totaled.
13. Matthews Fan Company Ar Ruthiane
Price: Up to $2,932
What's breezy, gleaming, and expensive? If you don't know, it's Matthews Ar Ruthiane ceiling fan. Instead of the typical one-fan design, this beautiful ceiling fan has two spinning fans. You have a wide range of colors and materials to pick from when it comes to decorating.
Metal or wood blades, as well as polished or matte metal body finishes, are some examples. As a result, the Ar Ruthiane is extremely adaptable to your personal style. The Matthews Ar Ruthiane starts at roughly $2,000 and goes up to $3,000 depending on the finishing.
14. Fanimation Brewmaster Belt Driven Ceiling Fan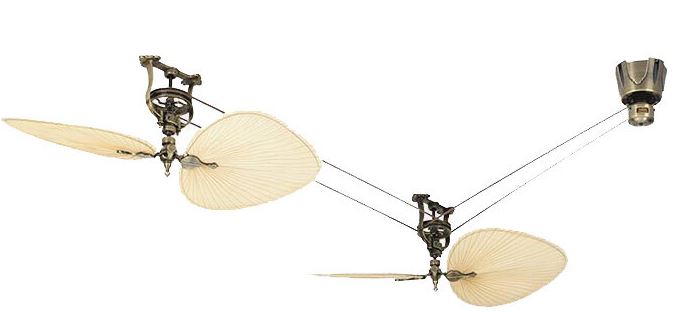 Price: Up to $3,233
The Brewmaster ceiling fan from Fanimation isn't your typical ceiling fan. The belt-driven mechanism of this pricey ceiling fan allows you to link many fans for a special experience, which is what makes it so distinctive. Belt-driven fans were first introduced in the late 1800s and since then have evolved into the motor-driven fans that we now have.
Fanimation, on the other hand, is one of the few companies that still manufactures belt-driven ceiling fans and, by doing that, manages to keep the traditional design of ceiling fans. The Brewmaster is one of our favorite gaming room and man cave ceiling fans because of its unusual vintage style. Also, this model is one of the expensive ceiling fans on the market today because of its quality, production method, and unique components.
15. Big Ass Fans I6 Ceiling Fan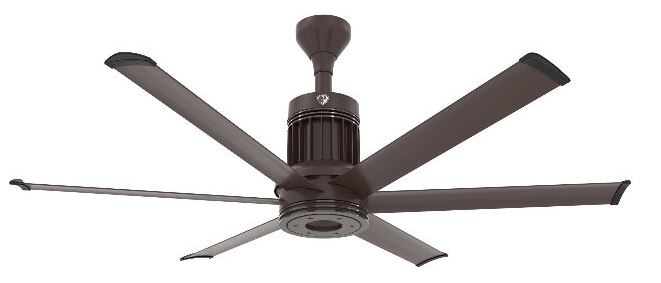 Price: Up to $3,380
Big Ass Fans' I6 ceiling fan is an innovative wifi-controlled ceiling fan that may be used in households, garages, and even warehouses. This is due to the ceiling fan's blade range choices (60″- 84″), which makes it ideal for wide-open spaces.
The Big Ass Fans I6 is available in both indoor and wet-rated outdoor conditions, but it is the outdoor model that makes the I6 one of the world's most high-cost ceiling fans. The 84-inch outdoor model may set you back more than $3,000! 
16. Meyda Costello Chandelier Ceiling Fan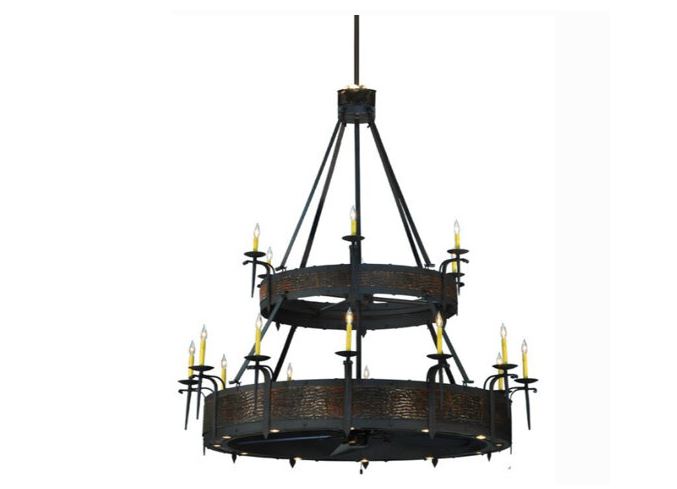 Price: Up to $15,000
Ceiling fans by Meyda Chandelier are among the most expensive ceiling fans in the world, and it's very simple to understand why. Every single Medya chandelier ceiling fan is a one-of-a-kind piece of art that incorporates high-end world-class materials and unique design elements.
With a gorgeous two-tier chandelier design and a huge 74″ fan concealed inside the bottom chandelier, the Meyda Costello Chandelier Fan offers the perfect balance of a ceiling fan chandelier hybrid. Because each Medya chandelier ceiling fan is handcrafted in New York, it may take up to 56 days for yours to be finalized. This is it if you're seeking the most expensive ceiling fan that's also the most distinctive!
Shopping Tips For Expensive Ceiling Fans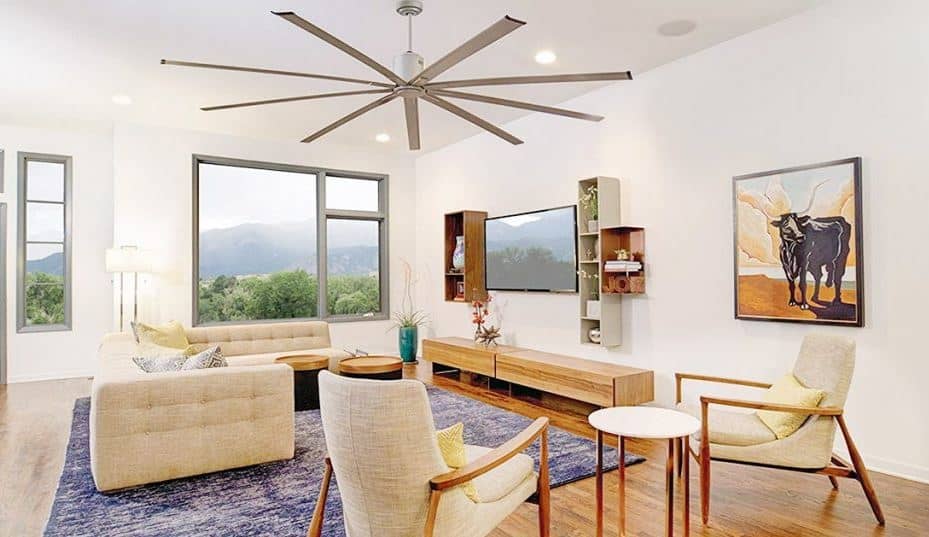 Why do you want to choose a more expensive ceiling fan?
Luxurious ceiling fans can cost more than twice compared to a standard ceiling fan from a large box retailer. Ceiling fans that are more expensive are generally one-of-a-kind in design and can be used as chandeliers, dramatic décor highlights, or even works of art. If you value design and quality, you'll want to look into high-end ceiling fans. These fans are pricier, but they have distinctive patterns that you won't find anywhere else.
Some of the most luxurious ceiling fans are also equipped with advanced technologies not seen in lower-priced models. This incorporates advanced motors, Wi-Fi connectivity, and specially designed fan blades for optimal airflow.
Where you can buy an expensive ceiling fan?
If you're looking for a place to buy an expensive ceiling fan, your best bet is to go to a local lighting showroom or shop online. Online retailers such as Lumens are specialized in one-of-a-kind and premium ceiling fans for your house or company.
Shopping online offers the advantage of allowing you to compare prices from several retailers before making a final decision. This is especially essential for pricey ceiling fans, as you might save hundreds of dollars a purchase simply comparing online costs!
Is an expensive ceiling fan worth it?
Only you can determine whether a pricey ceiling fan is worthwhile. It's critical to realize that, with ceiling fans, pricing and quality are closely linked together. This implies that the cheapest ceiling fans are made of cheap materials, may be missing major updates, and use motors that are outdated. This translates to louder, swinging fans or fans without practical features such as remote controls, wall controls, and adjustable lighting.
Some of the world's priciest ceiling fans aren't automatically the greatest ceiling fans available. When fans are handcrafted or created in small numbers, they tend to be higher in price. This means you're paying more for a one-of-a-kind ceiling fan model, and only you can decide if it's worth it!