What Is Considered a Finished Basement? Expert Explain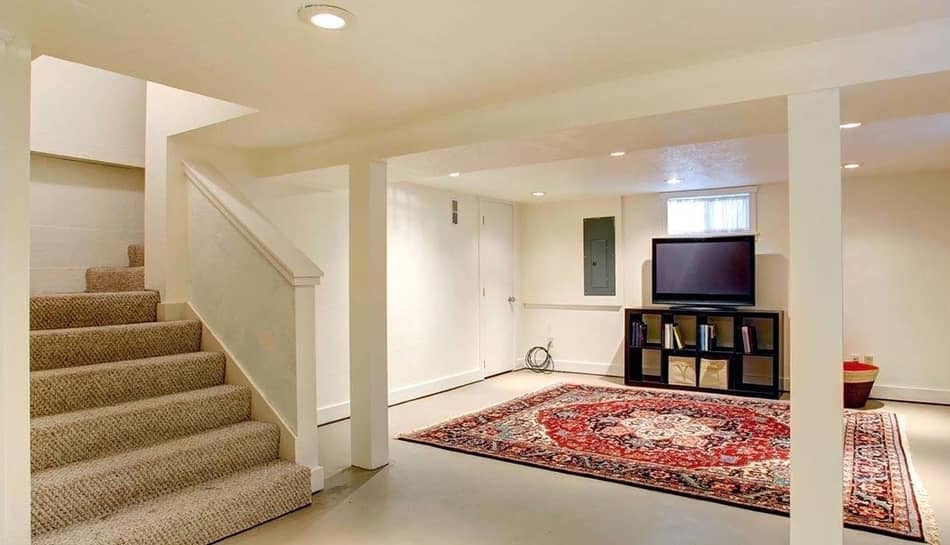 When someone asked what is considered a finished basement vs. a partially finished basement, many people are confused. In some states, building code is slightly different when it comes to unfinished basement compared to finished one, so it is good to know the difference. This article will talk about what is considered a finished basement and what you need to know about it. So, let's start!
What Is Considered a Finished Basement?
So What Is Considered a Finished Basement? A finished basement is considered when the entire level is complete, insulated, and similar to the living area upstairs. Generally, it must have an electrical system, finished floors, heat, easily accessible stairways, finished walls, and level ceilings.
Keep in mind that there are exceptions to these rules, but in general, to have a finished basement in your home, it means that you need to follow a set of building codes that define what you need to have in your basement. We'll talk about the difference between a finished and unfinished basement in the next chapters.
For those who want to know more, be sure to read Finishing Basement Without Permit (Risks & Consequences).
What is an Unfinished Basement?
Unfinished basements are those types of basements that don't come with finished walls, ceilings, and flooring. Its also considered unfinished if it lacks basic installation such as plumbing, electricity, and HVAC system. Keep in mind that a basement that comes with some of these finishing things, but not all, is still considered unfinished. The same rules apply even if some rooms in the basement are mostly finished, such as a bedroom or living room, but some of them still need some work.
How To Get A Complete Finished Basement?
A finished basement comes with finished floors, walls, and ceilings by most city codes. Additionally, all rough work must be done by following the regulations. Rough work includes electricity, plumbing, and HVAC systems. Even though it's a basement, the code regulates that the bedroom must have windows to call the space finished. Those windows do not have to be large. Below we'll discuss what is required to have a completely finished basement:
1. Floor and Ceiling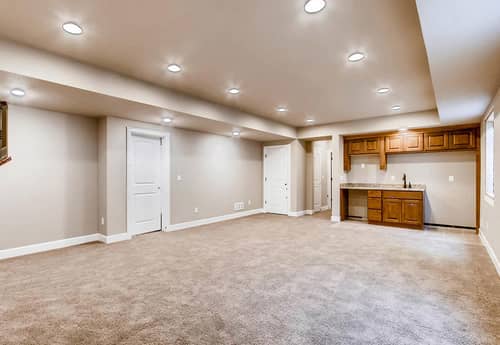 All floors require a floor covering to complete a finished living environment. A completed basement demands a covered floor. A floor can be covered with tile, laminate, or even just a carpet layer. The utility room is considered finished even if the floor is just concrete. When it comes to ceiling regulations, they demand that ceilings are covered with drywall or drop ceiling for safety reasons. This indicates that the ceiling does not need to be insulated in order for it to be a completed basement.
The utility room also must have a covering. Keep in mind that the utility room ceiling only requires a protective barrier. Fire-rated drywall, insulation, or simply closing existing gaps to the level above with fire-rated foam are all possibilities that would satisfy the expected regulations. Nevertheless, before you begin building, check with your local construction department to determine what they specifically require because these things tend to vary in detail.
2. Walls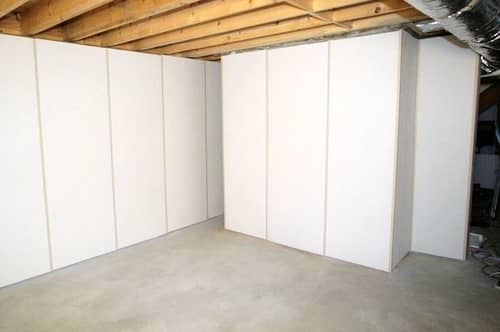 Basement walls must be built and insulated with a vapor barrier and finished with drywall or some other finishing material. Before putting up the drywall, inspectors will need to observe the walls to check if the insulation and utilities have been installed properly and by the code.
A wall covering and insulation are also required in the utility room. Sometimes individuals prefer drywall, but they don't paint or finish it – just as garage. One of many unspoken advantages of completing a basement is the ability to finish the walls and floors. When you insulate bare concrete walls and cover the concrete floor, you will most probably save a lot of money on electricity.
3. Stairs
Interior stairs to the floor above are required to have a finished basement. They have to be constructed by the code with adequate clearances. This means a trap door with a ladder, or any other sort of inside egress wouldn't suffice. With the suitable rise and run distances per step, the lowest stair nosing must be at least 6 to 8 inches from the ceiling above it.
Regulations do not require exterior stairs. Although, depending on your municipality, outdoor steps may be necessary if you live in a basement flat. If you don't live in a basement apartment, indoor stairs and windows wide enough for emergency evacuation is sufficient.
4. Utilities
The utilities in your completed basement must be identical to those on the first floor. As a result, the basement needs to share the same power supply and drainage system as the first level. This also means that the ductwork in your basement must connect to the ductwork in your house meant for basement heating and cooling.
Some people prefer using baseboard heaters in the basement because they do not like to clog up the ceiling space. This is possible but it needs to be pointed out and registered separately. Also, drop ceilings are a wonderful alternative to drywalling because they allow you to access the space above without removing the drywall.
5. Lightning
The building code must be followed while installing lighting into the basement as well. Some cities have special lighting regulations for basements, while others just allow you to follow a standard lighting plan for an indoor residential area. These regulations order that there are light switches at the bottom and for the top of the stairs, as well as one at the utility room's door. A switch at the entry is required for any other room, just as it is for light fixtures on any other floor.
6. Rooms
It is not necessary to have a regular number of rooms or bathrooms when the basement is finished. There might be many bedrooms and bathrooms in a completed basement or just one room in combination with a utility room. This depends on the size of the space and the owners' personal choice. 
If they choose to have a bedroom, the window should be large enough for a person to fit through in case of an emergency. Those window dimensions are usually: at least 20 inches in width and 24 inches in height. Additionally, the window shouldn't be so high from the ground, that the person cannot jump out if necessary. This is rarely the case since we are discussing basements but just in case, everything above 44 inches is too high.
Does a Finished Basement Count in the Square Footage of a Home?
No, a finished basement doesn't count in the overall square footage of a home. And this is a good thing. Because when you obtain a property tax statement, the overall square footage will only include the spaces above grade, excluding the attic and basement, making the taxes less than they would be if those were included.
The complete floor is still regarded under grade and will not be included against the total square footage if the house has a doorway or is just substantially under grade. If you get permits to complete a basement, your home's value will rise, but your property taxes will rise as well. A home with 1,200 square feet and a finished basement will always sell for more than a property with the same square footage but no basement.
Finally, keep in mind that total square footage and a home's value are not the same things. Square footage must be a consistent, objective measurement for realtors and tax assessors that evaluates all attributes equally, whereas the home's value can differ based on the time the owner is filing for an evaluation.
The home's value, other than the time the evaluation is being done, is influenced by the desires of buyers and sellers on the market at the time.  As a result, even if your basement isn't finished or the basement's square footage isn't counted in, the basement will still most definitely add value to your property. 
Does Finished Basement Increase Property Tax?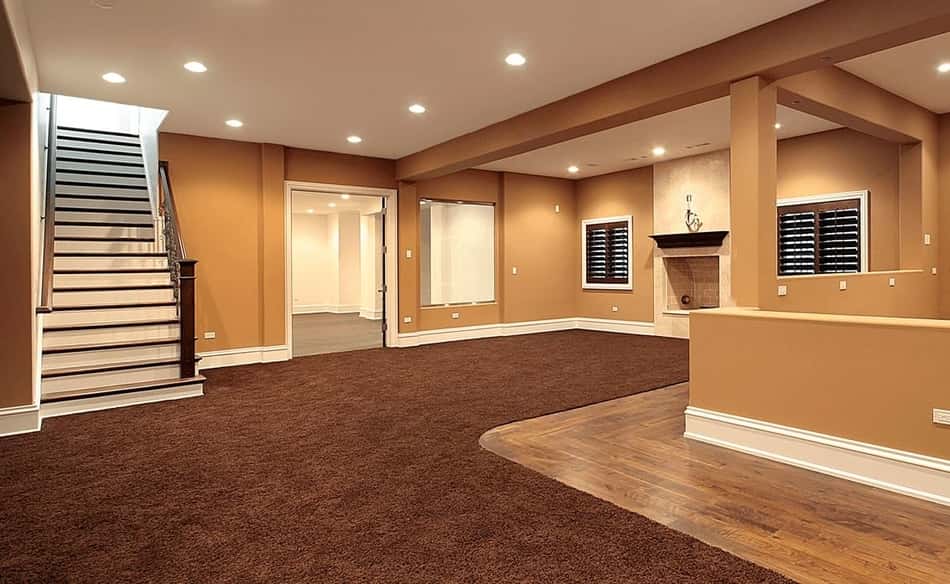 A completed living area like a basement will raise the value of your home, no matter where you live. That amount can vary but the overall value will be higher everywhere. When you acquire appropriate permits to complete a certain room or floor, it affects the value of your property, typically in a positive way.
You should know that your property taxes will rise if the value of your home is increased by your county or municipality. Also, make sure that every area that is being taxed, even if not counted for overall square footage, is kept track of as a living space in the paperwork. It's your legal right for it to be labeled in that way if you are paying for it.
Does a Finished Basement Add Value?
According to real estate brokers and other specialists, a finished basement delivers around 70 percent of the quantity of cash invested in it. For example, if you spend 40,000 dollars to renovate your basement, you may expect a 25,000 dollar gain in home value when it comes time to sell.
A finished basement adds a lot of value to a house, but the amount of value it adds depends on what you place and install inside it. The value of a finished living area with additional rooms will be substantially higher than a completed living area with no other spaces.
What Is Considered a Partially Finished Basement?
A partially finished basement is considered when you have finished and unfinished areas in your basement. A lot of people, for example, will have a completed living area in their basement, as well as a bedroom or half bathroom. These spaces will feature finished walls, floors, and ceilings, as well as properly installed gas and water functions. They'll have proper lighting and egress as well.  The section which is not done could be adjacent to the utility room, including a workshop with unfinished concrete flooring and walls.
The square footage and value of your home are not affected by the portions which are not done. Nevertheless, any real estate professional will tell you that the finished area will raise the value of your home, both in terms of resale and in terms of tax benefits.
The Pros and Cons Of Finished vs. Unfinished Basement
The majority of homeowners want to have a  fully completed living area in their house. There are many reasons for this. Some are, obviously, the comfort and the fact that It raises the value of your property as well as the amount of living space available. Even though finishing a basement entails a financial investment, for most individuals, it is well worth it in the end.
Don't forget about the energy savings that come with completing and insulating your basement as well.
The following are some of the overall advantages of finishing a basement:
More living space
Increased property value
More bedrooms and or/bathrooms
Better energy efficiency
Basement apartment option that can be rented out or used for personal use
For individuals who need extra room but don't have the finances to complete the basement, an incomplete basement is a good option. An increase in your property worth may not be in your best interests if you want to stay in your house.
Note! If you've just moved into a new house with an unfinished basement, it could be a good idea to wait a few years before finishing it. This will allow you to detect any dampness or leaks before they wreak on any final work. Then you may correct the problems and complete your basement knowing that there will be no unpleasant surprises.
Here are some good things about not finishing a basement:
Lower property taxes
Savings made from not having to complete the basement completely
Easier to identify leaks and moisture
Good storage space because an unfinished space can't be damaged as much
Also, be sure to read How To Dry Out A Basement Fast?
Final Thoughts
Overall, finishing the basement does make more sense, but leaving it unfinished is not the end of the world. If you're a do-it-yourselfer like me, you may save money by obtaining permits and completing the area on your own schedule. In the long run, increasing the house's price and value is always the best option if doable. I hope that this article has helped you and if you have any additional questions feel free to comment below.