5 Unique Shabby Chic Ceiling Fan Chandeliers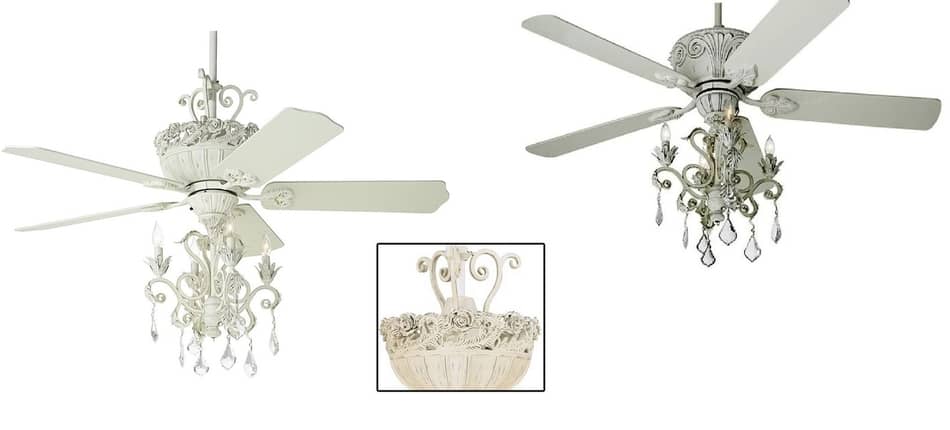 Today you can find a bunch of different models of ceiling fans on the market, but to find shabby chic ceiling fans, that can be a little challenging. For that reason, we did our own research and found a few very unique brands. These types of ceiling fans come with the vintage look of shabby chic that is also a mature elegant element. In this article, we'll present you with our top 5 best models of shabby chic ceiling fans. So, let's start!
Top 5 Shabby Chic Ceiling Fans
1. Casa Vieja – Casa Chic Rubbed Chandelier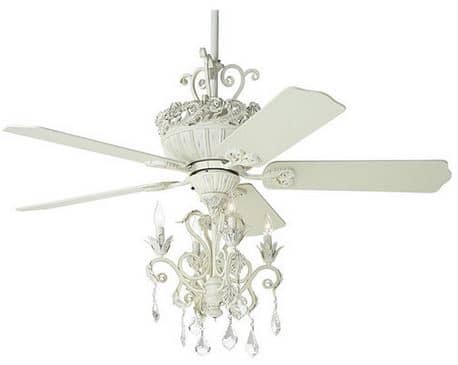 Casa Vieja is one of the popular ceiling fans brands that offer the unique shabby chic look that comes with their 52" Casa Chic models. Be sure that this ornate ceiling fan model includes all of the elements that are necessary for a shabby chich design and it comes with an off-white rubbed finish, and an ornate chandelier light kit. Also, the light kit comes with four candelabra bulbs that are very elegant and decorative on the ceiling fan. Here are some of the features:
Intended for indoor use only
Comes with integrated light kit
It is pull chain operated
2. Savoy House – Air Ionizing Fan d`Lier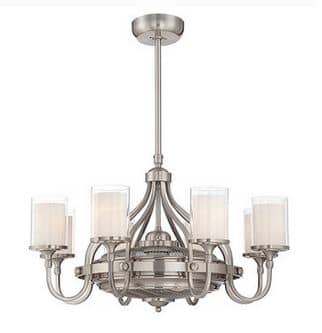 "Fan d`Lier" is another great and unique ceiling fan model that comes from the famous Savoy House brand. The design of this ceiling fan model is reminiscent of a chandelier. Fan d`Lier comes with integrated features such as an air ionizing ceiling fan that enables you air purification benefits. People who are having a hard time deciding if they want a shabby chic ceiling fan or just a traditional chandelier model will for sure love this unique chandelier hybrid model. Here are some of the features:
Intended for indoor use only
Comes with wall control feature
It is available in Satin Nickel and a Russett finish
Related Article: 7 Best Garage Ceiling Fans
3. Casa Vieja – Pretty in Pink 52" Ceiling Fan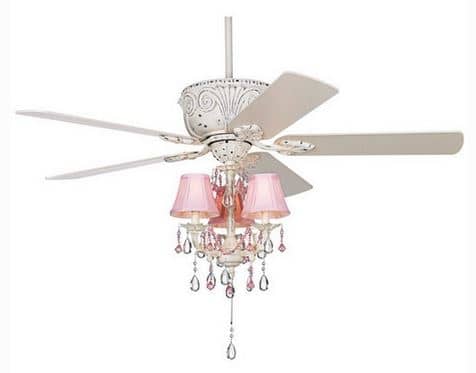 We already mentioned the Casa Vieja ceiling fan brand. Another product from their collection that comes with a vintage edge look is the Pretty in Pink 52" ceiling fan. This beautifully designed ceiling fan comes with build-in features with three candelabra bulbs with soft pink shades. Also, the Pretty in Pink model comes with a visually unique antique finish look that comes with the elements of a shabby chic décor piece.
Intended for indoor use only
It is operated by a pull chain
Remote and wall control are possible
4. Warehouse of Tiffany – Charla 52" Ceiling Fan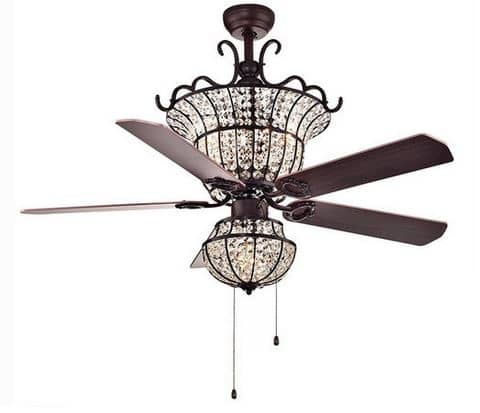 Warehouse of Tiffany is another famous brand of ceiling fans that combines an elegant crystal chandelier design with their models. This ceiling fan model has a unique, bold appearance that sometimes knows how to attract attention from the guests. It comes in a combination of crystals, antique bronze, and wood, and creates a stylish look. Those who are looking for vintage-inspired elements or a shabby chic ceiling fan that comes with more maturity, will for sure love to have a Warehouse of Tiffany Charla in their bedroom or living room.
Intended for indoor use only
Comes with integrated light kit
It is pull chain operated
5. Case Vieja – Casa Chic 52" Ceiling Fan
Casa Chich Rubbed White ceiling fan is once again a model that comes from Casa Vieja. This model has a built-in four-light chandelier light kit that combines the mix of graceful and antique. The beautifully designed worn, chipped paint look that this ceiling fan has made it a perfect match for a shabby chic that can inspire rooms. Therefore, if you are looking for a white shabby chic ceiling fan with a unique vintage look, then the best choice is to use this Casa Chic model.
Intended for indoor use only
It is pull chain operated
What is Shabby Chic Decor?
A Shabby Chic is considered a style that primarily focuses on vintage finds, furnishings, and upcycled statement pieces that come with the signs of wear. A common thread can be viewed as a worn shabby chic, such as tables, chairs, and dressers. When it comes to using vintage in combination with natural fabrics such as chenille, french linens, and cotton, we get a common appearance in furniture upholstery.
It is worth mentioning that shabby chic color palettes usually come with white and soft pastels. Also, a shabby chic space is primarily focused on just a few important pieces where they keep the space uncluttered and simple. What makes shabby chic décor a great trend is that the space is filled with lots of texture.
Why A Ceiling Fan Is Sometimes Better Compared To a Chandelier?
Sometimes there will be examples where a normal ceiling fan is a much better solution for space than a shabby chic chandelier. Ceiling fans can offer much better heating and cooling energy savings compared to a chandelier. When it comes to normal conditions, a ceiling fan is the best option for air circulation.
On the other hand, a chandelier ceiling fan can offer the best of both, where it combines the ease of use of a ceiling fan with the combination of a chic style of passionate chandelier. Most popular brands like Casa Vieja and Savoy House can offer great ceiling fan chandeliers that are unique and can fit into almost any space.
Final Thoughts
In this article, you could see the top 5 shabby chic décor ceiling fans on the market. Although it was not easy to find them, because the offer is not as big as it is with the classic models, we still managed to compile this list, which is certainly worth mentioning. I hope we helped you to choose one model for your home.