7 Best Garage Ceiling Fans – 2023 Top Picks
Finishing a garage you've previously renovated can be fun, but before you get down to interior design, you should consider how to provide the options for heating and cooling. This is the ideal choice that saves energy, makes the garage pleasantly cool in summer, and provides and circulates warm air in winter. In the review, we bring you our selection of the best ceiling fans for garages and workshops that will make your space enjoyable.
Best Ceiling Fans For Garage
1. Hunter Cassius 52" Ceiling Fan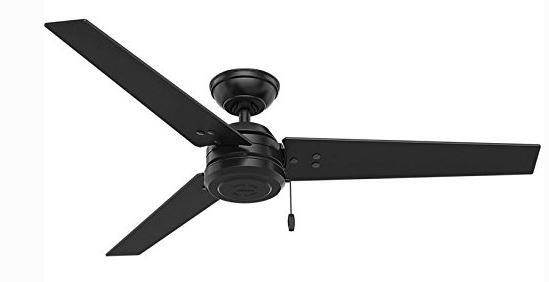 This type of ceiling fan is an affordable model that will fit into any garage without its installation significantly affecting the style of decoration, performance, and usability of space. The Hunter Cassius boasts a high-efficiency WhisperWind motor that makes no noise during operation.
The Hunter Cassius comes in a packaging that features 3-inch and 5-inch down rods which means it's easy to install in rooms with low ceilings. This does not mean that they are not suitable for ceilings in garages over 10 feet high. The manufacturer offers this model longer down rods suitable for garage ceilings of the usual height.
Huter Cassius is moisture resistant which means it works perfectly in all spaces, even those in the outdoor category such as workshops or garages. That's why he deserves the epithet of one of the best garage ceiling fans. 
Great for low ceiling garages
Can be installed outdoors
Pull chain speed control
Lifetime motor warranty is limited
2. Westinghouse Industrial 56" Ceiling Fan
Westinghouse Industrial is the right choice for those who are looking for a reliable ceiling fan at an affordable price. Regarding this model, everyone will love the classic industrial design that easily fits into any garage or workshop. It is suitable for rooms up to 360 square meters (18'x20 ') due to its size of 56 inches and steel finish. 
For high-ceiling garages, Westinghouse is ideal because it can be installed as soon as it is taken out of the box. Noting that in the package in which it is sold there is a 12-inch down rod for installation on high ceilings. 
Suitable for high ceilings and those who want to save money
Use only indoors (not recommended for open space)
Comes in a package with 12-inch down rod
Alternating five speeds
Available in white and steel color
Related Article: 16 Most Expensive Ceilings Fans
Best Garage Ceiling Fans With Light
3. Prominence Home Auletta Ceiling Fan
If you are looking for an affordable ceiling fan that has a light and can be used during the whole year, then Prominence Home is a good choice for you. It comes on the store shelves with a package of LED lighting that allows you to adjust the discrete lighting in a darkened space. 
Although the price of this ceiling fan model is affordable, it offers a lot of useful options. Prominence Home can be installed in open spaces because it is resistant to moisture, has three speeds that ensure the adjustment of airflow to the wishes of the homeowner, and features a reversible motor. 
Blade range 52″
LED lighting set with discrete lights
Speed ​​change with stripe
Variable directional motor
Moisture resistant, can also be installed outdoors
4. Hunter Dempsey Ceiling Fan
The Hunter Dempsy is an ideal choice for homeowners who want a ceiling fan with all possible accessories at an affordable price. It comes with an excellent design for garages where the air temperature cannot be controlled by air conditioning and is resistant to moisture. So its installation is recommended in rooms where high humidity is common. 
This type of ceiling fan is much better compared to similar models for the same price that usually do not have useful accessories. Huter Dempsey can be controlled with remote control, has built-in LED lights, a reversible motor that can run at three speeds, a range of 52-inch blades. This makes this ceiling fan a perfect choice for heating and cooling smaller and larger garages.
If you are looking for a ceiling fan for a garage with a low ceiling you will love the fact that the Hunter Dempsey can be installed as a larger device thanks to its low mount design profile. Its LED lighting package, whose lamps are energy efficient and have the option of completely dimming the light, can also be praised for its excellent performance. 
Ideal for medium garages
Moisture resistant, can also be installed outdoors
Remote control
Includes LED lighting package
Comes in black, white and nickel finish
Lifetime motor warranty limited
5. Modern Fan Company Torsion Ceiling Fan
Ceiling fans of industrial design will be delighted with the Torsion model, which fits perfectly into any workshop or garage. If it is important for your ceiling fan to have quality lighting, then this is the right model for you.
However, this model offers the customer a choice between a simple LED lighting package and a Hi-Output LED lighting package that is intended for extremely dark rooms. The Torsion is moisture resistant and can be installed in any outdoor or indoor space including workshops, garages, and carports without worrying that the ceiling fan will be damaged by moisture or rust over time. 
Ideal for medium to large garages
Choice between ordinary LED lighting package and Hi Output LED lighting package
Moisture resistant
Available in 62 "or 52" blades
Best Ceiling Fans for Big Garage
6. Big Ass Fans Shop Ceiling Fan
These are ceiling fan models that are the absolute number one on the market when it comes to large devices of 7, 10, and 12 ft that are specially designed for large rooms such as warehouses, shops, and large garages. Big Ass Fans is a brand that has built its reputation on the fact that only one of their ceiling fans has enough power to replace as many as 29 standard-size ceiling fans together. This is called high efficiency!
Big Ass Fans have such exceptional efficiency due to their energy-saving automatic motors. Their ceiling fans can reduce the temperature by as much as 10 degrees in a closed garage, and their reversible motor ensures exceptional warm air circulation. So it's no secret that Big Ass Fans are some of the best ceiling fans for large garages currently available on the market.
Ideal for ultra-large garages
Blade sizes 7, 10 and 12 ft
Speed ​​package included
Products made in the USA
7. Minka-Aire XTREME H20 65" Ceiling Fan
The Minka-Aire Xtreme H20 is the right choice for those who are looking for a garage ceiling fan with a modern and attractive look. This model has 65-inch blades that are designed to cool large outdoor spaces such as terraces, barns, garages, and workshops. 
Apart from the fact that this model is really pleasing to the eye, its big advantage is its energy efficiency, which is at a high level despite the fact that it is a large device. It has a powerful and quiet DC motor that is strong enough to adequately cool any garage. It is also resistant to moisture. It's UL Wet technology provides to be installed in any space without fear of being destroyed by moisture over time. 
It comes on the store shelves at an extremely affordable price that does not exceed $500. In addition, it has a 6-speed DC motor that saves energy, and it is very quiet. It represents good value for money. 
Ideal for large garages
Blade range 65"
Available with LED lighting package
6-speed motor, energy efficient
Moisture resistant, can also be installed outdoors
Remote control
Additional Garage Ceiling Fan Ideas
1. Fan Garage Options
If you have a problem with the low ceiling when installing a ceiling fan in a garage, a good choice for cooling the room can be a wall mount fan that takes up less space because it can always be installed in a corner of the room is unused. 
A wall fan is a good choice compared to a stand-alone fan that takes up too much usable space. In general, wall fans are the best option between a freestanding fan and a ceiling fan. When choosing such a fan it is good to choose a mobile model so that the airflow covers as much of the room as possible.
2. Installing Two Smaller Ceiling Fans
Instead of one large ceiling fan, two smaller ceiling fans can be installed. This is recommended for the larger space in the house that is not efficient to cool and heat with just one large fan. In that case, installing two smaller garage ceiling fans is a great idea that saves money and ensures proper airflow. 
The installation of two smaller fans should be approached thoughtfully and special care should be taken to leave enough space between the two devices for their efficient operation. This can be achieved by dividing the surface into 3 parts after measuring and installing the ceiling fans in the first and third positions. Care should also be taken to keep the ceiling fan blades at least 18-inch away from the walls.
Also, be sure to read 7 Best LED Bulbs For Ceiling Fans.
How to Choose the Right Size Garage Ceiling Fan
Before you go shopping for a ceiling fan for your garage the room needs to be measured in square meters. For detailed instructions on how to measure a room in square meters, be sure to check some YouTube videos on that topic. 
To know which ceiling fan to buy for your garage you need to know its area in square meters which should not be a problem considering that most garages are built according to standard sizes. Below you can study some approximate figures that can help you. 
Smaller garage for one car – 12 feet x 22 feet (264 ft²)
Garage for two cars – 18 feet x 20 feet (360 ft²)
Once the measurement is made and the size of the garage in square meters is determined, the next step is to choose a ceiling fan whose size corresponds to these measures. 
114 to 225 ft² – 44"-50" ceiling fan
225 to 400 ft² – 50" ceiling fan or larger
400 ft² and more – 62" ceiling fan or larger
When it comes to garages of medium size usually a good choice is ceiling fans whose blade range is 60". It is a size that is often used for ceiling fans, and for which there is a large selection on the market.
Advantages of Installing a Ceiling Fan in a Garage
Wondering what are the benefits of installing a ceiling fan in a garage? There are many, and among them stand out: cost savings on heating/cooling the room, a pleasant environment in the room, quality ceiling lighting.