6 Best Ceiling Fans For Kitchens (Complete Guide)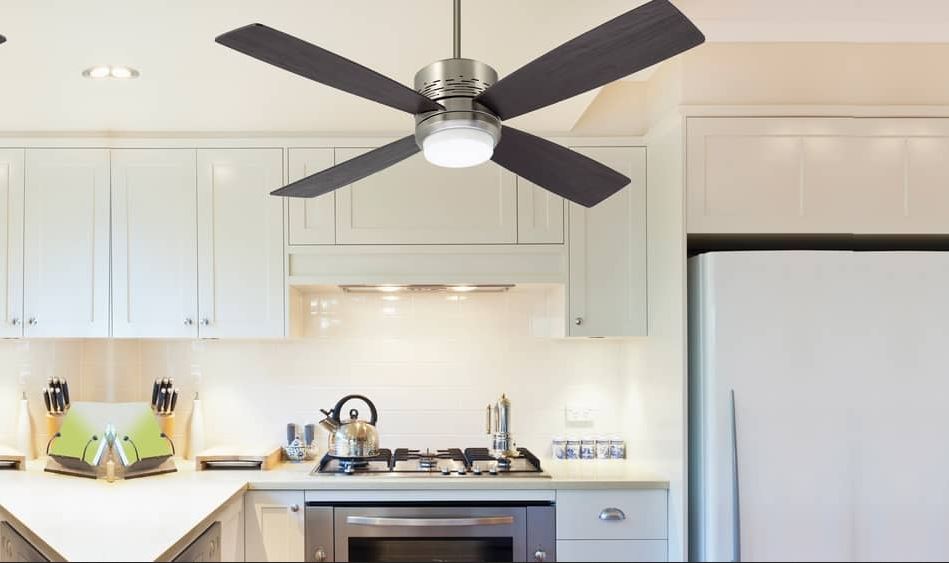 If you live in an area where summers are really hot, you need to have a ceiling fan in the kitchen. With everyday technological upgrades, there are so many options to choose from, which can sometimes get stressful. Because of that, we've decided to create a list of the best kitchen ceiling fans for you. The best part is that they're both functional and stylish! So, let's start!
6 Best Ceiling Fan Models For Kitchen
It doesn't matter if you're looking for a fresh and stylish ceiling fan that will look perfect with the rest of the kitchen or a fashionable one that also works as lighting. Here we'll cover all of them. If you choose the one with a light option, you're saving money because it performs two actions in one move.
If you are thinking about installing a ceiling fan in your kitchen, be sure to read this article: Ceiling Fan In The Kitchen – Yes or No?
Here is the list of the best 6 ceiling fans that can be used in the kitchen:
1. Casablanca Wisp 44" Ceiling Fan
Casablanca is one of the best kitchen ceiling fans on the market, offering you a 44" Wisp. It consists of many different practical features, such as a Direct Drive motor, which is so quiet, you'll forget it's on, a 16° angle of the blade, which gives a strong breeze, and a cool design that you can decorate with any kitchen style.
If you want a fan with a light, you'll find out that the Casablanca Wisp has a LED light kit that can illuminate any room. It has a stylish design and a quiet, reversible motor that you can use during the entire year, meaning you can adjust between warm and cold air depending on the temperature. All of these qualities make it great for a medium-sized kitchen. Here are some of its features:
44" blade length – great for small/medium kitchens
Noiseless Drive motor
White color, which goes beautifully with most kitchen styles
16° angle of the blade – powerful air circulation
2. Harbor Breeze Mazon 44" Ceiling Fan
If you have a kitchen with a low ceiling, Harbor Breeze's Mazon flush mount model is the one you need. It comes at 44" in a small-scale package and has a strong air movement, which is ideal for smaller kitchens. It also has a cool design that is compatible with any style. For example, its' look matches superbly with steel utensils and devices. It has a remote, so you don't have to mess with annoying pull chains that can ruin the style of your kitchen. Here are the features of this model:
Perfectly designed for low-ceiling kitchens
18W LED light
44" blade length – perfect for small/medium kitchens
Remote controlled
3. Emerson Tilo 30" Ceiling Fan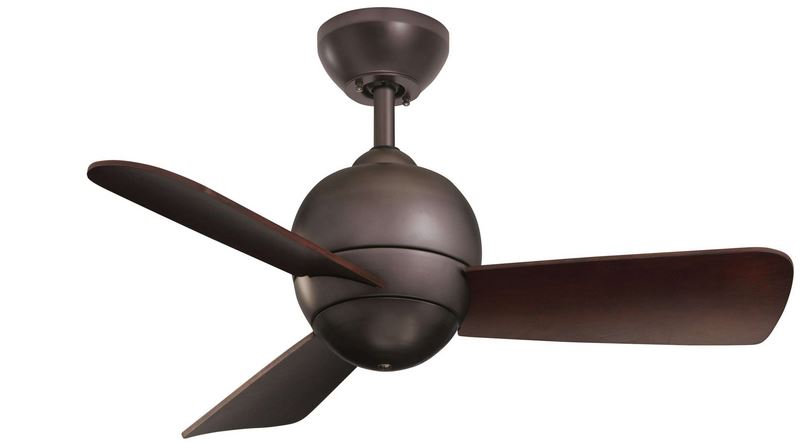 We've added Emerson Tilo to our list because of its powerful motor with four speeds, simple wall controls, and space-saving design. At just 30", it's great for kitchens that are smaller. You can get it in different colors; such as bronze, white or brushed steel, which can complement your kitchen nicely. It has so many other great features, like choosing whether you want it mounted or put as a fan (that is designed for low ceilings!) and additional downloads that you can buy separately. Here are the features of the Emerson ceiling fan model:   
30" ceiling fan – perfect for small kitchens/kitchenettes
Variety of colors available
The possibility of usage with/without a light kit (bought separately)
4. Fanimation Vintere 23″ Ceiling Fan
The Fanimation Vintere ceiling fan proves that a fashionable kitchen ceiling fan and a light fixture can be achievable with only one product. This design blends a gorgeous 4-light chandelier with a functioning ceiling, making it the finest of the fine. The Vintere ceiling fan has vintage candelabra lightbulbs inside an industrial-looking caged drum for an eccentric design.
This 23" ceiling fan is ideal for smaller kitchens or dining spaces. By buying multiple pieces, you can use them as pendant lighting above kitchen islands if you have a bigger kitchen. Vintere ceiling fan's best feature is, however, the ability to be fully remote-controlled. With a push of a button, you can easily control the speed, set a timer, or dim the lightbulbs to set the perfect mood. Here are the features:
23" ceiling fan – perfect for kitchens/dining areas
It can also function as pendant lighting in bigger kitchens
A design that offers a modern chandelier look
Fully remote controlled
Related Article: 12 Best Colors That Go With Turquoise
5. Hunter Builder Deluxe 52" Ceiling Fan
Hunter gives you an option for a modern-looking kitchen ceiling fan with its Deluxe model. It comes at 52", so it's just right for bigger kitchens that need a high-quality fan that can be used all throughout the year. This company takes pride in its surprisingly cheap, stylish ceiling fans with strong air movement.
With the help of the WhisperWind motor, Hunter Builder will barely make a sound even in the highest setting. For a sleek and sophisticated design, the reversible Stained Oak blades may be used to complement kitchen cabinets and flooring. Here are its features:
52" blade length – perfect for bigger kitchens
Silent Hunter's WhisperWind motor
Reversible motor for year-round use
6. Hunter Minimus 44" Ceiling Fan
The Hunter Minimus is a great ceiling fan as it combines modern style with a trustworthy performance which it is already known for. It provides strong air circulation and also goes perfectly with most trendy kitchens. If you're someone who wants to complement utensils, you can choose between a black, white, or brushed nickel ceiling fan that also serves as lightning!
It has a 44" blade length and is styled to fit smaller and medium kitchens, dining spaces, and kitchen islands. In addition to that, it comes with an LED light that is remote controlled where you can dim it by your wishes. Here are its features:
44" blade length
Dimmable LED light
remote controlled
variety of colors available
For those who want to learn more, be sure to read: 11 Best Girls Room Ceiling Fans (Best Models).
Tips For Choosing The Best Kitchen Ceiling Fan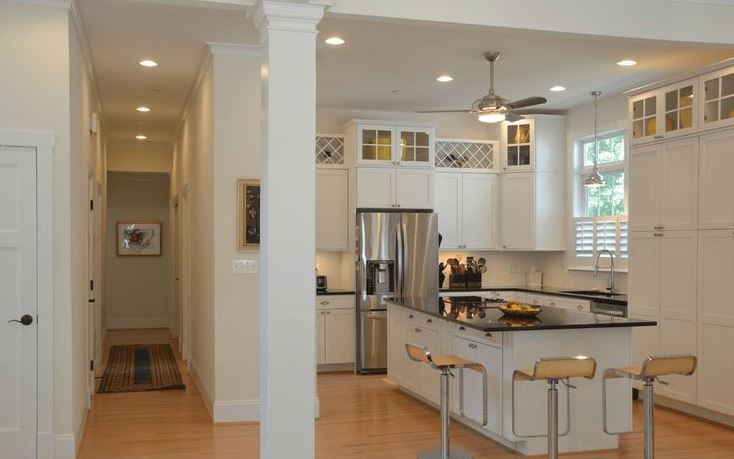 Picking the perfect kitchen ceiling fan is really simple if you know what you are looking for. In this section, we'll give you some tips on how to choose the best one for your kitchen.
1) Choose Ceiling Fan By The Size Of Your Kitchen
Start with finding the right size of ceiling fan for your kitchen. It's not as hard as it may sound, and all you have to do is to compare the square footage of the kitchen with the fan's blade span.
Due to the rise in the popularity of open floor layouts, kitchens often look different from other areas in the house. If your kitchen doesn't have four walls or is located within a bigger area, you will need to measure the length and width of the kitchen's perimeter. This will help in determining the end of the ceiling fan's reach.
When deciding on the size of a kitchen ceiling fan, don't forget to consider whether you want airflow across the whole kitchen or simply a part of it. For example, you could wish for a breeze only where the chairs over an island or dining counter are.
Instead of a giant fan that covers the whole kitchen, you could opt for a smaller ceiling fan located immediately above these areas. The process for measuring these areas is the same as the one mentioned above. However, be sure to measure the perimeter rather than the full kitchen.
When you're done dealing with the square footage, you're officially ready to choose the size of your new ceiling fan:
Kitchen smaller than 145 ft² = Ceiling fan under 45"
115-230 ft² Kitchen = Ceiling fan that is between 45-51"
230-410 ft² Kitchen = Ceiling fan 51" or bigger
When you're on a quest to buy a ceiling fan for a kitchen, keep in mind that the fan size will be smaller than those of ceiling fans for living rooms or huge master bedrooms. This is because kitchens are often smaller and don't require as much space. In these situations, a 44-inch or 30-inch ceiling fan is sufficient for a kitchen to stay chilly. However, if you're dealing with a bigger kitchen, a full-size 52-inch ceiling fan is the ideal option.
2) Do You Need a Light In Addition To The Ceiling Fan
After finding out the size of the kitchen ceiling fan, you need to decide whether you want it to have a light kit. These ones are best for smaller kitchens, which would feel crowded and claustrophobic if they had both lighting and a ceiling fan.
Ceiling fan lights are also great for making quality lighting over spaces or kitchen islands. But, if you own a bigger kitchen or a tall ceiling, it might be better to look for a fan without a light, as it might look eerie or too dark without a proper ceiling light or a chandelier that is there to light up the room. 
3) Match The Ceiling Fan With Your Kitchen
The ceiling fan that is perfect for your kitchen is the one that not only deals with airflow but also fits together with the rest of your house's style. Luckily, there are so many designs available these days, so here are some ideas that can help you choose the one for you.
White ceiling fans are great for making space seem bigger. When you have a white ceiling that is matched with a white fan, they create a beautiful illusion of a bigger space in a smaller kitchen. This look opens up space and makes it seem like the ceiling is taller and the room more spacious.  
Style the colors along with the kitchen design. The main issue people have with kitchen ceiling fans is that their style doesn't go well with the already-existing design of the place. But nowadays there are so many designs and colors to choose from.
To create an organized design, match wood grain ceiling fan blades to floors, furniture, and wooden cabinets. On the other hand, black and white ceiling fans can be used to match kitchen appliances and other decorative elements. Both solutions can work. That way, it's quite easy to create an illusion of a ceiling fan as a part of the décor.
Loof for a ceiling fan that is designed for a kitchen and lighting at the same time and save money. You are mistaken if you believe you must pick between modern pendant lights and a kitchen ceiling fan. Companies such as Fanimation and Savoy House made sure you don't have to choose between the two. Furthermore, there are ceiling fan chandelier combinations that look beautiful above dining spaces while still delivering much-needed airflow.
Final Thoughts
Having a ceiling fan in the kitchen is a great thing that offers a lot of benefits. However, when choosing a ceiling fan, you should take into account the size of the kitchen, the type of ceiling fan, and whether you want to have a light bulb on it or not. Today, there are many models on the market, and sometimes it is difficult to decide on the one that suits you best. In this article, we have given you a suggestion of the best models that we think would suit your kitchen. I hope you like it.