7 Best LED Bulbs For Ceiling Fans – Every Size Pick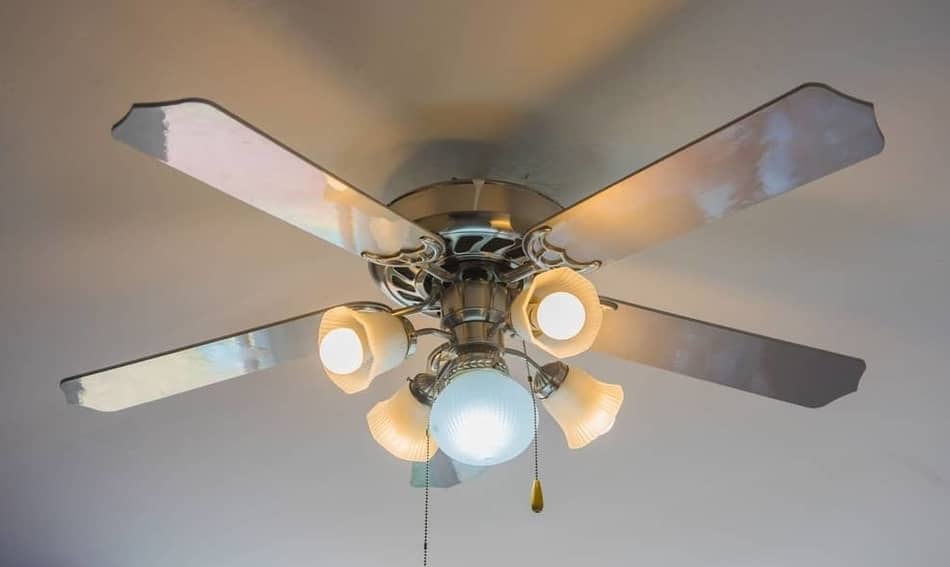 Replacing lighting fixtures on your ceiling fan using traditional incandescent bulbs and switching to an LED bulb is a smart decision that brings better lighting and also saves you money. LED bulbs are long-lasting, do not require frequent changes, and as such are more cost-effective in the long run when it comes to buying light bulbs. Also, LED bulbs consume less electricity, so installing them in a ceiling fan will reduce your electricity bills.
Determine Your Ceiling Fan Light Bulb Size
Ceiling fan manufacturers are using different light bulb sizes in their ceiling fan models. This is a question that can raise doubts when the light bulb in the ceiling fan needs to be replaced. 
Candelabra and Intermediate are currently the most used models in the market of bulbs that are suitable for ceiling fans. In addition, older models of ceiling fans require the use of classic incandescent bulbs of medium size, while more modern ceiling fans use Mini Candelabra. 
The most reliable method that is used to determine the size of the LED bulb is to measure the base of the bulb that is already installed. By measuring the dimension obtained, compare it with the table above and in no time you will find the appropriate size of the new LED bulb you plan to buy.
Candelabra LED Bulbs for Ceiling Fan Lights
When it comes to ceiling fans, Candelabra LED bulbs are the most often used bulbs in ceiling fans. We offer you an overview of two different types of candelabra lights among which you can choose the one that suits your style and performance depending on your ceiling fan.
1. Hansang Candelabra LED Bulbs
The Sunlite LED bulbs are a great choice if you want to save money in the long run. Hansing Sunlite LED bulbs are a substantial replacement for traditional 60-watt bulbs and as such consume much less energy! Also, their advantage is that they are suitable for ceiling fan structures that contain more lighting fixtures as well as the fact that they are available in shades of warm and cold light.
2. Philips Dimmable Candelabra LED Bulbs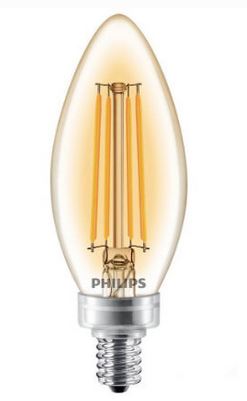 Philips LED bulbs for ceiling fans are the right choice for those homeowners who want a slightly thinner and more stylish candelabra LED bulb base. In addition to contributing to home decor, these LED bulbs also save money. They are an adequate replacement for incandescent bulbs of 40 watts while they run on 3.3 watts. Their durability is estimated at around 15.000 hours which makes them one of the long-lasting light bulbs.
Mini Candelabra LED Bulbs for Ceiling Fan Lights
Among the newer ceiling fan models, a lot of them use mini candelabra bulbs in their lighting systems. However, in some cases, they still use incandescent bulbs. Regardless of this information, it is recommended to replace incandescent bulbs with LED mini candelabra bulbs for several reasons.
They are more durable than incandescent ones and save energy. Also, mini candelabra incandescent bulbs are not firmly fixed to the stand during ceiling fan operation, but move and thus further shorten their durability.
3. Westinghouse E11 LED Bulbs
Anyone that is looking for LED mini candelabra bulbs for their ceiling fan will have a difficult task. But not an impossible mission. Westinghouse offers a wide range of suitable products that will illuminate every ceiling fan while saving energy. 
They are a suitable replacement for traditional 40-50W bulbs, while they work efficiently at only 5 watts. Westinghouse LED bulbs also have the feature of being resistant to moisture, so in addition to indoors, they can also be used for ceiling fans installed outdoors. 
Intermediate LED bulbs for ceiling fans
Numerous ceiling fan models use intermediate LED bulbs. They differ from household light bulbs on a slightly smaller base. Certainly, when switching to an LED bulb, you will save a lot of energy while you will have the same preferred wattage.
4. Feit Intermediate Base LED Bulbs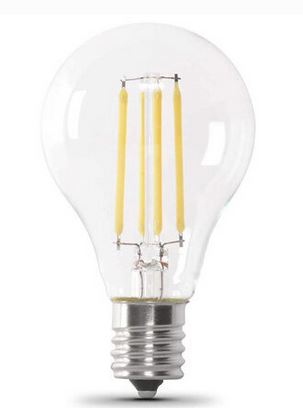 Feit LED bulbs are for those who are looking for the best bulbs on the market. They provide exceptional quality, have a lifespan of 13 years, and options such as instant lighting and discreet enjoyment of lighting. Their design allows the homeowner to simultaneously enjoy the classic look of a lighting fixture that easily adapts to any interior and the benefits of modern LED technology. They are an adequate replacement for 75-watt old light bulbs and they only need 8 watts to operate.
5. EmeryAllen Intermediate Base LED Bulbs
This type of bulb is the perfect choice for ceiling fans in smaller rooms that have an enclosed light kit. They are a good replacement for incandescent bulbs of 50 watts, while they only need 5 watts to work. Their lifespan is estimated at 25.000 hours. These bulbs will save you on your electricity costs, and you will not need to replace them often over time.
Medium Base LED Lights for Ceiling Fans
Ceiling fan packages can contain medium base sized bulbs. In this case, there is a problem that, unlike light bulbs that are used elsewhere in the household, ceiling fan bulbs have a protective lever that limits their operation to 60W or 40W. This is why traditional light bulbs cannot work at full power, but LED light bulbs can because they use much less wattage.
6. BULBRITE Dimmable LED LIGHT Bulbs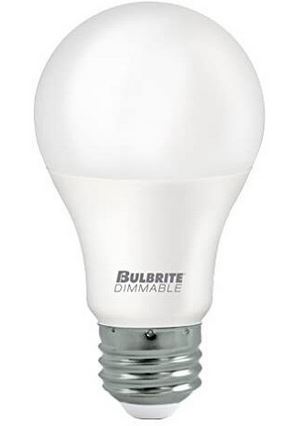 This type of LED bulb works on 9 watts and is a good replacement for traditional light bulbs that use 40 watts. Due to its energy efficiency, it is a high-quality product. Bulbrite bulbs have a discrete light option and adapt to the level of types of dimmers including those built into ceiling fans. Due to the fact that their lifespan is estimated at around 25.000 hours, they have Energy Star for efficiency.
7. Cree Dimmable LED Light Bulbs
Cree LED bulbs are a great choice for a ceiling fan that has a medium-size base due to its multifunctionality. Their lifespan is 22 years which makes them a highly recommended choice to anyone who is looking for high-quality lighting. Their bonus is that they use 10 watts for work and they are an adequate replacement for old 60-watt light bulbs.
Different Types of Light Bulbs
The light bulb you choose for your ceiling fan will determine the right color temperature the way you use the lighting and the first visual impression for anyone who enters it. Therefore, it is important to choose the right light bulb. You can do this if you are familiar with all the types of light bulbs that are currently on the market.
LED Bulbs: LED bulbs are known as the best bulbs on the market because they provide the highest energy efficiency as they require far less energy to operate than traditional bulbs. LED bulbs for ceiling fans are long lasting and can run for over 25.000 hours. They are therefore an ideal choice for situations where the ceiling fan is in a hard-to-reach location. 

The disadvantage of LED bulbs is that they are initially more expensive than other options (fluorescent/halogen), but they are certainly more cost-effective in the long run. The higher price is justified by the fact that most LED bulbs offer additional dimmed mode with a number of other options.
Halogen Bulbs: Compared to traditional incandescent bulbs, halogen bulbs use approximately 15% less energy. Due to the release of heat during operation they provide softer variants of light making them a great choice for living rooms and dining rooms. Also, halogen bulbs work great inside a dimming system that effectively adjusts the brightness. However, it should be noted that their sensitivity to heat is higher than of LED lamps.
Fluorescent Bulbs: If compact fluorescent lamps (CFLs) are installed in your ceiling fan, energy consumption will be reduced by approximately 75% compared to the situation when old lamps are used. Their durability is higher compared to halogen bulbs, but lower compared to LED bulbs. 

CFL bulbs cannot provide gradual dimming, so it is recommended that they need to be installed in locations that require only a direct light source. This type of lamp emits very direct light which is why it is also important that they not be used as an integral part of lighting constructions in which bulb is exposed to views.
Incandescent Light: Incandescent light bulb is the most common form of electric lighting fixture in the last few decades. However, as new modern and economical forms of light bulbs (CFL, LED, halogen) have appeared on the market their use has been decreased in recent years. 

This type of light bulb compared to modern types of light bulbs consumes far more energy which why most ceiling fans manufactures are not interested in them. But they also have their good sides. They are adaptable when it comes to adjusting the discrete lighting in the rooms.
Safety Tips When It Comes To Light Bulbs for Ceiling Fans
Although it is important to study their specifications when choosing a ceiling fan bulb, the safety of any lighting system should also be considered. Take a brief overview of the following tips below to see the safety tips when it comes to ceiling fan light bulbs:
1. Ultraviolet Light
UV light poses a safety risk that is especially needed to be assessed by ceiling fans with halogen bulbs. Exposure to UV light in large quantities is not healthy and if a light bulb that emits UV light touches bare skin while it is warm burns can occur. When it comes to such handling bulbs it is necessary to wait for them to cool completely.
2. Fire Threatening
The risk of fire is associated with incandescent bulbs which when overheated can break the usually thin glass that forms its outer side. When the ceiling fan does not distribute heat efficiently enough such a bulb can explode or cause a fire.
3. Dangerous Chemicals
LED bulbs contain lead arsenic and nickel, while CFL bulbs contain mercury. These are chemicals that are dangerous but on which the operation of these systems is based. Therefore, LED and CFL bulbs must be handled with extreme caution. Special care must be taken to dispose of them properly when removed from use. Otherwise, they can easily damage the skin, mouth, or eyes.
For those who want to learn more, be sure to also read 5 Unique Shabby Chic Ceiling Fan Chandeliers.
FAQ: People Also Ask
Do ceiling fans use A19 bulbs?
The A19 Hue bulb type does not match the usual A15 ceiling fan without an adapter. But these are light bulbs that should always be considered and checked given that in their Smart version they are among the best that can be found on store shelves.
How do I tell what size light bulb I need?
The size of the bulb is determined by its diameter at the point of the widest outer shell range (MOD). The diameter is defined in eighths of an inch (1/8"). The height of the lamp is also important. It is defined as the total length (MOL) expressed in inches.
Can I use a regular bulb in a ceiling fan?
Even in some technically advanced ceiling fan models, it is still possible to use traditional bulbs (Edison's). These are models that have a regular medium base E26 structure in their lighting systems.