Standard Bathroom Door Sizes: Complete Guide
A bathroom that meets all modern standards provides a greater sense of comfort to every homeowner and significantly increases your home value. This is the reason why many decide to renovate their bathroom. When it comes to bathroom door sizes, it is essential to choose the right door so that you can enter and exit the bathroom without interruption. In this article, we'll talk about bathroom door sizes. So, let's start!
What Are The Standard Bathroom Door Sizes? Local building codes define standard bathroom door sizes that say bathroom doors must be 32″ wide and 80″ tall. The recommended door height varies between 78" and 80", while the minimum door width is between 24" and 36" according to International Residential Code (IRC) guidelines.
If you plan to renovate the bathroom and change the old door, in this article, you will find all the necessary information on how to do it by building codes and personal preferences. Continue reading and find out what to consider when choosing a bathroom door for your home and how the dimensions of the bathroom door can improve your quality of life.
What Is the Standard Bathroom Door Size?
The standard bathroom door size depends on the district's regulations and building codes, but they are usually 32" wide x 80" tall. However, even before studying the regulations, the majority of American households had 80″ high doors in the bathroom. When it comes to width, you have a bit more freedom. On the market, there is a big choice of doors that have widths from 24″ to 36″, and any commercial dimension within that range is considered standard.
What Do Building Codes Say About Bathroom Door Sizes?
We have already mentioned that the local building codes determine the bathroom door size dimensions. However, you should also know that you should definitely consider the International Residential Code (IRC) guidelines that state that doors need to be at least 80" in height and have a space that is 32" wide.
You should study the IRC and state/local regulations that apply to your city so that you don't run into problems when you need an appraisal or categorization of real estate. This is the only way to avoid mistakes that can cost you dearly. Don't listen to well-intentioned advice from relatives or friends who have successfully replaced their bathroom doors. The regulations they had to follow may not apply to you.
Related Article: Washer and Dryer Dimensions Explained (3 Diagrams)
What is the Smallest Bathroom Door You Can Have?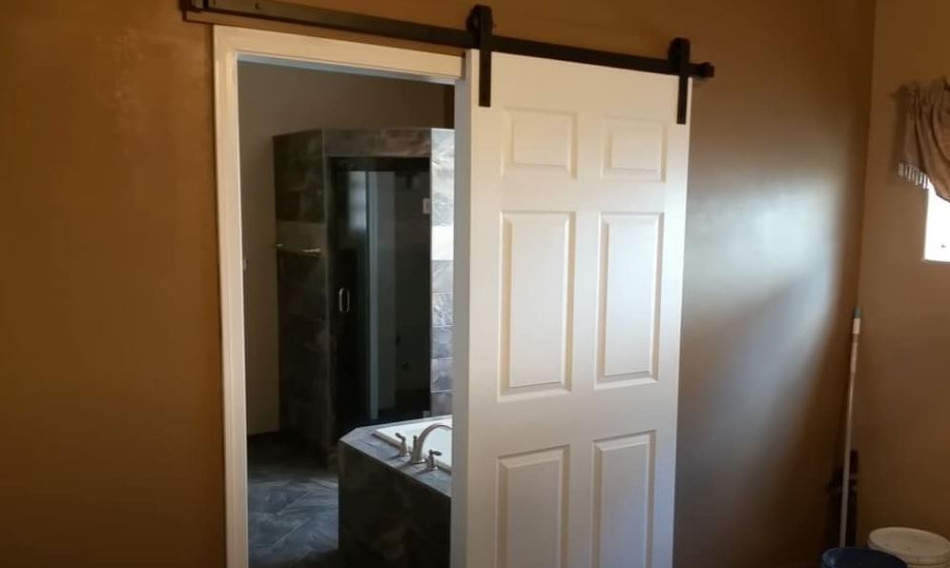 According to building codes, the bathroom door should not be less than 32" wide. When it comes to height, the minimum height for a bathroom door is between 78" and 80". While bathroom door dimensions determined by the IRC apply universally across America, local building codes only apply to the area where you live. When you are interested in minimum bathroom door dimensions, be sure to study them carefully.
Related article about bathroom sizes: What Are The Standard Sizes For Shower Pans/Bases?
Most Common Bathroom Door Sizes
If you live in a place where there are no defined standards (building codes) of how high and wide your bathroom door must be, it is up to you to choose arbitrarily. However, you must consider that the standard bathroom door dimensions are 32″x80″, and that you will have the largest selection of door models if you decide on these dimensions.
Apart from this standard size which is most commonly used, there are also other common bathroom door sizes, such as:
| Bathroom Door Sizes by 78″ | Bathroom Door Sizes by 80″ |
| --- | --- |
| 24" x 78" | 24" x 80" |
| 30" x 78" | 30" x 80" |
| 36" x 78" | 32" x 80" |
|   | 34" x 80" |
|   | 36" x 80" |
Table: Most common Bathroom Door Size
Of course, if local regulations do not limit you when it comes to the dimensions of the bathroom door, you can just decide which measurements suit you best and buy a custom-made door. This move will cost you much more compared to buying a door of standard dimensions. However, if you can afford such a thing, feel free to take that road.
Why It's Important For Bathroom Door To Be Wider Than 24″?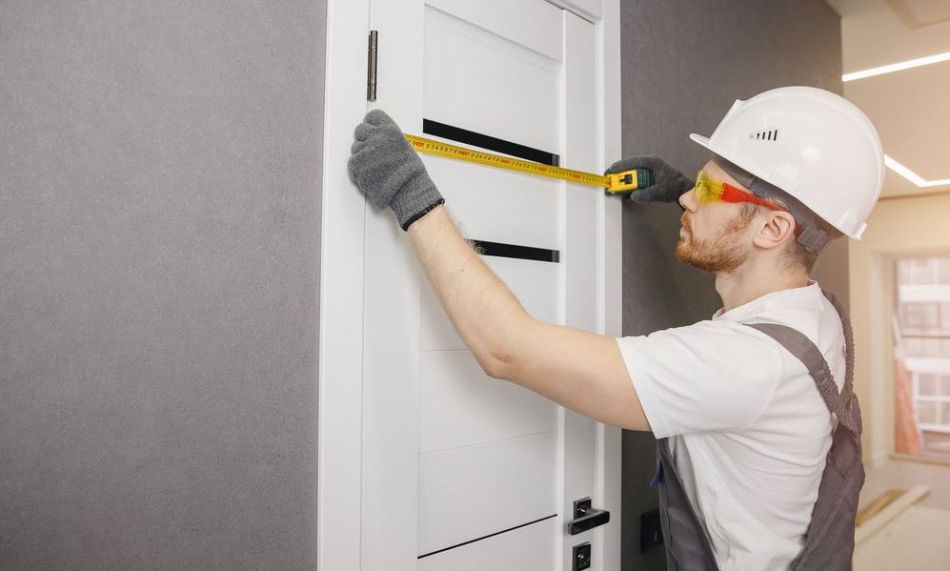 When remodeling a bathroom or building a new one, you should know that the minimum wide door of 24″ that we mentioned earlier is only acceptable in two cases: when the load-bearing walls in your home cannot handle a wider door opening and when you are replacing the door.
Also, suppose the regulations related to your situation do not clearly define the minimum dimensions of the bathroom door. In that case, it is generally considered that bathroom is a space that is too frequent to have a small door that is 24″ wide. This means that a 24″ wide opening is only acceptable for spaces such as a pantry, cloakroom, or storage where more than one person is rarely present at a time.
When constructing a new bathroom, universal regulations dictate that the width of the door should be greater than 24" to ensure better access to the room. Although the 24" width is sufficient for the average person to enter the room smoothly, it makes it impossible for a person in a wheelchair to enter the room. You never know what life can bring you. It's always good to think ahead. 
If you want to make your bathroom as accessible as possible, it is good to study the Americans With Disabilities Act when choosing a door.
Door Size Guidelines By ADA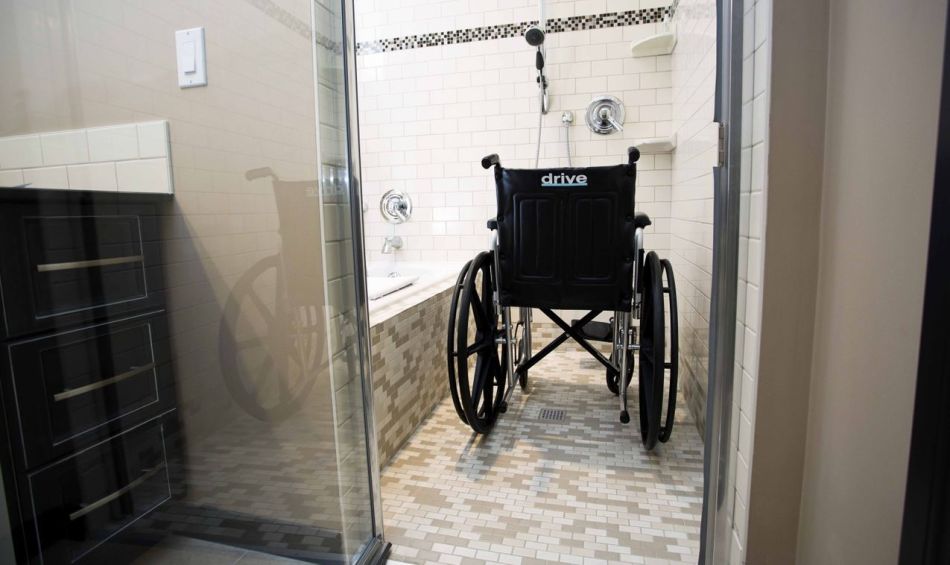 If you have a household member with a disability who uses a wheelchair or other walking aid, you must be careful when choosing bathroom door dimensions. However, even if this is not the case, the dimensions of the bathroom door should be adapted and acceptable to people with disabilities whenever possible.
Perhaps in the future, you will take care of an elderly family member, or you will sell the property, and it is known that adapting the home to people with disabilities helps to achieve a better price. The Americans with Disabilities Act clearly defines the door dimensions that are acceptable if you want your bathroom to be categorized as handicap accessible. This can be found in Section 404 of the ADA. Here is what it says:
404.2.3 Clear Width. "Door openings shall provide a clear width of 32 inches (815 mm) minimum. Clear openings of doorways with swinging doors shall be measured between the face of the door and the stop, with the door open 90 degrees. Openings more than 24 inches (610 mm) deep shall provide a clear opening of 36 inches (915 mm) minimum. There shall be no projections into the required clear opening width lower than 34 inches (865 mm) above the finish floor or ground. Projections into the clear opening width between 34 inches (865 mm) and 80 inches (2030 mm) above the finish floor or ground shall not exceed 4 inches (100 mm)."
Note also that exceptions from these guidelines are allowed in two cases. It is acceptable for door stops and door closets to be 78 inches above the floor level. Also, the latch side stop allows a maximum projection of 16 millimeters (5/8 inch) into width.
When you install a door in the bathroom according to the standard related to the use of the room by people with disabilities, you should also pay attention to the fact that the doors can be unlocked from the outside in case of an accident. Also, the way the door opens should ensure easy usage by people in wheelchairs. Consider sliding doors. It is an excellent solution in this case.
Bathroom Door Size for Wheelchair Accessibility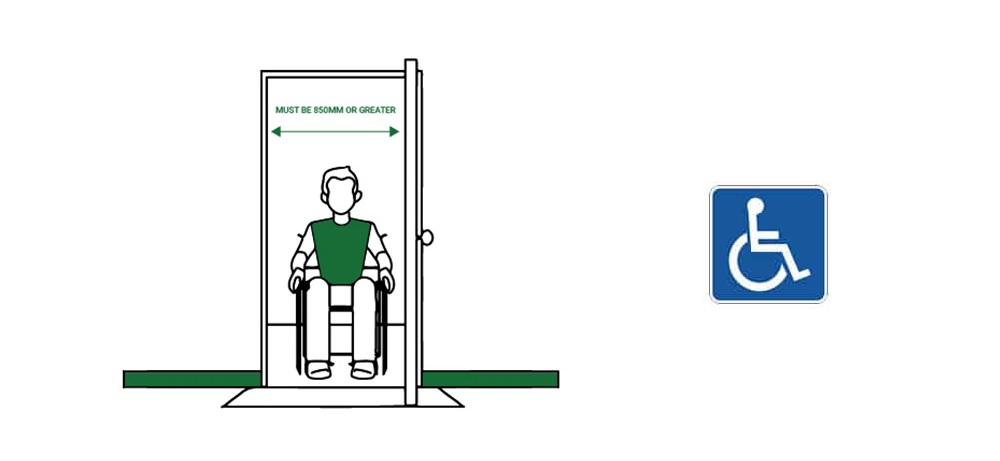 When adapting a bathroom door so that a person can use it in a wheelchair, the guideline is that the minimum width of the opening on the outside should be 37" (95 centimeters), and the door opening itself should be 35" (90 centimeters). Of course, it is always better when the door in the bathroom is bigger. If you do not lack space, and especially if the bathroom itself is large, it is recommended that the door be at least 59" (150 centimeters) wide and 86" (220 centimeters) long.
Bathroom Door Thickness Standards
On the market, you will find most bathroom door models with a thickness of 3/8 inch, which is the standard dimension. There are also models over 1 inch thick in three standard dimensions – 1 ½", 1 ¾", and 1 ⅝". Note that you can expect the door thickness to increase proportionally with the opening size.
Different standards are current regarding glazed doors, but you can count on the glass being ½ inch thick. However, as glazed bathroom doors are becoming more and more popular among homeowners, there is more variety among models. Doors with thicker glass, from ¾ inch, 1 inch, and even over an inch, are no longer hard to find.
You must know that the thickness of the glazed door must correspond to the height of the bathroom door in order for the structure to be stable and safe for everyday use. The formula is simple – the bigger the door, the thicker the glass must be.
If you are renovating your bathroom, you might also want to read this article: Do Shower Doors Add Value To Your Home?
Bathroom Door Size Requirements For Emergency Exit 
Some houses are built in a way that they have bathrooms with two doors, one leading to the house's interior and the other to their backyard. Sometimes, such a door also serves as an additional emergency exit. The door that leads from the bathroom to the outside of the house is also called an egress door, and according to IRC regulations, its minimum dimensions must be 32″ x 78″.
FAQ: People Also Ask
Are Bathroom Doors the Same as Interior Doors?
Bathroom doors are in the category of interior doors. When looking for bathroom doors online or in the sales center, feel free to look at doors marked for the interior. A good choice is any model that you like in that category and that fits the dimensions you have decided on.
Should Bathroom Doors Swing In or Out?
The bathroom door can be opened in both directions, depending on what suits you better. But you have to consider the arrangement of bathroom fixtures and furniture in the hallway. For safety reasons, it is recommended that the door in the bathroom still open inwards, but this is not a rule.
Final Thoughts
The bathroom door size is defined by several regulations depending on the area where you live, but most often, bathroom doors follow building codes that prescribe a height between 78″ and 80″, and a width between 24″ and 36″. The standard door thickness is usually 3/8 inches. If you have a household member that uses a wheelchair or other walking aid, you must be careful when choosing bathroom door dimensions and consult the Americans with Disabilities Act. I hope this article has helped you and taught you a lot about bathroom door sizes.