What Are The Standard Sizes For Shower Pans/Bases?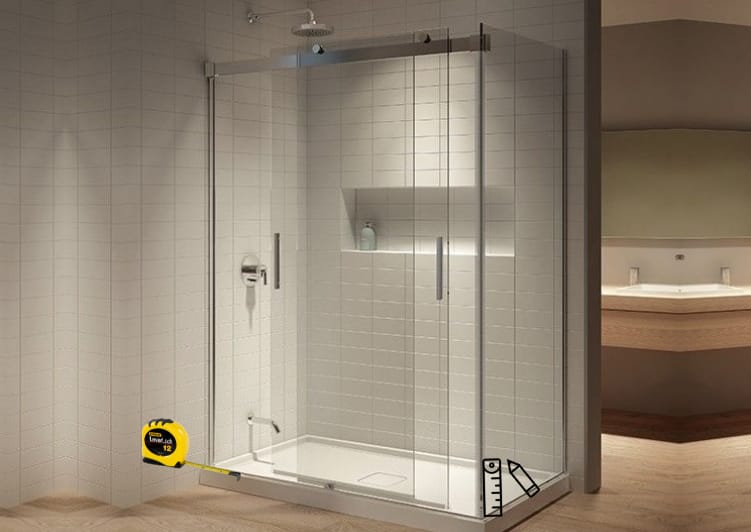 During the shower, did you ever think about a shower pan or a shower base? When you step into a shower, you typically stand on it but don't pay any attention. What we can tell you is that shower pans or shower bases come in different dimensions and sizes.
So if you have decided to install a new model in your bathroom, you will surely be interested to know what are the standard sizes for them. We've pulled together all the necessary measurements of most shower pans. In this article, we'll talk about shower pan and base measurements in more detail, along with other problems that may arise. So, let's start!
What Are The Standard Shower Pan Sizes?
So What Are The Standard Shower Pans Sizes? Typically, the basic dimensions for the shower pan vary between 32"x32" up to 42"x60".  When it comes to neo-angle corner shower pan, the average measurement is between 36" to 60". The depth of a shower pan regarding the thickness of the lip ranges from 1 inch up to 6 inches.
What Is The Purpose Of a Shower Pan?
The purpose of the shower pan is to direct the water that is coming from the showerhead down the drain. That way, water will ultimately flow into the drainage system because of the slope. Water cannot seep back to the floor because they are placed slightly curved. Generally, people often misunderstand the distinction between a shower pan and a shower base. Shower pans are what you see on the shower floor, while shower bases are placed below the shower.
Here you can learn How a Bathtub Works? | Plumbing & Drain System.
The Standard Sizes For Shower Pans/Bases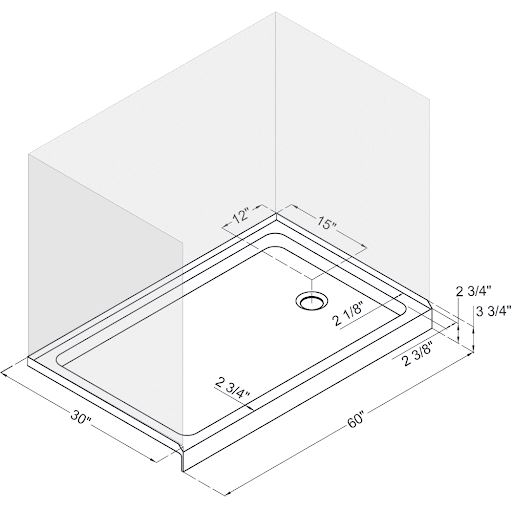 Shower pans or shower bases can come in different shapes to suit your bathroom, but they all follow one standard size. The dimensions of shower pan/bases are typically square (32×32 inches), rectangle (36×48), or a neo-angle corner unit that ranges from 38-60 inches wide.
A shower pan is a crucial plumbing component for your shower. When it comes to the depth of a shower pan, the thickness of the lip can range from 1 inch up to 6 inches, depending on what you're looking for.
When installing a new shower pan, keep in mind that there are three different types: center drain, off-set, and on-edge drain. Here's how they differ:
Center drains work best when they're located at the bottom of your bathtub;
Off-set drains should be used next to a wall with an opening wide enough (at least 6 inches) between them, so water doesn't flow back into another fixture downstream;
On-edge drains make sure the overflow is secured well before securing any other parts because this heavy-duty gasket can hold plenty strong even during rough weather conditions!
Finally, the perfect solution for your next bathroom remodels is to use a shower kit.
What Is The Smallest Shower Pan Size?
When it comes to really small bathrooms with tight space, you may be asking yourself what is the smallest shower pan size available. The smallest shower pan size that is available is 30-inches.
Measuring A Shower Pan Size
To make sure your shower pan matches well, you'll need to take various measures.
First, the outside border of the shower pan needs to be measured. Taking note of those measurements is essential.
Next, measure the depth of your shower pan from the top edge, all the way to the pan's bottom.
The last measurement is the distance from the drain location to the outside shower pan corners.
Note! When installing a shower pan for the first time, measure your area according to where you'll be putting it. Make sure that whatever design is being used works well with drainage and matches up with what's already there.
What Are Shower Pans Made From?
Since their release in the 1970s, shower pans have gone through several changes. As a result, there is a wide selection to choose from regarding their materials and prices. From cheap ones to luxury models, there is something for every taste! The following are examples of the four most common styles of shower pans;
These shower pans are made from synthetic polymers and stone. Quality and price-wise, composite is a premium product.
A medium-priced choice that is used in hard-to-fit areas. Acrylic is a moderately priced product with custom coloring options to fit your individual needs for spaces of various shapes.
These are low-cost shower pans. These models can be found at any home construction supply shop.
The tile shower pan is a beautiful and elegant option for those who want to change up their bathroom décor. It's also considered one of the more pricey options, but it will be worth every penny when you see how great your new bathing experience looks!
How Long Do Shower Pans Last?
This usually depends on the shower pan material that is used.  Well, there are many different options. Keep in mind that acrylic lasts more than ten years and with little maintenance, tile can last 15 or so but needs re-grouting every few decades, and making sure not to crack it will reach this length of time too!
The material used to construct a shower pan has a significant impact on the sturdiness and long-term performance of the pan. There are four types of materials are most often:
Composite
When it comes to shower pans, we believe that the right decision is always natural stone content. With its natural beauty and durability, there's no question why it ranks as number one on our list of preferred materials!
Off-The-Shelf
Because of their porous surface, store-bought fiberglass pans have a shorter lifespan than other options. In addition, when the mineral content of the water is high, a porous surface has a more considerable risk of breaking.
Custom Tile
However, custom tile is more likely to fracture and break over time. The durability is considered lower here.
Acrylic
Polycarbonate showering pans are a good option because of their medium durability and robustness. This is considered a popular choice.
Can Shower Pan Be Used On A Concrete Floor?
Installing a shower pan on a concrete floor is a great idea. While your floor can absorb some water over time and handle short periods without issue, there are risks in leaving them untreated or unprepared for use as an active bathing area.
In addition, there is the possibility that water will leak into cracks beneath where people step, which would eventually cause problems down the line when they don't realize what has happened until too late! You will find that on the market are concrete sealers that are designed just for concrete shower use.
Should You Use A Shower Pan Or Tile?
When you decide to use tile or a shower pan for your bathroom, the decision comes down primarily to what is most financially accessible and space-friendly. Fortunately, there are many excellent choices out there that can fit both needs, whether it's spa-like luxury with gorgeous finishing touches such as marble floors and gold fixtures or guest bath functionality in an open layout.
Not all spaces are created equal, and this is especially true when it comes to the bathroom. If you're looking for something that will match your style or needs, then consider installing tile in an already-existing space like a shower pan instead of designing custom mosaic work on every square inch (which can get expensive).
Does A Shower Pan Need A Liner?
Usually, a shower pan requires a liner. By installing a linear just beneath the shower pan gives safety to the shower pan. The only time when the shower room works without a linear is when the shower floor is placed on concrete and where the tiles are installed on top of it.
Is Your Shower Pan Gotten Bad?
The following are three main signs that can indicate that the shower pan is not working correctly, and they are as listed below:
Visible Stains: Your shower pan may be cracked if you see water puddling when you observe the room's drywall, ceiling, or the area surrounding or along with the showerhead.
Mold or Mildew: When you see dampness or mold growing on the shower walls, it indicates that your shower pan is deteriorating. It indicates that water has already started to leak through the ledge on the side of the building. If the slabs on the first floor of home are discolored, the shower pan is likely leaking.
Visible Water: Water that's pooled sometimes may be a big problem. Water escapes from surrounding cracks when the faucet is opened. A defective shower pan is one of the major causes.
If you don't know how to fix one of these issues, you'll need to call a professional plumber to do the job. Never ignore these signs. If too many problems arise at once, then call in the professionals right away!
For those who want to learn more, read Water Coming Out Of The Shower Head While Filling Bathtub.
FAQ: People Also Ask
1. Do Shower Pans Come in All Sizes?
Shower pans are available in all different shapes and sizes to fit any bathroom. All sizes and shapes of pans are available at stores, so you can get precisely what you're looking for. Measures come from little 30″ x 30″ to large sizes that can be customizable to your space.
2. What Size Is Walk in Showers?
It is recommended that walk-in showers have a minimum of 32-inch length and 32-inch breadth. To give you an idea, the average size of a walk-in shower is 34 by 34 inches; 36″ x 36″ up to 42″ x 36″; however, the size may vary based on the bathroom's measurements.
3. Does a Walk-in Shower Add Value?
Walk-in showers are a great way of adding value and space while also saving time, especially if you have children or elderly members in your family! For example, replacing just one bathtub can take up all day, but there's no need for a walk-in. This means more homes sold at higher prices since most potential purchasers expect them to be.
Final Thoughts
By using shower pans and shower bases you can easily transform your whole bathroom space. The simple updates by using shower bases, you can make a small shower feel like a much larger one. Changing the tiles on top provides lasting durability and style, too, so do not be afraid if this seems essential or difficult – professional contractors are always happy to assist no matter what questions arise during the installation process. I hope that this article has helped you, and if you have any additional questions feel free to ask.