The Cheapest Way To Build A Garage – Builder Explain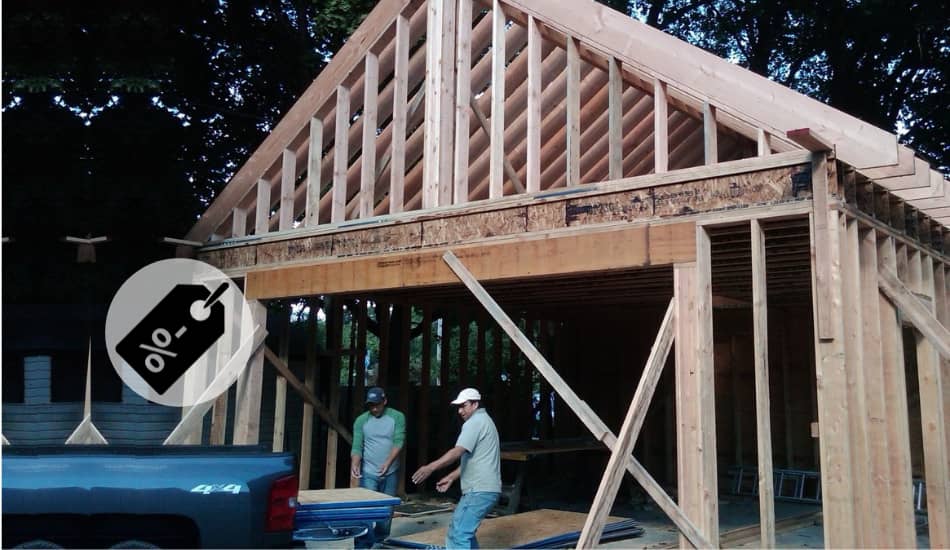 Having a garage is a great investment that every house should have. Since every household today has a car, having a garage is a convenient way to park your car and to have an extra room for storage outside the house. While some modern garages can be an expensive investment, there are also ways to build a very cheap one.
Many think that a garage is a complicated project to build, but today there are easy construction methods that allow you to build it much easier than before. In this article, we'll talk about the cheapest way to build a garage and how you can do it. So, let's start.
What Is The Cheapest Way To Build A Garage?
So, What Is The Cheapest Way To Build A Garage? The most cost-effective way to build a garage is by using a pole (post-frame) construction method. By using a post-frame construction method to build a garage, it can cost you between $10 to $30 per square foot, compared to other methods where the average cost is between $40 to $70 per square foot.
Here are the two most common methods that you can use to build a cheap garage.
| Building Method | Cost to Build | Complexity | Quality |
| --- | --- | --- | --- |
| 1. Pole (post-frame) Garage | $10 to $30 per sqft | Easy | Good |
| 2. Stick-built Garage | $49 per sqft | Medium | Very Good |
Below we will explain to you which methods are used in building home garages and what are the best and cheapest ways on how you can build one for your home.
For those who want to know more, you can read our article, How Do Garage Door Sensors Work?
Building Your Dream Garage
The first thing you need to consider when you decide to build a garage is how much money are you willing to spend? Some people are satisfied to have only storage space where they can store basic things like bicycles, mopeds, etc., while others want a modern garage where they can park a car and have a workshop. No matter what option you choose, make sure to do your homework on how much it can cost you, so you don't get surprised at the end.
So let's start with the things that you need to know before you start building your garage.
Things To Know Before Building a Garage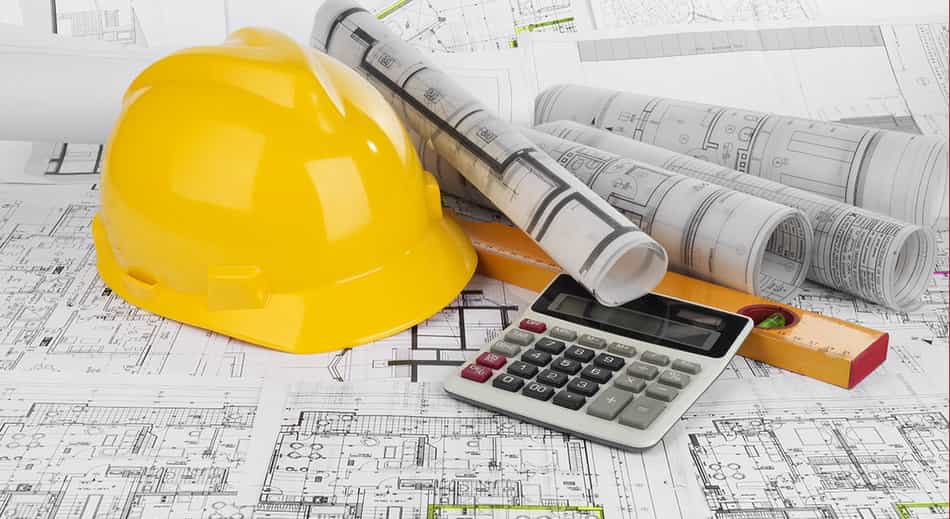 Pre-planning is the first step you need to take before you decide to build a garage on the cheap. You need to know exactly what materials you will need and what are the measurements of the area where you will build your garage. Nothing will cost you more money than some unexpected situation that was not planned from the very beginning.
Make a detailed plan of exactly what you plan to do (the recommendation is to do a blueprint of a garage). Make a list of all the materials you will need. See where you can find quality materials such as cheap wood, screws, windows, siding, and other needed equipment.
When it comes to building a house or garage, the second most expensive part is labor. If you can find someone that you can hire to do a good quality job, and at the same time at an affordable price, that would be great. Since you are building the garage for yourself to save some money, try to recruit some of your friends and family to help you out during the construction process.
However, keep in mind that these people must have some experience in construction work. You don't want that they are there just for hanging around and distract you from building the garage. Having friends and family during construction is desirable because they will do their best and work hard to help you build your garage. But if you don't have that option, you'll need to hire some professionals who know what they're doing.
What is also recommended before embarking on garage construction is to look for stores that offer great discounts. If you buy everything from a small lumberyard and local store, you can get a cheaper deal on everything and even save up to 20% compared to some larger stores.
Although you will have to buy some materials and tools in other big stores because you will not find everything in one place, it definitely pays to save on every discount that is offered. Your job is to find the best deal for your construction materials and tools. When it comes to equipment, you can find very quality and cheap tools Here on Amazon.
Two Most Used Methods To Build A Cheap Garage
Here we will present you two most used methods to build a cheap garage that will last. These methods are used all over the world and have proven to be very safe and effective.
1. Pole (Post-Frame) Garages
The Pole (post-frame) garages are one of the simplest and most cost-effective ways to build a garage. This method is much more superior to traditional stick-built methods and is considered the cheapest way to build a garage.
A pole building is a method where the laminated wood posts are placed to hold out the frame of the garage. This type of construction forms the bare-bones structure, which supports the garage's load when there is a strong wind or when it snows. The garage is covered with metal panels that are holding the whole construction together.
There are a lot of benefits if you decide to build a pole (post-frame) garage. The first major benefit is that it has a low foundation cost. When building a garage this is the first real investment that people are required to make, and it makes up about 10-15% of the total cost.
Note! This method does not require to have poured concrete foundation.
Post-frame garages require you to have the posts placed deep inside the ground for stability (no concrete slab is required). Another great advantage of pole constructions is that they build much faster compared to stick-built garages. This is because much less material is needed in this construction process, allowing you to build your garage much quicker.
Building storage for a post-frame method is much easier because you don't need to have load-bearing interior walls. Instead, you have a lot more options, because you have a wide-open space where you can park multiple cars, and store your lawn equipment and tools. Therefore, having these benefits with a pole garage gives you almost endless possibilities.
Here you can see a great Youtube video where it is shown how to build a post-frame garage.
When it comes to how much this will cost you, you'll be pleasantly surprised. Building a pole (post-frame) garage should cost you anywhere between $10 to $30 per square foot (this refers to the cost of the material). If you decide to hire professionals, then the overall cost will be a little bit higher.
2. Stick-Built Garage Kit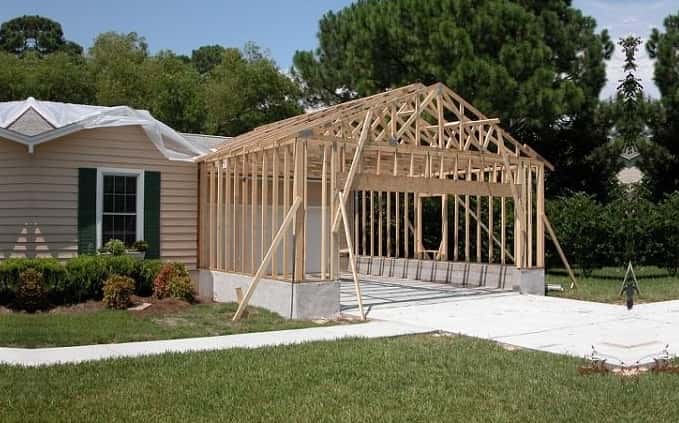 A Stick-built Garage is a model where the wooden garage is constructed entirely or largely on-site. When you are using stick-built construction method you are required to have a fully poured concrete foundation. Some people don't like a pole (post-frame) building method and they opt for a more traditional stick-built approach.
While this is a costlier solution than a post-frame building method, you can buy kits that have all of the necessary materials for you to build a garage for a decent fee. Some people will find that buying a kit is not the way on how they want to build their garage, there are also those who opt for this option. The choice is all yours.
Note! This method does require you to have poured concrete foundation.
For this reason, many people opt for this method because it offers them much more flexibility. Therefore, if you find yourself in a problem during construction, your contractor can easily find a new solution that can be applied.
But the downside when it comes to the stick-built method is that it will cost you significantly more than building a pole (post-frame) garage. The average cost of building a stick-built garage is around $49 per square foot, while the average cost of building a single-car garage is somewhere around $7.500 to $14.300, which is much more if we compare it to building a pole garage.
What Is The Most Cost-Effective Way To Build A Garage?
For most homeowners planning to DIY their own garage, we recommend a post-frame building method for a couple of reasons:
Post-frame method has the greatest value over time of the building
You have the option to choose the design you want
It's the most affordable upfront investment (of these two methods)
A post-frame method requires less people, and it's easier to build
Now that we have listed all these benefits of the post-frame construction method, you may be wondering, 'what about stick-build method'? This method is also quite often used to build a garage, but it isn't a cheap options. Next, we are going to look at the pros and cons of these two building methods.
2 Popular Ways to Build A Cheap Garage: The Pros and Cons
Having gone through the methods you can use to build your garage and you are still not sure which one to choose, let's look at these two popular methods and see their pros and cons.
1) Pole (Post-Frame) Construction
Pole (post-frame) construction is a very popular building method that can be seen on pole barns everywhere. One of the advantages that this post-frame method is best known for is its fast installation process, cost-effectiveness, and exceptional durability. Let's take a look at its pros and cons.
Pros: 
Very affordable building method
Possibility to choose size, features, design, and more
Own choice of materials that you trust to support your garage
Fast and safe construction that is designed to last
Cons: 
You'll need to put together the building design
Need to source your own materials
2) Stick-Built Garage
A stick-built garage method is used if you're planning to build a garage that will match your home. But it is certainly a more complicated and expensive method compared to post-frame construction.
Pros: 
You can easily match the design of your garage to your home
Good quality construction and durable building option
Cons: 
A little bit costlier building method than the post-frame method
If you opt to build an attached garage, you'll need a contractor
You will need more materials than for the post-frame method
Construction will take longer and may require more people
Now that we have seen all the pros and cons of these methods, we can say that the pole (post-frame) construction method is the most affordable way for your DIY project of building a garage. For me, I can say that a traditional stick-built method is an option, but most DIY homeowners will agree that this is the lengthiest and most costly choice.
Since a lot of modern garages have garage door openers, you may want to know, How Much Electricity (kWh) Does a Garage Door Opener Use.
FAQ: People Also Ask
1. Is It Cheaper To Build A Garage Or Buy A Kit?
Garage kits will cost you less than building a garage on your own. There are several options today, and you can easily find which option and model best suit your budget when you opt for a kit. Just simply pay for the material that best suits your budget and build.
2. Are Prefab Garages Worth It?
A prefab garage is the best solution if you have a small budget for your garage project. The main reason why a prefab garage is a cheaper solution is that you don't need to pay an architect, construction crew, and engineer to put up your garage.
3. Are Metal Garages Worth The Money?
Metal garages compared to other models have an superior strength, resist to fire and pests, easy to install, and cost less. Also ensuring such garages is much cheaper than wooden ones, which is a plus.
Final Thoughts
After reading this article, I hope that you now have a much better understanding of how much it will cost you to build your own garage. The size, design, and material of your garage will determine how much it will cost you. If you have a tight budget, then you need to fit into those options.
There is also an option where you may be looking to use cheaper timber frames instead of concrete. Whatever you decide, you need to make a detailed plan before getting down to business to know exactly what awaits you and how much it will cost you. I hope this article helped you and if you have any additional questions, feel free to contact us.