How Much Does A Liftmaster Garage Door Opener Cost?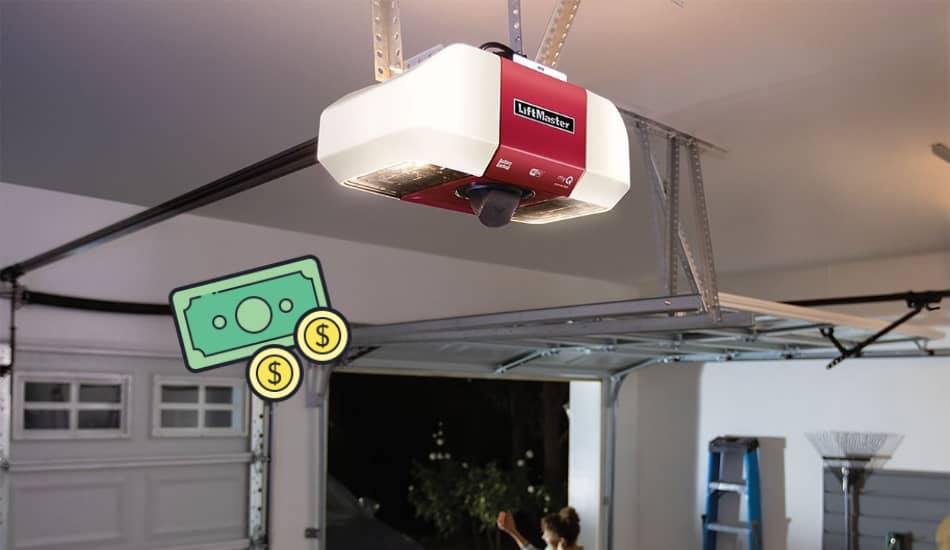 Having a high-quality garage door opener guarantees that your garage will function well and that you can count on it always to perform when you need it to. Whether you're looking for a new garage door opener or for a brand-new garage, the Liftmaster garage door opener is one of the best brands on the market today. If you are wondering what the prices of Liftmaster garage door openers are, we have done our homework and have the answers right here for you. So, let's start!
How Much Does a Liftmaster Garage Door Opener Cost?
So How Much Does a Liftmaster Garage Door Opener Cost? Typically, Liftmaster garage door openers range in price from $300 to $550, depending on the model and its features. The traditional belt or chain drive openers are less expensive compared to the wall-mounted Liftmaster models. The price can vary by adding extra features like locking mechanisms.
There's a lot more to the expense of Liftmaster garage openers than the factors mentioned above. Keep on reading to learn more about the different types of garage door openers and what are their pros and cons. We'll even talk about the questions that are concerning Liftmaster consumers.
If you're wondering How Much Electricity (kWh) Does a Garage Door Opener Use, feel free to read this article.
Liftmaster Garage Door Opener Price
There are different price ranges when it comes to Liftmaster models. On the cheaper end of the range, you can find a typical ceiling-mounted chain or belt-operated type. Those types of models don't have the same elegant design or advanced features as the more expensive variants, but they still serve their purpose very well. This category of Liftmaster openers comes with internet connectivity (Wi-Fi). Their typically range in price from $200 to $350.
There are also more expensive Liftmaster models, which range in price from $400 to $550. Those types have classic ceiling-mounted models and come with advanced capabilities and more cutting-edge functionalities included. Liftmaster, for instance, has an entire series of wall-mounted garage openers that are installed beside a garage door rather than in the ceiling's center so that you can place other things on the ceiling, such as a ceiling fan or a chandelier.
Benefits Of A Liftmaster Garage Door Opener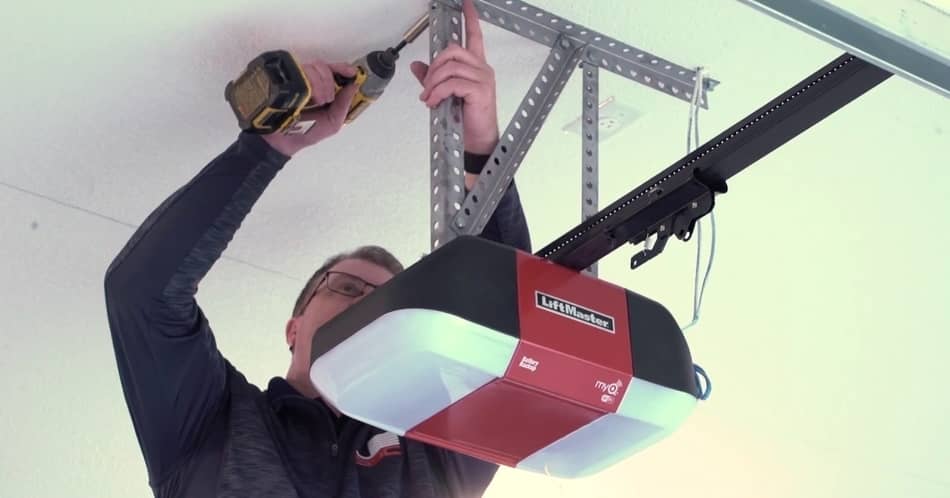 Some of the previously mentioned qualities are mostly determined by the garage opener's type and model. The advantages listed in this section apply to almost every Liftmaster model, but make sure to double-check the features before buying one.
Here are some of the advantages that Liftmaster models have:
Quiet Opening: Almost all Liftmaster garage door openers are very quiet. This is not typical with less expensive brands. 
Wi-fi Connectivity: Most models, both entry-level and premium, come with Wi-fi connectivity, which allows you to link your smartphone to the opener. 
Smartphone App: Using the app, you can control the garage opener once is connected. Even better, a component of the software may connect to Amazon Prime, ensuring safe shipment delivery.
Battery Backup: Most models come with a battery backup, which allows you to open or close the garage even during a power outage.
Integrated LED light: In a similar manner, most overhead models include an integrated LED light that is capable to light the entire garage.
Several Accessories: Another advantage of Liftmaster openers is that they come with a number of features such as remote controls for cars, keychains, and wall keypads.
Locking Mechanisms: Specific locking mechanisms are installed for additional security.
Best Features That Liftmaster Garage Door Openers Offer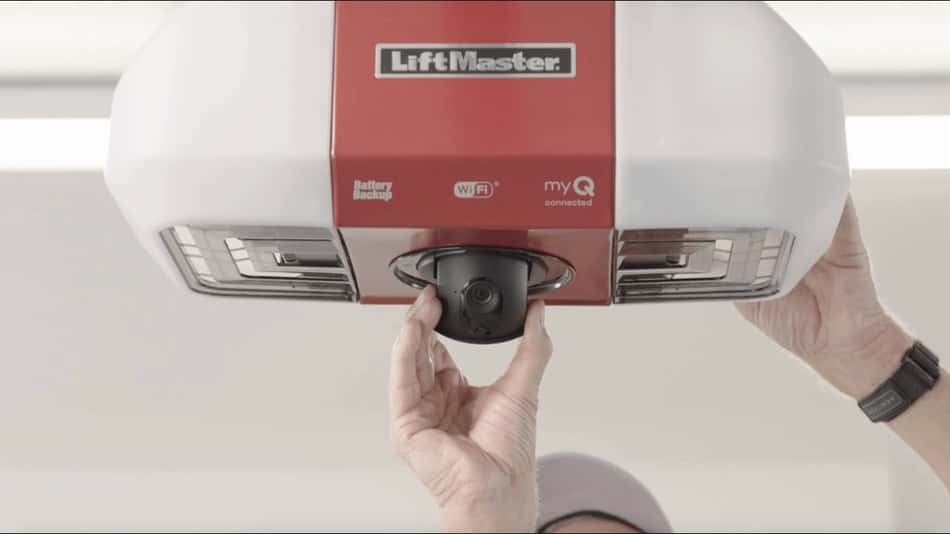 In this chapter, we will list the top-performing model from each of the types that are discussed above to best represent Liftmaster's standard and distinctive features. Information for these models can be found on the Liftmaster website, where client provide their ratings after their usage.
1. Best Belt Drive Operated Garage Door Opener
In this category, the Liftmaster 8550WLB has the best performance. This means that this model comes with a silent motor, internet connectivity (Wi-Fi), battery backup, and the option to add a garage lock. The 8550WLB is also equipped with sensors that eliminate the chances of getting any car or property damaged by the closing door.
2. Best Chain Drive Operated Garage Door Opener
In this category, the Liftmaster 8165W garage opener is best with a factory-strength chain drive. The chain-operated garage opener works in the same way as the belt-operated openers, except that the chain is stronger and sturdier. All of the belt model features mentioned above are included in the Liftmaster 8165W.
3. Best Wall Mount Garage Door Opener
In this area, Liftmaster's Elite Series 8500 wins. It differs from the other garage door openers by its placement. It's installed next to the garage door rather than above it. As a result, there is room in the ceiling for yet another appliance, such as a ceiling fan. Wi-Fi connectivity, silent operation, and the Liftmaster locking mechanism are included in this model as well. Unlike previous models, the Liftmaster Elite Series 8500 is a little bit more expensive.
4. Best Smart Garage Door Opener
The Liftmaster Secure View 85503-267 garage door opener is the best choice if you live in a smart house. This model comes with a motion-activated surveillance camera that streams straight to your smartphone from the garage. There is also a feature that lets you talk with other people in the garage using a two-way microphone and speaker.
This model can even record and save the footage for a monthly fee. Other than the ones mentioned above, the Liftmaster Secure View of course has all the benefits that come with the standard Liftmaster opener, such as a backup battery and Wi-Fi connectivity.
How Long Does A Liftmaster Garage Door Opener Last?
Liftmaster models that have the price range of $300 to $550, usually last around 10 to 15 years. The things that depend on how long the garage door opener will last are their frequency of use and proper maintenance. Just like every electronic appliance, the Liftmaster has a guarantee paper that ensures that if you have any issues with the garage opener, you can get it fixed or replaced completely. This lengthy live span justifies the price that leans towards higher digits. 
Can You Open Liftmaster Garage Door Opener With Phone?
Nowadays, most people carry their smartphones in their bags or pocket at all times. As a result, keeping track of the smartphone is considerably simpler than keeping track of a garage door remote. That's why the Liftmaster garage door openers include an option to link your smartphone with the garage door opener through an app. The app is available for both, Android and iPhone. If you purchase the Liftmaster, you will never have to carry around a separate remote.
Furthermore, being able to control the garage door from your smartphone allows you to open or shut it regardless of where you are.  This feature relieves the stress of worrying that you left the garage door open while you are on vacation or when you are late for class or work. It even comes in handy when you want to open the door for someone else while you aren't at home. 
Maybe you'll be interested in 8 Steps to Program Garage Door Opener In Car Without Remote.
How To Connect Liftmaster Door Opener To SmartPhone?
It's very easy and simple to connect your smartphone with the Liftmaster garage door opener. After you've installed the garage door opener in your garage, simply follow these instructions:
Go to the iOS or Google Play app store and download the myQ Garage & Access Control app.
Register to create a myQ account or just Sign In if you already have one.
Make sure your phone is linked to the Wi-Fi connection and that your Bluetooth is turned on.
To link your garage opener to your account, launch the myQ app and follow the instructions shown in the app.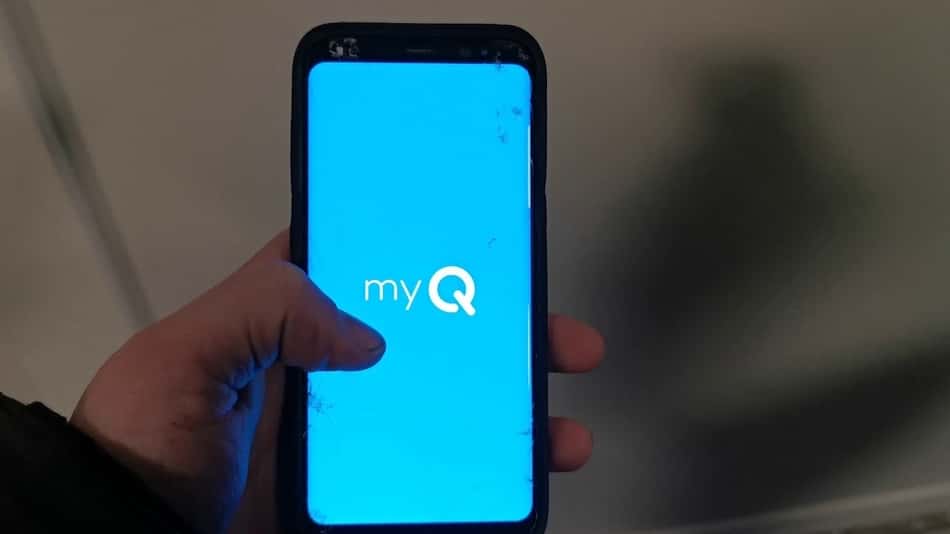 Following the directions will prompt you to make a number of choices for your garage door opener's control panel. After that, you must choose your Wi-fi network on your phone. This option will instruct the Liftmaster to connect to that specific network. After you've done this, you should wait for the garage opener to emit a series of beeps before naming it in the app. The garage door should afterward be ready for usage and able to open using the myQ app.
Does Home Depot or Lowes Install Garage Doors? 
Lowes and Home Depot stores are providing garage door services such as installation and maintenance, and they are located all throughout the United States. Simply contact them and ask them to come. If you want to do the installation by yourself, there are instructions available on each of their websites.
Which is Better: Chamberlain or Liftmaster? 
The Chamberlain Group is a parent company to both Chamberlain and Liftmaster.  As a result, the two brands have a lot in common. The Chamberlain line is targeted at customers who prefer self-installation, while the Liftmaster line is geared toward customers who prefer professional installation. As a result, Chamberlain is the best brand for simplicity of installation. Liftmaster should be your first option for high-end functionality.
FAQ: People Also Ask
1. Is Liftmaster A Good Garage Opener?
Liftmaster models are widely used, suggested, and considered the most reliable option on the market. Most customers prefer Liftmaster brand openers when it comes to customer satisfaction but also based on durability, speed, noise, and dependability.
2. How Difficult Is It To Replace A Garage Door Opener?
Installing a garage door opener is a relatively difficult task that can be completed in an afternoon if you know what you are doing. Basic tools are needed for the installment. Most people though, prefer calling a professional to do the job.  
3. Can A Garage Door Opener Be Too Powerful?
There aren't many advantages to having a powerful motor except that the opening process is a bit quicker, and the motor wears out slower than usual.  However, setting the force too high might cause problems such as the door becoming stuck, causing damage to both the door and the opener.
4. Can One Person Install A Garage Door Opener?
Wiring and installing a garage door opener usually takes two people. To install and position the placement of the device on the ceiling takes four hands to maneuver.  Additionally, the device weighs around 40 lbs, so it's nice to have the support of at least one more person.
5. How To Know What Size Garage Door Opener Do I Need?
You may determine the size of your garage door opener based on the size and weight of the door. To find out those measurements, use a tape measure to measure the width and height of your garage door. Smaller openers are generally sufficient for single garage doors, but a double garage door may require a bit more house power.
Final Thoughts
Liftmaster is a fantastic purchasing choice if you're looking for a great quality garage door opener that's going to last you for years. They range in price from $200 to $550 and come with a lot of the latest features without breaking the budget. Even the cheapest versions come with a Wi-fi option, which will not only surprise your neighbors but also simplify your life. I hope that this article has helped you, and if you have any additional questions, feel free to ask.