How Do I Make My Hot Tub Private? 9 DIY Ways
Most people who have hot tubs enjoy their moments of relaxation and would prefer not to be disturbed while taking a hot tub by others, in this case, their neighbors. Everyone values their privacy, especially during such personal moments. So, is it possible to make the hot tub area more private? In this article, we'll talk about that. So, let's start!
How Do I Make My Hot Tub Private? Consider installing a tall fence or privacy screen around the hot tub to make it private. Another option is to use tall plants or glass walls to naturally shield the area. Additionally, placing your hot tub in a gazebo or under a pergola can offer both privacy and shade.
If you are tired of curious neighbors who peek while you're trying to enjoy your hot tub, don't worry! Hot tubs are fantastic for relaxation. Yet, sometimes, our outdoor spaces might be too exposed to others for our comfort. However, this can be fixed, as there are many ways to cover the private space of your hot tub.
You can elevate your hot tub moments in many ways while ensuring your privacy. Tools like privacy barriers and walls can be game-changers. In the next section of this article, we'll guide you to discover the best ways to maintain your privacy and enrich your hot tub moments.
9 Ways To Make Your Hot Tub Private
1. Put Glass Walls Around Hot Tub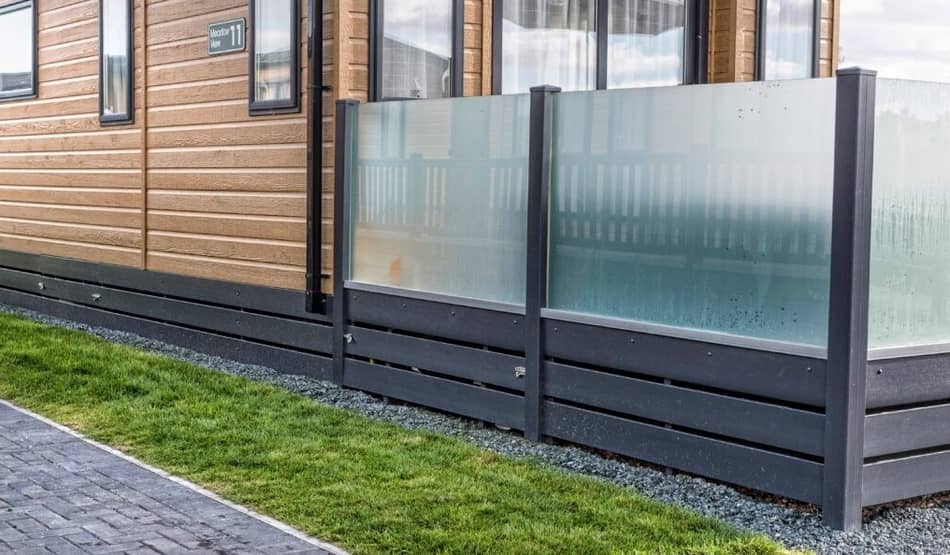 By using glass walls, you see everything around you without any blocks and, at the same time, keep you safe from wind and rain and curious neighbors. What's more important, it prevents your neighbors from seeing you.
You can pick from many glass types, like strong, layered, or cloudy ones, based on what you like, how much you want to spend, and how it looks. These glass walls can show off your garden's colors and shapes or even look like a mirror when it's dark.
Related Article: Can You Put an Inflatable Hot Tub In a Basement?
2. Install Retractable Privacy Screen
One great method to ensure your privacy during a relaxing bath is to get a retractable privacy screen barrier. These barriers are super simple to install, especially if you have curious neighbors who love to peek around.
This specific privacy screen extends up to 10 feet in length, 5 inches in width, and stands 7 feet tall. That screen weighs around 45 pounds (20 kg), making it sturdy enough to protect you from neighbors' eyes and even the scorching sun during your bath.
This barrier boasts a durable frame made from aged aluminum. It also comes with a steel pole that's been powder-coated and is adorned with a water-resistant fabric made from PA-coated polyester.
What's great about this privacy screen is its versatility. Apart from using it against the sun or curious neighbors, it can also be applied indoors. You can even position it on a terrace or porch! Moreover, it comes with a 1-year warranty. It's important to note that this privacy screen can be attached to the ground, making it ideal for places like decks or concrete grounds.
Related Article: Can Hot Tub Be Cold? Explained
3. Place High-growing Plants In Front Hot Tub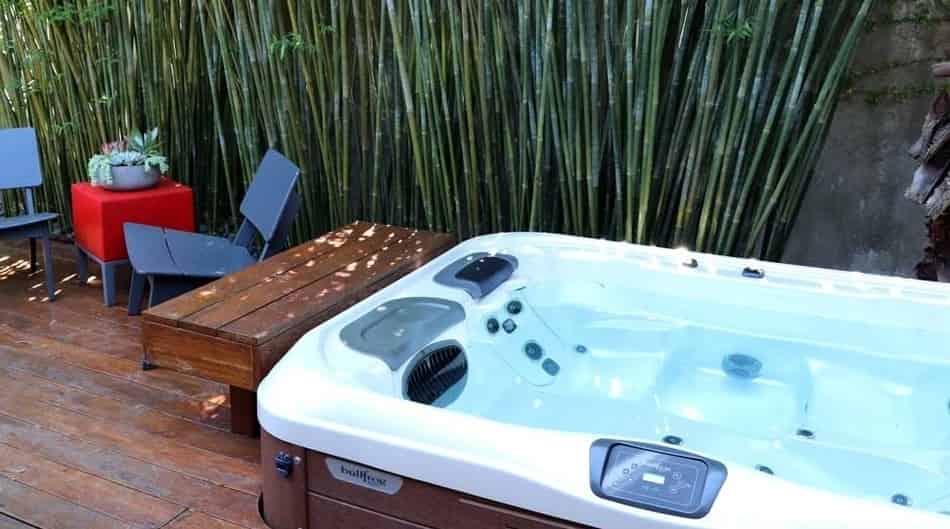 Apart from installing a garden trellis, you can also use tall outdoor plants to get privacy around your hot tub. A top pick for many is bamboo.
Remarkably, bamboo can sprout up in just a few months, and with many species found globally, there's no shortage of variety. Some species of clumping bamboo can even shoot up to a staggering height of 110 feet!
Bamboo thrives best in nourishing, damp, slightly acidic grounds. Another fantastic choice is the horsetail plant. An evergreen perennial that doesn't flower, horsetail has upright stems that somewhat resemble bamboo and is often housed in spacious patio containers. It is recommended to pot this plant, as it spreads quickly when planted directly in the ground.
Typically, horsetail can grow anywhere from 2 to 5 feet in both height and width. Italian Cypress trees are an excellent choice for those wanting another elegant option. These robust evergreen trees, with their tall and slender appearance, can add a distinctive charm and give a beautiful appearance to your garden.
They make for splendid natural barriers and evoke a Mediterranean vibe that complements your relaxation time. Plant them 6 ft from each other for optimal privacy, measuring from one trunk to the next. Notably, Italian Cypress can soar up to 6  ft in height and span ten feet across.
4. Place Garden Trellis Around Hot Tub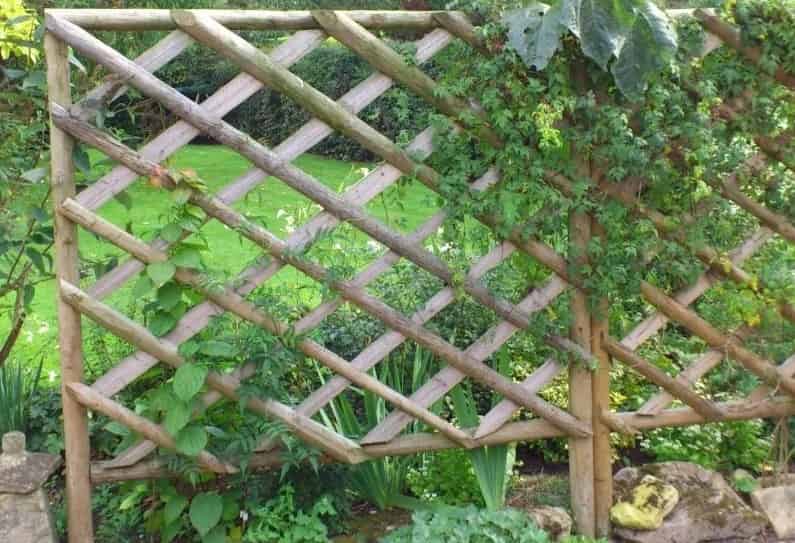 A garden trellis is a great way to gain privacy and, at the same time, give your garden aesthetics. This garden trellis is crafted from top-notch, authentic fir wood. It boasts an integrated planter and the design permits climbing plants to flourish on it.
Moreover, you can hang plants from it, and it's designed with drainage holes at the bottom to let out any extra water. The lattice has a spacious flower bed, offering ample room for various plants and blooms.
Setting up the trellis is easy and has everything you need for assembly. This particular garden trellis stands only 5 inches high. To truly harness its potential for privacy, it's advised to plant vining plants. Options to consider are English ivy, garden roses, or clematis.
Though the backyard trellis might not offer full privacy right off the bat due to its height, it'll be a beautiful, natural screen over time as the plants grow and spread. Plus, it brings a touch of nature right next to your hot tub. Can you imagine anything more beautiful than unwinding in a hot tub while surrounded by the gorgeous blooms you've nurtured?
Related Article: Are Bullfrog Spas Good? Everything You Should Know
5. Sink Your Hot Tub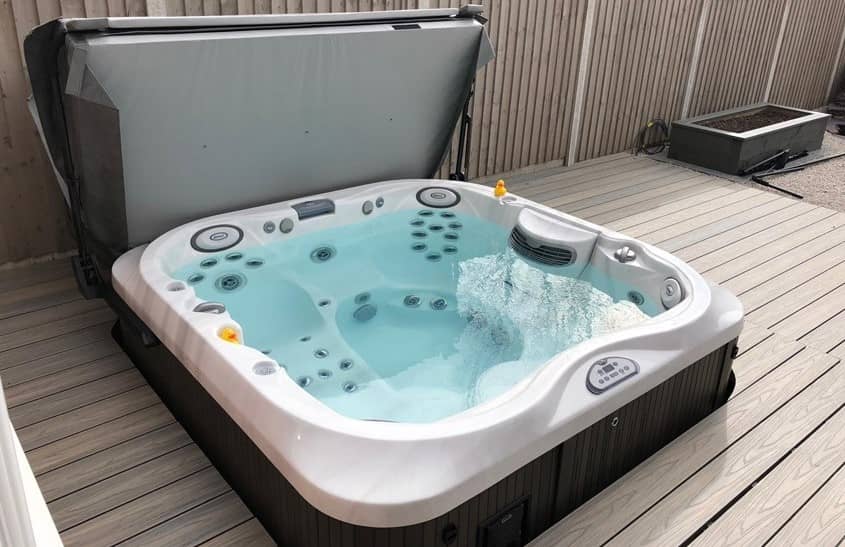 Putting your hot tub lower into the ground or deck can cost a bit more, but it can really help hide it and make it look super cool. Lowering your hot tub a bit might make it harder for your neighbors to see it. If they can still see your hot tub after it's lowered, you can use a cloudy glass wall around it. This will give you privacy but still let light in.
6. Set a Privacy Screen Around Hot Tub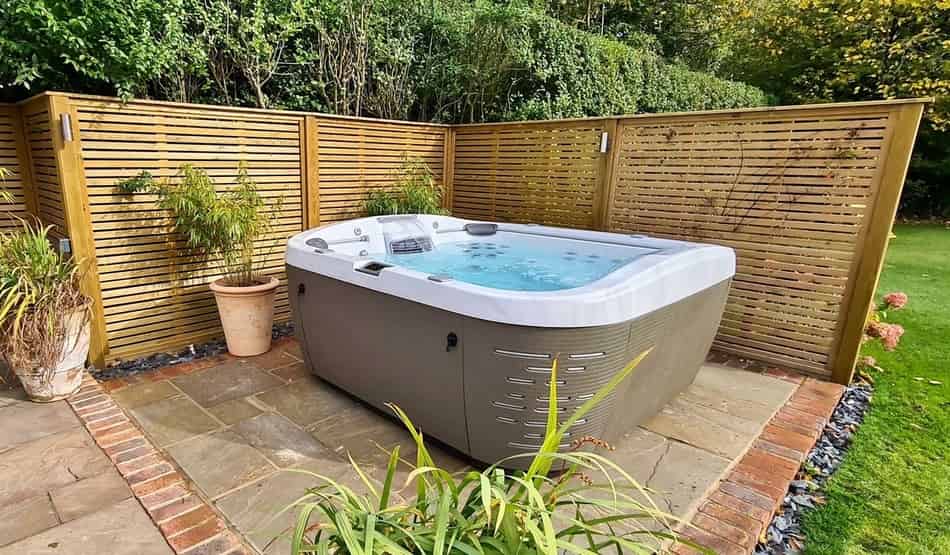 A privacy screen is an effective way to add privacy around your hot tub. Made entirely of sturdy PVC vinyl, it has two sections that join to form a right angle. You can easily anchor this barrier directly into the soil.
For those looking to set it up on a solid surface like concrete, getting galvanized L brackets is recommended. In such cases, there's no need for the ground stakes. Typically, two L brackets per post should suffice. The barrier weighs around 20 pounds and measures 50 x 5 x 50 inches.
7. Build a Pallet Fence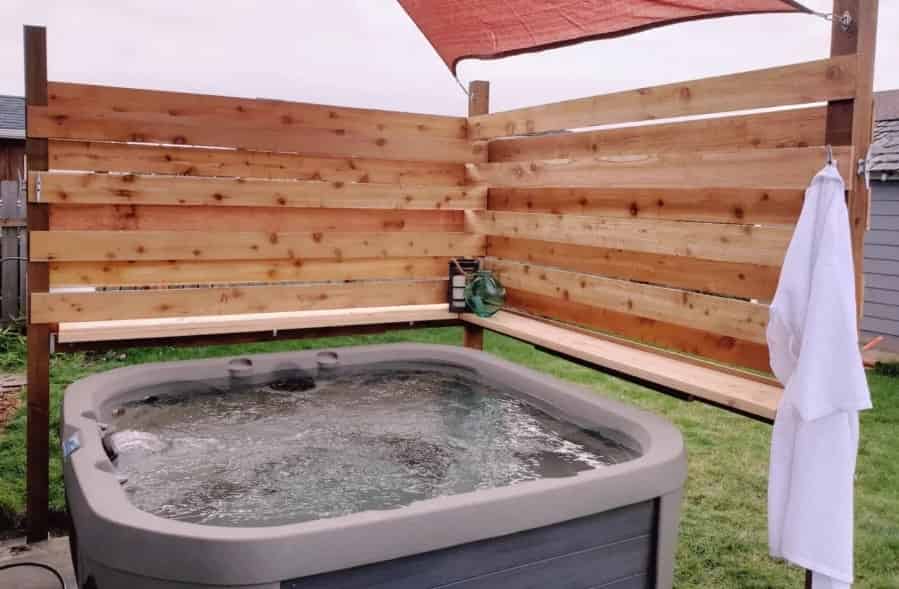 Building a fence is an effective way to get privacy if you are good at DIY jobs. Pallets, often 50″ x 45″ in size, can be a good material to use, though they might not give complete coverage. Before you get started, always ask for permission if you're taking pallets from another location. You can often find free pallets at places like furniture stores, liquor stores, construction sites, schools, and bars.
8. Place the Hot Tub In a Gazebo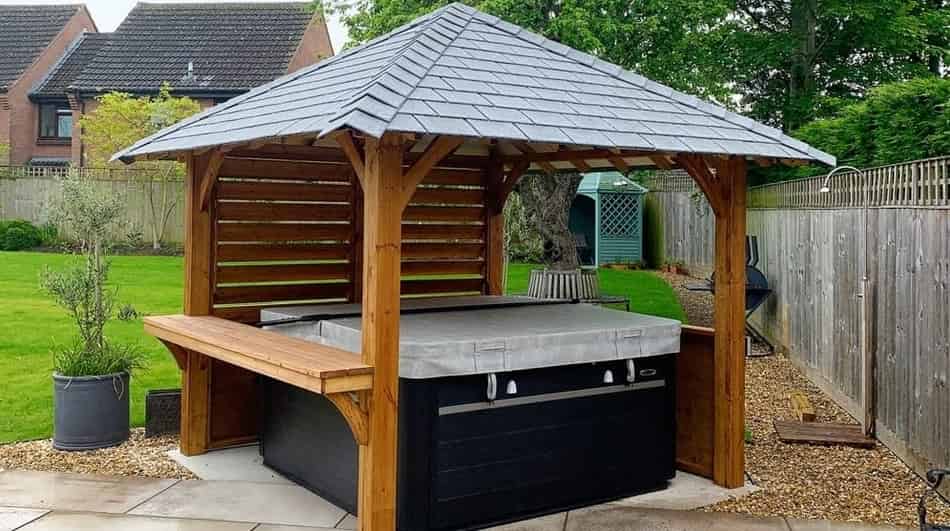 Hot tub gazebos not only offer extra privacy but they also shield you and your hot tub from harmful factors like UV rays, pollen, and strong winds. For the best private experience, consider placing your hot tub within a gazebo. It's expertly crafted to offer shade for all outdoor occasions and can comfortably accommodate up to twelve individuals, making it spacious enough for your hot tub.
Its canopy is constructed from water-resistant polyester. The joints at the corners are reinforced with durable fabric for added strength. Moreover, the pavilion features a two-layer vented canopy, enhancing its stability during breezy conditions.
Some users have mentioned that it can withstand strong winds reaching up to 40 mph. Many have also noted that assembling the pavilion takes less than 15 minutes. A bonus? It includes a mosquito mesh!
9. Shade Sails Above Hot Tub
Shade sails are awesome for giving you privacy when you're using your hot tub in the backyard. They're like big pieces of fabric that you can tie to walls, trees, or poles to make a shaded spot.
They differ from fences because you don't have to dig holes or carry heavy things. Putting them up and taking them down is super easy. Plus, they don't just hide you from neighbors; they also block many of the sun's harmful rays.
With shade sails, you can make a cool spot for you and your friends to hang out in the hot tub, keeping it private and shaded all year long!
If you need more ideas on this topic, be sure to watch this YouTube video:
Related Article: What Is the Right Temperature For a Hot Tub?
Final Thoughts
Lastly, there are a lot of awesome methods to keep your hot tub private. Adding plants to your yard makes it look better and offers natural protection from prying eyes. Trees like the Italian Cypress can act like a living privacy curtain. Garden trellises, filled with climbing plants, are a stylish way to hide while enjoying your soak.
Making a fence using pallets is another cool idea. You can get these pallets for free from places like building sites or local liquor stores. Additionally, ready-to-use options like pop-up enclosures, shade structures, or privacy walls are available for purchase, especially on websites like Amazon. These products come with various features to help you relax without any interruptions.