Are Bullfrog Spas Good? Everything You Should Know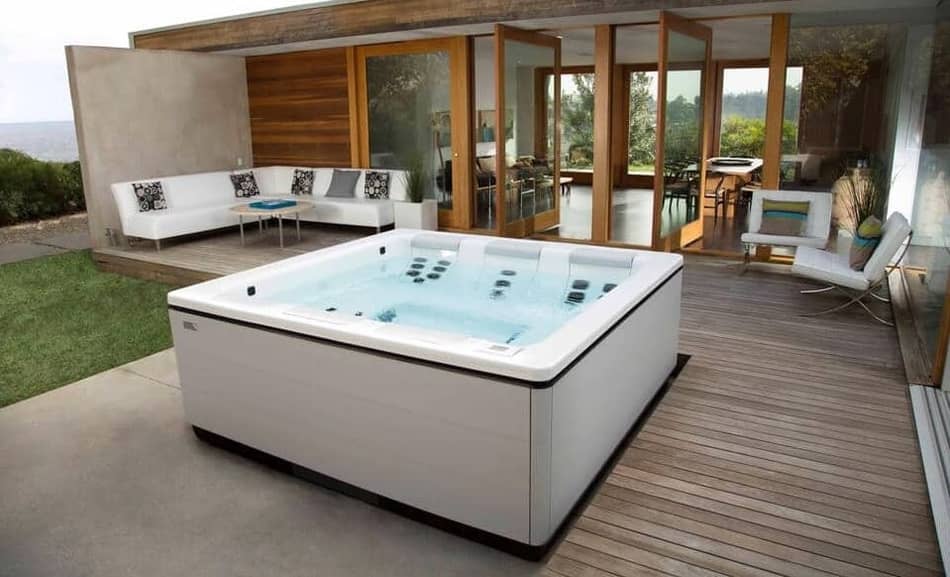 Bullfrog Spas are very popular hot tubs on the market. They offer one of the broadest selections of customizable options we've seen among top hot tub brands, allowing you to design a tub that truly reflects your style. Based in the USA, Bullfrog Spas produces and sells their tubs all over the World.
These spas are known for their effective water systems and durable foundations, ensuring long-lasting use and simpler upkeep. This article we'll cover everything you need to know about this topic. So, let's start!
Are Bullfrog Spas Good? Yes, Bullfrog Spas is known for their quality and durability. Built with innovative ABS frames and bases, they resist rust and decay, ensuring a longer lifespan. Their unique designs and top-tier materials make them a standout choice among premium hot tub brands.
Bullfrog Spas aren't just your average hot tubs; they encapsulate a fusion of innovation, craftsmanship, and luxurious relaxation. When we go deeper into this topic, you'll discover their pioneering JetPak Therapy System, allowing a personalized spa experience tailored to individual preferences. Stay with us as we unravel the benefits behind these sought-after tubs.
Firstly, Should You Buy Bullfrog Spas?
Bullfrog Spas might be a smart choice if you're considering getting good value for your money on a hot tub. Their hot tubs stand out because of each model's distinctive built-in features. For instance, their JetPaks system uses much less tubing than other brands on the market, so you'll likely spend less on maintenance and deal with fewer leak issues.
While they offer hot tubs in the medium to premium price range, they're often recognized as one of the best buys, with many ratings placing them in the Top 5 spa producers. However, some users do point out that they don't have options like UV-C cleaning or saltwater systems.
Related Article: How Many Gallons of Water In a Hot Tub? Explained
Is Bullfrog Spas A Good Investment?
Bullfrog offers a wide selection that can fit almost any budget. For instance, if you plan to set aside about $10,000, there's an impressive lineup of 20 models for you, which is quite a lot compared to others in this price range.
The water system they use stands out for two major reasons:
Advanced Ozone Mechanism (AOM) – annihilates nearly all spa microorganisms
EasyCare Filtration method – cuts chlorine usage by a significant amount, up to 75%
These features can be added to any of their hot tub models, either as a package or based on what you want and how much you're willing to spend.
What Is The Lifespan of Bullfrog Spas?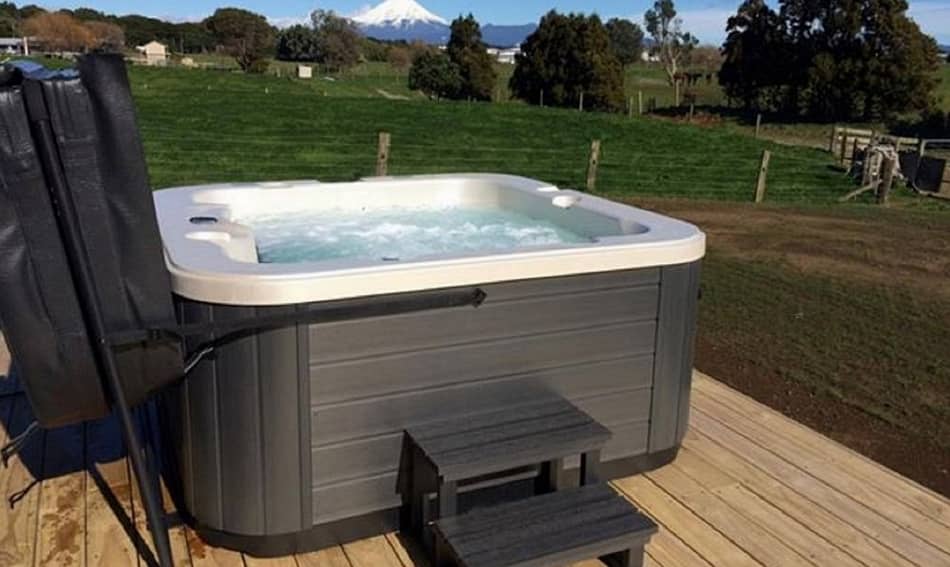 You can expect a Bullfrog Spa to serve you well for around 20 years, given that you consistently care for the water quality and its filters. That said, you might find yourself getting a new cover after every 5 years.
A notable feature of these spas is their use of ABS materials for the frame and base instead of typical metals or wood, ensuring they won't succumb to rust or decay over time. This construction even has a lifelong warranty, while the shell structure is covered for 10 years.
Unique components make up the Bullfrog Spas, like their special JetPak System for Therapy. If these parts ever need replacing, you'd have to go through the official shops, either the manufacturer or authorized sellers. But, on the bright side, replacements aren't frequent occurrences.
A significant aspect of Bullfrog Spas is their reduced plumbing due to the JetPak setup, which means they have much less piping than other brands, almost 90% less!
Key components like JetPaks, heating systems, pumps, and other related gear are backed by a 7-year warranty. The spa cover gets a 3-year warranty. The control features are products of the Balboa Group, known for their great performance. If ever there's an issue with these panels, getting a replacement isn't hard since many dealers offer Balboa parts.
Maintaining clean water ensures that parts like the pumps and the heaters last long. This involves regular filter cleaning, switching them out every year or so based on how often you use the spa, and managing water quality by adding sanitizers like chlorine and monitoring the pH and alkalinity, just like any other hot tub.
Related Article: Are Balboa Hot Tubs Good? Complete Review
List Of Best Models Of Bullfrog Spas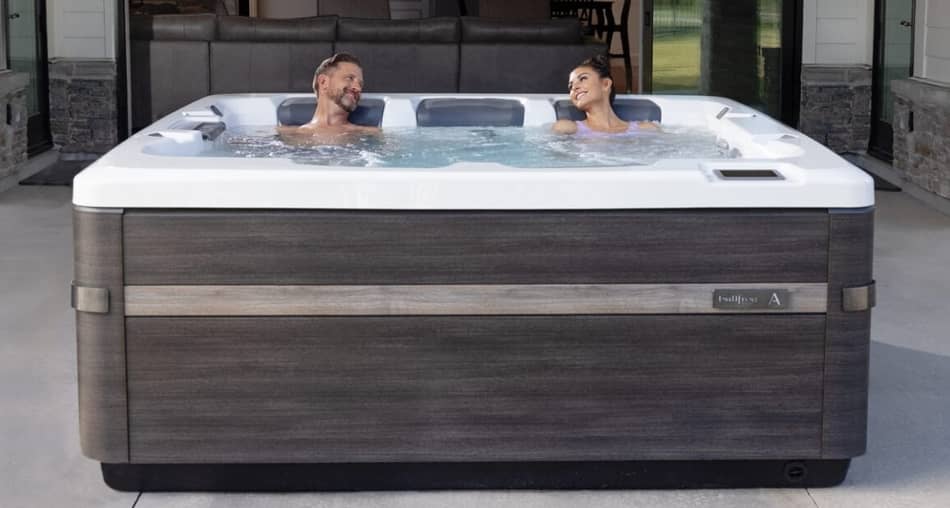 Now that we've finished the introductory part, we'll introduce you to some of the most popular models. Bullfrog Spas are renowned for their fusion of innovation and luxury. Here's a list of the best models from Bullfrog Spas, each promising an unparalleled relaxation experience.
Bullfrog M Series model:
| Bullfrog Model | Cost: | Dimensions: | Jet Packs |
| --- | --- | --- | --- |
| M9 | $20,000 | 7'10" x 9'2" x 38" | 7 |
| M8 | $20,000 | 7'10" x 7'10" x 38" | 6 |
| M7 | $20,000 | 7'7" x 7'7" x 37" | 6 |
Table: Bullfrog M Series Spas Models.
Bullfrog A Series model:
| Bullfrog Model | Cost: | Dimensions: | Jet Packs |
| --- | --- | --- | --- |
| A9L | $11,000 | 7'10" x 9'2" x 38" | 7 |
| A8 | $11,000 | 7'10" x 7'10" x 38" | 6 |
| A7 | $11,000 | 7'4" x 7'4" x 36" | 5 |
| A6 | $11,000 | 7'4" x 6'8" x 34" | 4 |
Table: Bullfrog A Series Spas Models.
Bullfrog R Series model:
| Bullfrog Model | Cost: | Dimensions: | Jet Packs |
| --- | --- | --- | --- |
| R8 | $8,500 | 7'10" x 7'10"  x 38" | 4 |
| R7 | $8,500 | 7'4" x 7'4"  x 36" | 4 |
| R6 | $8,500 | 7'4" x 6'8"  x 34" | 3 |
Table: Bullfrog R Series Spas Models.
Related Article: 10 Worst Hot Tub Brands to Avoid In 2023
Where Can You Buy Bullfrog Spas?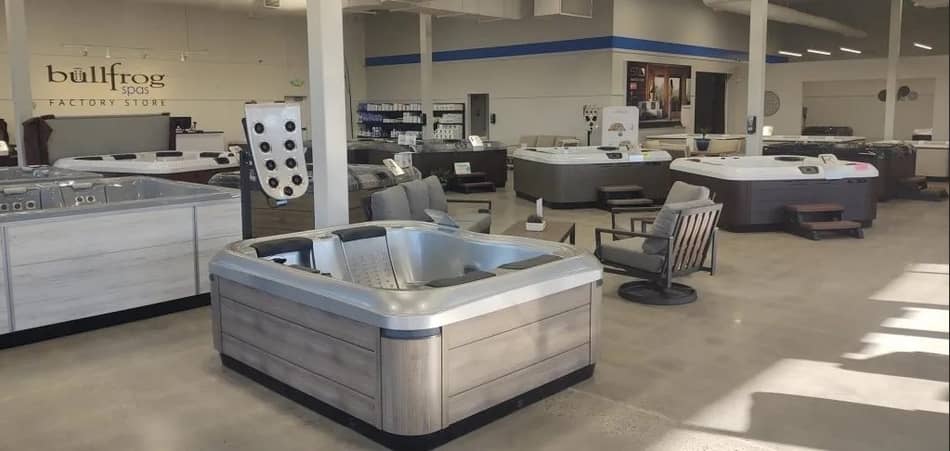 At one point, Bullfrog Spas were available only at Costco. However, you won't always see Bullfrog Spas only at Costco. They are only featured during certain special roadshow events at selected Costco locations throughout the US. So, trying to find Bullfrog Spas via Costco's online search might disappoint you.
Similarly, if you were to look into your nearby Costco hoping to see a Bullfrog hot tub, chances are you won't. The way to buy them from Costco, at this moment, is by attending these unique roadshow events. You can find out when and where these events will be by visiting the Costco official website.
But rest easy, if you're searching to buy a Bullfrog Spa, numerous dealers distribute them across the U.S. Not just that, there are outlets in India, Canada, Australia, and New Zealand. And for people who live in the rest of Europe, Bullfrog Spas collaborates with Villeroy and Boch, making them globally available. To locate the closest dealer to you, pop over to the Bullfrog Spas website.
If you're wondering why someone might have chosen to buy from Costco in the past, one of the benefits was their flexible return policy: they allowed you to return the hot tub in the period of 1 year for a complete refund. But a potential downside? The after-sales service that dedicated dealers provide might not have been on par at Costco.
How Many Years Have Bullfrog Spas Been Around?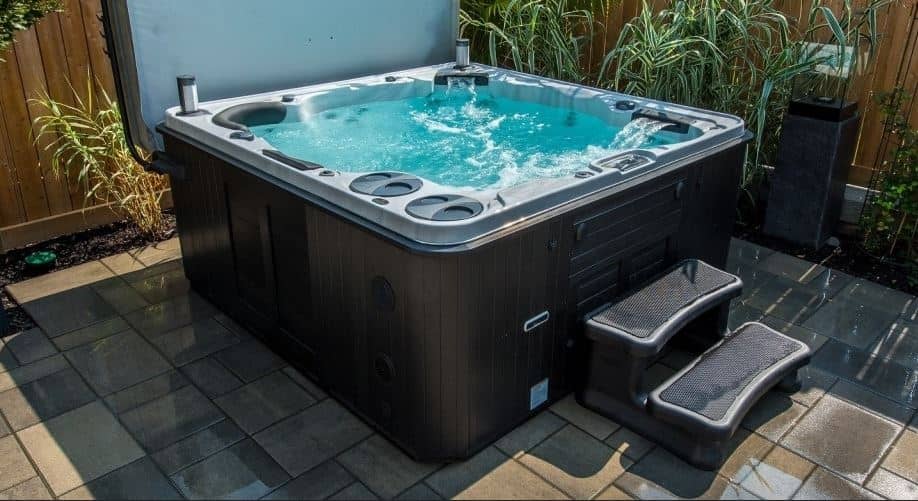 Bullfrog International first opened its doors in Salt Lake City back in 1998. However, the seed for the company was planted much earlier when David Ludlow envisioned a hot tub that wouldn't leak. So, adding it all up, Bullfrog Spas has been serving its customers for over 31 years! One standout feature that has kept Bullfrog going strong is their signature JetPak Therapy System, boasting a whopping 20 massage therapy choices.
These therapies can be tailored to focus on various body areas, from the gentle embrace of the 42-jet pack to the more intense NeckMasseuse pack, equipped with nine potent jets. This flexibility in choice extends to almost all their models except the X Series.
The beauty of JetPaks is that they can be swapped, providing 16 different experiences for each seating position. This design also reduces the need for extensive plumbing, leading to greater energy savings.
And Bullfrog doesn't stop at customization. With their SpaVault kit, they give you the freedom to set up their movable hot tubs either in-ground or as a part of an elevated deck. While some might casually call Bullfrog Spas 'Jacuzzis', it's essential to know they are distinct brands altogether.
If you want to know more about these hot tubs, be sure to watch this YouTube video:
Related Article: What Is the Right Temperature For a Hot Tub?
FAQ: People Also Ask
How long do Bullfrog Spas last?
You can drastically increase the expected lifespan if you invest in a higher-quality hot tub from leading brands, such as Jacuzzi Hot Tubs or Bullfrog® Spas. These kinds of hot tubs generally last anywhere from 10-15 years and can easily be stretched to 20 years if you take good care of them.
Where are Bullfrog tubs made?
Bullfrog Spas are made in Utah, utilizing top-tier materials and components. Their unique design, which incorporates ABS frames and bases rather than traditional wood or metal, ensures that your tub won't face issues like rust or decay as years go by.
Final Thoughts
Bullfrog Spas, hailing from Utah, are built with top-tier materials, ensuring longevity and resistance against rust and decay, thanks to their ABS frames and bases. Opting for such premium brands guarantees quality and offers an impressive lifespan of up to 20 years with proper care.
Their unique design stands out, providing both durability and efficiency. Bullfrog Spas is a great choice for those looking for a blend of longevity, quality, and innovation. I hope that this article has helped you, and for any other questions, feel free to comment below.