How to Connect Multiple Bluetooth Speakers to One Device?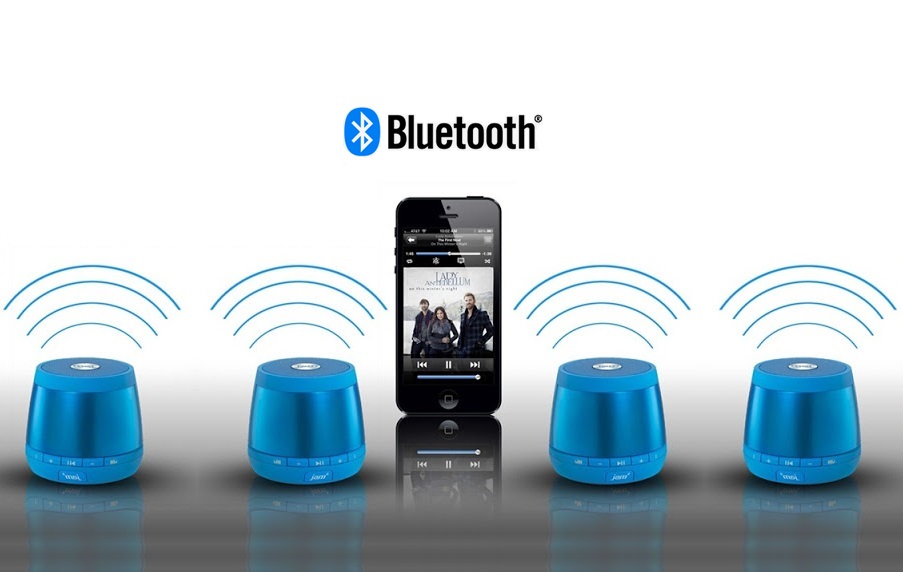 Until recently, it was not possible to connect your smartphone via Bluetooth to several devices simultaneously. Today, thanks to some applications, this has become feasible. Such an improvement is very practical, especially when you are in a group and you need to play music with good sound quality. Obviously, a single smartphone and a speaker can't qualitatively broadcast sound for a group of people! 
With the proliferation of smart speakers, such as the Amazon Echo and Google Home, we have more Bluetooth devices in our homes than ever before. Let's deep into how you can connect two or more speakers via Bluetooth to a single device.
How to Connect Multiple Bluetooth Speakers to One Device?
So How To Connect Multiple Bluetooth Speakers to One Device? To connect multiple Bluetooth speakers to one device, use an app such as Bose Connect, AmpMe, or Ultimate Ears as well as Bluetooth 5.0 which is capable to send audio to multiple devices at once. Other solutions are  Samsung's Dual Audio, Apple's HomePod Stereo Pair, and JBL's Connect.
7 Ways You Can Connect Multiple Bluetooth Speakers at Once:
| Methods: | Connections: | Power: | Available: |
| --- | --- | --- | --- |
| 1. AmpMe (App) | Unlimited | N/A | N/A |
| 2. Bose Connect | 2 Speakers | Up to 12 hours | Check Price |
| 3. Ultimate Ears | 50 Speakers | Up to 16 hours | Check Price |
| 4. Samsung's Dual Audio | 2 Speakers | N/A | N/A |
| 5. Apple's HomePod Stereo Pair | 2 Speakers | N/A | Check Price |
| 6. Bluetooth 5.0 | Unlimited | N/A | Check Price |
| 7. Amazon Echo & Google Home | Unlimited | Up to 10 hours | Check Price |
| 8. JBL Connect | 100 Speakers | Up to 12 hours | Check Price |
Ways To Connect Multiple Bluetooth Speakers
Thanks to various applications and Bluetooth technology, you can now connect your smartphone to several Bluetooth speakers to broadcast the same synchronized music. So now you don't have to worry anymore when you want to improvise a party at your house and you don't have wired speakers. In this article, we will explain in detail, how to connect several Bluetooth speakers to a single device and what speakers have the ability to do that. So let's start!
1. AmpMe (App)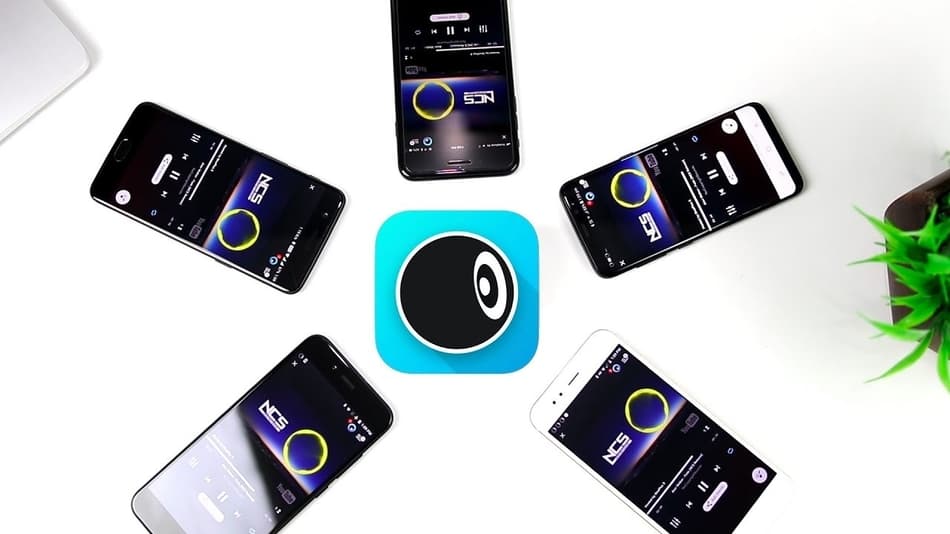 The AmpMe application allows you to synchronize smartphones and Bluetooth speakers to broadcast the same audio file. You can choose music from platforms like SoundCloud, Spotify, YouTube, or import it directly from your own media library.
What is more interesting to know is that with AmpMe, you can thus connect your peripheral to an unlimited number of receiving devices, which will broadcast exactly and in synchronized time, the same music that you would have sent them.
To use AmpMe, you just need to obtain tuning of the devices you want to use as speakers. In this scheme, you become the host or DJ and they become the receivers. After downloading the app, you need to link it to your Facebook or Google account, then you will see if any of your contacts are on AmpMe, or you can turn on location services and find someone near you.
To start a party :
Click the Plus (+) symbol at the bottom right.
You need to select the service (YouTube, Spotify, etc.), then tap Connect.
Log in to your account and choose or create a playlist.
Create your playlist and stream your music.
Note: You can invite people to your party who can join remotely, or you can invite them to come. You can allow people other than yourself to add sounds to the playlist via the app.
To do this, activate the "invite" function as a DJ. On the other hand, if you want to keep the monopoly on sound, you can however receive music suggestions from other users via the application's "chat" function. Note also that the application allows other users to join remotely.
2. Bose Connect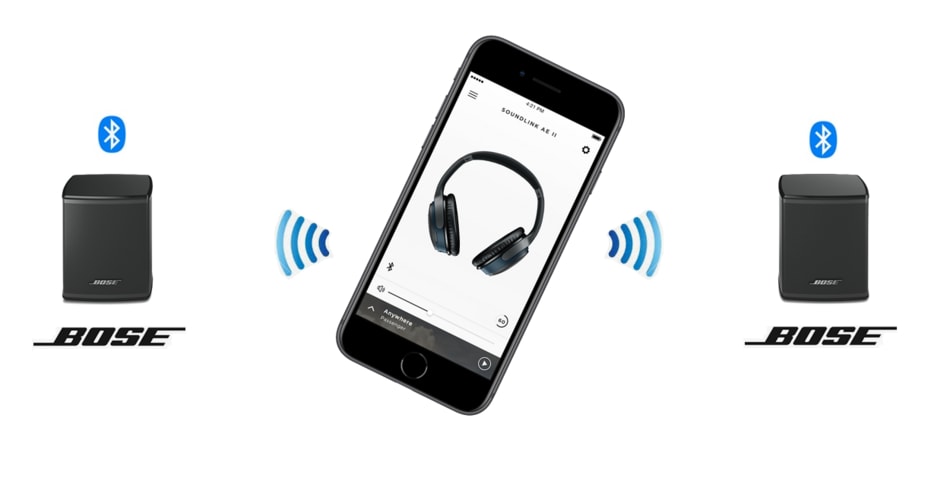 The Bose Connect only works with speakers of their brand. Therefore, this app allows you to stream synchronized music to more than one Bose brand speaker/earphone. To locate compatible devices nearby, you can connect to the Google Play or App Store pages and download Bose Connect app. 
There are 2 modes of operation. You can pair your Bose speakers together to use the following modes using their app (recommended) or the speaker buttons:
Party mode (left and right speaker together)
Stereo mode (left and right speaker separated)
2.1. Using Party Mode
To start using a party mode, make sure both speakers are turned on. Check that one of the speakers is connected to your mobile device via Bluetooth®. On the speaker that is connected to your device, press and hold the Bluetooth and Volume + keys simultaneously. 
Release these keys as soon as you hear the message "Press the Bluetooth and volume down buttons simultaneously on a second Bose device".
On the second speaker, simultaneously press and hold the Bluetooth and Volume – key. Release them when the speaker beeps. After 10 seconds you will hear "Party mode" on both speakers simultaneously. Party mode is now activated. You can now listen to music on your two speakers using your mobile device.
For the best experience, place your speakers:
In the same room or outdoors
Make sure that there is no interference between them
Note: Performance is dependent on mobile devices, distance, and environment.
2.2. Using Stereo Mode
To start with stereo mode use one of the speakers, press and hold the Bluetooth and Volume + key simultaneously. Just release the buttons when you hear the sound "Stereo mode". You will hear a "Left" indication on the left speaker and a "Right" indication on the right speaker.
Stereo mode is now activated. You can now listen to music in stereo using your mobile device. See the steps above To switch from party mode to stereo mode, simultaneously press the Bluetooth  and Volume  + keys.
To turn off party or stereo mode, do one of the following on one of the speakers:
Just press the Bluetooth button and wait for "Bose speakers unlinked"
Simultaneously   press and hold the Multifunction button and Volume  + until you hear "Bose speakers unlinked"
Press Power to turn off the speaker
3. Ultimate Ears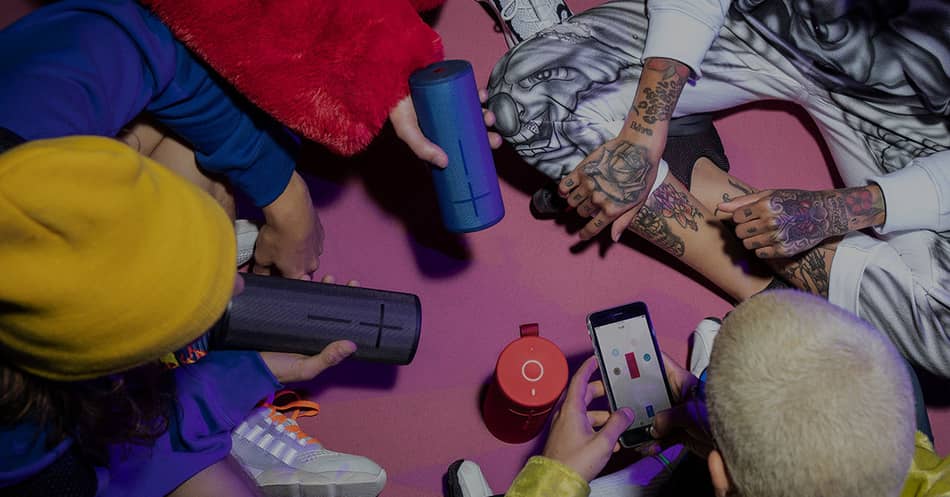 The Ultimate Ears is the company that created portable speakers with the use of an app that can stream audio to multiple speakers using Bluetooth technology. Their most famous models are Boom, Boom2, MegaBoom, WonderBoom, and HyperBoom. These speakers have a feature called PartyUp which allows users to connect more than 50 Boom, Boom 2, or MegaBoom speakers together to your smartphone.
Connect Your Ultimate Ears Boom via Bluetooth:
Make sure that your loudspeaker has a charged battery.
Press the Bluetooth button on the UE Boom until you hear an acoustic signal. 
Go to the Bluetooth settings of your smartphone or tablet and select the UE Boom speaker.
Now wait a moment and the speaker is connected to your mobile device.
Connect the Ultimate Ears Boom to a Second speaker:
There are two ways you can connect your Ultimate Ears speaker to a second UE brand speaker.
Connect one of the two boxes to a playback device as already described.
Now press the Bluetooth button and at the same time on the "Volume Up" button.
Now press the Bluetooth button twice in a row on the box that you also want to connect. 
The speakers should be connected to each other within 10 seconds.
Alternatively, you can download the UE Boom app and pair the speakers using the app. The exact procedure is described within the app. 
4. Samsung's Dual Audio
Samsung smartphones also have a function that can synchronize two Bluetooth devices (speakers). This is the Dual Audio function. It's more restrictive than other apps in terms of the number of paired devices, but better than Bose and Ultimate Ears because it can connect to any Bluetooth device. 
If you have a Samsung Galaxy S8, S+, or newer, you can take advantage of the Samsung's Bluetooth Dual Audio, which works with most Bluetooth speakers and headphones (Bluetooth 5 is not required).
To activate Samsung Dual Audio, follow these steps:
Click on Settings  > Connections > Bluetooth.
Tap on the Advanced in the upper right corner.
Select Dual Audio and flip the toggle to on.
To use Dual Audio, connect your phone with two speakers, two headphones, or one of them, and the sound will be transmitted to both.
If you try to add a third, the first paired device will be disconnected.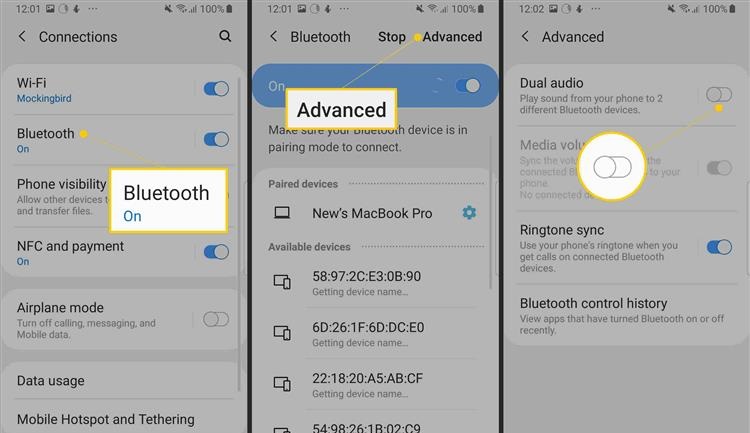 If you pair your Samsung with two sets of headphones, only the first connected device can control playback using the media controls on the headphones. This feature is best if you have speakers that are located in different rooms.
Note: As soon as you try to add a third device, the first one disconnects. Also, when you pair your Samsung with two devices that have controls, only the first connection can manage playback through them. 
5. Apple's HomePod Stereo Pair
Apple is using a similar feature to Samsung's Dual Audio that is called HomePod Stereo Pair where users can pair their iPhone, iPad, iPod, or Mac to HomePod speakers. If you try to use a HomePod in the same room with another person, you'll have the option to use the speakers as a stereo pair. Therefore, thanks to the stereo Pair function, you can also stream music to more than one speaker.
Note: You will require an iPhone, iPad, or iPod touch with iOS 11.4 or later, or an updated Mac with macOS Mojave. Two HomePod speakers also need to run on iOS 11.4 or later.
Activate HomePod on your iPhone & Mac:
Via the Home app, verify that both HomePods are in the same room
Click on the Home app, then double-click HomePod, then tap Settings
Click on Create Stereo Pair
Select the second HomePod you want to Add to the pair. Double-click it!
Press Return, then Drone.
With HomePod Stereo Pair, you can connect multiple Bluetooth speakers to the iPhone easily.
Note: The Home app lets you add and manage every Apple TV, HomePod, and AirPlay 2 compatible speaker you have at home.
6. Bluetooth 5.0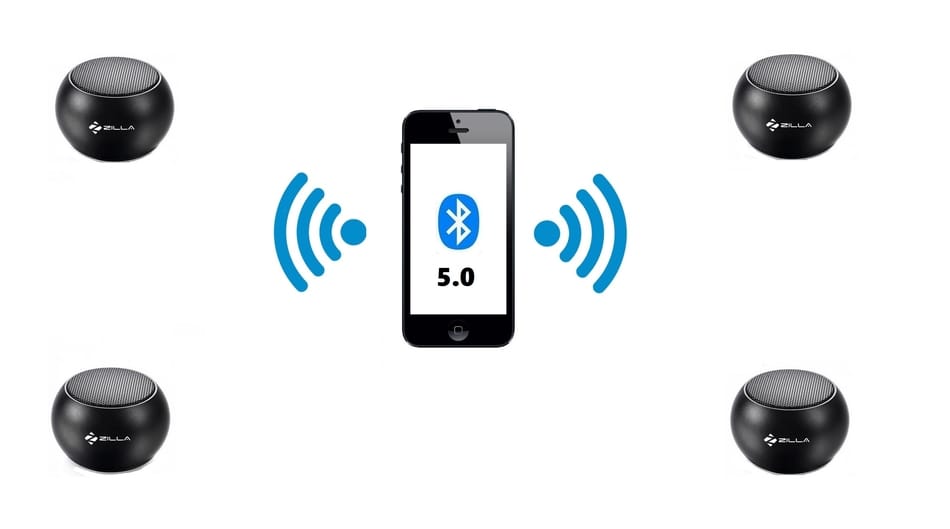 Bluetooth 5.0 speakers come with improve speed and rage and are twice as fast as Bluetooth 4.2 technology. More and more audio companies try to keep up with market development and are working on the development of speakers that will support Bluetooth 5.0.
The company that is leading in this, for now, is Apple. They have released the HomePod mini speakers that support Bluetooth 5.0 technology in their speakers. Others will also follow this trend.
Over time, such technology has evolved into revisions that have improved connection quality, range, or power consumption. The first Bluetooth 5.0 compatible devices for smartphones were the Samsung Galaxy S8 and S8 Plus, the iPhone 8, 8 Plus, iPhone X, iPhone 12, and the LG V30. The Galaxy S9, S9 +, S10, S10+ followed, so you can expect that future models of smartphones will have then to.
Although this technology is still new, and there are not many devices that have it, you can buy a Bluetooth 5.0 transmitter and connect it to your phone or speakers.
7. Amazon Echo & Google Home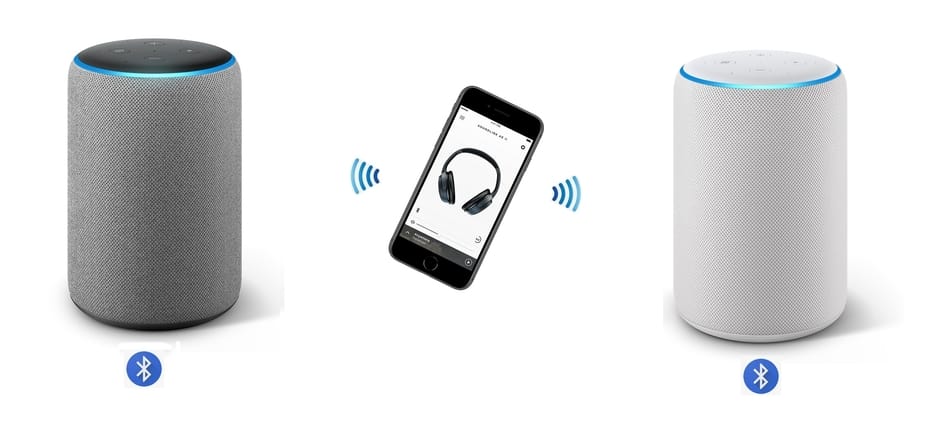 We couldn't make a list without including Amazon Echo & Google Home. Smart speakers, which include Amazon Echo and Google Home, can connect to multiple Bluetooth speakers as well. Although these are two different companies, they use the same technology, so we have listed them under one point.
7.1. Amazon Echo
Amazon Echo can connect to one Bluetooth speaker at a time; Amazon has a list of certified Bluetooth speakers to work with the Echo. To do this with an Echo with a display, like the Echo Show or Echo Dot :
Say " go to settings," or swipe down from the top of the Eco screen.
Select Settings > Bluetooth .
The list of available devices will show up.
Select the speaker and follow the onscreen instructions.
Alexa will tell you if the connection was successful.
You can use the Alexa app, if your Amazon Echo doesn't have a screen.
From the menu, tap Alexa Devices, and then choose your Echo device.
Click on Bluetooth Devices > Pair a new device.
A list of available devices will appear in the app; tap the one you want and it's ready.
Alternatively, you can say " Get Connected " to pair your Echo with the device you most recently connected to.
7.2 Google Home Page
Google Home devices can connect to other home speakers and third-party Bluetooth speakers. You can only link one Bluetooth speaker at a time, but if you have multiple Google Home devices you can get multi-room audio. To connect a Bluetooth speaker to your Google home page:
Open the Google Home app and tap the Devices icon in the upper right corner.
Select the home speaker you want to connect to.
Press Settings > Default music speaker , and select the Bluetooth speaker.
This feature is available on Google Home, Home Mini, and Home Max smart speakers.
8. JBL Connect
JBL is a well-known company for the production of wireless speaker systems. Its speakers can be used with your phone by simply charging the built-in battery and connecting them via Bluetooth. The whole process takes a few minutes and does not require a lot of technical knowledge. Moreover, if there is an NFC chip in the smartphone and the speaker, they can be connected with one touch.
With JBL, you can connect up to 100 speakers using Bluetooth wirelessly. To connect via Bluetooth, you need to follow a series of steps. 
Step-by-Step How to Connect JBL Speakers via Bluetooth:
Place the devices to be paired side by side. 
Turn on the column, wait for the signal on the display or the corresponding light indication. 
Turn on the wireless module on the speaker. To do this, JBL technology provides a button control panel on which you need to hold down and hold the desired key. The flashing light indicates that Bluetooth is on. The column is available for recognition by other devices. 
In the smartphone, you need to open the settings section. In it, find a tab with a wireless connection. Activate the Bluetooth module. If it was previously enabled in the column, when you start the search, the new device will appear in the list of available for pairing.
Select a column from the list of available options. Activate pairing and wait for it to be established. This can take up to 5 minutes. As soon as the speaker appears as a connected device in the phone menu, you can turn on music. 
JBL's speakers are easy to connect to iPhone wirelessly. If pairing is not established, it is recommended to check the health of the devices, and if necessary, reset the wireless acoustics to factory settings. 
Conclusion
In general, Bluetooth speakers are becoming more and more popular today. The reason for this is that Bluetooth speakers on the market today that have very good audio performance. Thanks to these various applications, it is now possible to easily Connect multiple Bluetooth speakers to a single source.
If your only goal is to have fun or relax while enjoying good music, Bluetooth devices are perfect for you. It is only people with exceptionally well-developed hearing or sound professionals who can notice the differences between the sound qualities delivered by Bluetooth speakers.
On the other hand, it should be mentioned that Bluetooth technology makes the phone spend more energy. So, remember to keep your charger or a power bank and be sure to recharge your internet package. The sharing applications use the internet connection and it is, therefore, preferable if you want to save data, to use the WiFi.
Related Questions Q&A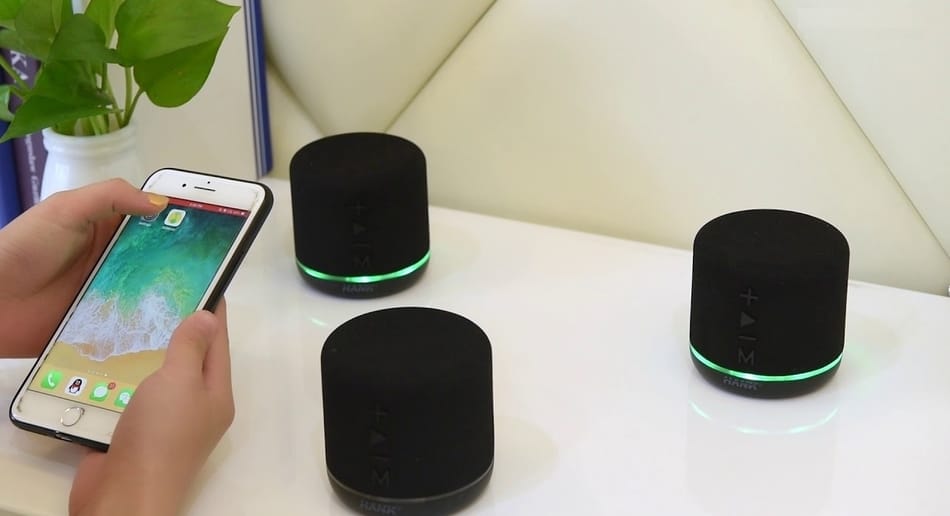 Benefits Of Connecting Multiple Speakers via Bluetooth
Why have multiple speakers? Quite simply, because it allows you to have a more enveloping sound and better diffused everywhere in the house and outside. It also makes it possible to have the same song everywhere without having to change the location of the speaker. No need to have a stereo system anymore when you can sync your speakers together.
What If I Have a Weak Bluetooth Signal?
If it happens that you have signal dropouts and a weak Bluetooth signal, you need to scan the environment where you're at. Sometimes, the quality of the Bluetooth signal can be affected by concrete walls, wireless devices, microwaves, or some other portable devices such as radios and telephones.
How Does a Bluetooth Transmitter and Receiver Work?
For a Bluetooth device to connect it needs a transmitter to make pairing possible. The transmitter is producing audio frequencies that are detected by the receiver. Together the receiver and transmitter create a pathway by which data is transferred. They work by decoding different types of information such as songs into a transferable format which is then transmitted at a certain frequency.
What if Your Device Doesn't Have Bluetooth?
Not all smartphones or devices have Bluetooth, so to convert your device into a Bluetooth receiver, you need to purchase a portable Bluetooth receiver and connect it to your device. With that, you can easily add Bluetooth to your phone. People use this often to connect to speakers and listen to music.
Can You Connect Multiple Bluetooth Speakers to TV?
You can connect multiple Bluetooth speakers to a TV by going to your device settings and find the connections tab. Then click and hold the Bluetooth menu and select Advanced. Now you need to flip the dual audio switch to on. Samsung's Dual Audio can only use two speakers at a time as Bose Connect.