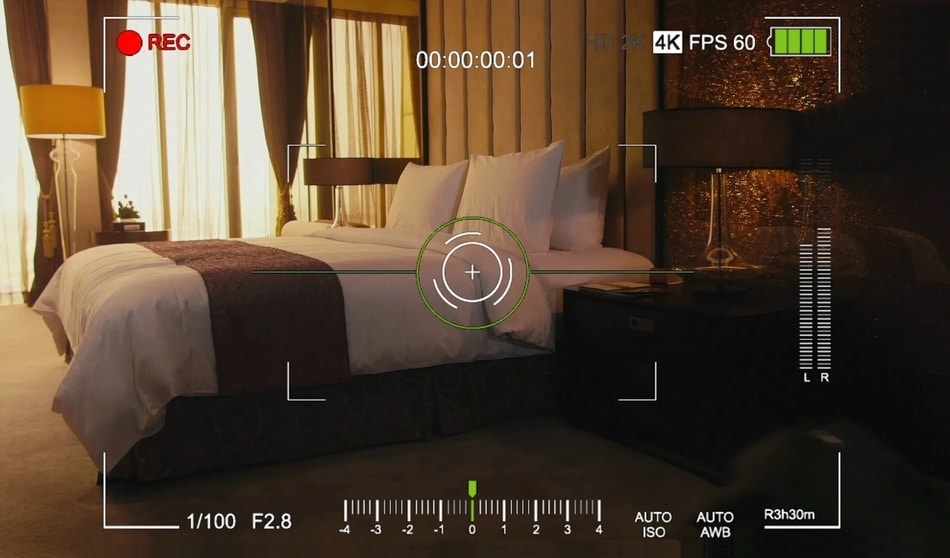 Many people today want to know what is happening in their homes when they are not there. Some people want to know this for security reasons; others just want to feel like spies and monitor their bedroom. So the first thing that comes to mind is where to hide the camera and how to properly set it up in the bedroom? I did my best to explore the answer to this question. Let's find out!
How to Hide a Camera in Your Bedroom?
So How to Hide a Camera in Your Bedroom? To properly hide a camera in the bedroom you need the right camera and an appropriate place with a good view. The camera must not be noticeable and it needs to fit into the environment in which it is located. Night vision feature would be desirable to have so that camera can record even in a dark environment.
While this sounds simple, in most cases it is not. Therefore we wrote this article to make sure you will do this the right way. Below we described how to choose the right camera, how to set up and install the spy camera, and what are the best places where you can hide the camera in the bedroom.
Best 5 Spy Cameras For Bedroom:
| Model: | Camera: | Battery Life: | Available: |
| --- | --- | --- | --- |
| 1. Fredi Mini Hidden Camera | 1920 x 1080 px | 3-4 Hours | Check Price |
| 2. Supoggy Mini | 1920 x 1080 px | 1 hour | Check Price |
| 3. Facamword Photo Frame | 1920 x 1080 px | 7 hours | Check Price |
| 4. AMCSXH Clock | 1920 x 1080 px | 6 hours | Check Price |
| 5. Blink XT2 Camera | 1920 x 1080 px | 4 hours | Check Price |
Our Pick of Best Spy Cameras For Placing It In Bedroom
The most important thing is to place a  spy camera in a place where no one will notice it. It sounds easier than it actually is. If you are doing this for the first time, it may be difficult to choose the right spot where you want to set up the camera. In this article, we will give you tips for the best places, and a complete guide on how to set up a hidden camera in the bedroom.
" Install the spy camera where it matches its color. For example, black video cameras are perfect for dark walls, and white ones for light ones. Do not mount devices where the camera has a bad view. In other words, you run the risk of not being able to see everything that happens, but is there any point in watching only a part of the protected area?
Why Would You Want to Hide a Camera in Bedroom?
Today, it is not uncommon to have a hidden camera in the house, and the bedroom is no exception. As technology evolves, the demand for such things is common. These are some of the most common reasons why people opt to put hidden cameras in the bedroom.
Part of home surveillance
To see if their partner is cheating on them
Kids surveillance
To keep an eye on the nanny
You may also want to know, how long these spy cameras can record? If yes, check How Long Can Hidden Cameras Record article.
How to Install And Connect The Camera In Bedroom?
The installation process can sometimes be a problem, especially when it comes to a bedroom. To properly setup and install a hidden camera in the bedroom you need to do the following steps:
Choose the right spy camera
Find the appropriate place to hide it
Make sure that the camera is set up to have a good view (angle) of the room
Install the camera and make sure you have a good connection with your PC or mobile
Test it
TIPS: If possible, try to plug the spy camera into an electrical source so that you have an uninterruptible power supply that is independent of the battery. Also, one thing that you need to look for is to have a hard disk that is installed somewhere in a closed space so you can record for a long time. Pick a spy camera that has a good ability to record even in a dark environment.
Best Places To Hide a Camera In Bedroom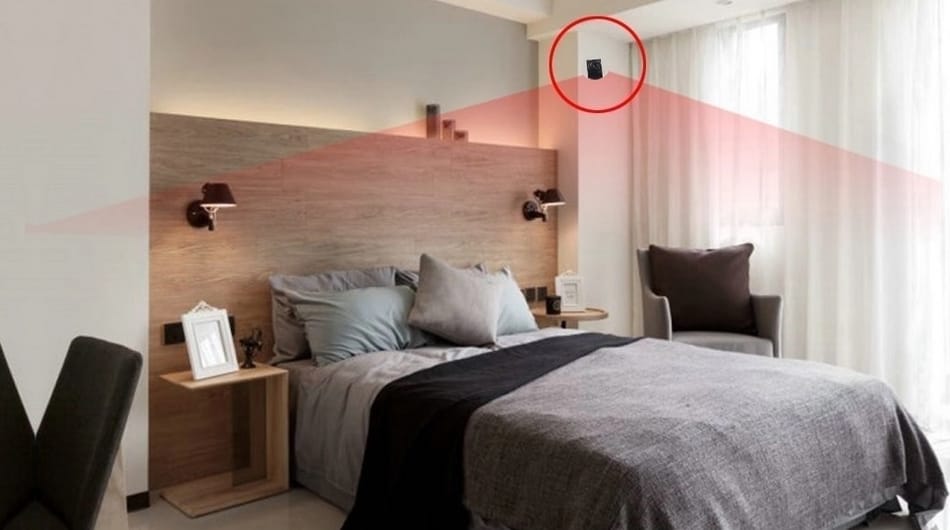 If you want to monitor your partner, keep an eye on your kids, or something else, a hidden camera is the only solution. Here we will list the best places where you can hide a hidden camera in order to successfully monitor all the actions that take place in your bedroom:
1. Television
Many people today have a television in their bedroom, so why not take advantage of TV and use it as a place to put in a camera? You can easily install the camera near or on the TV. By installing a tiny camera on top of a TV can be a great place to hide it. Of course, you will need to ensure that camera is well hidden and that it cannot be easily noticed.
2. Computer (PC)
Today, people tend to have computers in their bedrooms. Webcams come together with a PC today, so you take advantage and put a spy camera instead of a normal webcam. Another way is to replace your regular stereo speakers with new ones that have already a built-in spy camera. No one will suspect that speakers have a camera, and will not pay attention to them.
3. Bookshelf 
This is another great place to put a spy camera if you have a bookshelf in your bedroom. You can easily place a spy camera inside some book and position it so you have a good view of the bedroom. Today, people very rarely read books and are interested in them, so you can be sure that no one will pay attention to the bookshelf.
4. Toys
Why not use a teddy bear to set up a hidden camera? This method is very common, and you can easily place the spy camera in the teddy bear eye. If it is a children's bedroom, this will not be a problem because you will find a lot of toys in which you can place at least one camera.
5. Mirror 
There are special two-way mirrors where you can place the camera behind the mirror without being noticed. If you are more interested in how to choose the right two-way mirror and how to install a camera, I wrote a special article about it: How to Hide a Camera Behind the Mirror. This is a slightly more complicated process of setting up the camera than the others but it is definitely worth considering.
6. Light bulbs
You can simply remove one of the bulbs from the chandelier, insert the special light bulb with a spy camera there and screw it back in. This is a very easy setup, where you just need to buy a camera and screw it in. You just have to pay attention to whether that bulb fits in the bedroom and will someone notice it.
7. Curtain-Rod
Also, a great place to consider to put a hidden camera is curtain-rod. If you use a small spy camera, you can easily place it in the curtain-rod and have a great view of the bedroom. Hardly anyone will notice the camera at that height, especially the small spy cameras.
How to Choose a Camera For The Bedroom?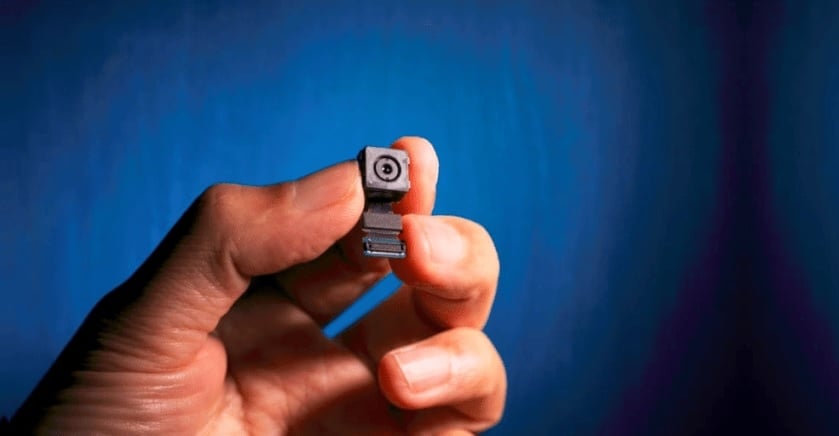 In order for the spy camera in the bedroom to be really hidden, for this you need to choose the most suitable camera, otherwise, you can simply be exposed by discovering the device you have hidden. For choosing a hidden camera you need to be approached quite responsibly. So, what are the main parameters that you should pay attention to when choosing a spy camera.
Matrix sensitivity
Autonomy per day
The speed of work and video recording
Viewing angle and agility
Dimensions
However, each bedroom is different, so you need to choose the best camera based on your individual needs. Although a lot of parameters depend on the choice of camera, these three are the most important ones you need to consider:
Viewing Angle: If the bedroom you want to monitor is not large, you can use a fixed camera. If the bedroom is medium size, then the camera with 90 degrees angle will be enough. However, if you have a larger bedroom, then look for spy cameras that can cover 180 or even 360-degree lenses.
Resolution: The quality of shooting is the first thing that buyers pay attention to, because if the camera records a bad quality video, then there is no point in buying it. Therefore, try to find a spy camera that can record video with good quality.
Sensitivity: For the bedroom, the spy camera needs to be able to shoot with ease in the dark environment. That room is made for sleeping, and most of the time that room will be in dark, so this is a very important feature.
Be sure to check also this article, How Do Hidden Spy Cameras Work.
What The Law Says About Hidden Video Surveillance
Generally, you can legally record someone with a hidden camera in your home without the person you are filming knowing. Although this is legal in the United States, in most states it is illegal to record someone even in your home. But as each case is individual, the person you are filming if they find out that you have used those recordings in public without their approval can sue you.
Worst Places to Install a Hidden Camera
Do not install the camera in those "hidden" places, where members, guests, or staff, whom you decide to closely monitor are regularly moving. If you have a cleaner in your house, then it's understandable that she will have to clean every corner of your house, therefore the camera needs to be hidden well. In short, it is worth evaluating the reason why you decided to record people. By understanding the role they play in your house and where they spend their time every day you will have an idea of where to hide a camera.
Where to Buy Hidden Camera?
You can buy hidden cameras in any specialized outlets, including online shops such as Amazon, Best buy, Ebay, etc. When buying, emphasize to the seller that you want spy camera models so that he knows what to offer you.
Final Thoughts
The good thing about today's spy cameras is that they can be placed almost anywhere without being noticed, including the bedroom. Today, it is very easy to get a spy camera at a very affordable price, and the installation process is very simple. Therefore, anyone can place a hidden camera in the bedroom. As we explained in this article, it is important to choose the right place so you can have a better view, and choose the right model. I hope we have helped you with this article so you will have the easier task to set up and choose your hidden camera.