Where Can I Recycle (Return) My Old TV?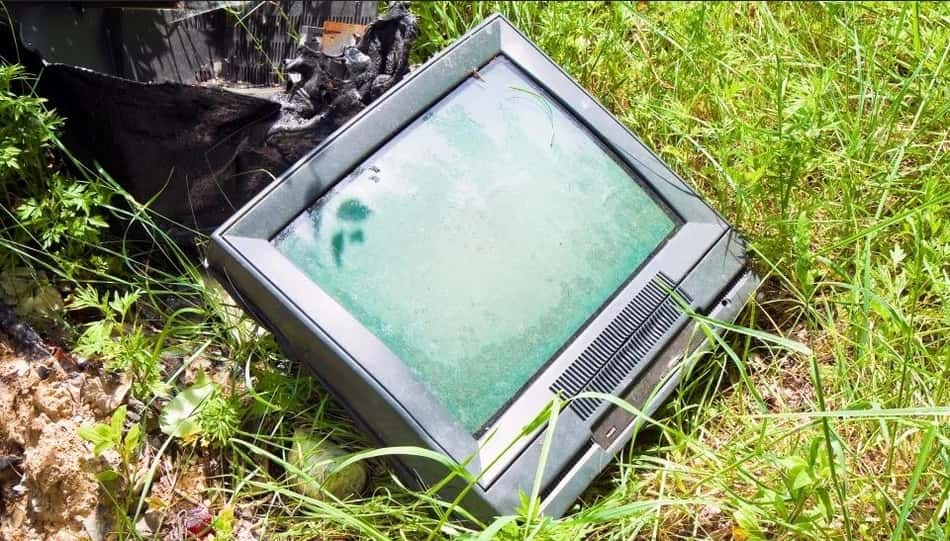 Every year we can see that the TV industry produces new models of television equipment, which in terms of practicality and functionality prevail over their predecessors. So, if you plan to buy a new one, then the question arises: where can you recycle the old TV? Special programs have been developed that allow you to dispose of old-style equipment and getting a certain amount of money for it. So let's take a look and see how it actually works.
Where Can I Recycle (Return) My Old TV?
So Where Can I Recycle (Return) My Old TV? There are multiple ways on how you can recycle your old TV and in some cases get money for it. You can scrap it to special landfills, hand it over to pawnshops in your area, sell it online using special sites or shops, exchange it for a new TV with an additional charge in some shops, or sell it to collectors.
Important: In accordance with the laws in some Countries, television devices are classified as hazardous waste. People can be fined with large amounts if they leave them near a dumpster.
The Need For Disposal
What to do with an old TV if it breaks down or if you plan to buy a new one? If your old TV breaks down, and you want to replace it, these are the factors on which you need to think about:
The television receiver has a large amount of toxic materials;
A reasonable approach to the problem will allow you to return a certain amount of money;
Frivolous throwing away of the device often becomes the cause of punishment (administrative with a fine). Sometimes you have to pay a lump sum.
Equipment thrown into an ordinary trash can can harm both the owner of the equipment and the other persons. For the disposal of obsolete and broken television equipment, technical landfills and special recycling centers are intended.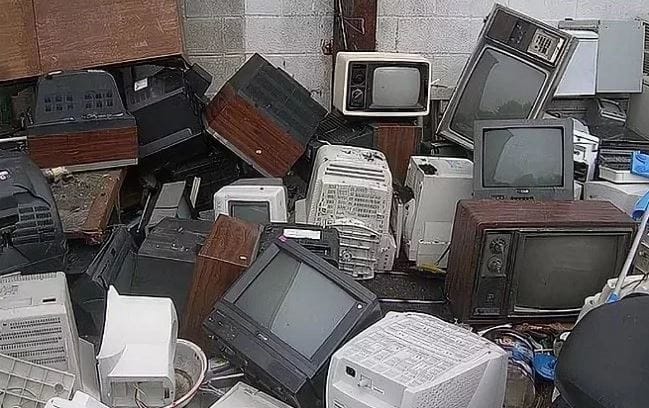 Benefits of the Recycling Process
Every TV contains components that are then used as recyclable materials in the manufacture of glass, tiles, or ceramics. If television "waste" is recycled according to all the rules, it has a beneficial effect on the ecosystem and the economic situation of that state. Competent disposal of household products provides the following benefits:
The landfill is not cluttered with slowly decomposing and toxic waste;
Safety of secondary raw materials;
The surrounding atmosphere is not poisoned by toxins;
Having disassembled the equipment, they throw away about 20% of unnecessary components, the rest are recycled.
Dangerous Elements of old TV Technology
Old TVs contain hazardous substances that adversely affect the surrounding atmosphere where we live in. Among them are the following elements:
barium spasms muscles;
strontium carries the risk of rickets;
lead provokes anemia, kidney problems appear, the human body is depleted;
mercury is harmful to overall health;
plastic exudes a lot of toxins into the atmosphere.
If these elements remain in the soil, they increase their negative properties after precipitation, contaminating groundwater and the surrounding nature.
Important: old television equipment is classified as hazardous group 3 waste and must be disposed of without fail.
Among the most dangerous parts of TV screens are:
The kinescope is not recycled, but neutralized. The barium and strontium contained in it adversely affect health, and in some cases cause oncology.
A burning plastic housing gives off dioxides and hydrocarbons. The concentration of these elements is increased to such an extent that if even the smallest doses of smoke enter the breathing apparatus, the respiratory tract is damaged.
Metal. Its share in old TV sets is about 40%. Alloys are processed and used for different purposes.
Wires and electronic boards. They contain non-ferrous metals that are difficult to extract on their own. And specialized companies for the disposal of television equipment can easily cope with this task. Non-ferrous metal has value in its pure form, and fasteners, braids, and boards are hazardous substances.
LCD TV screen. The mercury present in such models is very dangerous.
Keep in mind that often there are more valuable components in older TVs than in modern models.
Where Can I Recycle a Broken TV Set For Money?
Did you know that there are options for renting outdated TVs for money? The money you can get depends due to the state of the household appliances, brand, and manufacturer.
Important: It is necessary to remember that for a broken TV, the amount of money returned will be less than for a working device.
1. For Scrap
About 40% of the TV screen weight is metal. Older television sets contain lead, cadmium, and indium. There are old TVs in which there is a small concentration of an alloy of silver and gold. There are a lot of scrap metal collection points where you can sell your old TV. They accept plasma and CRT modules. The advantage of this method is that even a broken TV is handed over to reception centers for money.
You can extract copper from TVs by yourself. To do this, the module is disassembled, divided, and pulled out from the components that contain that element. In general, an old TV contains about 1-2 kg of copper.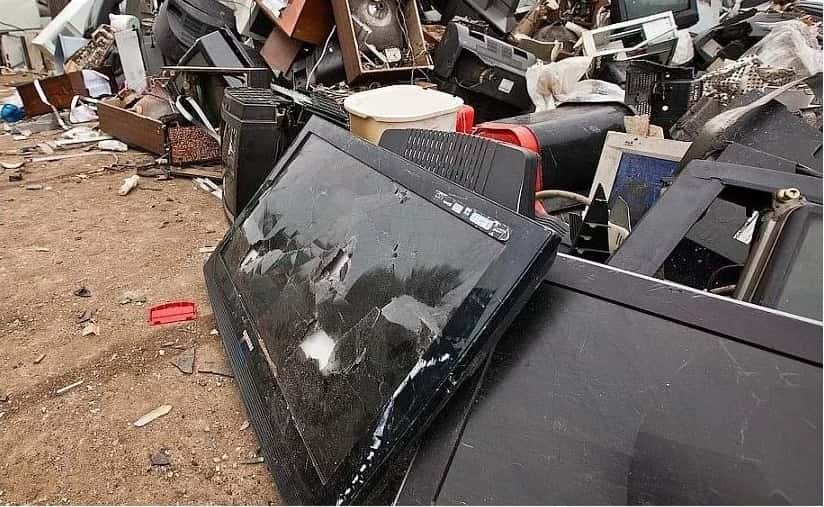 2. Implementation by Declaration
If the TV receiver is broken, you can sell the spare parts of it. It is profitable to sell it if the TV panel is in good condition. More money will be given for the LCD screen. What to do with an old CRT TV? It is also bought for a summer residence, in rented apartments, or for pensioners.
It's good to list electrical appliances using a free classifieds platform. The advantage of this type of sale is that the seller determines the price of the device independently. TV equipment that broadcasts high-quality images can be expensive to sell. There are offers to buy even faulty home screens but at a low cost. Broken modules are bought by service companies, the breakdowns are fixed, then sold at a significantly higher price.
There are special sites that offer new and broken television devices for sale. It is advisable to take a picture of the device and attach it, as well as describe all the features and leave a contact phone number. If there is a buyer, he personally organizes the collection and settles with you.
3. Sale to Collectors
Did you know that rare unique TVs are acquired by collectors who offer to pay good money for the original rare model? The main condition: the technique must be of true collection value.
Advice: collecting is a hobby of rich people, and here it is important not to sell cheap and form an objective price.
A competent proposal of a rare sample will allow you to get a stylish accessory or design solution for decorating commercial and residential premises. In this case, it is proposed to hand over a faulty TV set made 50 years ago at a cost equivalent to the price of modern plasma.
4. Delivery of Spare Parts
Where can I return the TV if it has a broken matrix or other serious malfunction? The best option is to rent the TV for parts and receive financial compensation for the broken equipment. There are special workshops where craftsmen retrieve spare parts for repair.
When giving electrical equipment to repair centers, you should not count on getting a lot of money for it. This is due to the low cost of hardware components. Such parts are used, in particular, for the repair of CRT equipment. Used TVs are of considerable size, and collection points provide self-pickup. 
5. Utilization Programs
Many obsolete TV owners are interested in whether it is possible to hand over a TV for recycling for money. There are centers that help to dispose of out-of-order electrical equipment. To do this, you need to tell the characteristics of the model and get advice on further actions.
Recycling of TVs is not popular in some countries, because often the owner has to pay money to the employees of the recycling company.
6. Exchange of Obsolete Equipment for New
Where can I return an old TV and get a new model with a surcharge? Many large electronics retailers make special promo like that. They come under different conditions. For example, there are proposals to exchange several outdated TV panels for modern TV devices. In some cases, you don't even need to make a payment. 
More often, handing over a used TV turns into getting discounts and bonuses for the purchase of new electrical equipment. Delivery of serviceable and faulty equipment is assumed, which affects the amount of the discount. The acquired old electrical equipment is then handed over to recycling centers. Plastic and other materials are given for recycling and then they are taken for the manufacture of new equipment.
7. Other Methods
Reception of old televisions is arranged in pawnshops. They take mostly working electrical equipment, which can then be sold. Here we agree to accept liquid crystal and plasma modules. They are bought by people who do not have sufficient funds to purchase new household appliances. Defective products are bought for matrices, infrared receivers, or power circuits.
Another option is to take the old TV to a thrift store. The owner of the TV will see the money only after the sale of the TV set. The amount will be refunded after the deduction of commission expenses. If funds are required immediately, then you can get 50-70% of the costs. But here they also sell television equipment in good condition.
If there are no pawnshops or workshops nearby, then it is recommended to contact specialized companies that organize the removal and destruction of used electrical equipment in accordance with all the rules and regulations. Despite the fact that such services are paid for, the house or apartment will be freed from rubbish.
Tip: An old, but working TV screen can be taken to nursing homes, hospitals, or large families. A charitable act will be more satisfying than receiving a small sum from a pawn shop or thrift store.
The Cost of an Old TV Set
A stale CRT device 15-20 years old will not bring much income, because there are a lot of replete with such ads. It will be lucky if the buyer is interested in a certain model. With that settlement, it can get about $14 for such a TV. But it can be returned if the TV has a large diagonal and the device is in excellent condition.
Non-working models released 15-20 years ago are practically not quoted. This is due to the fact that there are many of them, and it is unprofitable to carry out repairs. The cost of TV screens of the current generation on the Internet resources starts from the mark of $67 to $400. 
But experts recommend buying technical wonders in a store with a guarantee. It is possible to sell modern TV panels that are in perfect condition for 50-75% of the cost. The price of non-working devices with an LCD screen is due to the breakdown and how much money will be required to invest in repairs.
When deciding where to return an old TV, you first need to think about the safety of the surrounding atmosphere. The cost of electrical engineering is of secondary importance because it will not be possible to return a large amount for it. With a little bit of luck and resourcefulness, the owner of an outdated or broken TV can get a decent reward.
Final Thoughts
I hope you have learned a lot about old TVs and how to recycle them properly. Today, electronic equipment is used more and more, and with proper recycling we protect our environment. Therefore, it is extremely important to inquire how to get rid of your TV as well as other electronic equipment in the best possible way. I hope this article helped you, and if you have any questions, feel free to write in the comment below.