How Much Power (Watts) Does a VR Headset Use?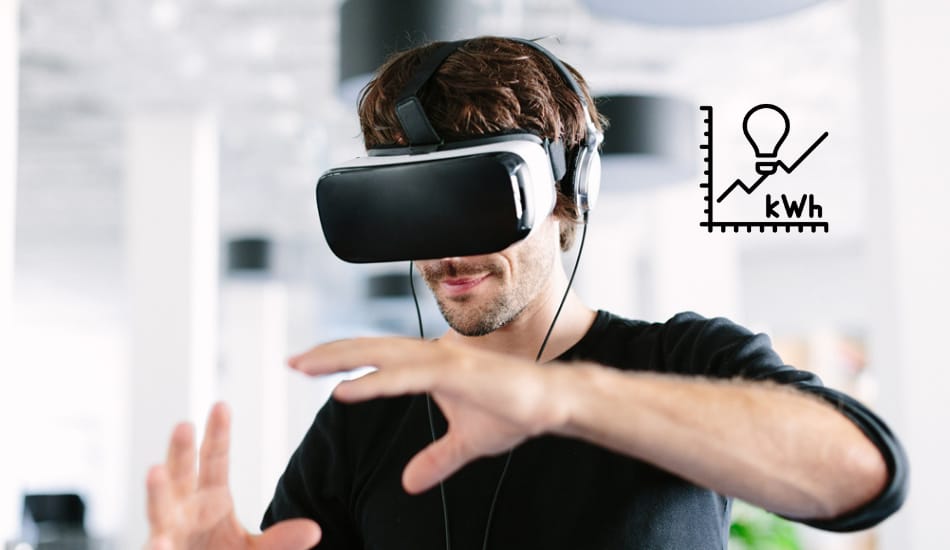 Tech enthusiasts have long waited for the idea of ​​virtual reality (VR) to be implemented in useful consumer applications and games. Now virtual reality headsets are taking the world by storm and with that, they have also brought up some questions. Since VR requires some power to work, what is the wattage that they need to work? Glad you asked! This blog post will answer this question for you.
How Much Power (Watts) Does a VR Headset Use?
So How Much Power Does a VR Headset Use? Typically VR Headsets consume between 2.5 Watts to 4.5 Watts of power. Most VR headsets are powered by a wired connection via USB ports that can provide currents up to 0.5A (USB 2.0) which is 2.5 Watts or 0.9A (USB 3.0) at 4.5 Watts. If you use VR Headsets for 2 hours per day, it will cost you around 0.017 cents per month.
One thing to keep in mind is that VR headsets can be powered by wired or wireless connections. Wired connections usually require one HDMI or USB cable, which provides power as well as video data and can consume about 4.5 watts per hour. Wireless connections do not need any cables but instead use a combination of battery and Bluetooth connection for power so it varies from device to device how much energy each uses.
Most Popular VR Headsets and their power consumption:
What is a Virtual Reality Headset?
Virtual reality (VR) headsets have appeared on the technology market 10 years ago. The VR headsets are used both in front of the eyes, in order to immerse the user in a virtual reality environment which is reproduced, through the screen inside the headset.
Thanks to a unique head-mounted display system, the image appears in front of the user's eyes, who also benefit from stereophonic sound thanks to microphones placed at ear level. The oscillations of the head are instantly recorded by position sensors.
This technology allows the image to move according to movements, which are transcribed in correlation with the vision of the human eye. Manufacturers have also made these VR headsets more comfortable and advanced, and now VR gaming is no longer nauseous. 
The sound quality has improved, and the cost of entering the VR world has become less high. Games now also play an important role in popularizing virtual reality, especially the recently launched games like Half-Life.
Does a VR Headset Draw Power From The PC?
Yes, VR Headsets are typically connected to your PC via a USB port. The maximum power that a USB can draw from the port is 4.5 watts. This is very little power compared to how much PC consumes in total. The newer USB 3.0 ports can provide up to 0.9 A, which can be translated into 4.5 watts. The electricity and power that VR headsets draw from your PC can be ignored, as they account for less than 1% of your PC's total consumption.
Is 500W Enough For VR Headsets?
Yes, if your 500 W power supply unit (PSU) can power your computer properly, then you can use VR Headsets. Typically, the normal configuration requires around 311 watts, leaving a lot of free space for your current PSU to handle it, and VR headset won't consume extra more power.
The recommendation is that you don't run a power supply of your PC near to its maximum power. Therefore, try not to exceed 80% of the maximum power that you have. If your PC power consumption is around 800 watts, you will need a 1000 watts power supply system.
How Many Watts Does Oculus Rift Use?
VR Oculus Rift uses about 4.5 Watts of power. Keep in mind that the display port that goes in the graphic card together with the rig can handle the graphic card demands and it doesn't take much additional power. That's about 4.5 W.
A Powerful Computer Is Required For VR Headset
Most virtual reality systems require a relatively high-end computer to provide enjoyable gaming sessions. Your PC must come with a good graphic card, and it must also have good power. Newer graphics cards generally support VR well, but some headsets are more demanding than others depending on their capabilities.
Virtual reality games often have simpler graphics than those of regular platforms, but their operation is very demanding in terms of system resources in order to be able to deliver a realistic and fluid immersion.
Some headsets like the Oculus Quest use an internal computer, but such portability means VR experiences are limited to a precise selection. The lower graphics power of the device also means that games are generally less fleshed out. This is why powerful computers are most commonly used in VR headsets.
If you want to know How Much Power Does a Computer Use in Sleep Mode, click on the link.
Final Thoughts
The world of new technologies is constantly expanding, and so is this one with VR technology. Today you will not surprise anyone with 3D images, then immersion in a virtual reality video is already completely different sensations, impressions, and perceptions. VR headsets are now used more than ever before. What we have mentioned is that VR headsets can be powered by wired or wireless connections.
VR headsets do not affect power consumption much, and their power is between 2.5 Watts to 4.5 Watts depending on the model and USB port from which they are connected to. So you don't have to be too afraid that they will affect the extra consumption. If you have any more questions and we have not covered them here, feel free to contact us.