What is a Soundbar For TV? Complete Guide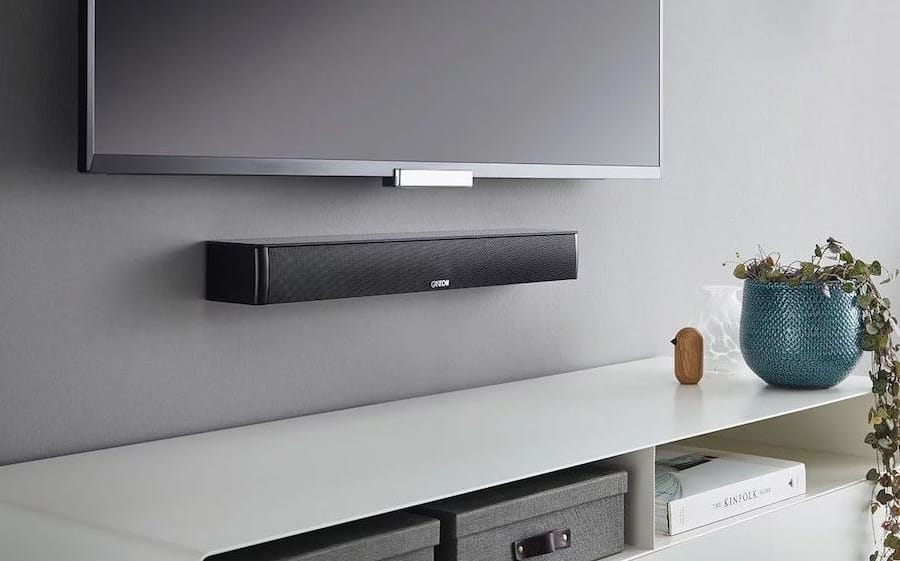 Many people do not know about the soundbar, what it is, and how it can benefit you. A soundbar is one of the easiest ways on how you can improve the sound on your TV. This is a mono speaker that consists of several speakers inside. It perfectly replaces modern acoustic systems and saves space. One of the main advantages is a simple installation, assembly, and connection. The soundbar improves the sound quality of your TV, and they are much better than TV speakers. But let's see in a little more detail on how they work.
What is a Soundbar For TV?
What is a Soundbar For TV? A soundbar is an all-in-one speaker system that consists of several speakers inside that delivers high-quality TV sound. The advantages of soundbar speakers is that they save space, expense, and complexity and can provide either stereo or surround sound.
If you want to figure out why you need a soundbar, you need to familiarize yourself with its capabilities. Owners of large-screen LCD TVs can expand its capabilities. An important role is played not only by a high-quality image but also by sound.
Even modern TV models have a weak speaker system that does not fully demonstrate its capabilities. In budget versions, it is sometimes impossible to parse the words of the actors. It is possible to purchase a speaker system that is designed for home theater but requires proper placement in the room.
The speakers must be securely and firmly fixed. They take up free space, clutter up the room. To solve the problem with poor quality sound, you need to buy a soundbar. It has compact dimensions, will harmoniously fit into space, interior design.
If you have a problem with TV wires, read this article; How to Hide TV Wires on the Wall.
Varieties of Soundbars
There are two types of Soundbars. They differ in their design and features. Several types can be distinguished: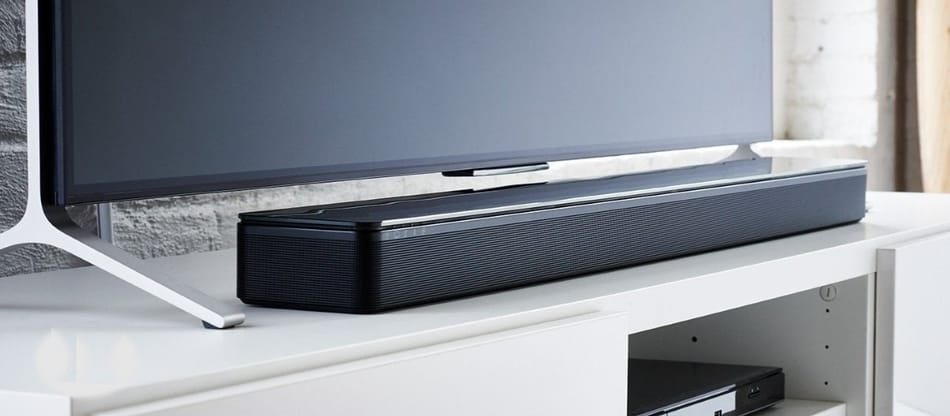 Active soundbars. They have been specially designed to work as an independent audio system. The active soundbar reproduces sound from the TV without the need for additional devices. It is used to amplify other signal sources. Users will be able to connect a smartphone via Bluetooth.
Passive soundbars. The speaker system attracts attention with its compact size. If necessary, users can combine up to three channels in one housing. You can place the device above or below the TV.
Digital sound projector. The design includes several compact speakers. They are housed in one housing and are designed to connect different audio channels. The sound is projected throughout the room.
Most often, users choose modern digital sound projectors. Inside the device are amplifiers, powerful audio processors to connect different devices.
Soundbar Features
Manufacturers offer modern soundbar models that are packed with useful features. To make the right choice and purchase, you need to pay not only the technical characteristics but also the capabilities of the soundbar.
Among the large and varied selection, there are models with a built-in Blu-ray player, drawers that are designed to store household items. Manufacturers have taken care of the profile features. The soundbar can be very easily connected to a TV via HDMI. This activates the ARC audio return channel technology. Once connected, the soundbar is built into the TV. The user will be able to change the sound volume using a stationary remote control.
Models with eARC function can be selected. This is an improved and modified version of the audio return channel. These soundbars are suitable for connecting to a home theater speaker set. There is a USB connector on the front. There are models that are equipped only with standard service functions similar to the JBL Bar. If necessary, it is possible to connect memory devices. Thanks to this, the soundbar will be able to play audio files that were previously recorded.
Benefits of Using Soundbars
Soundbars can be connected to TVs from different manufacturers. The soundbar will not only improve the sound quality but also has the following benefits:
Users will be able to listen to audio, video files if they are not played on the LCD TV. With the soundbar, you can expand the list of permissions to open on the device.
Simple and easy control. The settings are made using a special remote control. There are modern models that are equipped with a voice remote control.
Compact dimensions. They will not take up free space, clutter up the room, so you can use soundbars in small rooms. When choosing, you need to pay attention not only to the characteristics but also to the dimensions.
Ability to connect mobile devices, external media to play files.
How the soundbar works depends on the number of functions and options.
The Main Criteria For Choosing a Soundbar
There are several rules for choosing a soundbar for home use. Before buying, you need to consider the technical characteristics and parameters. You need to pay attention to the criteria such as power level, functionality, connection option, interface.
Below are more detailed guidelines to help everyone choose a good quality soundbar.
1. Power Level
This parameter directly affects the sound volume of video and audio files. For the assessment, it is recommended to take into account people's reviews, video reviews, which are made by specialists or independent experts. When buying equipment and electronics in a store, you can ask the manager to turn on the song from any media – smartphone, flash drive.
Manufacturers indicate the power level in watts. You need to measure the area of ​​the room. If the room has an area of ​​50 sq.m. and more, you need to buy equipment where the power parameter is from 200 watts. The soundbar needs to be bought with a small margin of power.
2.  Connection Options
To choose a soundbar suitable for a particular TV model, you need to consider the way it is connected. There are two main options:
through a direct connection to the TV (active soundbar);
using an AV receiver or set-top box (passive models).
As practice shows, passive soundbars work better. They feature improved sound quality. Such models can be connected via channels such as Wi-Fi, Bluetooth.
3. Additional Parameters and Characteristics
During the purchase, you need to consider a set of functions, options, power level, and connection options. Choosing a soundbar for an apartment based on additional parameters and characteristics:
1. The presence of a panel or stand. Manufacturers offer models that are equipped with fasteners for mounting on a wall, shelf, bedside table. It is necessary to decide in advance where in the room the soundbar will be mounted.
2. Is there an additional drive and card reader. The presented devices are needed to expand its capabilities. The drive will allow you to play music, video from various USB-carriers, memory cards, DVD-disks.
3. Equipment subtype. Built-in speakers are compact in size. External ones are used more often because they attract attention with better sound quality.
4. The total number of channels. To get high-quality stereo sound, you need to choose models with standards 2.1 and 3.1. Spatial sound is guaranteed by the 5.0, 5.1, and 7.1 models.
The most important criterion is the interface for connecting external devices. Over the past few years, they began to produce models that are equipped with built-in connectors for connecting USB, HDMI adapters.
Review of the Best Soundbars
An overview of the soundbars will help you understand the features and parameters of the soundbars. Below are popular models that have proven themselves in work.
LG SL8YG 3.1.2 Dolby Atmos Soundbar
This soundbar model features Meridian's innovative digital signal processing technology. Once connected and set up, the widescreen sound is created. Additionally, the sound level is increased, the two-channel input is expanded to three. At the same time, there is no interference and distortion.
Everyone will be able to appreciate the high power level of 440W, channel 3.1.2, and support for Dolby Atmos. 24-bit depth provides the clearest sound possible. Users appreciate this model for its comfortable listening experience. Another prominent feature is the built-in Chromecast feature. It is needed to quickly transfer audio files from a tablet, mobile phone, or smartphone.
Soundbar Sony HT-ST5000 7.1.2
Soundbar Sony HT-ST5000 7.1.2 Japanese quality has a total power level of 800 watts. It is bought for installation in apartments and houses. Dolby Atmos technology ensures 3D surround sound. In this case, you do not need to additionally connect rear speakers to expand the possibilities.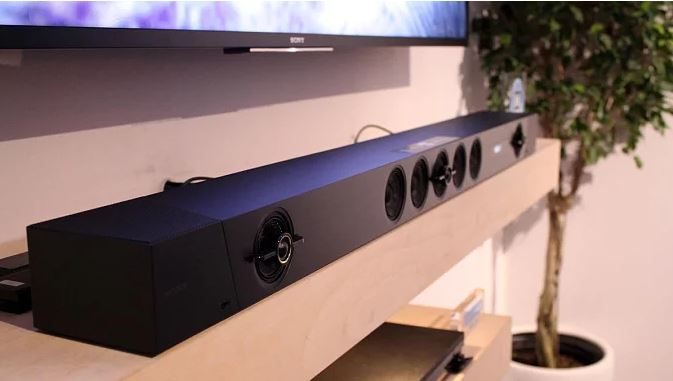 Digital processing allows for virtual spatial sound. The height channels in 7.1.2 configuration allow you to create the effect of a realistic acoustic field, immersive sound. You can play audio files from different media, and mobile devices.
The SONY HT-ST5000 7.1.2 model is the winner of the Hippie World test, which was conducted back in 2017. The presented soundbar made a real impression on people. The soundbar stood out favorably among similar models, surpassed them due to the rich and realistic sound.
Soundbar Samsung HW-R550 2.1 Soundbar
This soundbar model features an increased power level of up to 320W. The manufacturer's package includes a wireless subwoofer. Music is played via USB and Bluetooth.
Digital technologies have made it possible to equip the soundbar with the function of analyzing audio playback. This ensures maximum quality. Another option is the game mode. Crosstalk that occurs is quickly eliminated so users can maximize their sound quality.
Samsung HW-R550 2.1 is completely wireless. It does not take up much space, does not require a complex connection, and harmoniously fits into any interior design. You don't need to buy cables to connect to this TV. The included subwoofer also works wirelessly. By working together, you can get deeper, richer bass.
The soundbar is able to amplify sound, improve its quality, make it surround, loud. Can be connected to TV, home theater, and other devices for audio playback.