What Is The Use of An Oven Toaster Griller (OTG)?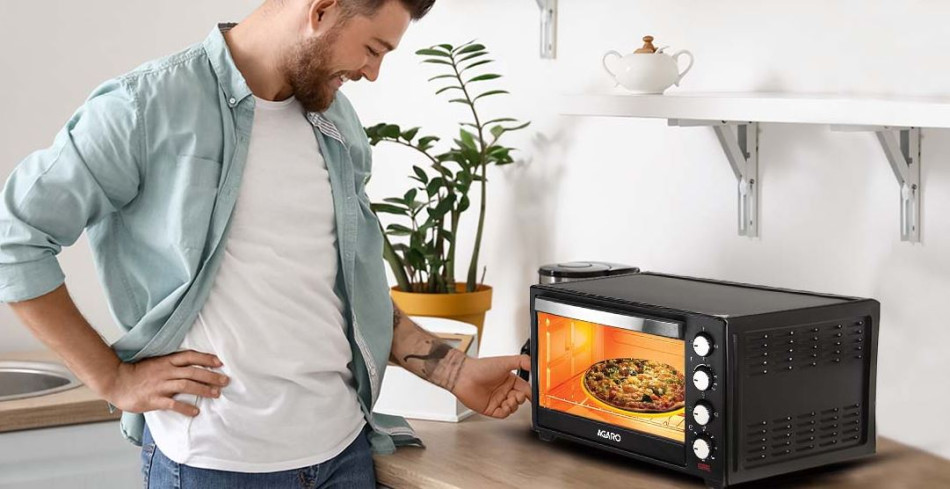 Today, many kitchens use multifunctional household appliances such as an oven-toaster grillers. Its popularity can be attributed to the fact that it takes up much less space than a traditional oven and, at the same time, offers the user many more options to prepare food more easily. An additional advantage of this device is its electric drive and a timer, with the help of which even those who do not have much experience in cooking will not burn the dish.
What Is The Use Of An Oven Toaster Griller? The oven toaster griller (OTG) is used for quick and easy food preparation in several different ways. It is a multifunctional household appliance with which you can bake, cook, grill, and reheat food. It represents a smaller and more functional version of the classic oven.
In the rest of this article, we bring you everything you need to know about oven toaster griller (OTG) and how it is used. Also, you will learn how to clean and maintain it, together with its advantages compared to other kitchen appliances such as a microwave ovens.
What Is An Oven Toaster Griller (OTG)?
An Oven Toaster Griller (OTG) is an electrical device used to prepare food by baking, cooking, or grilling it. It is a smaller version of an oven because it takes up much less space and offers more options when it comes to cooking. In addition, OTGs are much cheaper than microwave ovens. This household appliance usually contains four or five cooking compartments, which, according to the instructions in the manual, are positioned depending on the cooking method you want to use.
Related article: How Much Power (Watts) Does An Electric Oven Use?
How To Use An Oven Toaster Griller?
An Oven Toaster Griller is an electrical device, so it must be plugged into an electrical outlet before use. Once you have plugged it on, activate it by pressing the ON button. Before use, the appliance must reach the desired temperature, so the food inside can be properly cooked.
The food you want to cook must be placed on a tray of appropriate dimensions and then put into the OTG together with the tray. After that, you have to put the lid on top of the tray. Depending on what food you are cooking and how you want it to be cooked, the process of preparing fish, chicken, and vegetable dishes usually takes between 30 and 40 minutes.
If you are not sure how long you need to cook, bake or grill a certain type of food in your OTG appliance, you can search for it online on Google or read the instructions on the food label. You can also use a knife or fork and touch the food to feel whether the food is cooked or not.
If you want to see how to use an OTG oven, be sure to watch this video, where everything is shown from A to Z.
Note! When touching the oven toaster griller during use, you must be careful, so you don't end up with burns.
Regular Maintenance After Use
After the food is finished and the device has cooled down, the OTG should be cleaned so it is ready for the next use. Simply wipe the inside of the device with a damp cloth. In most cases, this should be enough. However, if some food is spilled inside the device, you can put detergent on a soft sponge and wash it.
Never scrub the inside of the device with rough brushes, as this can cause permanent damage. Avoid chemicals. Also, never wash the OTG in the dishwasher, as this is an electrical device, and electricity and water don't go together! This will completely destroy the device, and it will not be functional.
Differences Between Microwave and OTG Oven
There is a big difference between a microwave oven and an oven toaster griller since they do not have the same functions and are made of different materials. If you doubt whether to buy a microwave oven or an OTG, look at how exactly these two differ so that you can make the right choice in relation to your personal needs. Here are the main differences between these two devices:
| | OTG Oven | Microwave Oven |
| --- | --- | --- |
| Heating Time | It takes More Time (around 15 min) | Very Fast (around 5 min) |
| Power Consumption | Low | High |
| Cooking Time | Less Time | More Time |
| Auto-cook Functionality | Not Available | Available |
| Weight | Approximately 5.7 lbs (2.6 kg) | Approximately 55 lbs (24 kg) |
| Best For | Toasting, Baking, Grilling, etc. | For those who want to simply and fast bake and defrost food. |
| Price | Low Cost | High Cost |
Table: OTG Oven Vs. Microwave Oven – Main difference
What Food Can You Prepare With An OTG?
With the help of OTG, you can prepare delicious food in a short period of time. Here are the things that you can prepare: 
Pizza/Bread – Thanks to the fact that the OTG is heated by distributed coils, you will easily bake a pizza. After preparing the dough and putting your favorite ingredients on it, place the tray on the middle shelf in your OTG. The same applies to bread after you have previously prepared the dough.
Meat/Fish – To prepare a meat or fish dish, use one of the upper shelves and let it cook for longer. Not too long. It is recommended to check whether a meat or fish dish is sufficiently cooked once or twice during cooking by lifting the lid and poking it with a fork or knife. 
Vegetables – For tasty vegetables, you should place the tray on the lower shelf of the device and cook them for a shorter time so that they are slightly crunchy, not overcooked or burned. 
Cakes – To bake a biscuit for a cake, prepare a tray with the batter mixture and just insert it on the middle shelf of the device. You can also bake pies in the OTG, but in that case, place the tray on the one-step lower shelf.
Grilling – You can also grill vegetables, meat, or fish on the middle shelf of OTG. Just watch the grilling time, so your food doesn't burn.
Advantages Of Using An Oven Toaster Griller
The advantages of an oven-toaster griller are numerous. Here are the main benefits that this device will give you in the kitchen:
Easy to Use: The principle of OTG operation is simple, regardless of the way you decide to prepare food. The shelves on which food is cooked, baked, or grilled heat up quickly, and the cooking time is shortened compared to a standard stove, oven, or grill. There is no fear of food splattering and no hassle of cleaning.
Energy Efficient: OTG devices use far less electricity than classic ovens because they are easier to heat up. Also, unlike an oven that will heat up the entire kitchen while preparing food, OTG will not do that, so you avoid energy consumption for cooling the space after every meal.
Multifunctional Appliance: OTG is a multifunctional device that can replace several kitchen appliances at once, saving you money and space in the kitchen. If you equip your kitchen with OTG, you don't need to buy an oven, a microwave, or a grill! This household appliance replaces even a dehydrator for vegetables and fruits.
Fast Cooking Time: Great advantage of this appliance is that it can heat meals very fast. When preparing a large meal in OTG, you can start cooking when your guests arrive. The food will be ready quickly and served hot, and you will not feel excluded from others while standing by the stoves. Also, if the guests are late, you can keep the food warm in the OTG.
Cooking Timer: A big advantage of the OTG device is the timer. It shows you exactly how long it takes to cook some food, so you don't need to worry about whether the meal will burn. Simply insert the tray with food into the device, set the timer, and sit in front of the TV. You are free until you hear the beep!
It's Economical: Buying one device that can do everything for which you normally need three, four, or even five clearly shows that this OTG appliance can save you money. If you clean this household appliance regularly, you can be sure that it will last a long time. In addition, OTG devices, even the highest quality ones, still represent a lower cost than any other multifunctional cooking device.
It does not emit smoke: OTG is a household appliance that grill fans adore. It provides simple and quick grilling without the huge amount of time and works you have to invest in preparing a classic grill, as well as without the smoke that often makes you avoid grilling.
Minimum Maintenance: OTGs are compact devices that do not take up much space in the kitchen, so they are great for smaller apartments. In addition, OTGs are very easy to clean compared to an oven or an outside grill.
Saves Money: Buying an OTG device is a long-term and smart investment because, with careful maintenance, it can last a long time. In addition, since it serves as a replacement for several appliances, you will initially spend less money on equipping the kitchen.
How Often Should You Clean An Oven Toaster Griller?
After the food is finished and the device has cooled down, the OTG should be cleaned to be ready for the next use. Wipe the inside of the device with a damp cloth, and wait a few minutes. However, because pieces of food may remain in the heating element after cooking, you must clean the OTG in more detail after approximately every fifth use.
Then use a detergent or some natural cleaning agent like vinegar. After cleaning, remove all soapy residues and carefully dry the heating element. A big advantage compared to cleaning the stove is that you can clean the OGT in any position that suits you, and compared to the grill, you can do it inside your home.
For those who want to learn more, you can also read How Much Weight Can You Put on Top of Your Refrigerator?
Final Thoughts
The oven toaster griller is an excellent kitchen appliance that adequately replaces up to five different appliances that take up a lot of space in every kitchen. With the help of OTG, you can quickly and easily bake pizza, bread, or cake, and grill fish, meat, or vegetables. All this with lower energy consumption and much less cleaning compared to a traditional oven. Also, OTG devices are affordable, and if you take proper care of them, they can last a long time.