6 Easy Steps To Close Your Window Blinds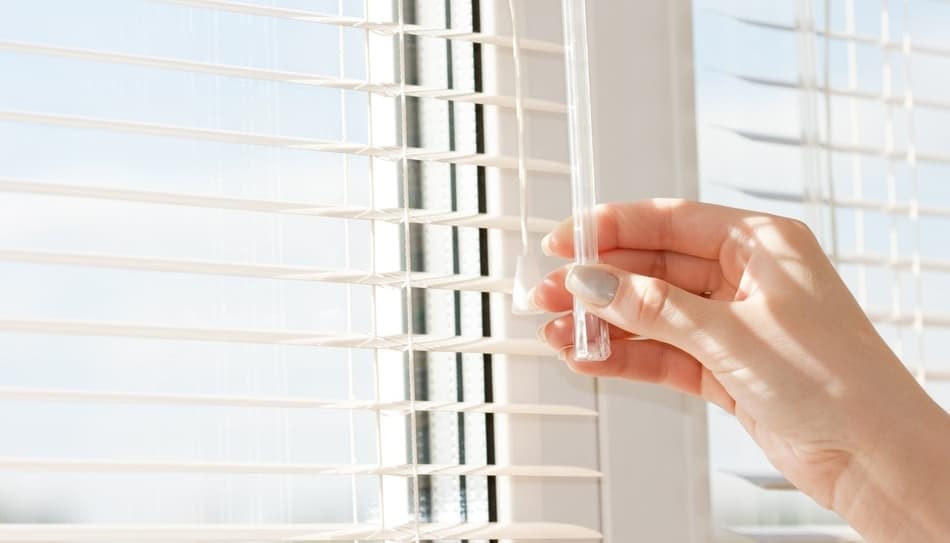 Window blinds are an important part of every household. They provide you with sun glare protection and privacy. Privacy helps us keep our family space, communication, and things in our homes to ourselves. Window blinds might not seem meaningful at first, but they really do play a big role in keeping people's privacy and peace. That's why everyone should know how to close blinds quickly and with no hassle.
There are many different types of blinds. Some have a rod, some have a cord to pull on, and some work by a push of a button. In this article, we'll take you through different types of blinds and how to open and close windows blinds. So, let's start.
Different Types Of Blinds – How They Work
In today's world, people are used to having options. This applies to outfits, cars, phones, schools, food, and almost anything else you can think of. It's the same with blinds. There are different types of blinds, and they all serve the same purpose, but they are made from different materials and function by different mechanisms.
Since every blind model uses a different mechanism, each one has its own opening and closing method. Sometimes when installation is done poorly, the mechanisms can get stuck or malfunction. The only way to open and close blinds in situations like those is to know exactly what type your window blinds you have and what movement will work best.
Here are the most common types of window blinds:
1. Venetian Blinds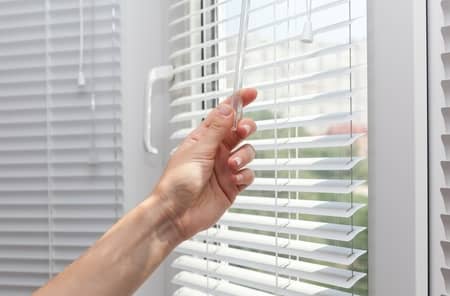 Venetian blinds are window blinds that are made from horizontal slats that were first developed in the 18th century. They are called "Venetian" because the design itself originates from Venice, Italy. These blinds replace fabric curtains and shutters. The design has of course improved over the years and is now one of the most commonly used types of blind. They have rotating slats that let in daylight but block direct and harsh sunlight. This also means that these blinds allow you to have maximum privacy while still having natural light entering the home.
Constant artificial lighting is harmful to the person's sight so having natural light is a huge bonus with this design. Of course, if you want complete darkness, that is possible too. Venetian blinds are made with different materials, so they adapt to every environment.
The most common materials are PVC, wood, and metal. Their popularity decreased for a while, but they recently made a comeback in Vogue and some other interior design-themed magazines. The only drawback is that they are very difficult to maintain and clean. Dust gets in between the strips, so cleaning can be grueling.
2. Vertical Blinds
Vertical blinds are one of the newer inventions in the field of windows blinds. They are made of vertical slacks lined up next to each other that move based on your preference. They glide open with ease and create a cozy and homey atmosphere. There are different stack options as well that change the way the blinds look when closed. Just like Venetian blinds, vertical blinds let in natural light while still maintaining the privacy-keeping role. 
They are the best choice when expansive coverage is needed. Therefore, they are mostly placed on large and long windows, sliding doors, and conservatories. The material vertical blinds are made of hazy and opaque materials, so some light does escape, especially during the night.
3. Roller Blinds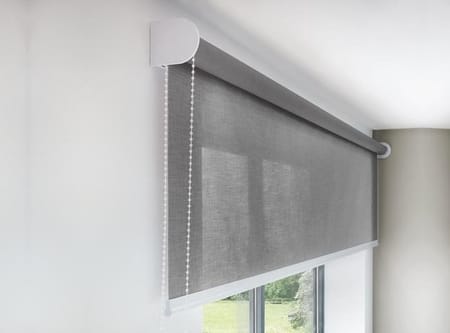 Roller blinds are a classic and the most known choice for window blinds. They are the absolute best when you need to completely darken the room. Roller blinds are also great for people that get woken up by the light. These blinds provide 100% privacy conditions while others provide around 80 to 90%. These types of blinds come in many designs, colors, and patterns so you will for sure find the type that fits your aesthetic. They are regulated by either pulling on an attached string mechanism or by a button.  
4. Roman Blinds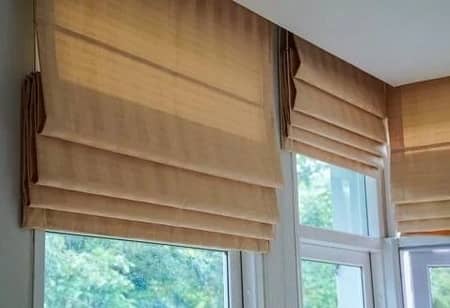 Most people think Roman blinds are curtains but that is in fact false. They are constructed from mounting slats that are connected to cords at the back of the fabric. The fabric elegantly folds when the blinds are raised. This type of window blind is a soft and luxurious option. They are mostly made from silk and linen but also cotton and synthetics sometimes.
They look fantastic but they are a bit on the pricier side because they are specifically made to fit your windows dimensions and the materials such as silk and linen are usually costly as well. They do a great job in keeping your home life private while still letting in a bit of natural light. These blinds, because of the light and lucent design, open up the space giving it a very fresh and airy feel it.
A Step-by-Step Guide To Close Window Blinds
Opening and closing blinds, in general, isn't a difficult task but it does require understanding the mechanism behind it. In the beginning, you might have to think about what exactly to do when wanting to lower or lift the blinds, but with time this is something you will be done automatically. Below is a short and simple guide on how to maneuver window blinds, especially Venetians. We chose to focus on this type of blind because most households have those.
The mechanism consists of color-coordinated double strings that raise and lower the slats, a rod that opens and closes the blinds, and of course a clutch mechanism at the top that together with the rod moves them up and down. The clutch also does an important job of locking the slats in position. Here is the step-by-step process of how they work:
Step 1: Find The Blinds Pulling String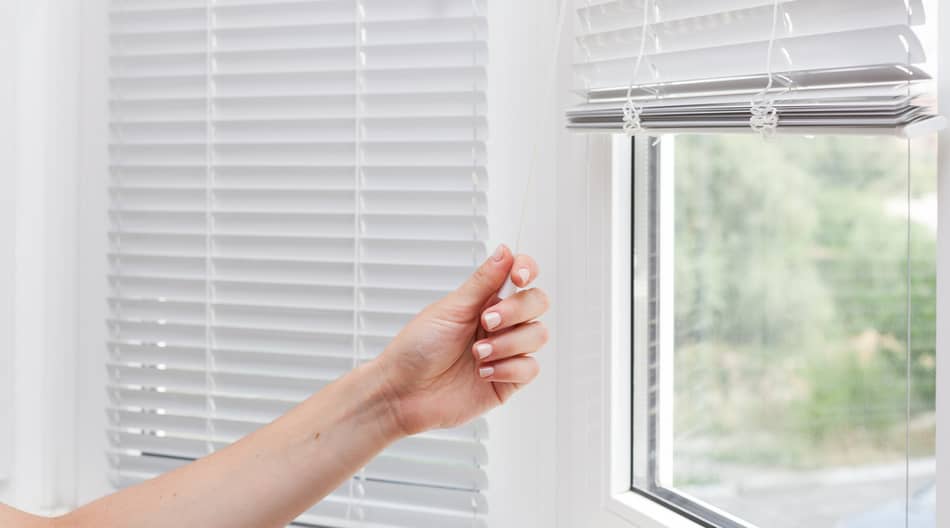 The pull string usually hangs on the right-hand side of the window shades. The string can be recognized easily because it's the one that connects all the slats to one another and in the end connects to the clutch at the top. With pulling string you can move the blinds up or down. You can see how it looks like in the picture above.
Step 2: Unlock The Window Blinds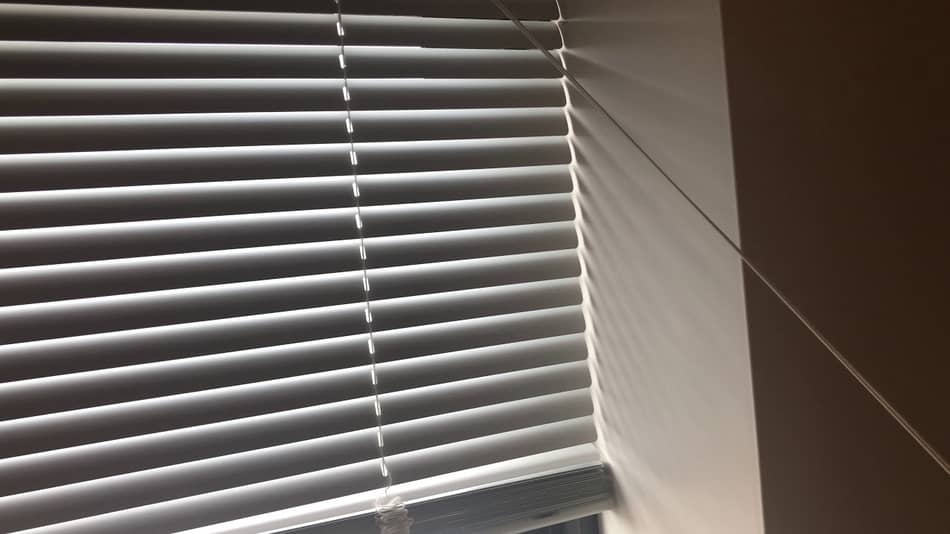 Once you found the string you should lightly pull it at a 45-degree angle to unlock the clutch that releases the blinds from their current position. By doing this you will loosen the slats. Once you have done this, you can move to the next step.
Step 3: Aline The Slats
Move the string accordingly to maintain the slats flat over one another. If some slats end up a little bit uneven, straighten them by pulling one of the strings to pull them back into place. Maintaining slats horizontal to one another will keep them in a high functioning condition and lower the chances of damage.
Step 4: Lower The Window Blinds
While holding the string at the diagonal 45-degree angle to the left, the blinds are unlocked. To close window blinds, just loosen your grip on the string to lower the blinds and allow them to rise back up toward the motor. This will lower the slats, which will bring the blinds toward the bottom of the windowsill. This needs to be done gently and slowly with a steady hand to avoid entangling, lockage of slats, and breakage. This movement will come to you over time and you will do it automatically.
Step 5: Lock The Window Blinds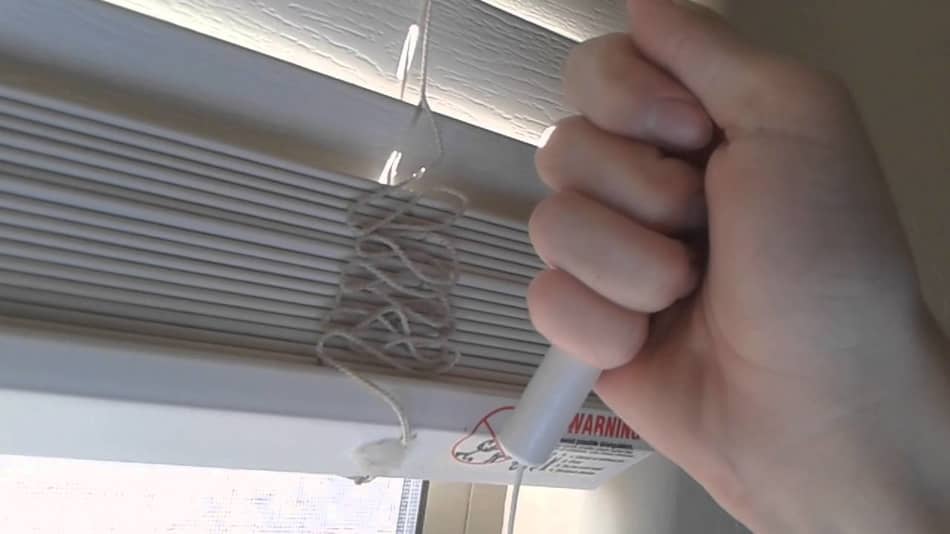 Hold the string to the opposite side (to the right) once you are finished adjusting the blinds. This will lock window blinds back into the new position. The locking system works at any height so you can leave the blinds halfway or you can lower them completely. Most people close them completely at night and keep them half-open or all the way open during the day.
Step 6: Close The Blinds Completely
To close the blinds, you should find the stick rod hanging next to the string. The rod twists at a 180-degree angle, which means it can be rotated clockwise and anticlockwise. This way you will shut the blinds and block the light. Depending on the model, one way closes them and the other open. Just start twisting the rod and you will see in what direction the slats are moving.
If you still have some ambiguities left after going through these steps, don't worry. Below is a Youtube video that fully explains how this process looks and we believe it will also help you. Enjoy!
Things To Consider When It Comes To Closing Window Blinds
Opening blinds are more than just pulling and twisting cords. There are multiple factors that influence the way blinds open and close. Here are some things that are good to consider when choosing window blinds for privacy:
Style: Blinds come in many different types of styles because they should be able to fit many aesthetics but also building structures. Some of the most popular ones are Venetian, Roman, Pleated, and Honeycomb styled. All the mentioned styles have a different opening and closing system.
Mode of Operation: Depending on each model, blinds can operate by rods, strings, beaded continuous cords and by a button.
Blinds Privacy: Privacy is a big concern for most people. Positioning the rounded side of blinds upwards gets you the best coverage for privacy reasons. Also, a quick tip is to place your large windows on ground floors facing the backyard, so that you can enjoy sunlight without being watched by strangers.
Blinds Aesthetics:  If you prefer aesthetics over keeping heat out and privacy, you should close your blinds so that they face downwards. That way they look the cleanest and put together.
Weather: Weather influences in what position people leave their blinds. Having closed shades can keep out heat during the summer or coldness during the winter. A quick tip is to leave your blinds facing upwards when its sunny outside because that will help keep the heat out and decrease expenses on cooling.
In this Youtube video below you can see how this process works. Everything is explained in detail and you will get a much better picture of how blinds work.
Should I Turn Window Blinds Up Or Down?
Turning the blinds upwards guarantees more privacy and less hot air coming in while keeping the blinds facing downwards looks cleaner and more elegant. Choosing how to keep your blinds should be based on personal preference but our choice is to combine the two based on the situation.
When To Turn Window Blinds In An Upward Position
On most window blinds, horizontal slats will turn upwards when spinning the rod anticlockwise. That way the concave side of the slats face the room and the rounded sides face the window. In this position, the blinds do not look as aesthetically pleasing but they do keep out sunlight and heat from the room.
That's because the upward-facing slats deflect warmth and the sun glares upward towards the ceiling. That way the heat is pushed away from the center of the room. Additionally, they give greater privacy.
When To Turn Window Blinds In A Downward Position
The downward position of window blinds is the position that looks more put together, neat, and pleasing for the eyes. It doesn't offer a lot of privacy though, because people can partly still see through them and into the house. It also does not block out light as well as blinds turned upwards do. In this position, blinds redirect sunlight to the center of the space making it warmer. This might be a good option during winter but certainly not during the boiling summer months.
More Facts About Window Blinds
Around 76% of sunlight that enters through double pane windows becomes heat during cooling seasons.
Around 75% of operable window coverings such as blinds do not change positions during the day. This indicates that many people do not readjust their blinds based on time of day or any other factor. They mostly leave them as they are for long periods of time.
A type of window covering called the cellular shade can lessen heat loss by 40% if tightly mounted. This amounts in 20% less spent on heating. They call also reduce excessive solar heat by 80% which reduces the total solar benefit to 15%.
Light colors attract less sunlight than dark ones. Therefore, having medium to light colored window blinds will attract around 33% less heat than dark ones would. 
If you have a window leaking problem, you can read this article about 5 Easy Steps to Fix A Leaky Window.
FAQ: People Also Ask
1. What Is The Proper Way To Close Window Blinds?
Windows on the ground floor should preferably be closed with slats so people do can't see inside the house. Windows on higher floors can have lifted blinds more often than ground floor windows can, but you should be aware that sometimes those on the lower floors still might see inside.
2. What Are The Best Blinds For Privacy?
These are the best blinds for privacy:
Blackout roller blinds
Venetian blinds turned upwards
Dark roman blinds
Plantation shutters
3. Can You See Through Vertical Blinds At Night?
During the night you can't see through vertical blinds while looking from your house window, but people can see inside of your home. That's because you are in a lit-up area, while it's dark outside. Even if you pull down the vertical blinds, people can still see in unless you shut them completely.
4. Do Window Blinds Help Keep A Room Cool?
Window blinds can help you to control your room temperature. During summer, you can keep window blinds closed so that the sun does not enter the room. This helps keep the room from heating up, which keeps the cold air nice and cool.
Final Thoughts
Window blinds are a meaningful part of a household because they provide homeowners with privacy and block out sunlight that causes overheating. Their opening, closing, and pulling up and down system shouldn't be tricky to you after you have read this simple but detailed article. If you have any other tips and tricks on this topic, feel free to leave a comment below. Additionally, if you have any questions, please reach out, we would love to help you!