The Ultimate Guide To Smart Thermostats: Which One Is Best?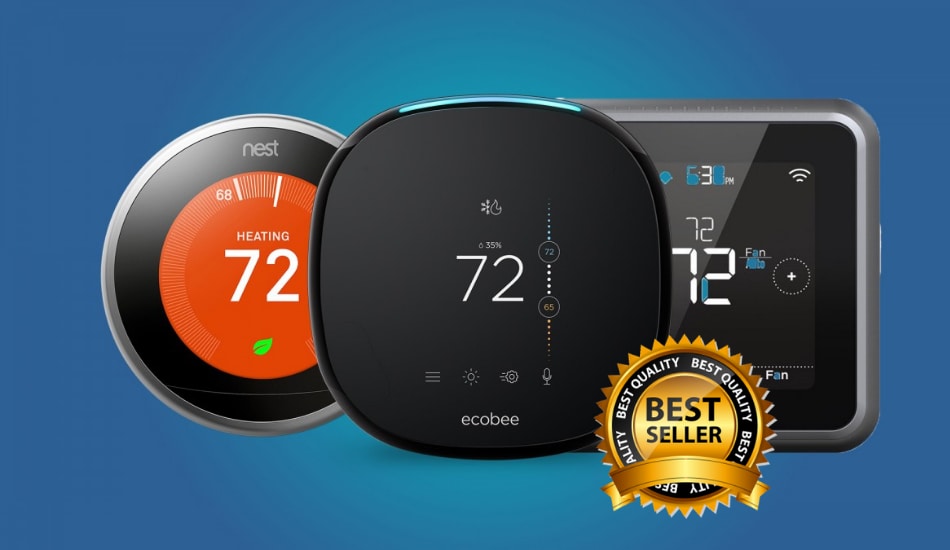 The need for smart thermostats has never been greater. A smart thermostat can save you money in the long run, as its sensors can detect your behavior and adjust your home air conditioner so that it only turns on when you need it. Another advantage of the smart thermostat is that you can control it with your smartphone and also connect it to other smart home devices. 
Therefore, when it comes to choosing the best smart thermostat for your home, you need to consider a few things such as your budget, taste, and most importantly, to look at what type of home heating system you have. In this ultimate guide, we will walk you through all the important things that you need to know about smart thermostats. So let's begin!
What Makes a Thermostat Smart?
When we go back in 2011, the Nest Learning Thermostat was breaking news and it took the world by storm. It offered Wi-Fi connection in a stylish cool device that was able to learn all your daily routine and by using that data was able to create heating and cooling schedules.
But Nest was not the first smart thermostat to hit the market (Ecobee beat it by two years), but what he offered was a game-changer with its technology that blew the market away. Therefore, if you want to make a smart home, your thermostat is a good place to start. In this ultimate guide, we will teach you everything you need to know. First thing is to determine what kind of heating system you have at the home.
Top 9 Best Smart Thermostats on the Market:
Do I have Line-voltage or Low-voltage Heating?
There are two types of home heating systems. Low voltage and line (high) voltage heating systems and they work differently. Therefore, you cannot install a smart thermostat if it is not compatible with your home heating system. If you want to know more about these systems, I wrote a special article about it: Low Voltage or Line Voltage Heating.
Most smart thermostats are compatible with low voltage heating, such as Ecobee, Nest, and Honeywell. The vast majority of people in America and Canada use low voltage heating, but there are also those who still use line (high) voltage heating. Therefore, care should be taken when choosing a thermostat
9 Best Smart Thermostat on the Market
Finding the best smart thermostat can be quite a tedious task, as there are several important features to look out for and hundreds of different models to choose from. To make it easier for you, we've tried and tested the best smart thermostats and put them together in this awesome guide; you won't have to look any further for the perfect product than here. We've got everything you need on this buying guide, from basic thermostats to thermostats that have it all! You'll be sure to have a new and epic thermostat in your house.
1. Ecobee Smart Thermostat
Specifications:
Dimensions: 109 x 26 mm
Screen: 3.5" full-color LCD touch
Sensors: temperature, humidity, proximity, ambient light
Connectivity: Wi-Fi, Bluetooth Low Energy
The best smart thermostat overall, the Ecobee Smart Thermostat looks and functions just like the Ecobee4, but with a few big improvements. It is one of the best Alexa compatible devices because it offers all the Alexa features including calling, messaging, and drop-in.
The new Ecobee comes with a much better speaker and support for Spotify, so it's good if you want to play with some tunes, that is, background music. It's a cost-effective way to get Alexa in the room if you don't want to plug in another smart speaker. 
Most importantly, the new Ecobee has redesigned remote sensors that have a much longer range and battery life. We're not too crazy about the Ecobee's looks, though; its plastic design has not changed much since the appearance of the original and, unlike the Nest, is beginning to look outdated.
This thermostat certainly deserves a spot on this list for the best smart thermostats on the market. The Ecobee Smart Thermostat is also capable of measuring temperatures at different points in your home – you can only buy one sensor with the device, but add up to 32 additional ones if you live in a large house. The thermostat has no smart learning, so you need more manual control.
As you would expect from a smart thermostat, everything can be controlled using the included Android or iOS apps so you can regulate your heating while away from home (or let your thermostat know you're on vacation).
The PROS:
Control from anywhere with an app
Works with smart Home Setups
Can Save up to 23% per year on bills
The CONS:
Price
Room sensors are sold separately
2. Emerson Sensi Smart Thermostat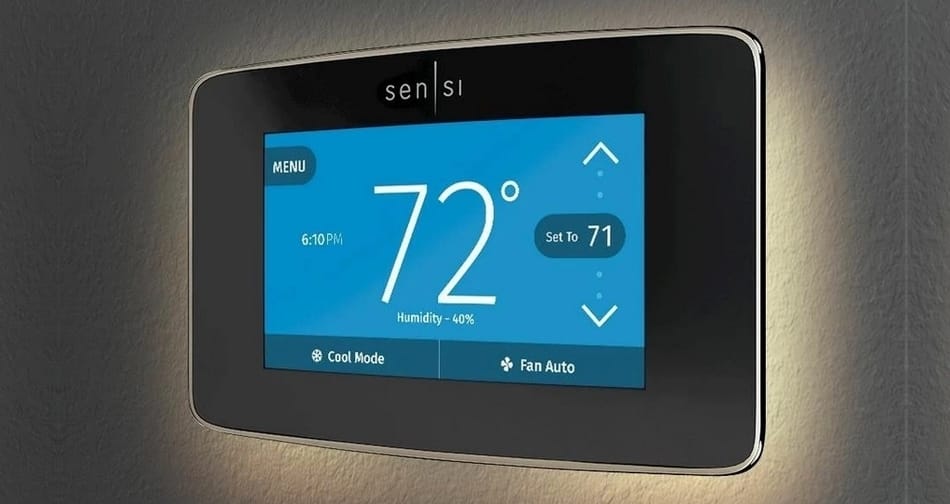 Specifications:
Dimensions: 5.875″ x 3.75″ x 1.0″
Screen: 4.3′ full color LCD touch
Sensors: temperature, humidity, proximity
Connectivity: Wi-Fi, Bluetooth
This smart thermostat has been an award-winning model for three years, making it a good and reliable option. Emerson Sensi is compatible with all home speakers and voice control devices, allowing you to adjust the temperature in any room in the house. It is energy efficient and generally uses less power than traditional thermostats.
This smart thermostat is incredibly easy to install and can be done in 30 minutes. The controls are super easy to see and it has an HD touchpad and smart alerts to keep you updated. If you are looking for the best value for a digital thermostat that has the same features as a high-end thermostat, we suggest you check the Emerson Sensi Wi-Fi Smart Home Thermostat. 
The simple exterior of this thermostat may fool you, but a quick glance at all it can do will give you enormous confidence in this design.  With the help of the Sensi mobile app, you will have clear instructions on how to install the programmable wifi thermostat safely and quickly, without the need for a C wire.
This means that this thermostat will be accessible in all construction of houses, which will allow homeowners across the house to take advantage of this smart device for integration and app-geofence control in their homes.
The PROS:
Easy installation
Price
Wide compatibility
1 degree precision
The CONS:
Old school exterior
No touch screen
3. Honeywell RCHT8612WF T5
  Specifications:
Dimensions: 4.06 x 4.06 x 1.06 inch
Screen: 3.3" full-color LCD touch
Sensors: temperature, humidity, proximity
Connectivity: Wi-Fi, Bluetooth
Our guide to the best smart thermostats wouldn't be complete without the mention of Honeywell. Like the Nest and Ecobee smart thermostats, you can control the Honeywell RCHT8612WF from your smartphone and connect it to Alexa and Google Assistant, allowing you not only to change the temperature with your voice but also to link it with other smart home devices. In addition, the Honeywell Home ecosystem includes a wide range of partners including Arlo, Apple HomeKit, SmartThings, Lutron, Kwikset Kevo, and others.
As we believe that you should have the easiest thermostat buying process possible, it seemed right to introduce you to the Honeywell RCHT8612WF Home T5. This reasonably affordable Energy Star certified thermostat will keep your home at the right temperature with its 7-day scheduling feature and geofence tracking technology.
You might think wi-fi thermostats are out of the question if you don't have C wire in your home, but thanks to Honeywell, that's no longer a problem! This thermostat comes with its own low voltage alternative so you can enjoy all the benefits without the need for a refurbishment. 
The PROS:
Energy efficiency planning system
Good budget choice
Simple to use and install
Great quality
The CONS:
Requires C-wire
Lacks sensors and other features
4. Orbit 83521 Clear Comfort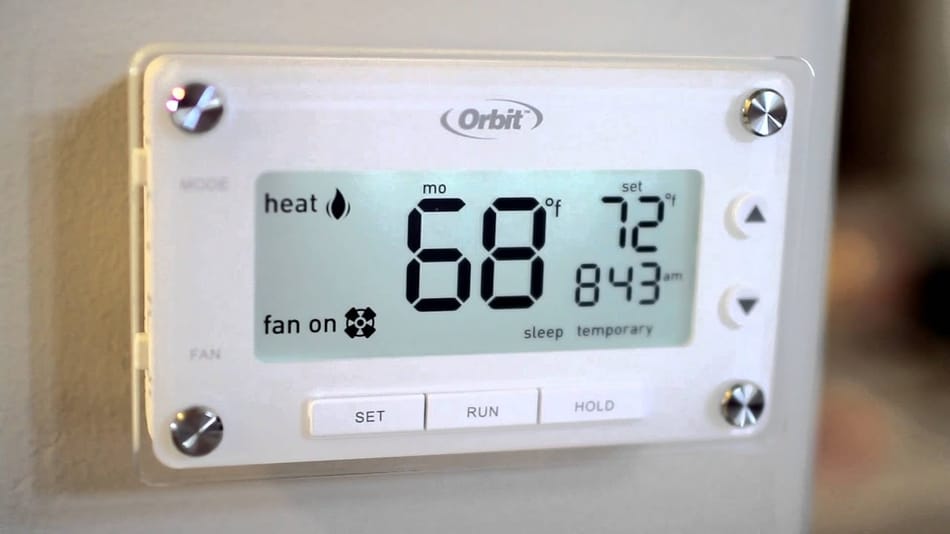 Specifications:
Dimensions: 1.3 x 5.3 x 3.25 inches
Screen: 2.5" (no touch)
Sensors: temperature
Connectivity: Bluetooth
If your eyesight isn't quite up to par, or you just can't bother walking across the room to read the temperature, then the Orbit 83521 Clear Comfort Programmable Thermostat will be a great guilt-free addition to your home. The contemporary design of the screen means the screen is large enough to be seen from across the room, and the backlight makes it easy even when the light is dim.
In addition to a convenient display, the Orbit has some very nifty heater controls that allow you to reduce control programming time and have a simplified daily schedule instead. To do this, you have a "copy and paste" function. Orbit Thermostat that lets you remember past programming and times, without having to make constant adjustments throughout the week. 
The Orbite will take into account the times you set in the program and ensure that the room temperature is at the desired temperature at the right time. This is definitely an interesting thermostat that comes at an affordable price and is of high quality. So if you have a slightly smaller budget, this is the ideal thermostat for you.
The PROS:
Clear quality display
Minimizes programming time
Compatible
Good price
The CONS:
The design is quite outdated
No Wi-Fi features
5. Lux Products GEO-BL 7
  Specifications:
Dimensions: 5.81 x 1.50 x 3.00 inches
Screen: 1 inch (no touch)
Sensors: temperature, humidity,
Connectivity: Wi-Fi
It can be sometimes difficult to find the right wifi thermostat. Wi-Fi might be a great feature to have, but it suddenly gives way to a lot of issues that weren't there before the introduction of wi-fi. This is why it is so important to make sure that the wi-fi thermostat you buy will ensure solid connectivity and a seamless experience. 
With the Lux Products GEO-BL 7-Day Wi-Fi Programmable Thermostat, that's exactly what you can get! This incredibly attractive thermostat is certainly fit for the modern era, featuring a control wheel and an app for on-the-go control. Not only that, but you have pure freedom with how you install this thermostat because it can be mounted both horizontally and vertically. 
The Lux Geo-BL7 falls in line with the top models like the Honeywell, Ecobee, and Emerson, but with the lower price and high-quality features. Say goodbye to delicate fixtures with this handy fixture! 
The PROS:
Cool design
Easy to use
Very energy efficient
The CONS:
Wi-fi connectivity issues may arise
Low battery life
6. Bosch BCC100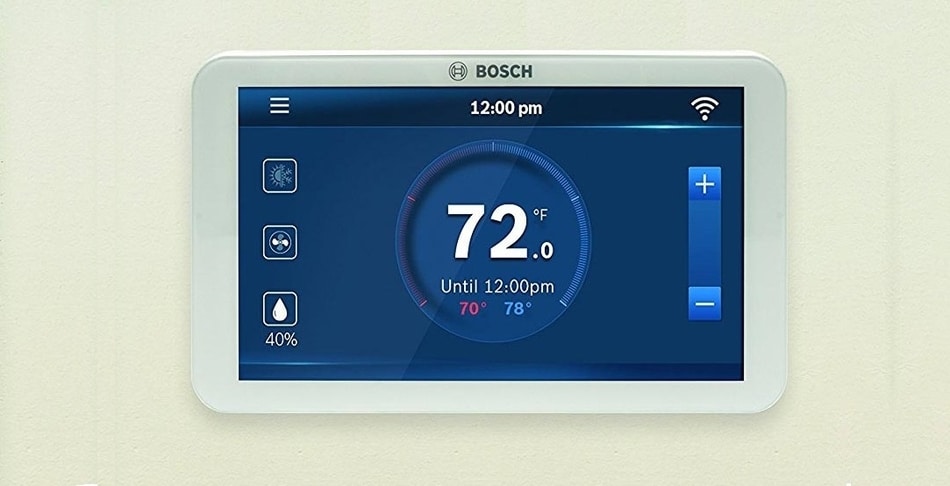 Specifications:
Dimensions: 5.2 x 3.08 x 1 inches
Screen: 5 Inch Touch Screen, 854 x 480 Pixels
Sensors: temperature, humidity
Connectivity: Wi-Fi, Bluetooth 
The Bosch BCC100 smart thermostat is a modern, elegant device that fits in any home. The touch screen is wide and easy to read, making it easy to operate your home by hand. This model can also be controlled over the internet and can connect to the Alexa home assistant for remote voice control.
This Bosch BCC100 is designed for several different applications and can be connected to a variety of power sources such as dehumidifier and heat pump. Multiple thermostats can be connected to one control, and you can create up to four schedules for each device. This allows you to control the smart thermostat to suit your daily life. This Bosch thermostat is very easy to use and has a modern interface that allows you to control your home remotely.
This model can also be programmed and controlled by using a simple touch display, but also with Android and iOS mobile apps wherever you are. The BCC10 thermostat is an excellent choice for any homeowner who wants to have a smart HVAC system installed in their home.
The PROS:
Easy to install
Large touch screen
Compatible with Alexa
Great design
The CONS:
Lacks IFTTT support
Can't connect with other smart devices
7. Johnson Control GLAS
Specifications:
Dimensions: 1.18 x 5.51 x 5 inches
Screen: 480 x 272 pixels touch screen
Sensors: temperature, humidity, proximity, ambient light
Connectivity: Wi-Fi
What Johnson Control GLAS has unlike the other smart thermostats is a unique design. This stunningly modern design features a translucent OLED touchscreen that gives you real-time updates on work in progress. Johnson GLAS teamed up with Microsoft Cortana, Amazon Alexa, and Google Assistant, so literally any homeowner looking for voice assistance and intelligent home recognition will be able to enjoy all the advantages of this practical thermostat. 
The GLAS smart thermostat even has the unique features of indoor and outdoor air monitoring, which is especially useful for those who suffer from allergies and need a controlled environment at all times. 
When it comes to the installation process, it is very similar to any other smart thermostat which is based on the HVAC system. Therefore, if you have a single-stage heating system, the installation will only require mounting the GLAS and plugging the wires in. The downside of this smart thermostat is that it turns off very quickly. To turn it back on, you need to come right in front of it.
The PROS:
Beautiful touchscreen design
Support Alexa, Cortana, and Google Assistant
Air quality measurement
The CONS:
Connectivity issues may arise
High price
No remote sensor support
8. Lux Kono KN-S-MG1
Specifications:
Dimensions: 4.5 by 4.5 by 1.0 inches
Screen: 1.75 inches
Sensors: temperature
Connectivity: Wi-Fi
The Lux Kono KN-S-MG1 is also on our list of smart thermostats for this year. Now, let's be honest; if you are looking for a thermostat that will connect to your smart home and be voice-controlled, then this thermostat is probably not the best choice for you. 
However, if you really don't care about all of that and just want a smart thermostat that lets you control the temperature while still sitting comfortably in your home; this is a good choice for you! There is a certain type of homeowner who will love this thermostat, and the ones that come to my mind are the elderly and nomads.
Basically for anyone who doesn't care about tech or trends or gimmicks or anything like that will be happy with this thermostat. The Lux Kono has the wiring bridge for those who don't have a C-wire on their HVAC systems. The installation process is very simple, just screw the thermostat onto the wall, wire it up, and the last step is snap on the face unit.
One of the downsides of this thermostat is that the LCD screen shows only basic information such as home temperature and what the target temperature is.
The PROS:
Easy to use and install
Good budget choice
Very energy efficient
Cool design
The CONS:
Not compatible with iOS or Android
Requires C wire
9. Nest Learning Thermostat
Specifications:
Dimensions: 84 x 31 mm
Screen: 24-bit color LCD
Sensors: 10 temperature sensors
Connectivity: Wireless Interconnect, Bluetooth, Wi-Fi
The Nest Learning Thermostat is distinguished by its learning abilities. Thanks to its numerous sensors that measure the current temperature of the home, the humidity rate, the movements, and the ambient light in order to establish an ideal temperature and to regulate itself to reach it optimally according to your habits.
With Nest, it is possible to control the temperature remotely from your smartphone (iOS and Android), tablet, or computer, which allows you to use features such as "Auto-absence" to manage the production of hot water and temperature differently during scheduled absences.
The Nest Learning Thermostat has frankly one of the most epic exteriors, which in our opinion resembles a mysterious carrycot, which will add a futuristic touch to any room. The Nest team is the true thought leader in the thermostat world.
Right from the installation process, you will have help, as you can either install the thermostat yourself or get a 'Nest Pro Installer' to install it for you. Once installed, you will be able to control up to 20 thermostats from the comfort of your own smartphone, using the latest temperature control features and smart programming to save energy.
The PROS:
Easy to use
Automatic functions
Compatible with Alexa controls
Energy efficient
The CONS:
Nest Protect sold separately
Smart Thermostat Buying Guide & FAQs
Great care and attention are paid to when it comes to the selection of products from our buying guide. Each thermostat has gone through an exhaustive sorting process, meeting our guidelines, specifying expectations, practicality, and many more. We understand that you are likely to have some tricky questions on your mind, especially if you are about to buy a smart thermostat for your home. That's why we have all the useful information at your disposal below.
How To Choose Smart Thermostat?
As we mentioned, the products in our buying guides are selected with the utmost care. The products featured in this guide are the best of the best, which means they have met (or exceeded) our guidelines. The following six aspects are the most important in finding the best thermostats, and you can rest assured that we have checked everything countless times so that you are only presented with the most perfect product. Whether it's brand quality, customer feedback, or affordability, we've got you covered.
Brands – It might seem easier to buy a thermostat from a designer brand, but that doesn't always mean you'll get the best product. Of course, famous brands are popular for a reason, and the excellence of their products is sure to satisfy you. However, when it comes to our buying guides, we understand that high-end brands aren't available to everyone because they usually come with a steep price tag. That's why we've also done extensive research on smaller brands, the brands that work behind the scenes while creating awesome products. In our research, we treated every brand the same, regardless of size. 
Reviews – Is there a better way to judge the success of some products than with customer reviews? It's all well and good to read a list of impressive product features, but in the real world, does the product live up to its expectations? We had hours of entertainment sifting through the reviews, and they played a huge role in choosing the last nine thermostats that made their way into our buying guide. All of the products mentioned have been recommended by buyers all over the world, so expect to see a lot of products rated 4 and 5 stars. 
Motion Activation – Similar to sensors, motion activation means that the thermostat will turn on when it senses that you, or someone else, are in the room. This is a very handy feature for those who want to reduce their power consumption, as it only turns on when you are using it. Another form of motion activation is the thermostat screen. When you start to approach the thermostat, the screen will light up and give you a range of options for working. Again, this is a great tactic to avoid wasting energy and means adjusting the temperatures in a dark, lighted room won't be a challenge.
Price – Smart thermostats feature impressive technology, which means the price tag can sometimes be reflected. What you might not know, however, is that there are cheaper, equally capable products available for you to get hold of. We took budgets into account when choosing the products for this guide, and we're confident enough to say that there is a thermostat to suit any budget in this guide. So whether you've been saving up for this gadget for a while or just want a quick fix that does the trick, we've got you covered. Remember, if you are looking for a thermostat with very specific features, the price may go up. 
Easy to Install – Some of the smart thermostats in this review require a C-wire and cannot be installed without an engineer. Other models can be installed independently in less than an hour. This is something you will want to consider before purchasing a smart thermostat as it will affect how easy the device is to use and whether it is suitable for your home. It can also affect when you can use your smart thermostat if you have to wait for an engineer to come out and fix it.
Ease of Use – Smart thermostats are designed to be incredibly easy to use, and their goal is to make controlling their home much more accessible to the average homeowner. Therefore, in order to find the best device for your home, you have to think about how easy it will be to use and whether you can manage it yourself. Some smart thermostats have a touch panel that can be used to monitor and check the temperature of your home. Others will be completely controlled through your smartphone or tablet. 
Why Use a Smart Thermostat?
As we mentioned, there are many benefits to using a smart thermostat in your home. These types of devices have many different features and functions that can make controlling the temperature of your home much easier than their traditional counterparts. Smart thermostats can be controlled remotely using a smartphone, tablet, laptop, or even a home assistant device.
The smart thermostat is very convenient and allows you to adjust the temperature of your home according to your needs, whether on the couch, at the grocery store, or even on vacation. Many of the smart thermostats featured in this round-up have automatic features that will work around your routine, so your home will be at your desired temperature when you come home from work, or the system will shut down when you leave.
Perhaps the biggest benefit of using a smart thermostat in your home is money and energy that can be saved. These devices are designed to help you save energy and money at home, and that's why they have smart sensors and automatic features. This ensures that you only heat your home when you really need it. Some smart thermostats only allow you to heat specific rooms in your home, depending on where your family currently is.
Smart thermostats can be remotely controlled, and most are programmed to automatically track your routine, so your home is warm when you need it most. This is very useful for the modern homeowner as it means you don't have to spend time adjusting the temperature of your home at any time of the day. Smart thermostats have many automatic features such as Home/Away switches, energy trackers, and temperature control that can be performed without interfering with them. 
Thermostats that are equipped with smart home integration are truly products of the future. Much like the popular Amazon Alexa, a thermostat with smart home integration will allow you to control all the other devices in your home at the same time, usually using a single app. 
Conclusion
In this article, you could see the ultimate guide of the best smart thermostats that are available on the market today and their benefits. We, of course, considered only the best, in our opinion, models that are available on the market. This, however, does not exclude the fact that you can always find an alternative. But now you, at least, know what to start from. We have gone through all the essential features you need. If you have additional questions, feel free to write to us.
Smart Thermostats FAQ
Can you Install Smart Thermostats Yourself?
The majority of smart thermostats require self-installation, which means you will have to follow a guide and install the unit yourself. This means you can save time and money, and you don't need an electrician to do this job for you.
Does Lowering the Thermostat Save Money?
Yes – lowering the temperature on your thermostat will help save you money. When you lower the temperature to a lower level, it uses less energy to heat your home, which means that you reduce your electricity consumption and therefore your costs.
Is it Better to Turn Off or Turn Down the Heat?
While it might seem logical to turn off the heat when you leave the house, it's actually more convenient to just turn down the heat. Unless you are going on vacation for an extended period of time, turning off the heating will be a better option then. It takes more energy to get the heat back into the home if it falls below certain limits, which means more energy consumption.