How To Easily Connect a Webcam To a Smart TV?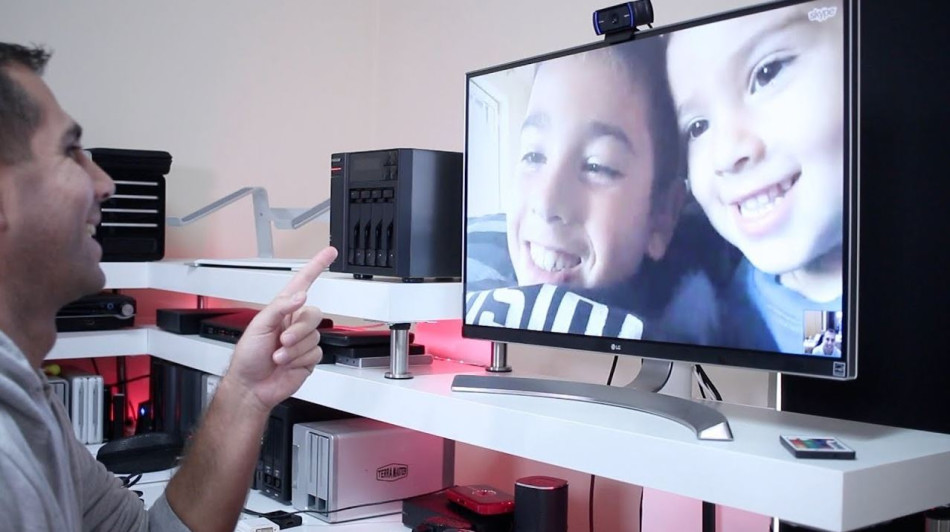 Over the past two years, webcams have become very popular. This is especially true for those who work from home. In order to be able to attend online meetings more easily, we need a webcam. Having one on our laptop is not very practical because the screen is too small. Luckily, by connecting the webcam to a TV, this can be avoided. In this article, we'll explain how to connect a webcam to a smart TV. So, let's start!
How to Easily Connect a Webcam to a Smart TV? In order to connect a webcam to a smart TV, you'll have to plug your webcam into the USB port on TV. Next, press the source button on your remote and scroll until you find the name of a webcam that you just connected. Click on it and set up the camera so that other people can see you too.
Connecting a webcam to any type of smart TV is easy and can be done in just a couple of minutes. You just need to find a USB port on your device and connect your webcam model to it. The software inside the TV will recognize that it is a camera and will offer it to you in the menu. Select it, and that's it!
Note: Keep in mind that without a Wi-Fi connection, you won't be able to connect to an online video call. This means that even if your webcam is properly connected, it won't be useful. Check if your TV supports Wi-Fi.
Requirements To Connect a Webcam To a Smart TV
Most webcams come with a connection cord, usually a USB or HDMI. This means that if your TV doesn't have a USB or HDMI port, you won't be able to connect your webcam to a smart TV. Keep this in mind when buying a webcam; otherwise, you'll waste your money for no reason.
Fortunately, it is very unlikely that this will happen, especially since we are talking about smart TVs, which, in most cases, come equipped with a USB port. Still, another thing should be considered, whether or not your TV will be able to download an app that allows you to have video calls. If not, you'll have to stick to your personal computer.
Most Popular Webcam Apps That You Can Use On A Smart TV
There are many teleconferencing apps that can be used on a smart TV. Some of the more popular apps are Zoom, Amazon Fire Stick, Skype, and Google Duo. However, the ones that most people use are Zoom and Skype. Moreover, these two apps are available on most TVs and even on gaming devices like the Xbox, so you don't need to install them.
Amazon Fire Stick is also a great option for the teleconference, but only if most of your coworkers use an Alexa device. Otherwise, installing Fire Stick will be a waste of time since you simply can't make a video call with colleges that are using other apps. The third option which we would recommend is Google Duo. Keep in mind that the person must also have an identical application in order for you to establish a teleconference.
Related Article: 10 Ways To Fix Alexa Not Playing Spotify
How To Connect The Webcam To A Smart TV?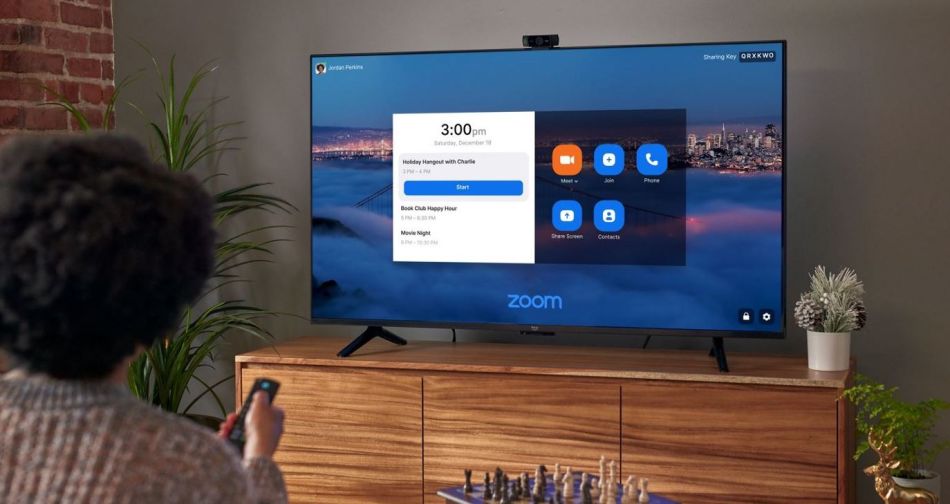 After acquiring the webcam, you need to connect it to the TV. First, see where the USB port is located on your smart TV, and connect the camera's USB port to it. Here are the steps on how to do this:
Connect your webcam to the TV by using the USB port of your TV. This port is usually located on the back of the TV, but it can also be on the side.
Press the Source button on your remote and find the webcam in the sources. If you can't find your webcam, try cycling through the USB ports (for example, USB 1 or USB 2) since some TVs don't register the connected device's name but rather use only the port numbers.
If you've done everything correctly, you should be able to see what the camera sees on your TV screen. The next step is adjusting the camera angle to your needs.
Visit the app store on your TV and install a video call app (Skype, Fire Stick, Google Duo).
Lastly, set up an account and adjust the app settings so that your camera is the main video/audio source for the app. Also, do a test call to check if everything is functioning properly.
Once you've gone through all the steps, you'll be good to go!
Here you have a video that can also help you with the connection process:
Another possible option is to connect the webcam to an Xbox gaming console. Since Skype is supported on these consoles, simply download it from the store and set up your account.
Related Article: How to Choose an HDMI Cable For Your TV? Guide
Potential Problems That Can Occur
As with everything, you might encounter some issues when connecting a webcam to a smart TV. Most of these should be solved by switching your TV to external media settings. This is done by pressing the Input button until you reach the screen-share function. But before doing this, check if all the steps above have been done correctly.
When it comes to smart TVs, on the other hand, there is another feature that might be blocking your webcam. Since smart TVs function similarly to other smart devices, such as phones or laptops, they also encounter similar issues when it comes to apps. For example, most apps will ask for permission before utilizing some functions. In this case, the app requires permission to use the webcam video and audio.
Still, if the setup is done correctly, there shouldn't be any issues. Especially if the factory settings haven't meddled with too much. Either way, setting up a webcam is fairly easy and can be done in a few minutes.
Related Article: How to Connect a USB Flash Drive To a TV?
Advantages Of Having A Webcam On A Smart TV
One of the greatest advantages of connecting a webcam to a smart TV is that you dont have to stare at a small screen for hours. It makes it easier to focus and reduces the risk of getting a headache or, even worse, damaging your eyesight.
Furthermore, this means that you can sit farther away, which also allows for easier presentations, a much more laid-back working environment, and the inclusion of multiple people. The screen on the TV is much larger than the screen on the laptop. Also, smaller details and images are much easier to spot on a larger screen. This is more than enough reason why connecting a webcam to a smart TV is a good decision.
If you want to connect a mouse to your TV, be sure to read How to Connect a Mouse To a (Smart) TV?
Alternatives To Replace a Webcam
If you don't own a webcam and are looking for another way to make a video call, consider connecting a cell phone, tablet or laptop to your smart TV. You will need a suitable connection such as USB, HDMI or some other port that will connect your device to a smart TV. Either way, having a compatible TV and webcam is the best option.
Most Popular Webcam TV Manufacturers
Keep in mind that choosing the right camera is extremely important. Not only does a high-quality camera provide better video and audio, but it serves as a representation of how much a person is invested in their job. Furthermore, some webcams, such as the IP ones, simply won't suffice in this case. For this reason, some of the best webcam options are listed below:
1. LG AN-VC400 Webcam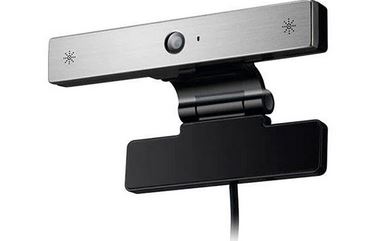 With a 1200 x 780 screen resolution, 30 fps (frames per second) image transmission frequency, and a two-megapixel framerate, the LG AN-VC400 webcam is an absolute beast among webcams. With LG also being a well-known and respected TV manufacturer, the compatibility of these devices to their TV counterparts is amazing, and they are easily set up.
Not only will your coworkers see you in high quality, but they'll also hear you perfectly well due to the built-in microphone this webcam has.
2. Samsung CY-STC1100 Webcam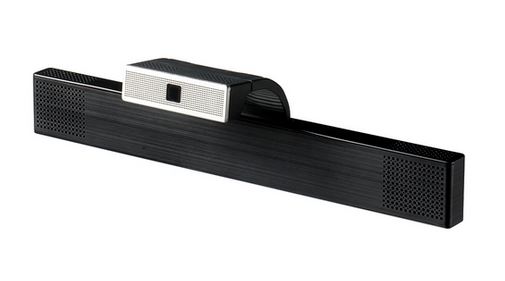 Just like LG, Samsung has also played its role when it comes to webcams. This webcam is especially recommended to those who already own a Samsung smart TV and those who wish to improve their coworkers' sound quality. With all the other features being practically the same as the LG AN-VC400, the CY-STC1100 also has four mics, guaranteeing a higher-quality sound. You can buy this webcam in Samsung stores or even on Amazon.
3. Samsung VG-STC3000 Webcam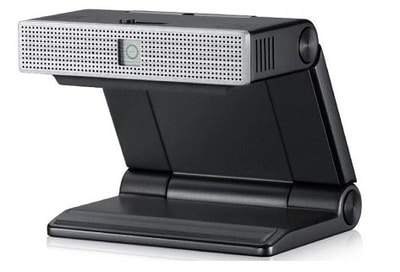 This Samsung model is similar to the previous one in that it also has 4 mics. But the sound quality doesn't end there, it also comes with a noise reduction system. Furthermore, just like the LG model, the VG-STC3000 also has 30 frames per second transmission speed. This is due to the HD 720p matrix camera. This is the best option for those who want the best sound quality.
If you want to connect your LG TV to an iPhone, be sure to read: How to Connect Your iPhone to LG Smart TV? 5 Ways.
FAQ: People Also Ask
How do I connect a webcam to a Samsung smart TV?
Like any other smart TV, the first step is connecting the webcam to the TV via a USB cable. The second and final step is using the remote and the Input button to find the webcam. Make sure that you have Wi-Fi turned on.
How do I use my Android phone as a webcam?
One of the best and easiest ways to make up for the lack of a webcam is to use your Android phone instead of a webcam. To do this, you'll have to use the developer mode on your phone and download an app that enables you to turn your phone into a webcam. One of the most popular apps of this type is Droidcam. Install it on both your phone and your laptop/PC.
How do I use my iPhone as a webcam?
Using an iPhone as a webcam is easier to pull off than using an Android. By using the correct app and having both the iPhone and the Mac on the same Wi-Fi network, you'll be good to go. The recommended app for iPhones is EpocCam, which can be downloaded from the apple store.
Final Thoughts
Connecting a webcam to a smart TV is a great way to make yourself seem more professional and improve your work quality. Not only does this mean that details will be much easier to spot without straining your eyes, but it also opens up opportunities to include more people who can hold presentations simultaneously from one place.
Still, choosing the right webcam definitely makes all the difference. However, not all webcams can't be connected to smart TVs. The best ones are mentioned in this article, and their installation process is as easy as plugging in a USB cord into your TV and choosing the correct source.